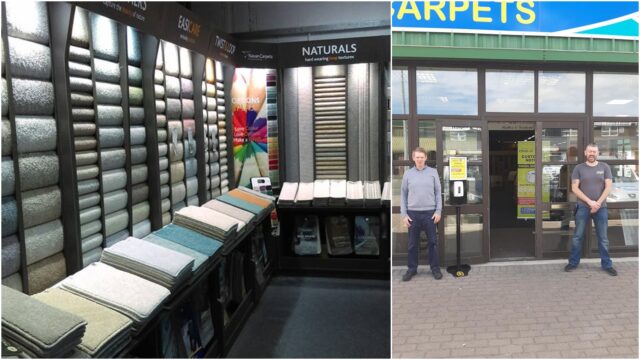 "It's so great to be back," says Maria Leonard from Leonard Carpets in Kealew Business Park in Portlaoise.
After three months closed, they opened their doors to business again this week – with a range of new measures in place to protect their customers and staff.
They are now fully open to the public from 10.30am to 4.30 pm and currently keeping 9.30am to 10.30am avaible for elderly and vulnerable customers. In addition they are offering private appointments to anyone who would prefer them from 4.30pm onwards.
"We take your safety and ours very seriously and will be strictly following all of the recommend guidelines," added Maria.
"Our store is spacious so we can allow up to three customer groups in store during public hours. Children are welcome but must stay beside their guardian at all times.
"Hand sanitizer is available outside and inside our store. Masks are available to those who wish to avail of them. Our staff will be wearing face shields or face masks too.
"Frequently touched areas such as door handles, credit card machines, phones, counter tops etc will be wiped down regularly."
Maria also explained that when fitting a jib, their fitter will be wearing masks and gloves and the area will be sanitised before and after using antibacterial spray. This specialist spray is not harmful to furnishing, people or pets.
"Before fitting we ask that all furniture has been removed and that the old carpet has already been lifted and disposed of," she adds.
"Where possible we would prefer to work in an empty house but we have to at least insist that there is noone in the same room as our fitter.
"Please rest assured that we will be doing our best to make shopping with us a safe and enjoyable experience.
"Our policies will be under constant review and guidelines may change. But in the meantime take care everyone! And thank you for your continued support of ourselves and of all the other wonderful local businesses in Portlaoise."

SEE ALSO – Check out the Leonard Carpets website here
Check out Leonard Carpets on Facebook and Instagram