Are ye right there, Michael? Are ye right?
Do you think that you can get the fire to light? (Percy French – 1902)
There is hardly a child that doesn't remember their first time on a train.
The excited anticipation. The sense of wild adventure. The strangers. The noise. The smell. The speed.
Seated next to window. Staring outwards. Warm breaths on the cold glass fogging up only momentarily so that you could draw your own designs on the landscape as it flashed by at what seemed like a million miles an hour.
Sheep. Cows. Fields. Hedges. Horses. Furze. The shock of a train thundering past, saying hello with a blazing siren as it pelted it down the line in the opposite direction. An instant flash of darkness from a bridge.
More fields and god knows what you'd see in farms, big houses in the distance and unsuspecting back gardens that you could almost reach out and touch. People and all life passing by in a blur.
My first time was to Knock. To Knock on a pilgrimage via Knockcroghery, the home of the dudeen. To Knockcroghery beyond the broad majestic Shannon as it challenged even the mystery and menace of the Mississippi and the Mekong in the mind of an altar boy.
My travelling companion, my Granny. My Granny from a time that all grannies seemed to have grey hair, cats, and flower patterned aprons with an Aladdin's cave of a pocket in the front hoarding clothes pegs, hair clips, rosary beads and of course an assortment of sweets.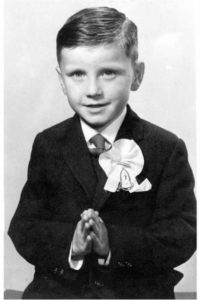 Her eldest grandchild. God how she loved me and spoiled me. Men did different pilgrimages on Sundays, to O Moore Park and Croke Park. For now, I was on the women's side of the aisle for sodality with the headscarves.
This pilgrimage we would plan for months and with all the other grannies and aunties turn out in our Sunday best on the platform of Portlaoise station heading for Mayo. Little did we know, as all us holy Joes and grannies clambered aboard bound for Ballyhaunis, that it was all thanks to Laois man and pioneering engineer William Dargan (1799-1867) who was instrumental in building these railways.
This was all before the basilica and the runway were even a glint in the eye of Monsignor Horan. So there was the open-air Mass and the dreaded stations-of-the-cross. I never took to these stations but knew that I had to do my penance. There is no such thing as a free trip. Someone has to pay.
But it was all well worth it as the best was yet to come. We had been fasting, so now we would be feasting on the ham sandwiches; the ham bought only the day before and sliced to perfection by Peter Keegan in the top Square on his bacon slicer with the thin rims of fat left clinging on at the edges of the batch bread. Gorgeous.
But it all was merely a prelude to the main event. The stalls.
The stalls that stretched longer than any train selling the world's finest selection of yo-yos, gadgets, kites, toys, gizmos, bucket and spade sets, sticks of multi-coloured rock with Knock emblazoned on the tooth crunching concoction.
There were of course the medals, the medallions, the scapulars to be added to my collection. A stick of rock from Knock and a holy medal blessed by the Bishop himself for every grandchild and cousin and for every aunts' house a holy water font and the holy water itself in a translucent plastic likeness of the Blessed Virgin with a blue cap for her crown. We bought them all, as much as we could carry.
In 1967, in what many regard as the best thing since the sliced pan, Charlie Haughey in a typical flamboyant display of vision, ambition and social conscience and against the belligerent advice of his Department of Finance officials, introduced the Free Travel Scheme.
Like so many others, my mother credits Charlie with this as a genuine regard of senior citizens to this day. It is certainly one of Haughey's finest legacies and one which thousands of pensioners enjoy and use on a daily basis, many who otherwise might be restricted or isolated in their homes.
Hats off to Haughey. His legacy lives on.
I knew three old friends who put their free travel pass to great use. Once a week they would take the train to Dublin, then ride the Dart in and out to Dunlaoghaire a few times to take in the sights and the scenery before stopping off in Dalkey, in what they insisted was Hugh Leonard's pub, before returning home later that evening only fit for the cot.
Their weekly excursion was great for their health and that of the sanity of their long suffering wives as well.
When free travel was first introduced it was for those over 70 years of age and living alone and it was means tested. Today, it is available to those over 66, a further cohort who qualify through disability, other pensions or as carers. Along with all their qualifying spouses and companion passes over 1.2 million people are eligible and avail of the free travel pass.
Since 1972 it is no longer subject to a means test. I think it should be.
It costs €77 million a year the vast bulk of which goes to CIE. There is no such thing as free travel. Someone was to do the penance. The day return train fare from Portlaoise to Dublin is €34.25. Someone has to pay.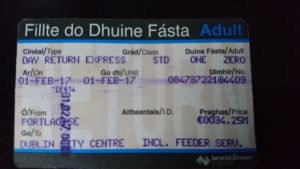 One hundred years ago there were three times more railways in Ireland than there are today. You could get a train from Abbeyleix or Attanagh to Kilkenny. Along with the canals the then head of CIE Todd Andrews was instrumental in not just closing them down but dismantled them in the early 1960s in an act of unforgiveable short-sightedness and regional recklessness. His legacy too lives on.
It is not all Todd's fault. It seems the love affair with trains and buses is only for children and pensioners.
The rest of us imported the American Dream and along with James Dean made love and fell in love with the automobile.
Today, we have in Shane Ross, a Minister for Transport in the right place and right time for those who want to drive the final nail into the coffin of public transport.
Ross unfortunately, wouldn't know a bus or a train if one drove over him. He believes that public transport is for someone else. The public.
For public transport that's not a light at the end of the tunnel, that's a high speed train coming down the tracks …