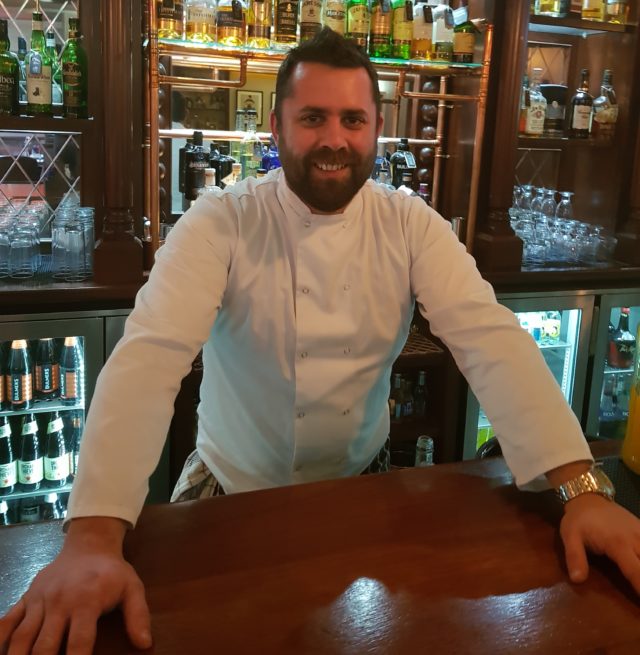 O'Loughlin's Hotel in Portlaoise has been a constant in the ever-changing food sector in Laois for the past couple of decades – and have recently appointed a new Head Chef.
O'Loughlin's Hotel – which is the only family owned and operated hotel in Portlaoise – are currently into their 23rd year in business on the Main Street. They have employed hundreds (maybe thousands) over those years and have been an entertainment and food venue for all that time.
Florent Falourd is originally from France and we caught up with him to find out about his plans for the new role.
Tell us a bit about your background in the catering industry?
I'm from La Rochelle and started training as a chef, in France at 16 years of age. I did my training in the Michelin starred Restaurant Christopher Coutanceau in La Rochelle.
Aged 19, I moved to Ireland to learn the English language. I worked at Cashel House Hotel in Connemara for the McEvilly family. After 4 years in Connemara, I moved to Dublin and worked for 1 year in the Royal Irish Yacht Club in Dun Laoghaire. In 2005 I moved to Malahide and worked as a head chef in Hush Brasserie. The restaurant had many regular customers such as Bono, Larry Mullen, Brendon Gleeson, Marty Whelan to name a few. In December 2017 I joined O'Loughlins Hotel as Head Chef.
What is your favourite recipe?
I have absolutely no favourite recipe. I love cooking everything. In this job, you learn every day. The wonderful thing about cooking is that no matter how much knowledge or skills you gain there is always someone somewhere that is pushing the boundaries of what you can do in a kitchen.
Every year there are new trends and techniques which keeps it a very interesting industry to be involved in. It is important for menus to change with the seasons as that ensures the best quality of ingredients. This also keeps things from getting boring because if the menus are changing every few months, then the staff remain interested.
What is most important to a chef when running a busy kitchen?
The most important thing to run a busy kitchen is to stay focused and communicate with each and every staff member you are working with. One mistake during a busy service could put you under serious pressure and delay the service. So, the main thing is to keep your cool and keep calm and communicate.
What do you hope to bring to O'Loughlin's Hotel?
I will bring some new ideas and menus to O'Loughlin's Hotel. The hotel is here for a long time and has a great reputation for consistently good food.
The new menu ideas, that I will bring will have an impact in Portlaoise. The presentation of food is important to me, you eat with your eyes and when food is presented in an artistic way, it adds to the dining experience.
I am looking forward to working with the team in O'Loughlins to develop a great place to experience good food.
What is the favourite thing about your job?
I really enjoy managing a team in a kitchen, to get great results. When the team works hard and gets good feedback from customers, that's when it becomes worth it.
What made you want to be a chef?
It started for me at a really young age. I was about 4 or 5 when I decided I wanted to become a chef. I have always loved it. To become a chef, if you don't have a passion for it, don't do it. When you are passionate about your job, it doesn't feel like a job.
Are you looking forward to taking this position?
Absolutely, I'm looking forward to working with Ivor and the team in O'Loughlin's and growing this business.
I think Portlaoise is a town that has great potential and where O'Loughlins is situated on the Main Street, makes a big difference. The important thing for me is to stay positive all the time.
What changes do you have planned immediately?
We will be introducing a new spring menu from the 1st of February. This will see some great new dishes using local produce.
There is an opportunity in Portlaoise to create a place for people to meet on Friday and Saturday evenings to start their weekend night out.
O'Loughlin's have a great venue, an extensive wine list and top class wait staff. We also have a very nice Valentines menu which will be on offer from the 12th – 18th of February. The Valentines menu consists of a four-course meal with a bottle of wine for €40 per person. Booking is advised!