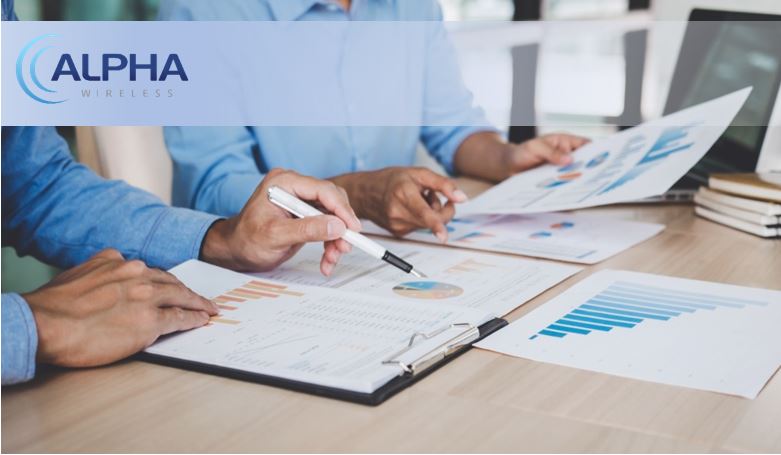 Alpha Wireless designs and manufactures high performance base station antennas for all applications and standards. They are looking for people that are interested in changing the way wireless networks are built. 
Their team works hard to understand the customer's end-to-end process. They don't just focus on antenna requirements. They believe that with the right people and process their team will continue to develop unique solutions that set the standard for quality, performance and aesthetic design. 
Alpha Wireless are currently looking to fill the following three roles:
---
Senior Mechanical Engineer
The Role:
We are looking for a Senior Mechanical Engineer to join our Research and Development department and be part of our dedicated head office team in Ballybrittas, Co. Laois. The successful candidate will contribute creative and innovative ideas and help Alpha achieve our goals. If you are dedicated to meeting higher standards and driving Organisational excellence and you are motivated and excited about being part of this highly capable team, you'll fit right in.
The Mandate – Direct responsibility
Use Solid works and AutoCAD/Draftsight to create mechanical designs for base station antennas according to specification.

Work as a senior member of mechanical design team on new design concepts.

Organise and lead the build of prototypes.

Organise and lead the testing of prototypes in Alpha's indoor anechoic chamber and outdoor far field test range.

Approve that test report data match specification.

Manage projects from evaluation to production release.

Implement cost reduction programs.

Create weekly report on project progress.

Lead and organise environmental testing.

Cooperate closely with Production engineers to ensure designs are fit for mass production.

Liaise with Purchasing in relation to purchasing parts for prototypes and to ensure cost targets are met.

Liaise with production during new product introduction.

Work closely with other members of the Engineering Team to ensure projects meet KPI's.
Personal Profile:
Organised individual with a constant focus and attention to detail.

A self-starter with a proven history of excellent results.

Creative, innovative and willing to contribute ideas and professional opinion.
Qualification/Skills: 
Batchelor's Degree in Mechanical Engineering or Higher.

Extensive background in telecommunication design

Excellent oral and written communication skills with the ability and confidence to deal with a broad range of people.

Ability to work under pressure

Team Player.
About Alpha Wireless Ltd:
A competitive compensation package and a working environment that supports employee development and recognises achievements makes Alpha Wireless a desirable Company to work for. As Alpha Wireless employees, we are passionate about disruptive technology, welcome constant change and understand the value of employee success in the workplace. We enjoy coming to work every day because we believe in our product and our Culture.
---
Management/Cost Accountant
Due to or continued growth we are recruiting for a Management Accountant to join a leading Co Laois based business. This is a full-time permanent role.
The role will involve:
Reporting to the CFO you will be responsible for preparation of monthly cost analysis and reporting, ensuring procedures and controls relating to financial and information systems are strictly adhered to.
Job Description:
To provide financial support to assist the achievement of low cost manufacturing targets.

To provide accurate and timely product costing data for new and existing products.

To support the financial evaluation and monitoring of operational support to R&D and Start-up projects.

To provide accurate and timely Departmental spend reports to Department managers.

Annual review of requirements and submission of projected figures to Insurance brokers and obtaining relevant quotes

Assisting with the preparation of budgets and uploading to system.

Contribute to & support the Finance Team in delivering a high standard of service to both internal and external customers.

Maintaining and updating systems to ensure they are capable of producing timely information at the required standard enabling the business to operate effectively and efficiently.

Setting up relevant codes, accounts, departments and ledgers and communicating system changes

Submission of relevant documentation to external auditors
Experience and skills:
Degree in Business / Finance or equivalent.

Part- qualified Accountant (or equivalent) with at least 3 years relevant experience within a manufacturing company.

Strong knowledge of cost controls and management.

Good communication skills, both verbal and written.

Ability to compile financial reports to a high degree of accuracy.

Good problem-solving and decision making-skills.

Experience in a similar role with a good working knowledge of general accounting principles / practices and systems.

High level of attention to detail and an ability to work to tight deadlines.

Advanced Excel Skills.
---
Quality Technician
Alpha Wireless is looking to recruit a Quality Technician to join our Quality Team in Ballybrittas, Co. Laois. This is a full time role.
Duties Required:
Provide hands on line support for quality related issues.
Conduct line quality audits as appropriate
Conduct sample out-of-box audits
Provide support for incoming inspection of all materials.
Raise corrective actions with suppliers for non-conforming material.
Preparation of Quality reports for Weekly Quality meetings and management reviews
Create Visual Aids for critical assembly steps and quality checkpoints.
Maintenance of quality metrics and reporting systems.
Generate failure analysis reports for RMA customer returns
Other duties as required by the Quality Manager that may arise within the context of this role.
Experience & Skills Required:
Min 1-year industry experience in a manufacturing environment preferably within a QA Role.
Excellent communication (both verbal and written) & interpersonal skills
NVQ Level 6 qualification in a Science/ Engineering/Quality discipline.
Competent using Microsoft office.
Willingness to make decisions and take responsibility for decisions made in relation to all aspects of quality.
Good understanding of problem-solving methodologies and quality tools. Robust analytic skills to understand problems and identify effective corrective actions
Experience of working with cross functional teams.
Interested candidates should apply to HR@alphaantennas.com