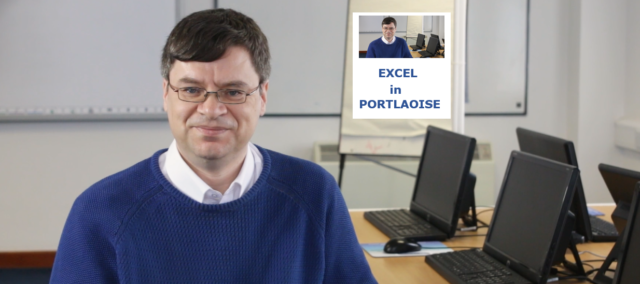 Spreadsheet Interaction Limited is running an Intermediate level one-day Excel course in The Portlaoise Enterprise Centre on Thursday, November 15.
This course suits people who have either completed a Beginners Excel course or are experienced using Excel but would like now to learn more and get to the next level.
On the course you will learn all about Excel's three core aspects – formulas & functions for calculations; graphs to visualise your numbers as objects on a graph and pivot tables which is Excel's popular data analysis summary feature.
There is no need to bring along a laptop on the day as computers are provided by the centre in its excellent computer training room.  Maximum class size is 8 people.
The trainer, Martin Loughman, is a certified Microsoft Excel spreadsheet expert whose company Spreadsheet Interaction Limited designs and delivers high-quality Excel training programmes to groups across the country.
You will learn the following skills:
1 – Formulas & Functions
IF | VLOOKUP | SUMIF | IFERROR | MID | DATE | Name Manager | Custom Number & Conditional Formatting | Linking workbooks
2 – Graphs
How to set up a graph | Graph elements | Data Series | y value axis | x category axis | Graph Types, Layouts & Styles | Sparklines
3 – Pivot Tables
Official table definition | How to set up a pivot table | Normalised data | Fields v. Items | Nesting | Formatting
Get in touch:
Contact Martin on 087 4310927 or email info@spreadsheeti.com
Bookings
Click here to book the Intermediate Course
Watch the video
Watch the Intermediate Course video here
SEE ALSO – Check out the dedicated jobs section on LaoisToday