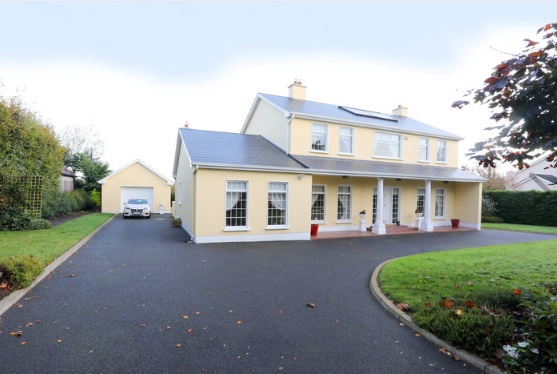 After a slow-down in September, residential presidential sales picked up again in October with 83 properties changing hands making it the second busiest month of the year after June.
Only 55 properties sold in Laois in September which marked a third month in a row of decline. The increase in sales in October means that 2018 is almost identical when you compare the first ten months of the year.
A total of 629 properties have sold this year, in comparison to 631 over the same period in 2017. Last year saw the highest number of houses sold in Laois since the Property Price Register started recording the sales in 2010 – 781 transactions, one more than it was in 2016.
There were 667 sales in 2015 and 657 in 2014. In 2010, there was just 331 sales in the entire year, the lowest year to date.
While the largest recorded sale in October was for €1.25 million – that was for an estate of 18 houses in Borris-in-Ossory that sold at a BidX1 auction in July.
The 83 sales make it the busiest October since the records started. There were 76 sales in the same month last year and 68 the year before. The lowest recorded sales in October was back in 2011 when there were just 24 sales.
After that the most expensive individual house sale recorded in the month was for €440,000 for a home on Stradbally Road in Portlaoise. The next most expensive were a property on the Killeshin Road in Graiguecullen which sold for €320,000 and in Springfield in Ballyfin for the same price.
Nine houses in Corrig Glen in Portarlington were sold for €171,000 each while at the other end of the market a dilapidated property in Knock, outside Roscrea, sold for €20,000.
OCTOBER 2018
€1,250,000 – 12 Glenall, Borris in Ossory, Co. Laois – 25/10/2018
€440,000 – Caragh, Stradbally Road, Portlaoise – 05/10/2018
€320,000 – Killeshin Rd, Graiguecullen, Laois – 12/10/2018
€320,000 – Springfield, Ballyfin, Portlaoise – 12/10/2018
€290,000 – Ard Fearach, Killeshin, Carlow – 04/10/2018
€290,000 – Monavea, Crettyard, Crettyard, Carlow – 25/10/2018
€255,000 –15 Mill Brook Manor, Canal Rd, Portarlington – 05/10/2018
€253,744.50 – 324 Maryborough Village, Mountrath Road, Portlaoise – 12/10/2018
€242,500 – 42 Rath Gailine, Dublin Rd, Portlaoise – 12/10/2018
€240,000 – 47 Rath Glen, Killeshin, Carlow – 05/10/2018
€238,000 – Boley, Ballylinan, Athy – 18/10/2018
€225,000 – Tollerton, Ballickmoyler, Carlow – 05/10/2018
€211,453.74 – Maryborough Village, Mountrath Road, Portlaoise – 30/10/2018
€198,238 – 242 Maryborough Village, Mountrath Road, Portlaoise – 22/10/2018
€199,500 – 192 Roundwood Close, Maryborough Village, Mountrath Rd – 02/10/2018
€192,500 – Curraleigh, Shannon St, Mountrath –  25/10/2018
€184,000 – 153 Whitefields, Station Rd, Portlarlington – 04/10/2018
€180,000 – 13 Clonrooske Abbey, Portlaoise, Laois – 03/10/2018
€180,000 – 36 Borris Little, Portlaoise, Laois – 08/10/2018
€178,000 – 77 The Village, Ballylynan, Co Laois – 19/10/2018
€176,212 – 3 Kylegrove Place, Bellingham, Mountrath Road – 26/10/2018
€175,000 – 102 Lake Drive, Kilminchy, Portlaoise – 24/10/2018
€172,500 – Boley, Ballylinan, Athy – 18/10/2018
€170,000 – Bishopswood, Durrow, Laois – 19/10/2018
€171,000 – 52 Corrig Glen, Portarlington – 10/10/2018
€171,000 – 56 Corrig Glen, Portarlington – 10/10/2018
€171,000 – 58 Corrig Glen, Portarlington – 10/10/2018
€171,000 – 60 Corrig Glen, Portarlington – 10/10/2018
€171,000 – 62 Corrig Glen, Portarlington – 10/10/2018
€171,000 – 64 Corrig Glen, Portarlington – 10/10/2018
€171,000 – 66 Corrig Glen, Portarlington – 10/10/2018
€171,000 – 70 Corrig Glen, Portarlington – 10/10/2018
€171,000 – 72 Corrig Glen, Portarlington – 10/10/2018
€169,000 – 28 Kilnacourt Woods, Portarlington, Laois – €169,000
€165,000 – 15 Davitt Court, Mountmellick, Laois – 19/10/2018
€165,000 – 23 The Beeches, Forest Park, Portlaoise – 09/10/2018
€165,000 – 26 Primrose Ave, Portlaoise, Laois – 24/10/2018
€163,000 – 12 Masslough Meadown, Ballinakill, Laois – 05/10/2018
€162,250 – Ballythomas, Stradbally – 30/10/2018
€152,500 – Shanboe, Borris in Ossory, Portlaoise – 15/10/2018
€152,000 – 22 Derrymore, Portarlington, Laois – 11/10/2018
€151,500 – Apt 2 Block 1, The Heritage, Killenard – 31/10/2018
€150,000 – 21 Lime Tree Ave, Kilminchy, Portlaoise – 02/10/2018
€150,000 – 5 Vale View, Stradbally – 15/10/2018
€145,000 – 74 Lake Dr, Kilminchy Village, Portlaoise –  30/10/2018
€142,000 – 7 Castle Mews, Kilminchy, Portlaoise – 02/10/2018
€140,000 – 27 Manor Grove, Mountmellick, Portlaoise – €140,000
€140,000 – 25 Droiminin Retirement Village, Stradbally, County Laois -19/10/2018
€140,000 – 14 The Fairways, Ballyroan Rd, Abbeyleix – 24/10/2018
€137,000 – 23 Kilmalogue Park, Portarlington, Laois – 02/10/2018
€136,000 – 3 Silverbrook, Silverwood, Laois – 08/10/2018
€130,854.20 – 74 Lime Tree Avenue, Kilminchy, Portlaoise – 12/10/2018
€130,000 –5 Harpurs Lane, Portlaoise, Laois – 12/10/2018
€129,000 – 26 Drominin, Stradbally, Co. Laois – 16/10/2018
€127,500 – 14 Station Rd, Portarlington, Laois – 01/10/2018
€120,000– 49 Thornberry, Abbeyleix, Laois – €120,000
€120,000 – 40 Mell Street, Portlaoise, Laois – 26/10/2018
€120,000 – Fine Manor, Bank Place, Portlaoise – 25/10/2018
€118,000 – 23 Bridle Walk, Kilminchy, Portlaoise – 23/10/2018
€117,500 – 115 Lake Dr, Kilminchy, Portlaoise – 01/10/2018
€115,000 – Patrick Street, Durrow, Co. Laois – 25/10/2018
€111,000 – Merrymount, Vicarstown, Stadbally – 18/10/2018
€107,500 – 38 A Lake Glade, Kilminchy, Portlaoise – 12/10/2018
€105,000 –46 St Brigids Place, Portlaoise, Laois – 24/10/2018
€100,278.75 – 35 Kilnacourt Woods, Portarlington, Laois – 12/10/2018
€100,000 – Garrons, Stradbally, County Laois – 19/10/2018
€100,000 – Knockiel, Rathdowney, Laois – 26/10/2018
€91,000 – Burnville House, Ballyfin Road, Portlaoise – 22/10/2018 
€80,000 – 32 Bayview, Strahard, Mountmellick – 23/10/2018
€75,000 – Saint Joseph's, Tower Hill, Portlaoise – 12/10/2018
€75,000 – 12 Thornberry, Abbeyleix, Laois – 08/10/2018
€72,000 – 10 Killeen Gardens, Maganey, Laois – 25/10/2018
€71,000 – 36 Oakleaf Pl, Portlaoise, Laois – 10/10/2018
€62,500 – 2 Church View, Ashgrove, Mountmellick – 03/10/2018
€60,000 – Lackamore, Ballinsragh, Co. Laois – 10/10/2018
€53,000 – The Mews, Mountrath Road, Portlaoise – 16/10/2018
€50,000 – 4 Kilminchey Court, Portlaoise, Laois – 25/10/2018
€47,000 – St Anthonys, Main Street, Borris in Ossory – 22/10/2018
€35,000 – Frankonia Cottage, Cloonagh, Ballyfin – 27/10/2018
€33,000 – 5 Killeen Gardens, Maganey, Laois – 19/10/2018
€25,000 – Clonmeen, Errill, Laois – 05/10/2018
€20,000 – Derrygooney, Knock, Roscrea – 26/10/2018
SEE ALSO – House sales decline in Laois and August but one property breaks the €500,000