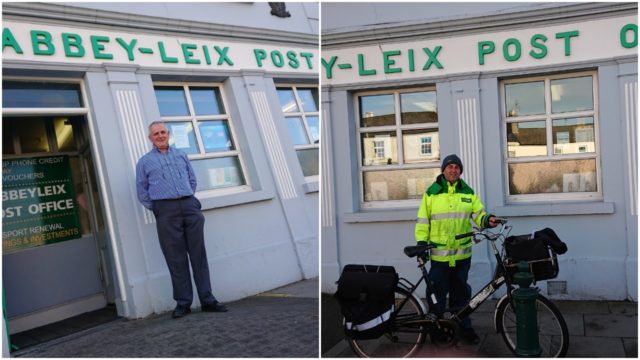 The end of an era is a phrase which is often bandied about but it was never more appropriate as today in Abbeyleix.
This Friday evening as Storm Erik whipped a gust up the Main Street, the winds of change were blowing for the post office service too.
Postmaster Derry Connolly and his wife Catherine are retiring today and with them ends a 60 year association for the Connolly family with the post office in the bustling heritage town.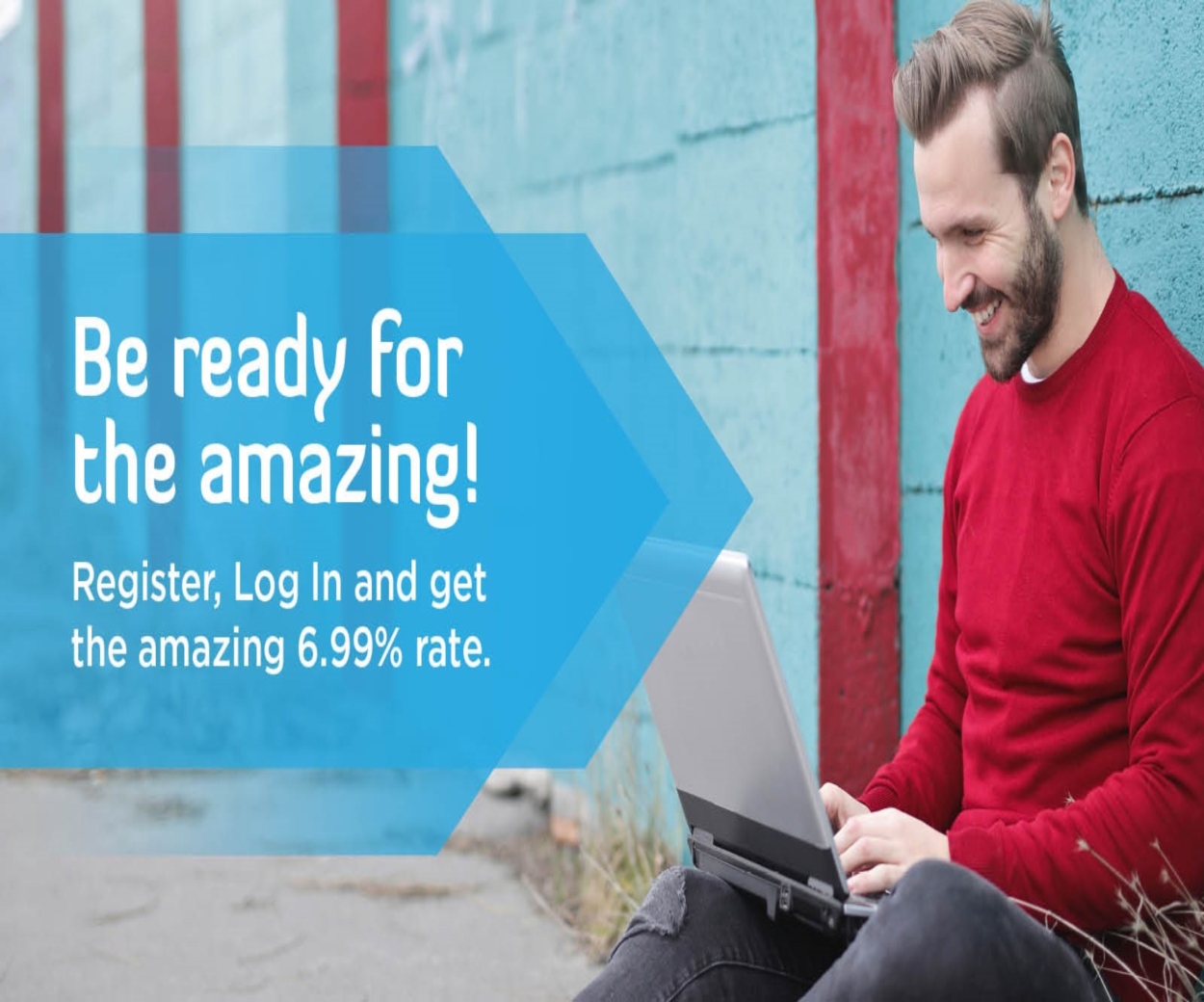 The post office too was busy, queues at each hatch, as there always is on a Friday. Postman Liam Whelan was making his final stop off also at the distinctive landmark post office building.
As and from Monday morning the post office service is being transferred about one hundred metres down the street to the Super Valu store.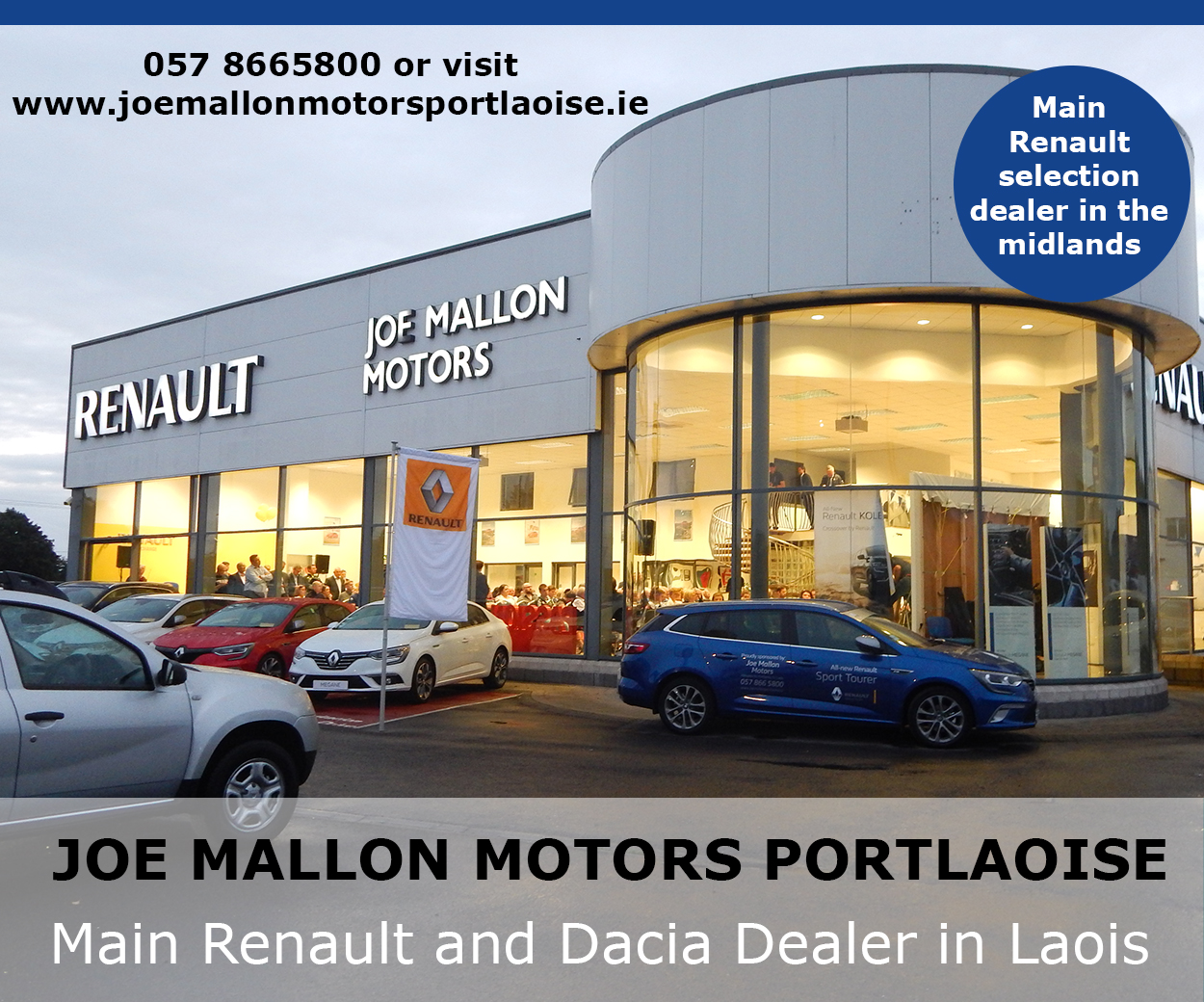 It was an emotional day for Derry Connolly, a day of mixed feelings and small wonder as his whole life has been immersed in this historic building, since he moved here with his family from Clonaslee in 1959. "I was born in Clonaslee, I'm a Laois man through and through," he smiles.
Derry's father Dermot, was Abbeyleix postmaster for 30 years before he himself took over for the past 16 years, having worked alongside his father in the busy office. With no post offices now in Ballinakill or Ballacolla, Shanahoe, Raheen or Ballyroan, it is busier than ever.
"I am not of retirement age and I wouldn't be retiring at all if it wasn't guaranteed that the post office would remain and continue in the town. That was very important to us and that was a stipulation that had to be adhered to.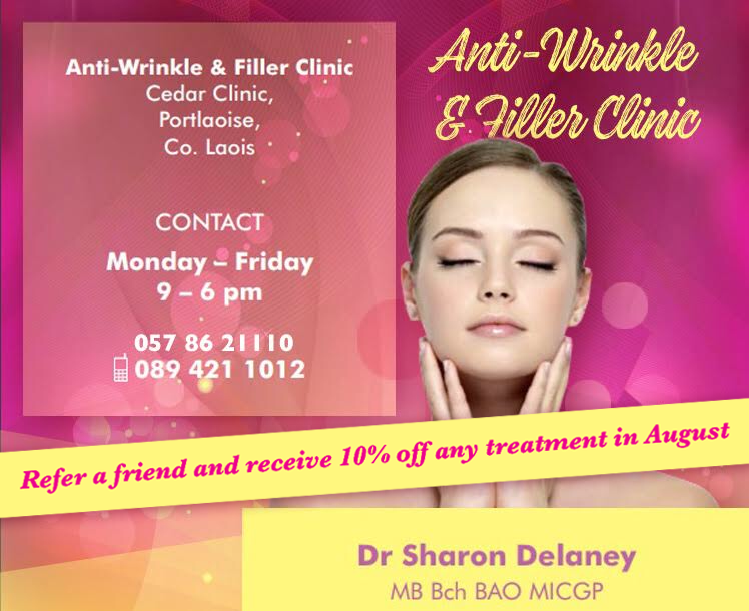 "The new post office is only one hundred yards down the street and it's a specially designated area in the supermarket, that's a bit different, but it's fine," outlines Derry, in what is clearly an emotional bitter-sweet day for himself and his wife, Catherine.
"Yes I have seen a lot of changes over the years, for good and some not so good. Automation and computerisation have had the biggest impact. People can now pay bills online and have their pensions paid directly into their account.
"But for many people the post office is a focal point, a place to meet up, have a chat when they come in to town. Computers are cutting out the face-to-face and personal contact, not just in post offices, but in so many other areas too and that's a big loss for people and society in general," reflects Derry.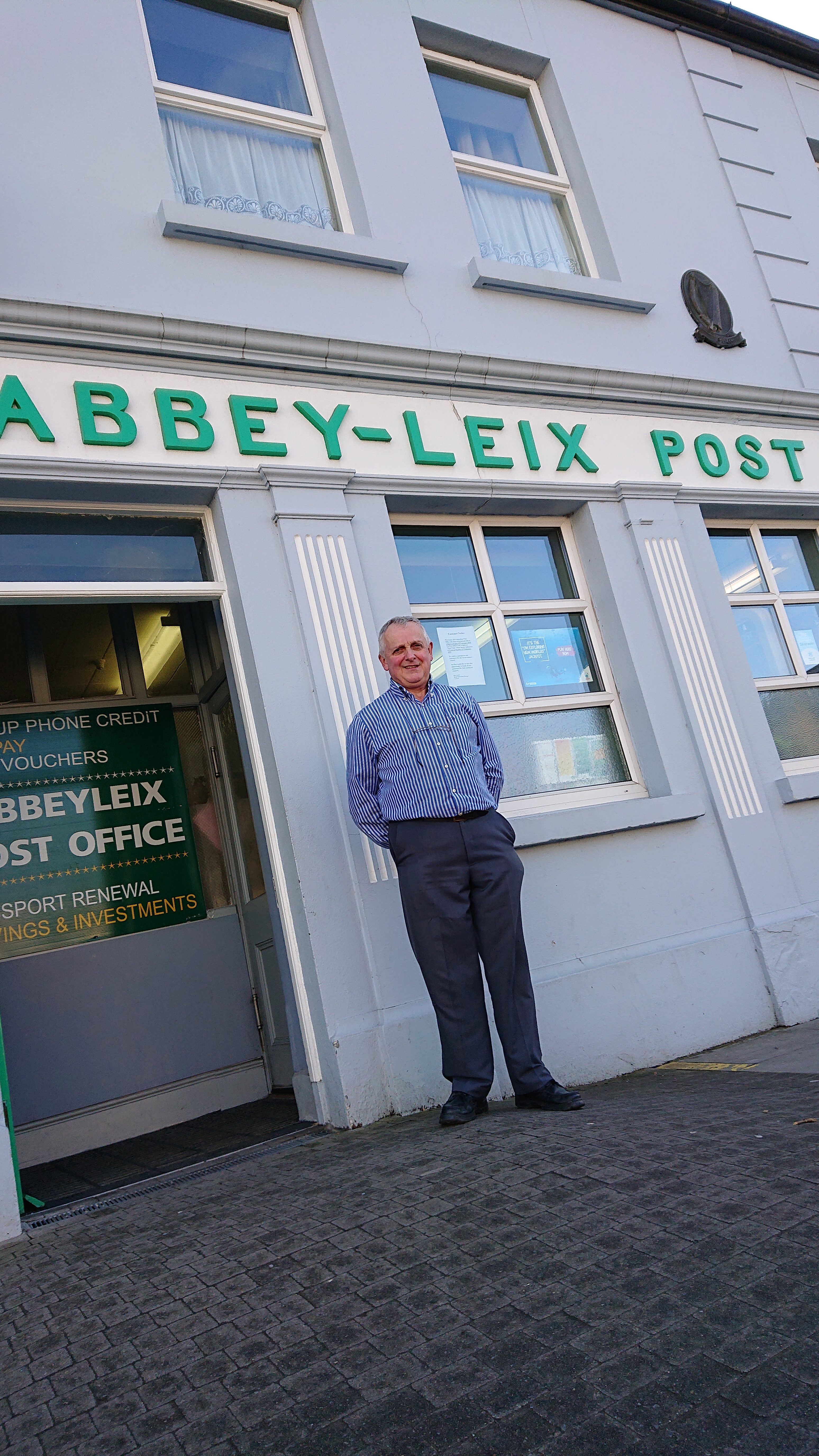 He agrees that the responsibility of the postmaster is an onerous one. "You're tied to it every 24 hours, even when you are not there the post office has to be run and even when it's closed there is always the security aspect."
When Derry's parents, Dermot and Mary came to Abbeyleix 60 years ago, they had come from a short stint in Clonaslee and were originally from Cashel and Tullamore.
The post office they took over was seeing changes even back then, as its status altered from a Head Office, owned, operated and staffed directly by the then Department of Post & Telegraphs. Hence the official harp emblem designating the state owned building, where Derry and Catherine now call home, harp and all.
Down the road in Super Valu preparations are at an advanced stage for a smooth transfer of the post office operations in the town from Monday morning. Super Valu proprietor, Connell Breslin is personally on hand making sure everything is in place.
"I am very conscious that this is a significant day for the Connolly family and the people of the community as there is understandably a strong emotional attachment to the post office and the service that Derry and Catherine have given down the years and we are very much respectful of that.
"We hope to be able to continue on that same hands on service and provide a one-stop shop for customers who want to carry out their bits and pieces at the post office and do their shopping also if they wish, particularly for our senior citizens," explains Connell, who said he is delighted the post office is being kept open in the town following a tender process.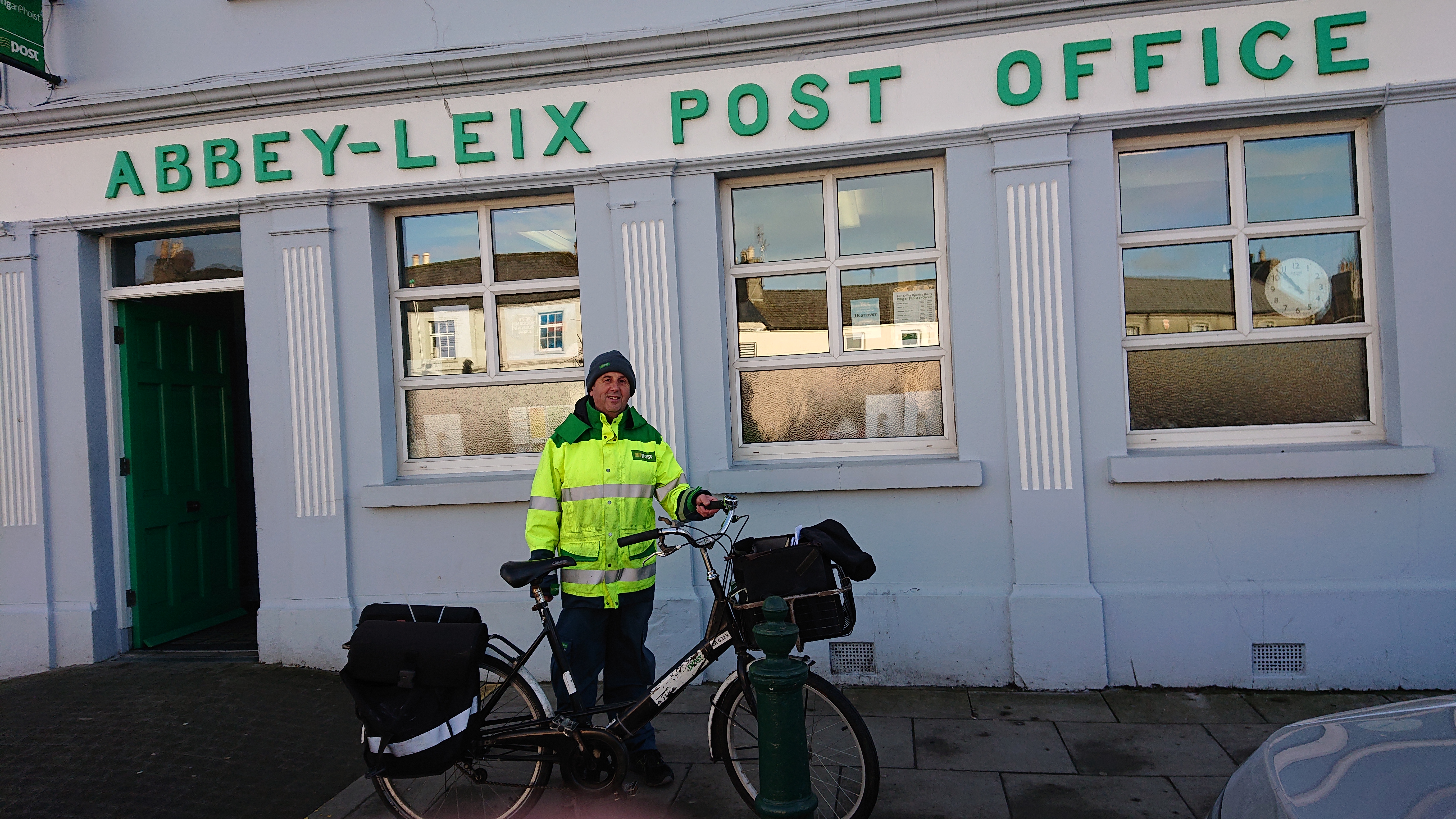 He points out that a similar move is underway in Rathdowney where his Super Valu store is adjacent to the existing post office building. This too will be transferring within the next couple of months, when the postmaster, Pat Delaney retires.
Overall this is part of a nationwide pattern of retirements and transfer of the post office operations to co-locate with supermarkets like Super Valu.
In some instances it results in the complete closure of the post office service as has been seen in some smaller towns and villages like Timahoe, Ballinakill and Ballacolla, as An Post continue to rationalise their business.
SEE ALSO – Spectacular St Fergal's camogie hoping to build on Leinster success this weekend