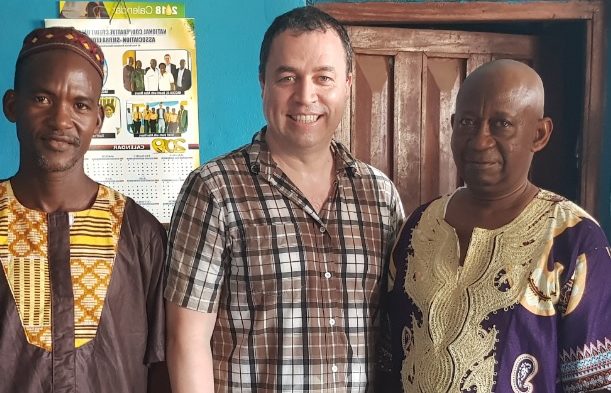 Co-operation among co-operatives is one of the operating principles of credit unions.  This principle was put into practice with the visit of Seán Dunne, CEO, People First Credit Union to Sierra Leone recently.
Seán participated in a tightly packed five-day programme with the ILCU Foundation. The ILCU Foundation is the charitable arm of the Irish League of Credit Unions in Ireland.
Seán travelled to Sierra Leone with four other CEOs from the Irish credit unions. The Irish contingent were based in Freetown. Sierra Leone is a country a similar size to Ireland and has a population of seven million. Life expectancy is 52 years and only 13% of the population have access to formal financial services.
Their itinerary was packed with volunteers providing mentoring sessions and facilitating workshops.
The group also visited local Credit Unions which allowed them a better understanding of how they operated their branches on a on a daily basis.
During the week the volunteers met with the Ambassador of Ireland to Sierra Leone, Catherine Campbell.  Ambassador Campbell provided a detailed account of Ireland's support to Sierra Leone and work supported by Irish Aid.
Although it was a busy five days, with lots of travelling, it was a very enriching experience for the volunteers.
Speaking about the trip, Seán said "it was an opportunity of a lifetime to witness and assist Sierra Leone's credit union movement, which is currently within its infancy.
"The trip furnished me the opportunity to give something back to the credit union movement. I was delighted to have been chosen and I look forward to what I believe will be a very rewarding lifetime experience."
Alan Moore, CEO, ILCU Foundation expressed his gratitude to Seán and all the volunteers who gave up their time to travel to Sierra Leone to provide support.
He also thanked People First Credit Union for supporting Seán to participate on this programme.
"Our volunteers got to see at first hand the great work that the ILCU Foundation supports thanks to the many credit unions that support us.  The credit union movement is really  the same all over the world, it is about people helping people."
SEE ALSO – Check out the dedicated jobs section on LaoisToday