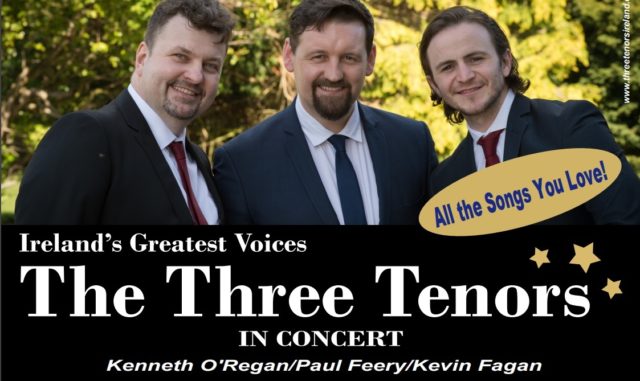 The hugely popular Three Tenors will perform a concert in St Fintan's Church in Mountrath on Friday, February 21, and with tickets now available to buy it will make for an ideal Christmas present.
Direct from the National Concert Hall, a Three Tenors performance is an amazing experience as Ireland's greatest voices sing all the songs you love in a fabulous new show.
Hear hits like Caledonia, Grace, My Way, O Sole Mio, Green Fields of France and The Parting Glass.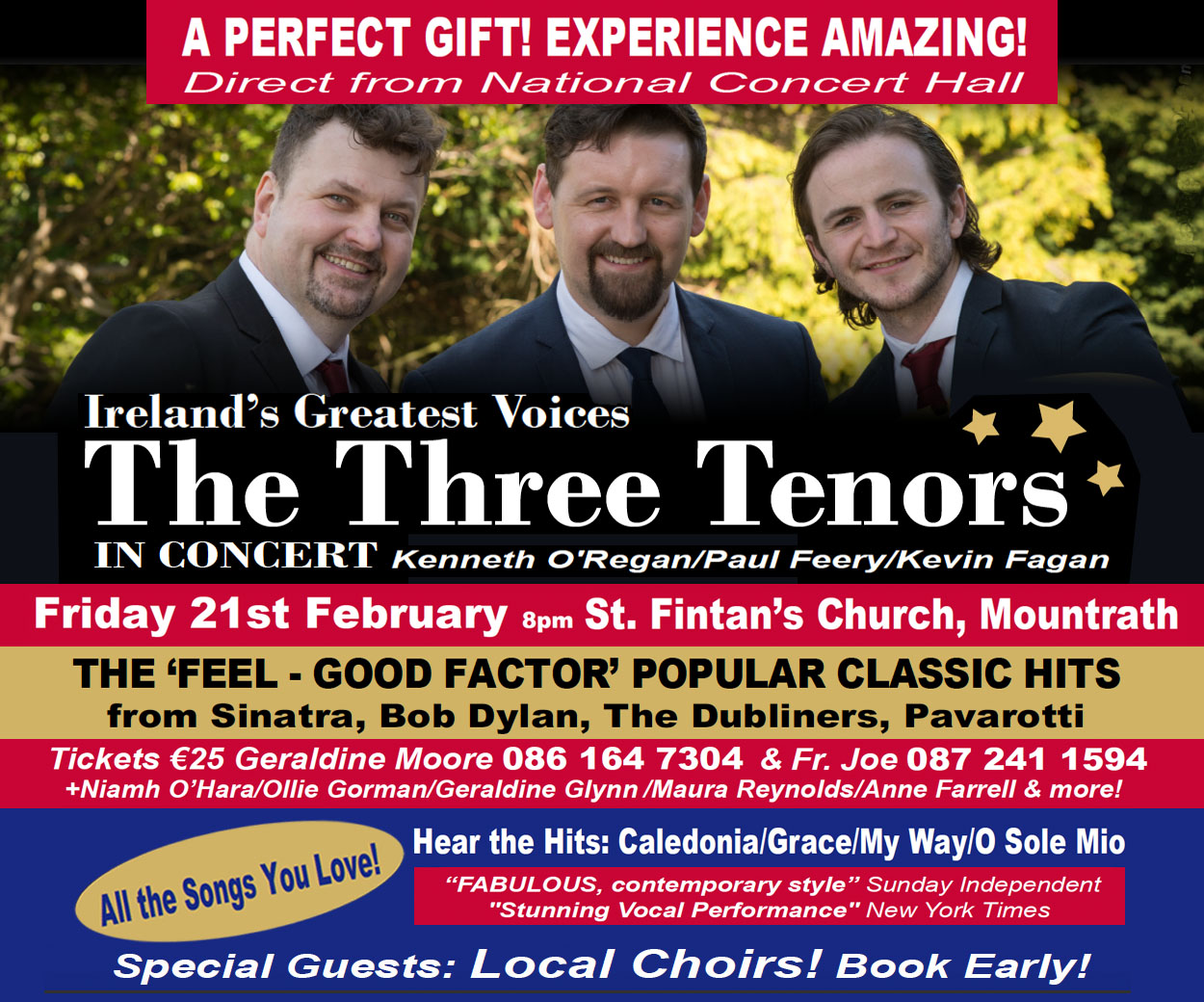 They have a fabulouse uplifting mix of songs made famous by Sinatra, Bob Dylan, The Dubliners and Pavarotti.
Creating a storm around the country, Ireland's Most Popular Trio, The Three Tenors Ireland – have been the only Irish trio act to perform annually for the past five years in such prestigious venues as the National Concert Hall Dublin (with important fan President of Ireland Michael  D. Higgins attending), Cork Opera House, Dublin Castle, and recent  sell-outs in Belfast Lyric Theatre. The trio has regularly appeared on BBC and RTE.
Ireland's favourite trio, Kenneth O'Regan, Paul Feery, and Kevin Fagan, provide the 'feel-good factor' promising a fabulous night to remember!
Featuring an exciting Celtic style program with a twist, this thrilling concert is a Classic-Mix packed with the most beautiful contemporary, uplifting songs–something for everyone!
The passion and feeling in their songs is truly amazing and can be emotional — Listen to 'Grace' & 'Green Fields of France'
Their noted friendliness & connection with their audience makes this a unique personal concert.
In 2012, 'The Three Tenors Ireland' performed for the 50th International Eucharistic Congress in the RDS and in Croke Park.
They are the only trio performing annually in Ireland's premier venues – National Concert Hall, Cork Opera House, Belfast Lyric, and have performed in Armagh, Galway & ChristChurch Dublin Cathedrals.
The trio were selected by the Irish Government to headline 1916 Centenary State Reception in Dublin Castle, Easter Sunday March 2016 for 3000 special invited guests from around the world and also selected for important Government events in the Mansion House in 2018.
In 2013, the trio headlined the sell-out European Premiere for the film Lincoln sharing the stage with leading stars – Sinead O'Connor, Shane McGowan and Chris De Burgh.
Among the attendance were Hollywood stars Daniel Day Lewis, Steven Spielberg and Sally Field (who all singled out the trio requesting to meet them after performance and are big fans).
The concert takes place in St Fintan's Church in Mountrath on Friday, February 21, at 8pm.
---
Ticket information
Tickets €25
Available to buy from Geraldine Moore on 086 1647304 and Fr Joe Brophy on 087 2411594.
Tickets are now on sale and may be purchased from the following ticket sellers.
Niamh O'Hara, Ollie Gorman, Geraldine Glynn, Maura Reynolds, Anne Farrell, Margaret Walsh, Caroline Moore, Mary Haslem, Rita Holland, Geraldine Moore, Ann Carroll, Sheila O'Rourke, Byrne's Shop, Main St, VDP Shop, Main St and from Fr Joe and Fr PJ.
There will be a list of other outlets where tickets may be purchased in next week's Mountrath parish newsletter.
---
Reviews
"Fabulous, high-calibre, contemporary style -the entire audience was moved by their soulful performance."  Sunday Independent                                      
"I would recommend this wonderful concert to anyone–the most delicious box of chocolates your ears could ever have.  Stunning Vocal Performance." New York Times
---
About St Fintan's Church
Work on the building of St. Fintan's Church, Mountrath began in 1857 and was completed  ten years later in 1867. The spire was completed in 1909
Is was considered by Dr Comerford, (former Bishop of Kildare and Leighlin) to be "One of the finest Parochial Churches in the Diocese."
About 15 years ago there was extensive work carried out on the roof – now the parish are going to devote time and energy to redecorating the interior.
SEE ALSO – Check out the dedicated jobs section on LaoisToday