Spink 1-9 Rosenallis 1-8

1986 Laois JFC Final
In the normal scheme of things, a Junior 'B' county final ranks well down the pecking order when it comes to looking back on the GAA activities of a particular year. 
But for Spink GAA,  it was a significant breakthrough in 1986, a famous win that brought in the best era in the club's history. 
Though a club had been formed in the area in the late 1920s – then called Knock – they changed to Spink shortly after, the name by which the local pub and creamery were known.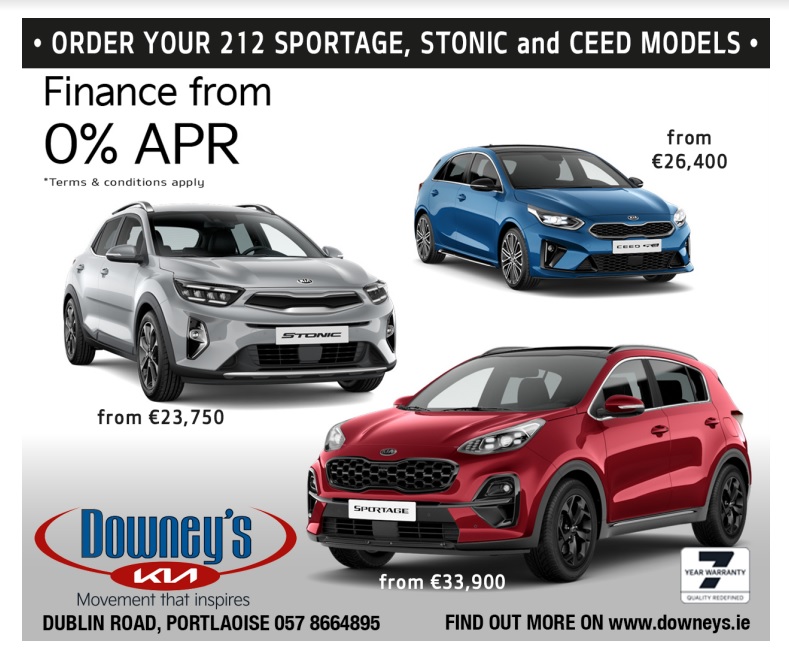 "Strictly speaking," wrote club chairman PJ Cahill in a Laois GAA publication in 1986, "there is no such place as Spink and nobody is quite sure how the name originated but it has stuck. 
In the same piece Cahill explained how Spink won a junior title in 1944, lost a final in 1954 and then went out of existence in the 1960s for 15 or 16 years when players from the area instead played for Ballinakill, Ballyroan or Timahoe.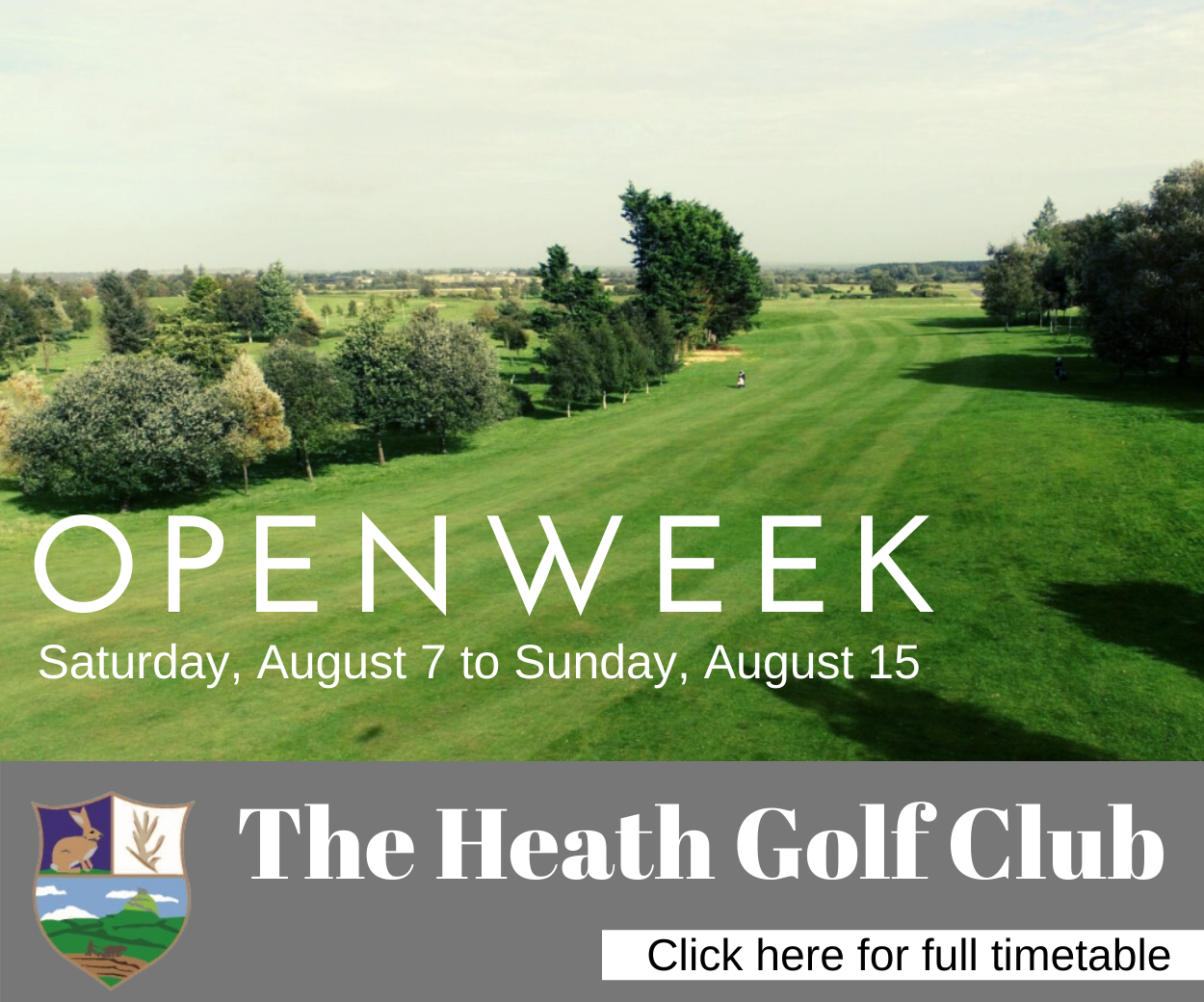 "Then about 1980 things began to change in the area. A new community spirit got a grip of the locality, a new Community Hall was built, the local church was done up and modernised at great financial cost and Enda Condron, former star forward on Laois teams of the recent past was appointed principal in the local school."
In 1982, then, they entered a junior football team in the Spink name again, having been competing at juvenile level for the previous four years. 
By 1986, the bulk of those players were old enough to play adult football.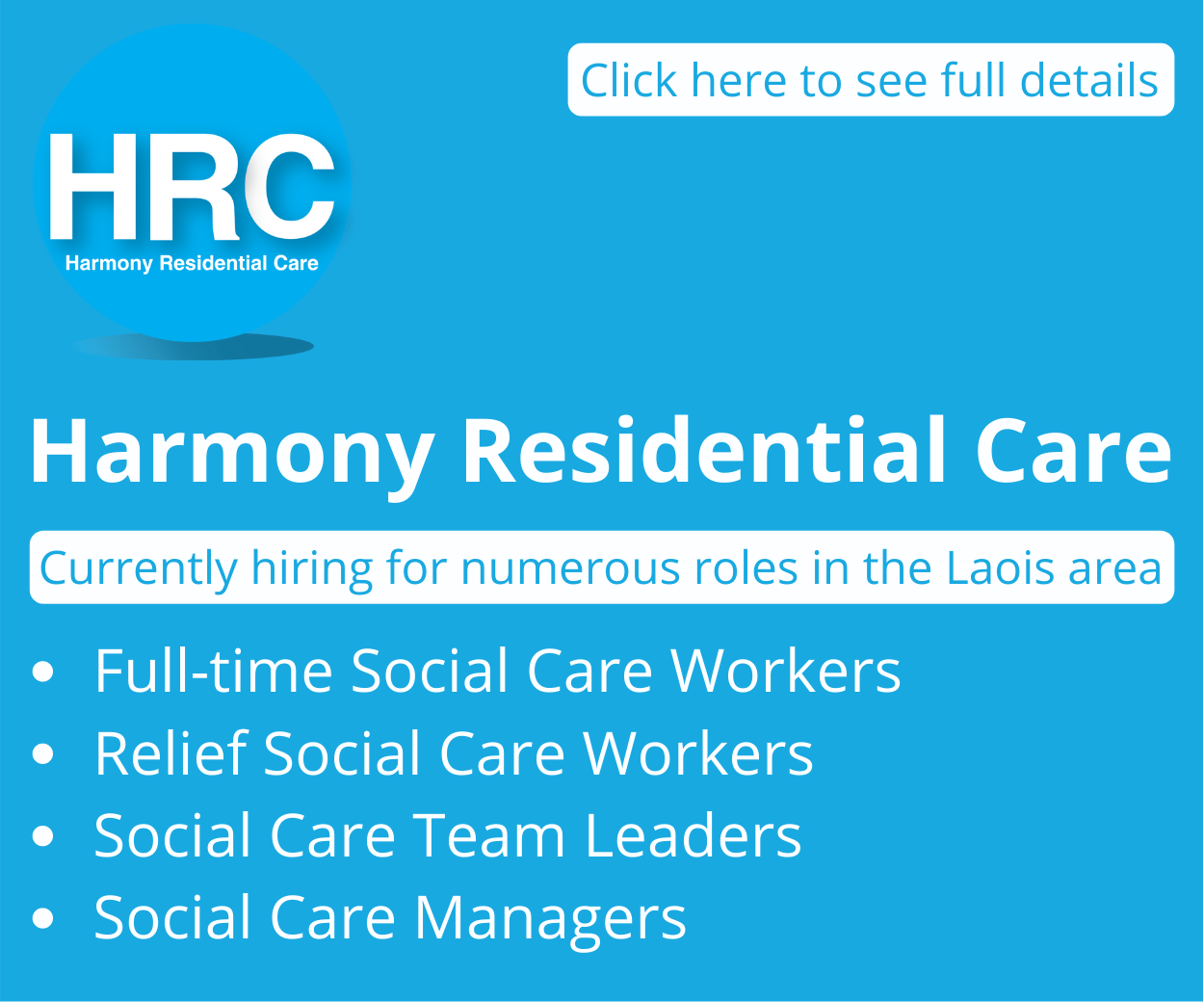 And they went on a run in the Junior 'B' football championship, coming from five points down to beat Portlaoise in the first round, then getting the better of Castletown in a replay. An experienced Emo side – including stalwarts like Brian and Gabriel Lawlor – were defeated in the semi-final in O'Moore Park.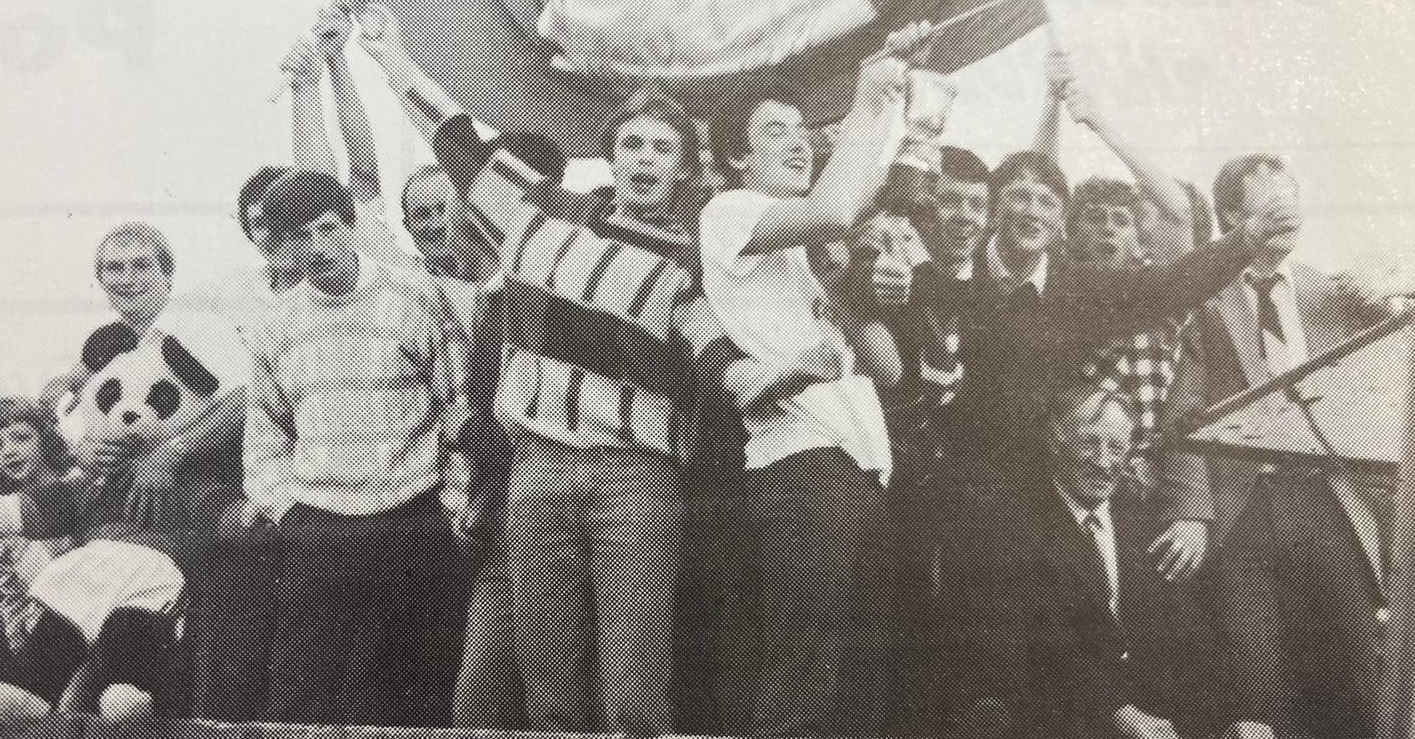 Next up was a Rosenallis side that had lost two of the previous three finals in the grade. 
"We were a little concerned considering our youth," wrote PJ Cahill in that same piece. "Four of the team had not yet seen their 17th birthday and eight were under 19." In total the average age of the 17 players that would play in that final in Timahoe was just under 21. 
Played in late August, Rosenallis raced into 1-2 to no score lead after ten minutes and though Spink rallied, Rosenallis were still 1-6 to 0-4 up at the break. 
"To their eternal credit, they took over midfield completely and camped in the Rosenallis half for long periods of the second half," wrote Cahill.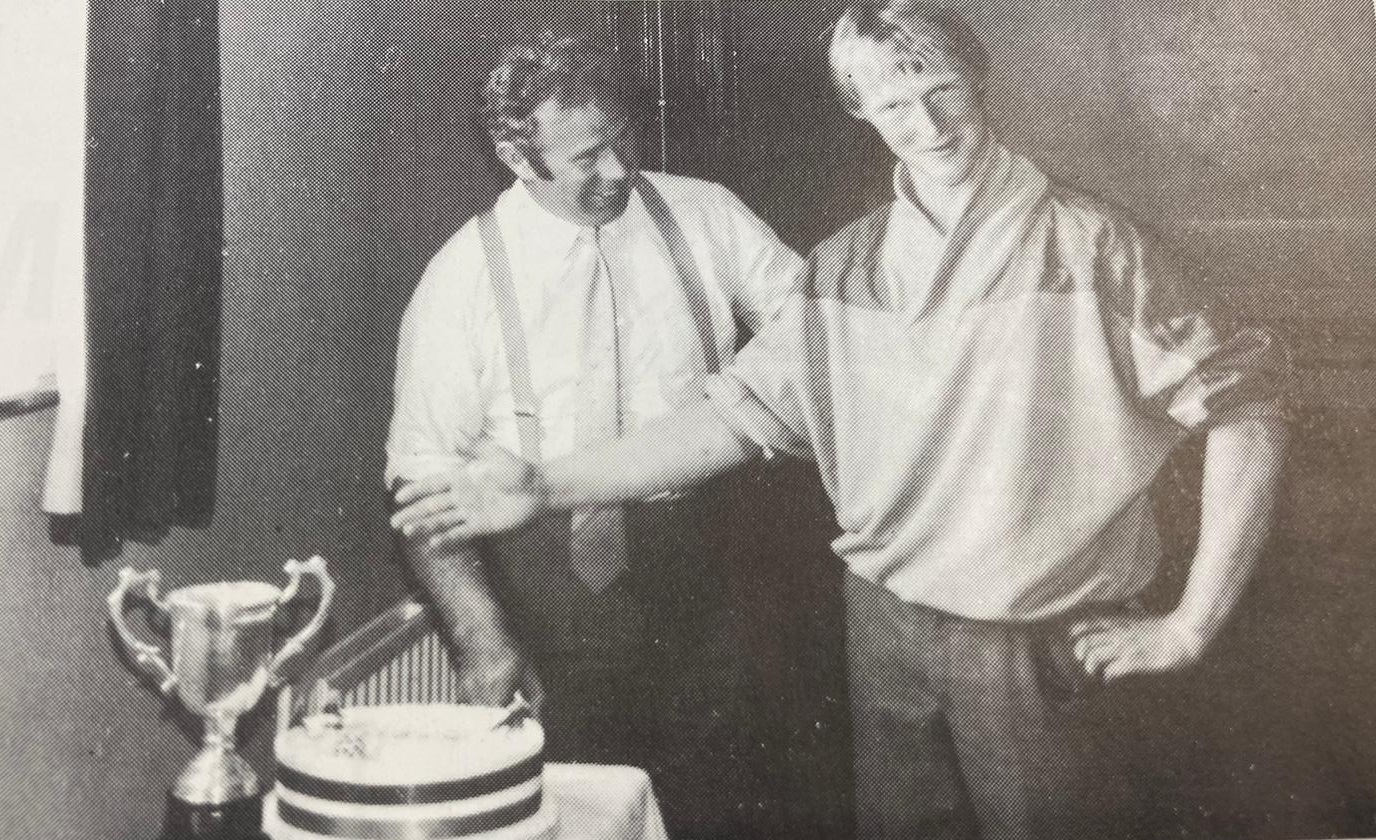 With three minutes to go however Rosenallis still led by three points before 16-year-old Tommy Gorman – who had been the Laois minor goalkeeper that year – scored a screamer of a goal. A minute later Denis Kehoe popped over the winning point.
"Spink footballers had just taken their most important step since they were reformed in 1982," wrote Cahill. 
"Everyone from the area are very excited about the future of their young footballers … the committee and selectors in the club will do everything in their power to guide them in the right direction," he added before going on to single out team manager and trainer John Miller "who turned out the team in top condition for every game this year". 
Spink's optimism was well founded. The following year they won the Junior 'A' title, two years later they won the intermediate and spent a number of seasons at senior level which included a couple of quarter-final appearances. 
They have since come up and down through the lower grades – winning the Junior 'B' again in 2004 and Junior 'A' in 2011. This year, however, they have dropped back to Junior 'B' but numbers are good again at juvenile level and hope springs eternal. 
Rosenallis, for their part, would go on their own journey, winning the Junior 'B' the following year in 1987, the Junior 'A' in 1994 and intermediate in 1995 to spend a brief spell at senior. 
They too would come back down through the grades before rising again. In 2020 they will be Laois's only dual senior club.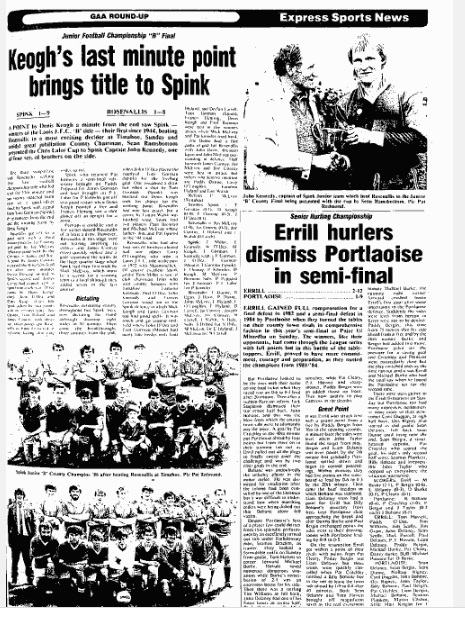 SPINK: Tom Miller; Eamon Kennedy, Ned O'Dea, Mick Keogh; James Gorman, John Kennedy, Francis Gorman; John O'Dea, Tom Gorman; Tom Gorman (Spink), Francis Fleming, Pat Knowles, Denis Keogh; Mick McEvoy, Paul Brennan. Subs: Paddy Peppard, PJ Lalor
ROSENALLIS: Joe Dunne; Brendan Egan, John Davis, Paddy Dunne; John McEvoy, Eamon Hyland, Larry O'Loughlin; Tom Hyland, Declan Farrell; James Conroy, Joseph McEvoy, Joseph Conroy; Noel Farrell, Fint Walsh, Noel Daly. Subs: Seamus Hyland, Mick McEvoy, Jim McElwee
REFEREE: Pat McEvoy (Timahoe)
SEE ALSO – Check out more from our County Final Memory series here