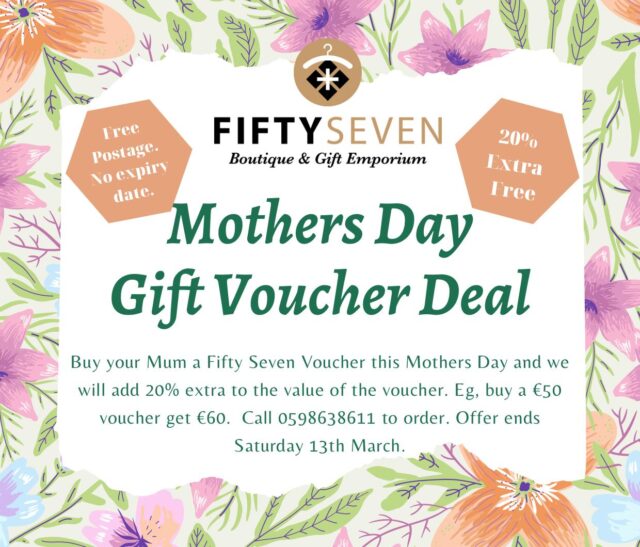 Fifty Seven Ladies Boutique in Athy and Durrow are showing how much they value Irish Mammies by bringing back their brilliant Mother's Day Voucher deal again this year.
Mother's Day is Sunday, March 14, and if you buy your mother a Fifty Seven Voucher, you will get 20% added to the value of your voucher absolutely free.
So if you buy a €50 voucher from Fifty Seven you will receive a €60 voucher and so on.
With no expiry dates and free postage, a Fifty Seven gift voucher is an ideal gift this Mother's Day!
Call 059 8638611 to order your voucher. (If phone is unattended please leave a message and we will get back to you).
Fifty Seven also have an extensive range of gifts in stock in their shops, most of which is available to buy online. Click here to visit their website.
They have also started showcasing their fabulous range of stock in regular videos on their Facebook page, if you don't already follow Fifty Seven on Facebook, we recommend you to look them up, for some enjoyable fashion distractions during this uncertain time!
Now more than ever we need to ensure we celebrate anything we can, so let Fifty Seven post your voucher straight to your home, and make sure nothing gets in the way of showing your Mammy how much you value her!
SEE ALSO – Check out the Fifty Seven Boutique and Gift Emporium website here