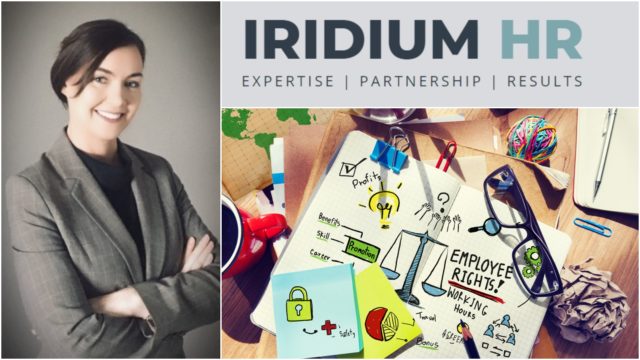 Sinéad Grehan (née Gorman) is a highly experienced HR professional with over 20 years' generalist HR experience across a range of private sector businesses, 14 of which have been at senior management level.
In 2018, Sinead established her independent HR Consultancy business, Iridium HR, encompassing the core values of Expertise, Partnership and Results for her clients. Here she takes us through what she offers – and what business should watch out for.
---
Iridium HR is a business which I established in September 2018 in order to offer HR consultancy, support and advisory services.
The vision for the business is to deliver results to businesses requiring HR expertise and support on a project/retainer/outsourced basis; both SMEs requiring start-up HR and ongoing support but also larger organisations seeking additional/outsourced HR support for their business.
The services which are provided cover the board spectrum of HR activities and include (but are certainly not limited to!); compliance with employment law; employee relations queries and issues; workplace investigations; project and change management; training and development; 3rd party representation; industrial relations and support for recruitment and selection.
I work collaboratively with my clients, supporting them and helping them to navigate through any challenging or difficult HR and people-related issues they are facing to ensure that they remain compliant, manage risk and achieve the right results.
What is your own professional background and how did you come to set up your own business?
I was fortunate that, through my studies, I gained a year of work experience in a very large HR department and, during that time I observed experienced and competent HR professionals dealing with so many different HR situations.
This absolutely inspired me and also provided a foundation in HR from which I have since grown and developed. I started my first full time HR job 2 weeks after completing my studies and haven't looked back since!
Setting up as an independent HR Consultant was something I had thought about for some time and I also felt strongly about there being a niche for providing HR support in the Portlaoise/Laois/Midlands area, in particular for the SME market; those businesses who employ staff but don't have the need or resources to employ a HR professional but who still need to be compliant with employment law and best practice HR.
What type of clients to you currently work with?
I work with a large range of clients, from small local businesses to those offering a nationwide service.
My clients include environmental, energy, IT, manufacturing, safety, retail & hospitality, childcare, education, construction and even local Skillnet groups. The variety of clients is fantastic but my core values – Expertise, Partnership & Results – are consistently delivered.
How do you find working for yourself?
I had worked in the private sector across a variety of industries for almost 20 years and, during that time, I was immersed in each business on a daily basis.
Therefore, taking the decision to make the leap of faith into being my own boss, was a significant change. However, thankfully (!), I have transitioned quickly and have found it extremely rewarding; it suits my work ethic and personality and I am still doing the work I love – working with people, helping to resolve issues.
I apply my HR knowledge and background  both practically and commercially and have a passion for delivering on time solutions for my clients and, ultimately, for making a difference.
Being in business and being a business person means I now have the autonomy to drive the business forward, therefore, opportunities such as networking with the Laois Chamber, meeting new business-people and discussing with them how I can potentially add value to their business is a new and exciting opportunity for me.
What is the best piece of HR advice you can give to somebody?
There would probably be 2 main pieces of advice (!) that I would give to clients/ employers – firstly, I would advise employers to always be respectful towards all those whom they work with – this will lend itself to getting the best from people and staff will want to work with you, not for you; secondly, if and when HR queries/challenges arise (particularly more contentious or difficult issues), not to panic and make a knee-jerk reaction/decision (which, oftentimes, can make a problem worse, not better).
Consider your position, consider what is the right thing to do and devise an approach that satisfies both the business and the employee's needs.
If necessary, speak to a trusted advisor, like us in Iridium HR, who will guide, support and advise you through any HR issue to find a compliant and commercial solution for your business which also stays true to the employment law and best practice requirements.
How can someone get in touch with you?
It's easy to get in touch and make an enquiry – clients can use the "Contact" page on the website https://www.iridiumhr.com. Clients can be assured of absolute confidentiality and integrity when working with Sinéad and the business.
SEE ASO – Making Laois the centre of Ireland to do business – huge interest about upcoming Laois Jobs Fair