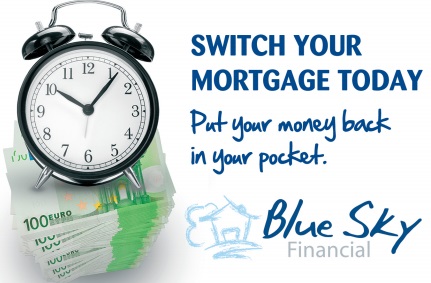 Now is the time to switch your mortgage and you can do so with Blue Sky Financial in Portlaoise.
Put your money back in your pocket – switch your mortgage today.
Existing
Balance: €150,000
Term: 25 years
Repayment: €788 per month
Rate: 3.95%
APR: 4.11%
To Switch
Balance: €150,000
Term: 25 years
Repayment: €659 per month
Rate: 2.3% (2-year Fixed)
APR: 2.95%
Total Savings over remaining term – €38,910
Terms and conditions apply.
Contact 057 8661330 for further information.
Blue Sky Financial are based in Mercantile House, 52/53 Main Street, Portlaoise, Co Laois. You can email portlaoise@blueskyfinancial.ie
Blue Sky Financial would like to confirm that in these very testing times we will do all in our power to avoid business disruption.
While we are open for business we encourage you to look at different ways to conduct your business, we can transact your busines over the phone, by email, by post or by arranging a suitable time to call into our office.
The safety of all our staff and all our customers are paramount and we will continue to review the situation as it developms.
We would also like to advise our customers regarding simple and effective guidelines on how to stay safe during the Covid-19 breakout. 
Wash your hands well and often
Cover your mouth and nose when coughing or sneezing
Avoid touching eyes, nose and mouth with unwashed hands
Our phone lines are open, you can contact us on our HELPLINE. CALLSAVE: 1850 677678
---
WARNING: Your home is at risk if you do not keep up payments on a mortgage or any other loan secured on it.
Aidan Kelly t/a Blue Sky Financial is regulated by the Central Bank of Ireland
SEE ALSO – Check out the Blue Sky Financial website here