A 747 for Jackson Browne,
They had to build a special runway just to get him down.
Before the Chieftains could start to play,
Seven creamy pints came out on a tray.
Shergar was ridden by Lord Lucan,
Sean Cannon did the backstage cookin'
Clannad were plain' "Harry's Game",
Christy was singin' "Nancy Spain".
Mary O' Hara and Brush Shiels,
Together singin' "The Four Green Fields".
Van the Man and Emmy Lou
Moving Hearts and Planxty too!
Everybody needs a break,
Climb a mountain or jump in a lake
Sean Doherty goes to the Rose of Tralee,
Oliver J. Flanagan goes swimming in the Holy Sea.
But I like the music and the open air,
So every summer I go to Clare.
Coz Woodstock, Knock nor the Feast of Cana
Can hold a match to Lisdoonvarna.
(Lisdoonvarna, Christy Moore)
The Electric Picnic is the best thing since the sliced pan. Certainly the best thing to hit Laois in a long time.
I'm a big fan and proud as punch that it's here in Laois and just down the road in such a super venue in Stradbally.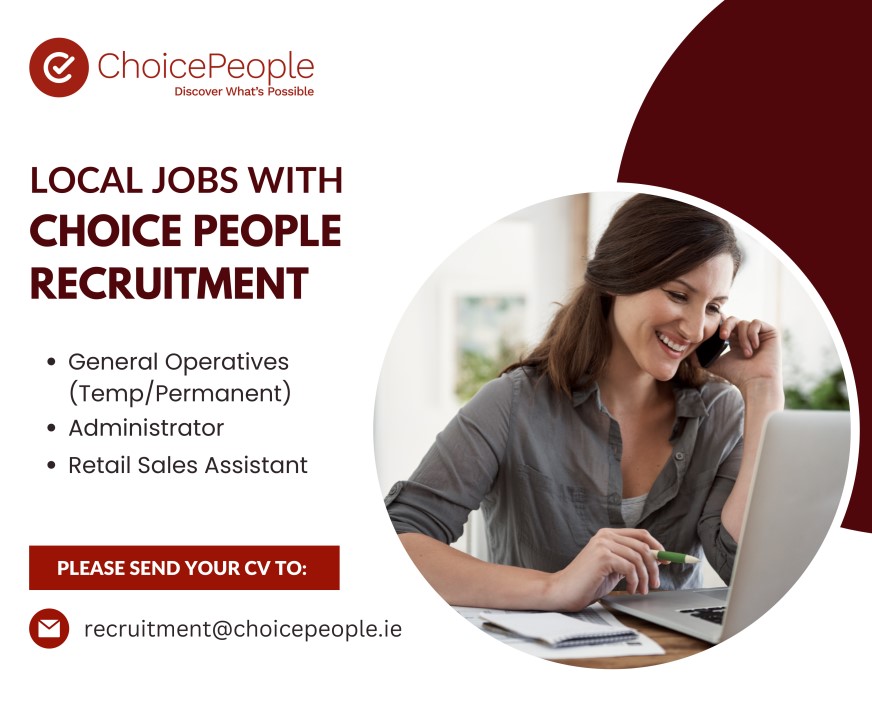 If you don't shape up and make an appearance, even for one day, you feel like you have been left out, that you have missed out.
The Picnic – as us EP veterans and locals like to call the event – has just got such great taste; such a feel-good vibe and always leaving you with great memories.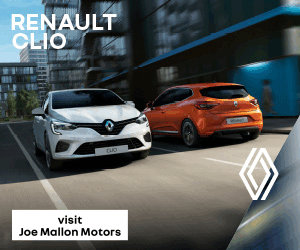 In a sense it captures and is the latter day equivalent of glory days of the Showband era – Send them home sweating and leave them wanting more!
Now I can't say that I've been at more Picnics than you've had hot dinners but I've been to a few gigs, concerts, festivals in my time.
For me, the golden era of the Irish music festival was a fiveyear spell from 1977 to 1982.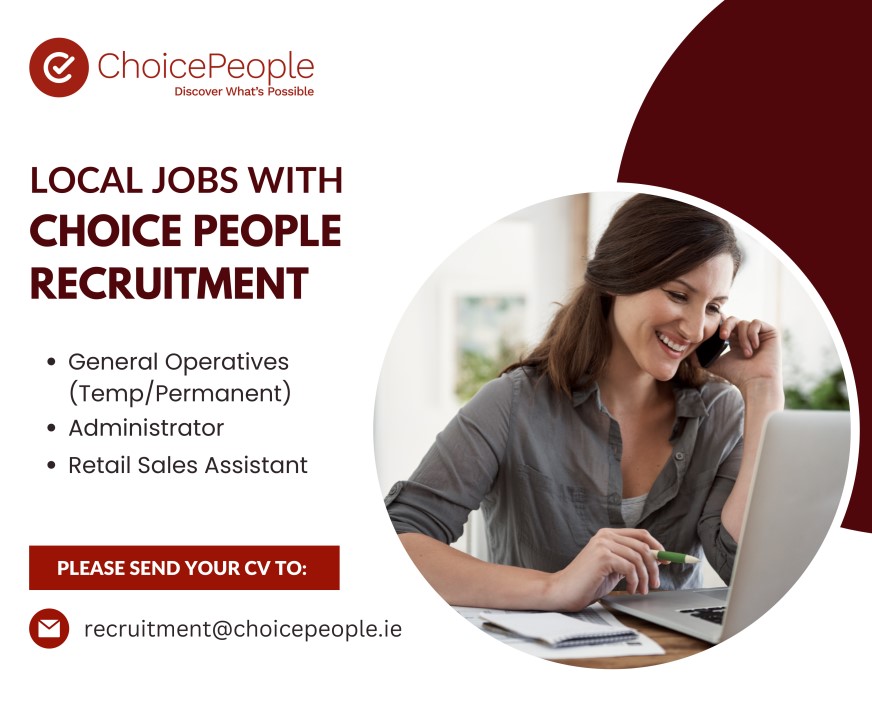 Inspired by the counter-culture 60s spirit of Woodstock and spurred on by the fledgling success of Glastonbury, along with the cross-over resurgence of the folk scene to spawn Macroom Mountain Dew Festival, Lisdoonvarna and Ballisodare all in quick succession.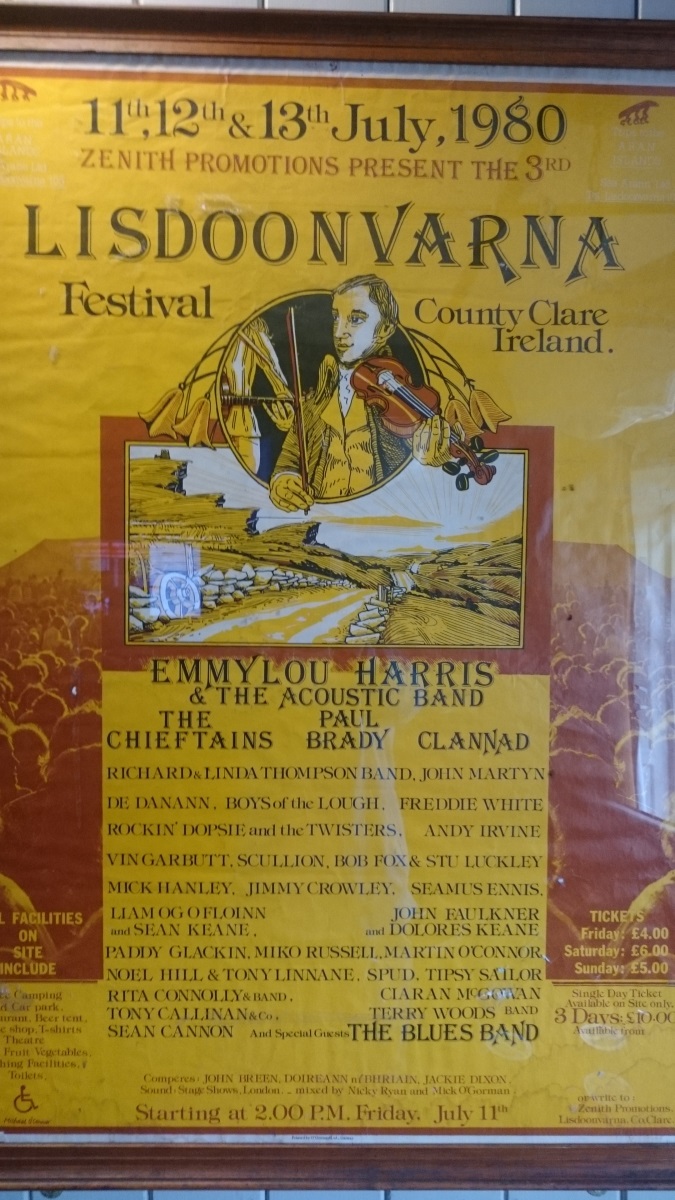 It was magical. So exciting. We thought we would live forever and that the music (festivals) would never die.
We got to see Rory Gallagher, Chuck Berry and Jackson Browne in the flesh and at the height of their powers. These too were the heyday of The Chieftains, Clannad, Planxty, Moving Hearts, The Bothy Band, Paul Brady, Ralph Mc Tell, Richard and Linda Thompson, John Martyn.
The list goes on and on, we have the posters on our wall to prove it. Folk was here to stay.
The first Slane one-day concert came in 1981 with U2 in support and playing second fiddle to my man, Phil Lynott and Thin Lizzy.
We didn't see the warning signs but the days of the three-day camp over music festival were already numbered just as they were getting started.
The lifespan of the festival was to be short and sweet, like an asses gallop.
Every generation throws a hero up the pop charts and there are few things in life as subjective and personal as music.
So when it comes to concert line-ups who is to say what's good, what's not, what's missable, what's hot?
Glastonbury (1970) is the granddaddy of all festivals and the one that sets the gold standard since it was founded in the Somerset countryside by Michael Eavis as a hippie haven and counter-culture statement of a generation.
For its 40th anniversary in 2011 Glastonbury, instead of resting on its laurels, flexed its muscle and continued to make that statement, headlining with U2, Coldplay and Beyonce.
For an encore the following year it featured some band called The Rolling Stones.
Over the years since we first set out for Macroom and Lisdoon 'on a Thursday night, with me tent and me groundsheet rolled up tight' there have been a host of pretenders – Siamsa Cois Laoi, Feile in Thurles, Witness, Oxegen and a whole host of others that I can't even remember.
There was even a Feile in Paric Ui Chaomh in 1995 featuring Prodigy, Moby, Kylie Minogue, Blur, The Beautiful South, James Taylor Quarter, Stone Roses, Paul Weller, Elastica, and Orbital. Wow, what a line-up.
Had forgotten all about it and wasn't even there. Looking at the event poster over 20 years later I still feel I missed out.
In addition today there are raft of new contenders – Body & Soul, Longitude, Sea Sessions, Iveagh Gardens, Kilmainham and who's to say what's around the corner.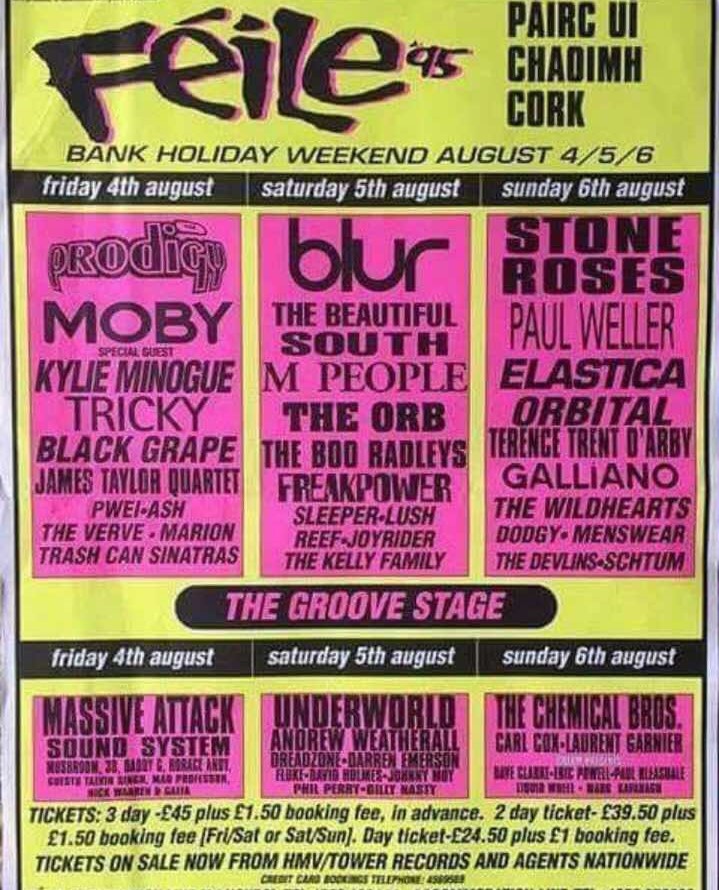 I know no one who failed to get a ticket for this year's Electric Picnic who feels like they have missed out.
There are those who argue that the Picnic peaked with the Arcade Fire gig in 2005. My own view is that each Picnic has its own distinct and unique flavour and possibilities for that magical moment.
However, if last year's line-up was iffy, this year's is particularly uninspired. There are more acts to be added but so far it's underwhelming.
On the face of it, it doesn't matter who performs at the Electric Picnic as the event religiously sells out in minutes regardless of who is on the bill and even before the line-up is announced.
There is certainly a temptation on the promoters to trade on their reputation and to turn the cool, relaxed, family-friendly chilled out vibe that marks out the Picnic into more of a weekend away, post-Leaving Cert rite of passage, where it never matters who's on stage.
But it does matter. For the Electric Picnic is, after all, a music and arts festival.
The calibre, credentials and credibility of the line-up and the overall quality and atmosphere of the offering matters and will matter more than ever in the long run.
It is vital for the long-term survival and sustainability of the festival that it continues to attract critical and creative acclaim – alongside selling out.
There is also a need I believe that if it is to be embraced and sustained as an essential Laois event there needs to be a development of an Electric Picnic Fringe Festival to run in tandem and to feed off the brilliant Electric Picnic brand– a Picnic unplugged, or my own favourite, The Eclectic Picnic (copyright!).
Like I said at the outset, I love the Electric Picnic but let's hope it doesn't all go Pete Tong for the want of staying true to its founding principles and the ethos that has driven Glastonbury on to even greater things for over forty years.
Everyone loves a great Picnic but there's nothing as bad as a stale picnic.
READ ALSO – Wired with Whelan: Make a mother's day of it every day … not just on Facebook