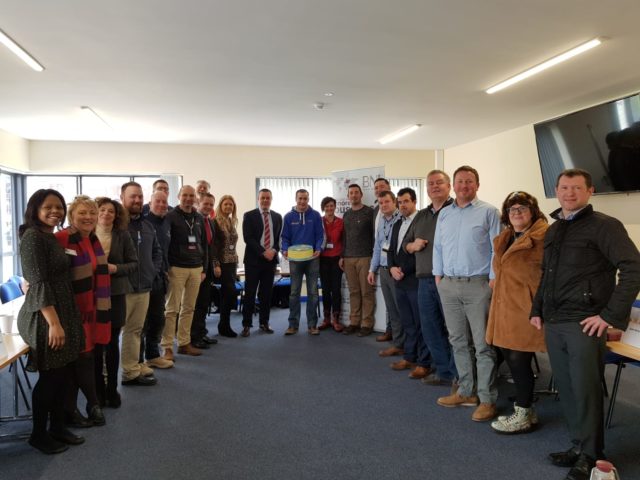 Every Tuesday morning at 9.30am in Portlaoise, a group of local business people gather for a weekly meeting. The purpose of it is to help generate business for each other – and so far this year alone, there has been over €1 million recorded by the local group.
The BNI (Business Network International) is a massive organisation that has 'chapters' dotted all over the world. The 'Crossroads Chapter' is based in Portlaoise and was set up over seven years ago.
Many of the original members are still involved, proof enough that it is certainly benefiting what they do.
The BNI is a membership-based group. One of the key parts to it is that there is only one seat for each sector. There can be only one accountant, one solicitor, one carpenter, one plumber for example.
By joining, you can "lock your competitors out" as they say at the weekly meetings. And within the group, they are able to pass a considerable amount of business on to each other.
The mortgage advisor can put the builder in touch with someone who is about to build a new house. The builder can tee up some business for the person that fits kitchens or bathrooms.
Each member is allowed to speak every week to seek out particular business while there is also a schedule of 'feature presentations' where the members have a longer allotted time to show what they do – and what they're looking for.
So if an engineer sees that someone outside the group is looking for planning permission, he can ask for someone in the group to put them in touch.
Likewise, if someone is seeking to make contact with a business that they haven't dealt with before, the likelihood is that another member will be able to open that door for them.
The ethos of the whole thing is to help get business for everyone – and to maximise the combined contacts list. Regularly throughout the course of everyone's working week they will come across someone who needs the services of a certain business. More often than not a BNI member will be able to recommend someone with their group.
Membership is €650 per year and while there is a requirement to be there every week, you do have the option of sending a sub.
If you're not a member, there is the option to go as a visitor, where you can speak about your business (assuming someone from that area isn't a member) and get a taste of what it's all about.
Members can also go visit other chapters to generate business there – with vibrant chapters also based in Tullamore, Kilkenny and Celbridge, for example.
It is all quite goal-driven with targets set for referrals – the act of passing business from one member to another.
The Crossroads chapter in Portlaoise are averaging over 160 referrals per month and generating up to €300,000 per month this year between them.
If you're interested in becoming a member – or going to visit, get in touch with current president of the group – John Kelly from JK Autos on 086 8959816.
The group meet every Tuesday morning at 9.30am in the impressive meeting rooms in the new Laois GAA Centre of Excellence on Fr Browne Avenue beside O'Moore Park.
You can check out the BNI website here – and the Crossroads Chapter Facebook page here.
The full current list of members is:
Paddy Bergin – Expert Electrical Laois
Austin Bracken –
Michael Bowe – Michael Bowe Plumbing and Heating 
Celine Cole – Cole Planning and Design
Frank Cullinan – Robertson Lowe Insurance
Noel Donoher – D Carpentry
Tommy Dunne – Dunne Construction
Rory Fitzgerald – Haines Fleet Hire
Danny Hanlon – Hanlon Kitchens
Mike Hayden – Tax Pro Accountants
Clement Herron – Clement Herron Real Estate
Stephen Hudson – Permanent TSB
Luke Hyland – Luke Hyland Engineering Consultancy
John Kelly – JK Autos
Fiona Looby – Looby Tiles
Marcus Ging – Dunkeen Oil
James McElwee – McElwee Law
Emma Lawlor – GTL Life and Pensions
Sean McManus – Vermac Gas
John Oxley – Oxley Electrical 
Unathi Mdingi – Ultraplus Cleaning
Eamon Porter – Painter
Sandra Reddin – Mochua Print
Mark Roberts – Cleaning Doctor
Brendan Whelan – Office Centre
SEE ALSO – Check out the dedicated jobs section on LaoisToday