Where did the time go? This day 10 years ago the Laois U-21 footballers were beaten in the All-Ireland final by Cork.
It's one of the defeats that just won't go away. With five minutes remaining, Laois led by 0-15 to 1-9 and a first U-21 All-Ireland title seemed in reach.
However, Cork drew level through a fortuitous goal from Colm O'Neill and then won it deep in injury time thanks to a Daniel Goulding free.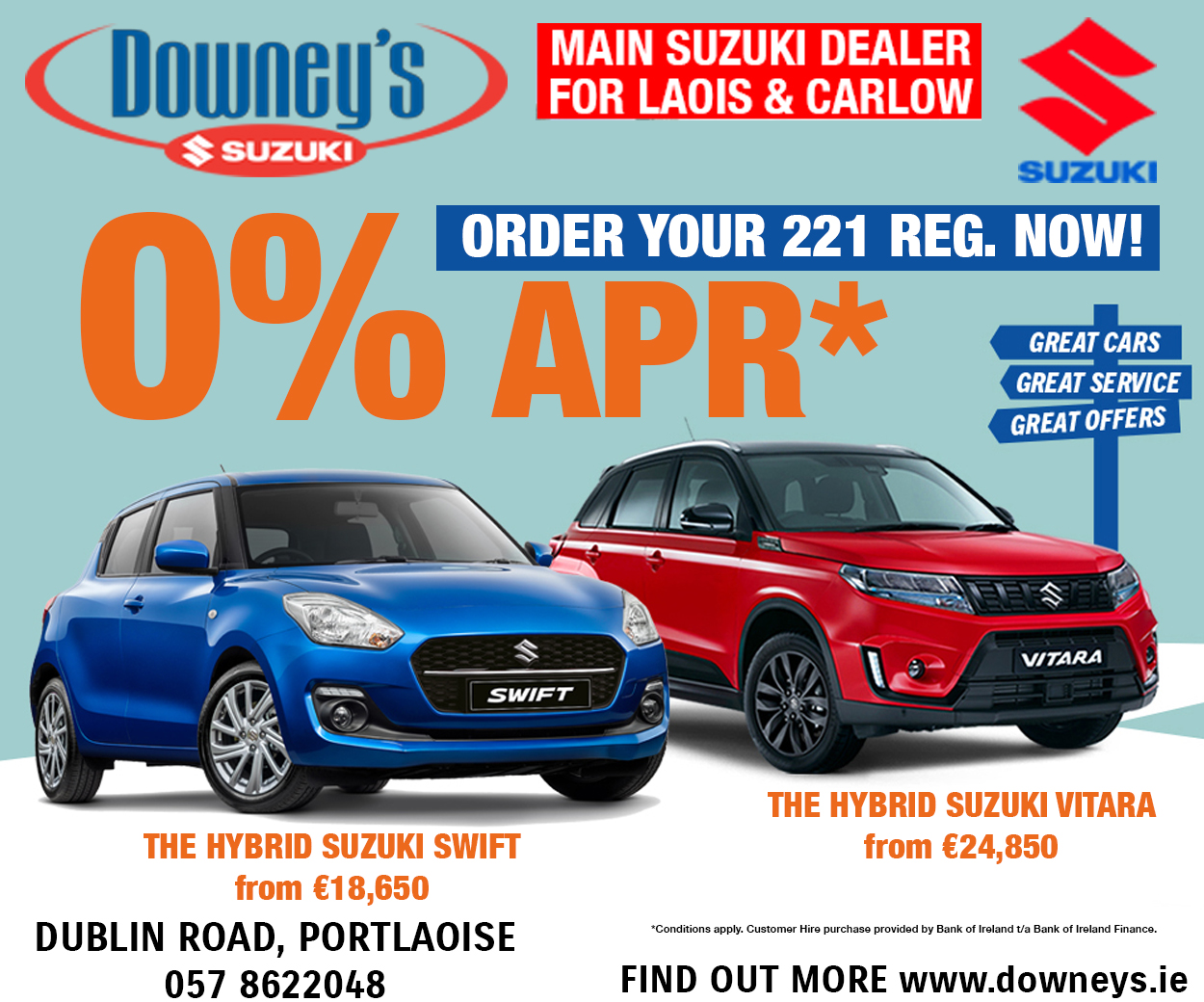 At the time Laois were one of the top underage counties in Ireland. Under the guidance of Sean Dempsey – who had John Mulligan, Sammy Byrne (RIP) and Pat Gorman alongside him – Laois had come right up through the underage ranks winning two Leinster U-14 and two Leinster U-16 titles before winning the All Ireland minor in 2003. They won Leinster minor in 2004 and were beaten narrowly in the All Ireland semi-final by Kerry.
The form carried through to U-21. Laois won the Leinster title in 2006 before losing to Cork after a replay in the All Ireland semi-final. Cork would then lose narrowly to Mayo in that year's final but Laois, Cork and Mayo all came through their provinces again in 2007. The rivalries were well established and the three counties were clearly the top dogs at underage level.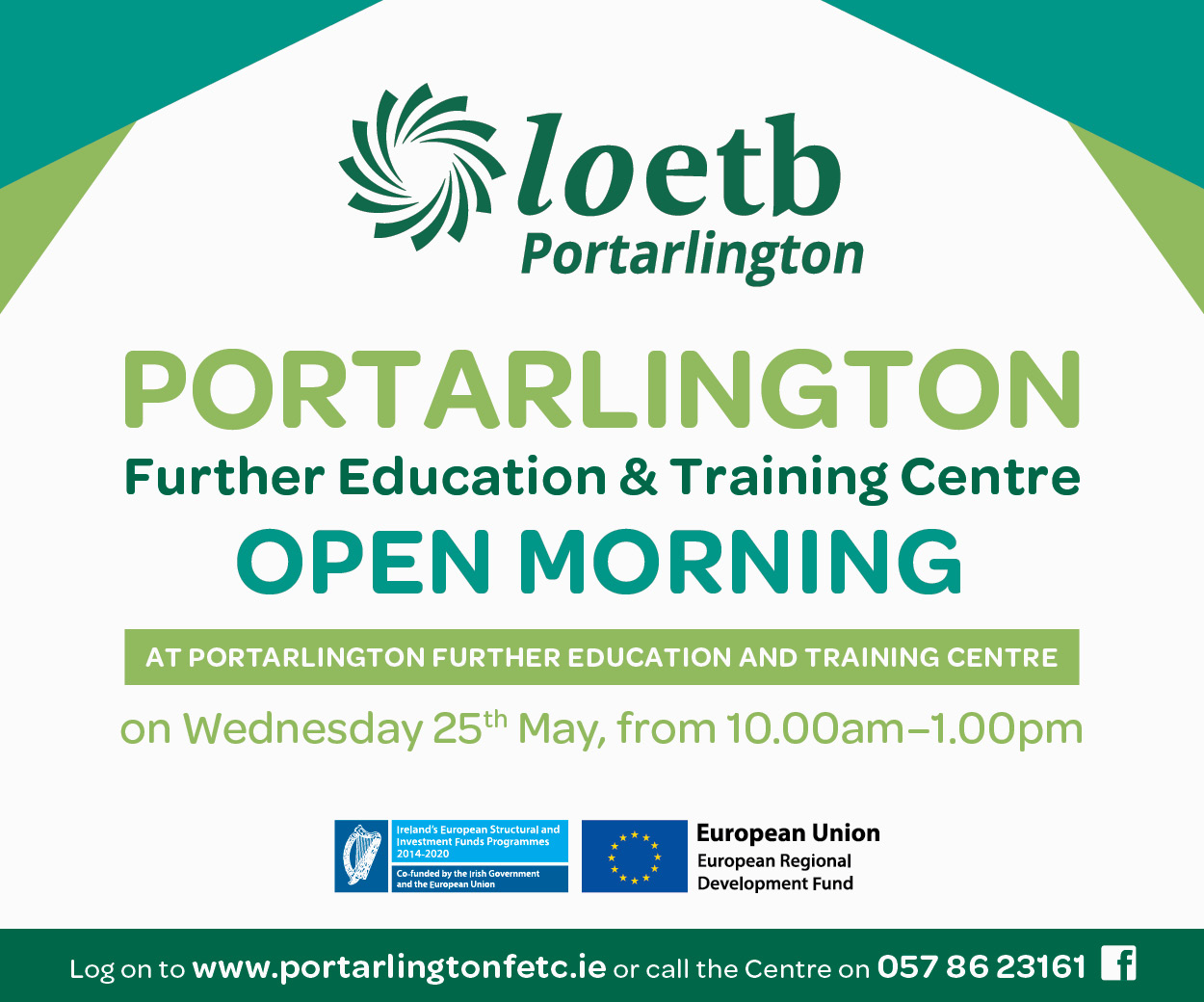 Laois weren't overly impressive in getting through the Leinster campaign but they won back-to-back titles nonetheless before then dethroning Mayo in Dr Hyde Park in Roscommon.
Then, on the Saturday of the May Bank Holiday weekend, they renewed battle with Cork. Three years previously at minor level, Laois had got the better of Cork in the All Ireland quarter-final after a replay – the drawn game ending with the mother-and-father of all rows in Limerick. Two years later and with many of the same players involved, Cork got the better of Laois at U-21.
That Saturday night was the culmination of all those years with the ultimate underage prize in sight.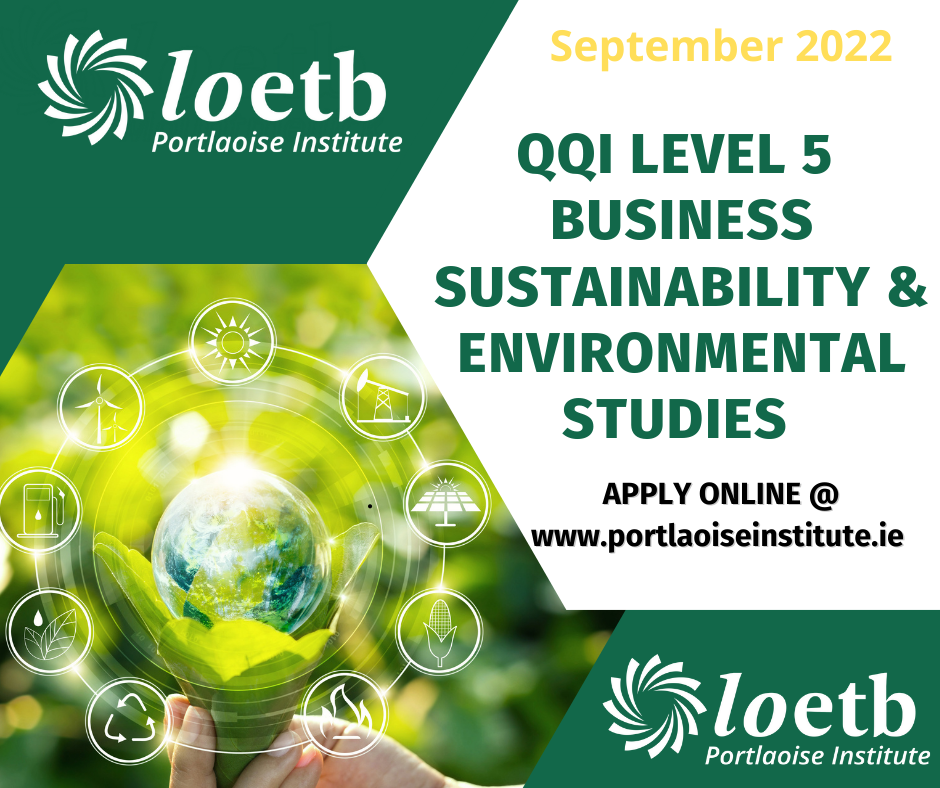 Laois played superbly all through, and still to this day supporters wonder how this game got away from them.
They kicked 14 wides to Cork's five, and the very least they deserved from this enthralling contest was a second bite of the cherry.
The sides were level five times in the opening 25 minutes before Laois, with David Conway and Michael John Tierney giving the Cork defence a torrid time, kicked three points in a row, two of them by Tierney, to lead 0-8 to 0-5 coming up to half time.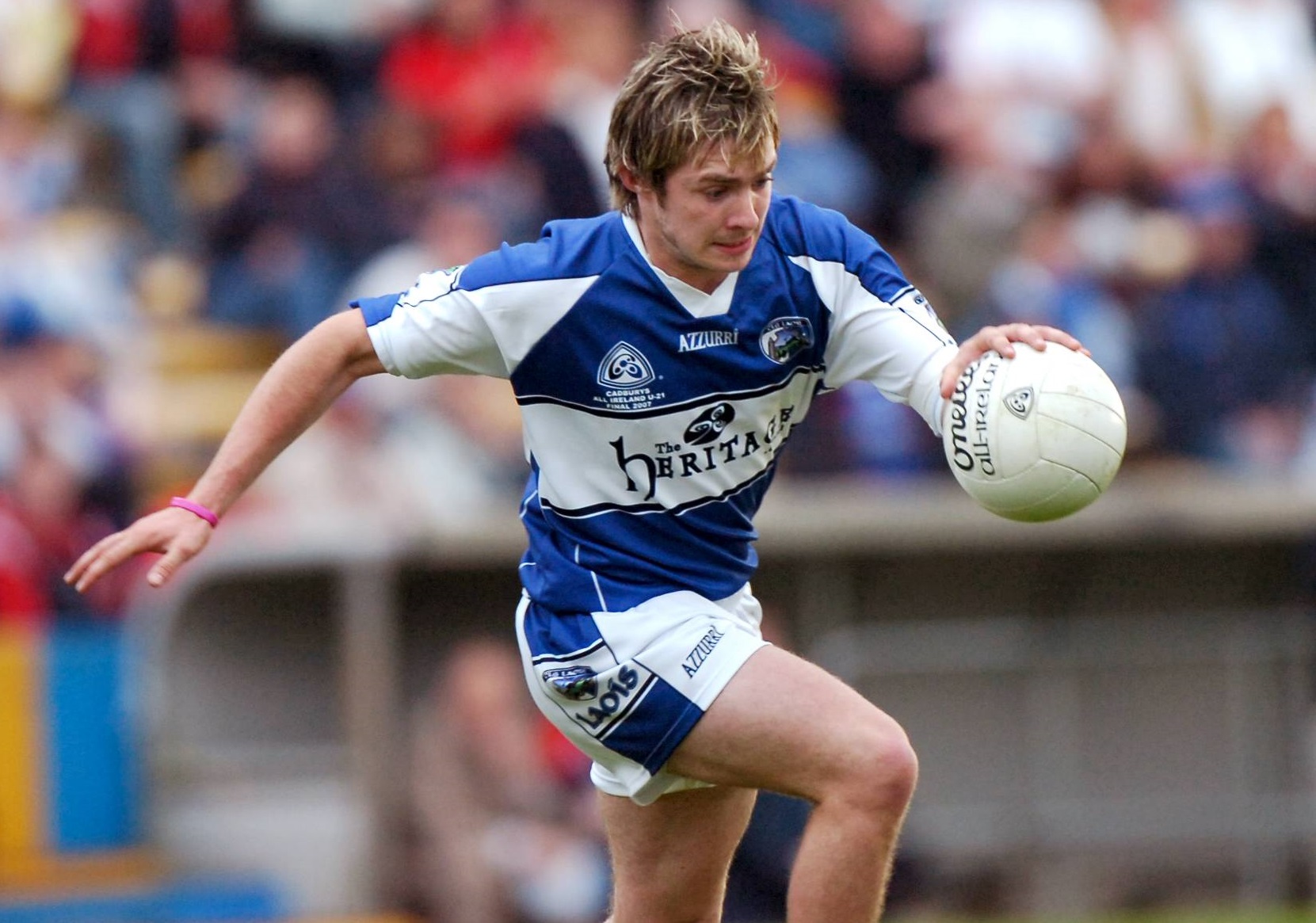 However a line ball by Cathrach Keane sent Daniel Goulding off on a great run and the Eire Og man billowed the Laois net for a marvellous goal which tied the game at the break, 1-5 to 0-8.
Play swung from end to end before Laois made their final push for victory. They introduced the then teen sensation Donie Kingston to their attack and Cork began to concede needless frees which MJ Tierney punished. As the clock ticked down, Laois were looking good for their first title leading 0-15 to 1-9.
With a second decider defeat in a row staring them in the face, Cork threw caution to the wind and brought Michael Shields out to centre back.
There appeared to be no danger as he won possession on his own 45-metre line but with the Laois forwards backing off him he came forward before unleashing a high ball deep into the square where Colm O'Neill rose highest to fist home an equalising goal which tied this gripping encounter for the 10th time.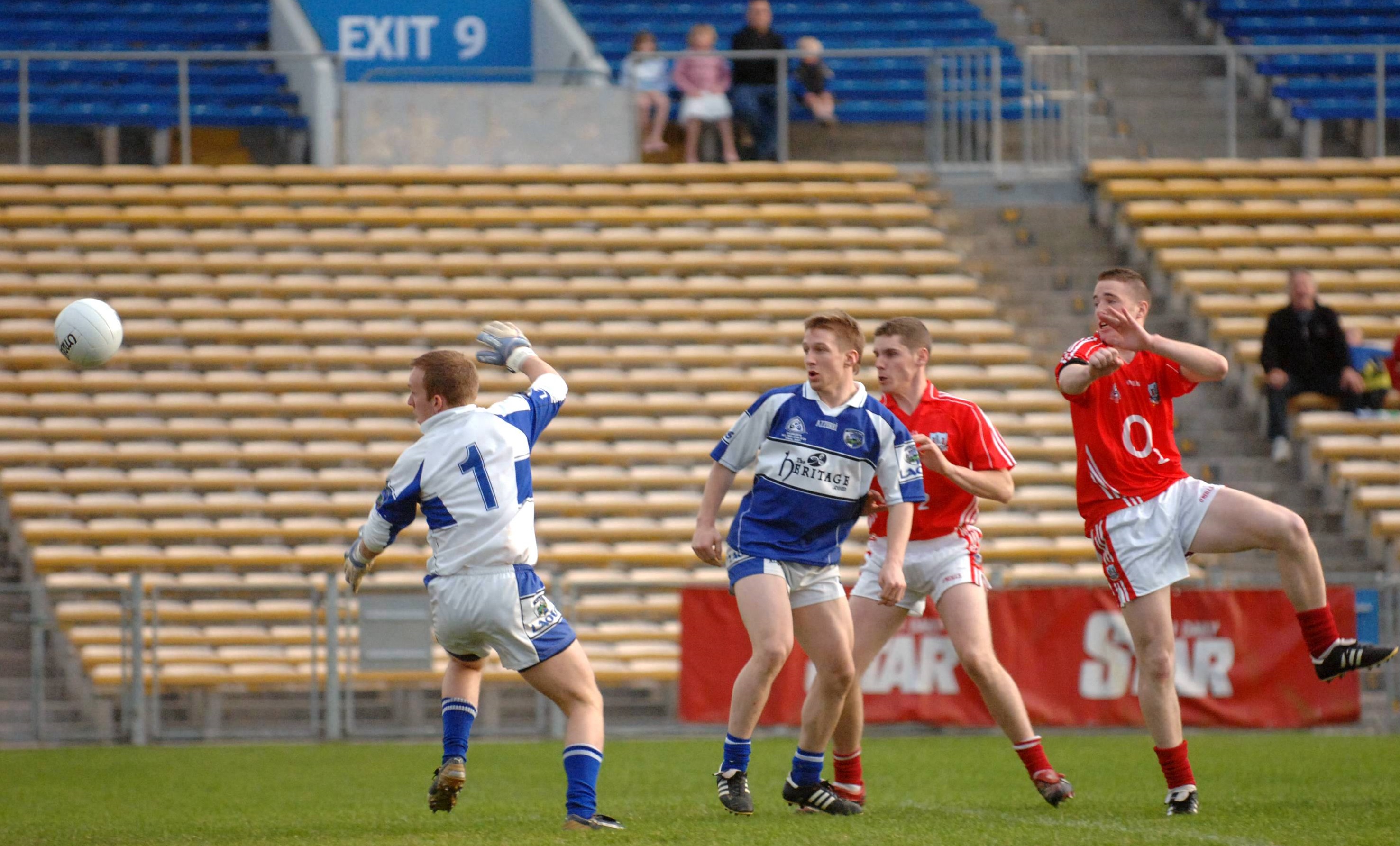 The stage was then set for someone to make themselves a hero but unfortunately for Laois that man was Daniel Goulding.
Three of that Cork team would play in the All Ireland senior final later that year and six of them were on the field when Cork won the senior final in 2010.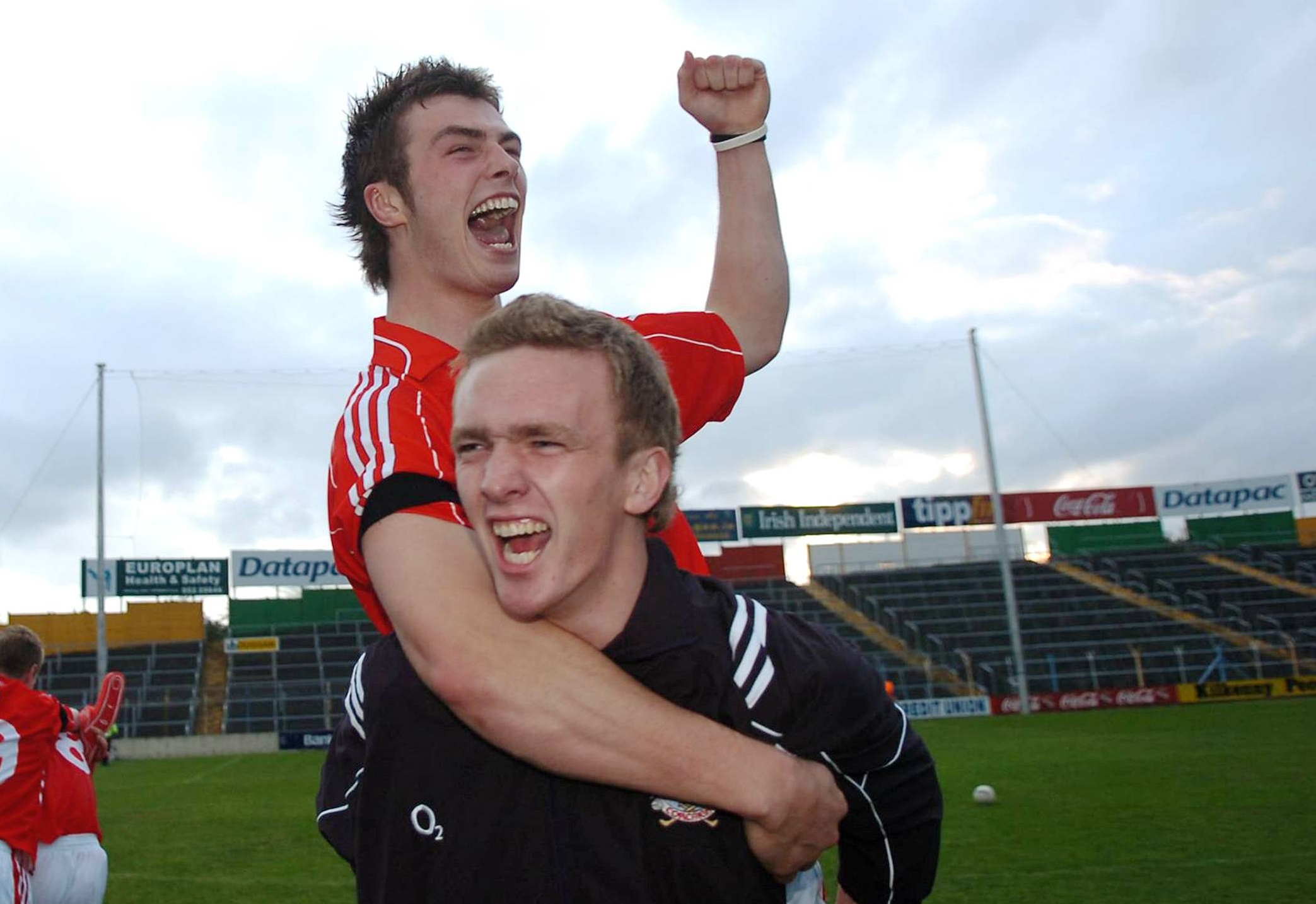 For Laois that 2007 football season was an incredibly eventful one. The seniors and minors would both contest Leinster finals again that summer – the fourth time in five years that the county were in both. The minors won Leinster before losing an All Ireland semi-final replay to Derry. Indeed at that year's Laois GAA Convention, county chairman Dick Miller – stepping down after eight years at the helm – said it was the best year ever for Laois football.
Unfortunately the years since haven't been as successful. After an incredible spell over Laois's underage teams Sean Dempsey was appointed the senior manager for the 2009 season. Two disappointing years followed and Dempsey was let go after losing to Tipperary in 2010. He hasn't been involved with Laois at any level since but has been with various club and county teams in different roles.
Here we take a look at each of the Laois players that played that day and where their careers have gone since.
1 – Colm Munnelly (Arles-Kilcruise)
The younger brother of Ross came into the Laois underage setups on the back of being in goals for Arles-Kilcruise in their 2003 Laois SFC triumph. Was briefly the Laois sub keeper behind Fergal Byron during Mick O'Dwyer's era however, he was part of the outfield squad under Justin McNulty. He has represented Arles-Kilcruise at centre back or midfield ever since.
2 – Cahir Healy (Portlaoise)
The Portlaoise man was the Laois captain on the day and while he had already played for the Laois senior hurlers, he didn't feature for the senior football team until 2010. Played for the footballers for four years but has since focused on his inter-county hurling career as well as enjoying a highly fruitful club career, all the while commuting from London to do so.
3 – Mark Timmons (Graiguecullen)
Timmons made the transition to the Laois senior football team a year after this game and settled into becoming first choice full back under Justin McNulty, Tomás Ó Flatharta and Mick Lillis. The Graiguecullen man has missed all of this season after undergoing double hip surgery but he has recently returned to full training.
4 – Bryan Meredith (O'Dempsey's)
One of three Meredith brothers to represent Laois at underage level, Bryan had already won Leinster medals at minor and U-21 level for the O'Moore County before this game. The O'Dempsey's man soon went travelling and never really featured for Laois at senior level. He was however part of the O'Dempsey's panel who won the Intermediate championship last year.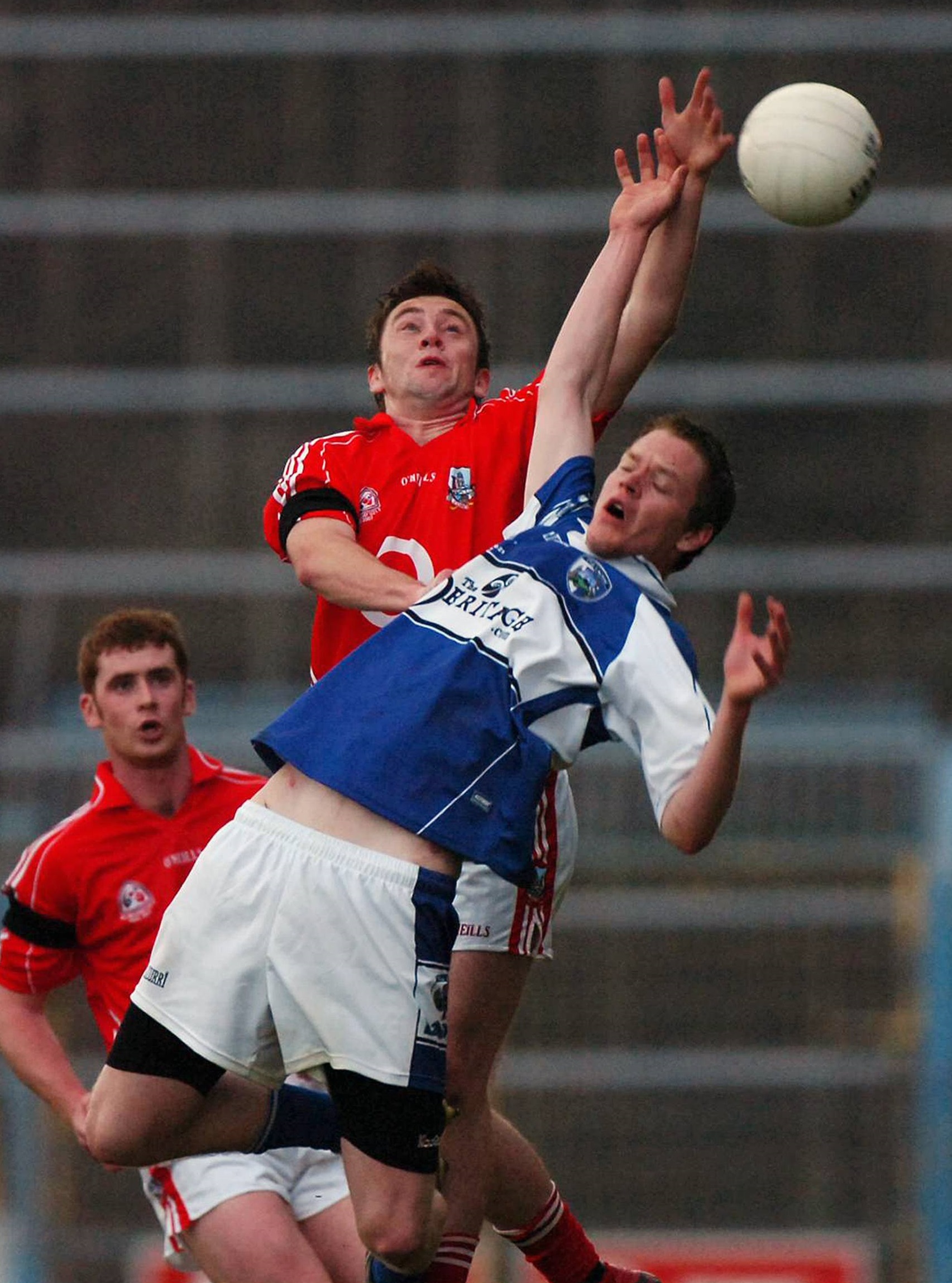 5 – Stephen Lawlor (Stradbally)
Lawlor was the only Stradbally man on the team on that day and featured at U-21 level despite never being involved as a minor. He transferred to play with St Vincent's in Dublin shortly afterwards but returned in recent years and came on as a sub in Stradbally's county final win over Portlaoise last year.
6 –  John O'Loughlin (St Brigid's)
O'Loughlin was still eligible for the minor grade that year when he was centre-back for the U-21 team. In what was an incredibly busy year for him, he represented 12 different teams that season – including Laois at minor hurling and football and U-21 hurling and football. Scored a point in the first half that day and won a Leinster minor medal later that summer.  He made his Laois senior debut the following year and has been a mainstay since. Now plays with the St Brigid's club in Dublin having transferred from Mountmellick in 2011.
7 – Niall Donoher (Courtwood)
The Courtwood man played at wing back that day, as he had done on the Laois minor teams in 2003 and 2004 and the U-21 teams in the two years prior to this season. Has gone on to represent Laois mostly in the forwards and at club level, he was instrumental in leading Courtwood to a Junior title in 2014.
8 – Brendan Quigley (Timahoe)
Quigley was one of the stars of that Laois team and had made his senior debut the previous summer. After a spell with the Brisbane Lions AFL team in 2005 he was often linked with a move back to Australia. He has been a regular for Laois since, although he did represent New York in 2014 when he living in the USA. At club level, he has won two intermediate medals with Timahoe as well as helping them to the 2008 senior final. He also played with Dublin club Fingallians in 2011. Still part of the Laois senior panel but injury meant he only made on brief appearance in this year's league.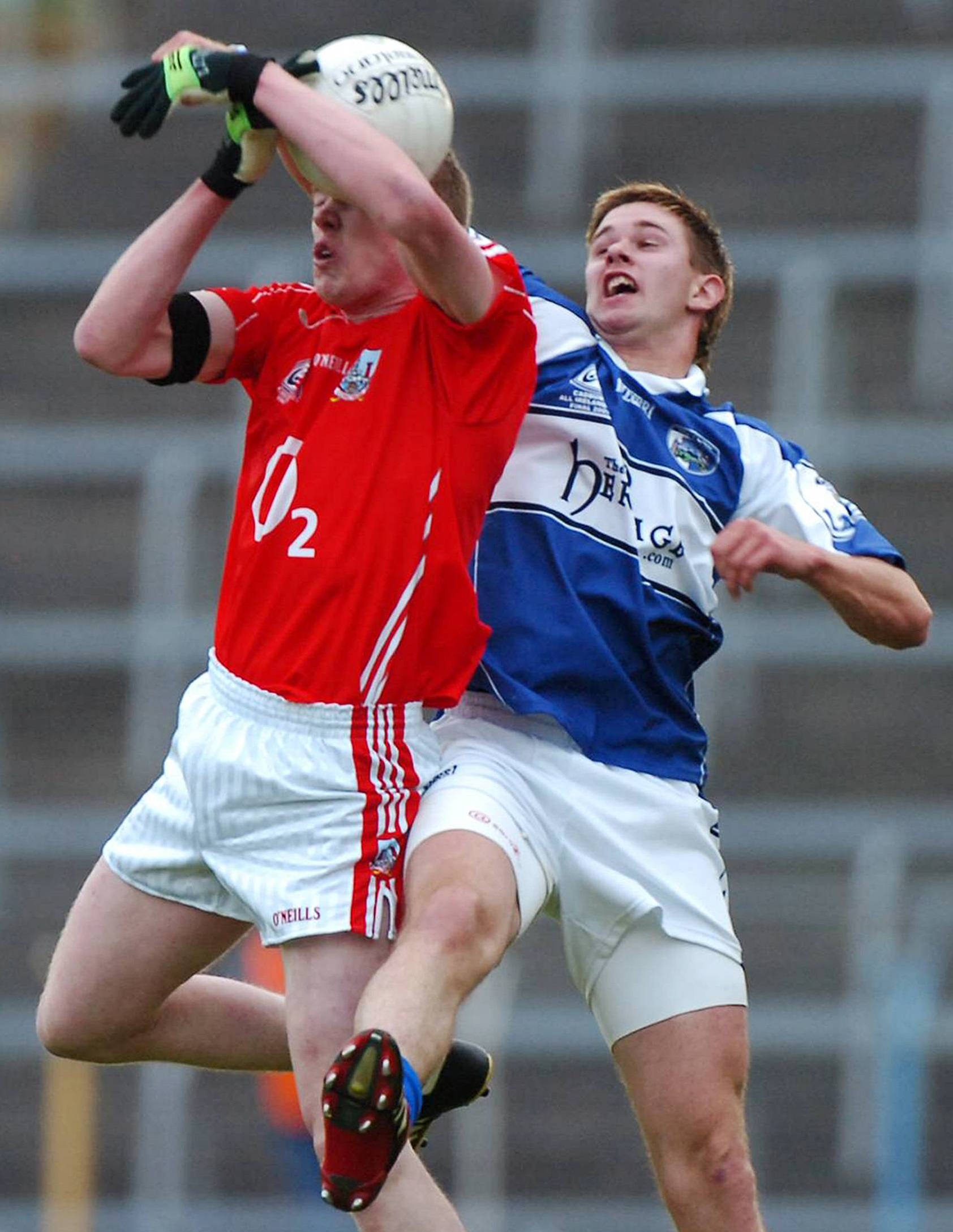 9 – Cathal Og Greene (St Kiernan's London)
Park-Ratheniska club man Cathal Og Greene was involved with Laois right through his underage career featuring briefly at minor when he was still U-16 in 2003 and then following on to the U-21 grade. He captained Park-Ratheniska to a memorable Leinster junior club win in 2006 and was with the Laois senior panel for a while before moving to transferring to his current club in London in 2013 and he has lined out with the county team too
10 – Donie Brennan (Arles-Killeen)
By 2007, Donie Brennan was well established nationally having made his senior debut as a teenager in the Leinster final defeat to Westmeath while still a minor in 2004. A complete livewire at underage level he tormented countless defences and was a real handful. He made a couple of appearances at senior level in the subsequent years but never fully established himself despite impressing consistently with Arles-Killeen at club level.
11 – Craig Rogers (Portlaoise)
Rogers was another of the real stars of this underage generation of Laois players. He captained Laois for two years at minor level – winning an All Ireland in 2003 and a Leinster in 2004. Played most of his minor days at midfield alongside Brendan Quigley (although he started out as a wing-back) but by the time U-21 came around he was the play-making centre-forward. Never nailed down a senior spot but is one of the most decorated club players in the county with 10 Laois SFC medals and two Leinster titles with Portlaoise.
12 – Stephen O'Leary (O'Dempsey's)
Younger brother of Peter, Stephen O'Leary was another member of the blond highlight club for that game. He has represented Laois at all levels in the championship without fully nailing down a senior starting place. O'Leary was a real handful too at that age and has been a consistent performer for O'Dempsey's in the decade since. Helped his club win the intermediate football championship last year.
13 – MJ Tierney (Ballyroan-Abbey)
Tierney kicked seven points in that final defeat in an impressive showing and he would go on to enjoy similar scoring stats at senior level for Laois in the years that followed – making his debut that summer. In 2010, he joined follow Laois team mates Colm Begley, Colm Parkinson and Darren Rooney at Dublin side Parnells but in early 2013 he made the return trip to rejoin his home club, Ballyroan-Abbey.
14 – Shane O'Neill (Graiguecullen)
Graiguecullen man O'Neill played at full forward on that day and used his height to trouble the Cork defenders at every opportunity. Injury blighted his career after that but he continued to represent his club Graiguecullen and still does – typically appearing at midfield.
15 – David Conway (Arles-Kilcruise)
The Arles-Kilcruise forward has gone on to represent Laois at senior level and is currently one of the first names on Peter Creedon's team sheet. Conway was exceptional that day, scoring three points from play, and he has since made a number of appearances for the Laois seniors at various stages. An outstanding club player he was one of Laois's most consistent performers in the league campaign just finished.
Subs – Donie Kingston (Arles-Killeen)
Kingston was only 16 at the time and was then with Barrowhouse. He was invariably one of the first subs brought on, as he was again on this occasion.  Along with John O'Loughlin, he would go on to be part of the minor team that would win Leinster later that summer and he made his senior debut the following year when still a minor. He has been one of Laois's top players since and has helped Arles-Killeen to a couple of senior county final appearances.
Ian Fleming (Graiguecullen)
Fleming made a late appearance as a substitute for Stephen O'Leary with the game in the melting pot. Like many others on the team, he didn't go on to become a regular of the Laois team at adult level but he is still routinely putting in fine performances for Graiguecullen.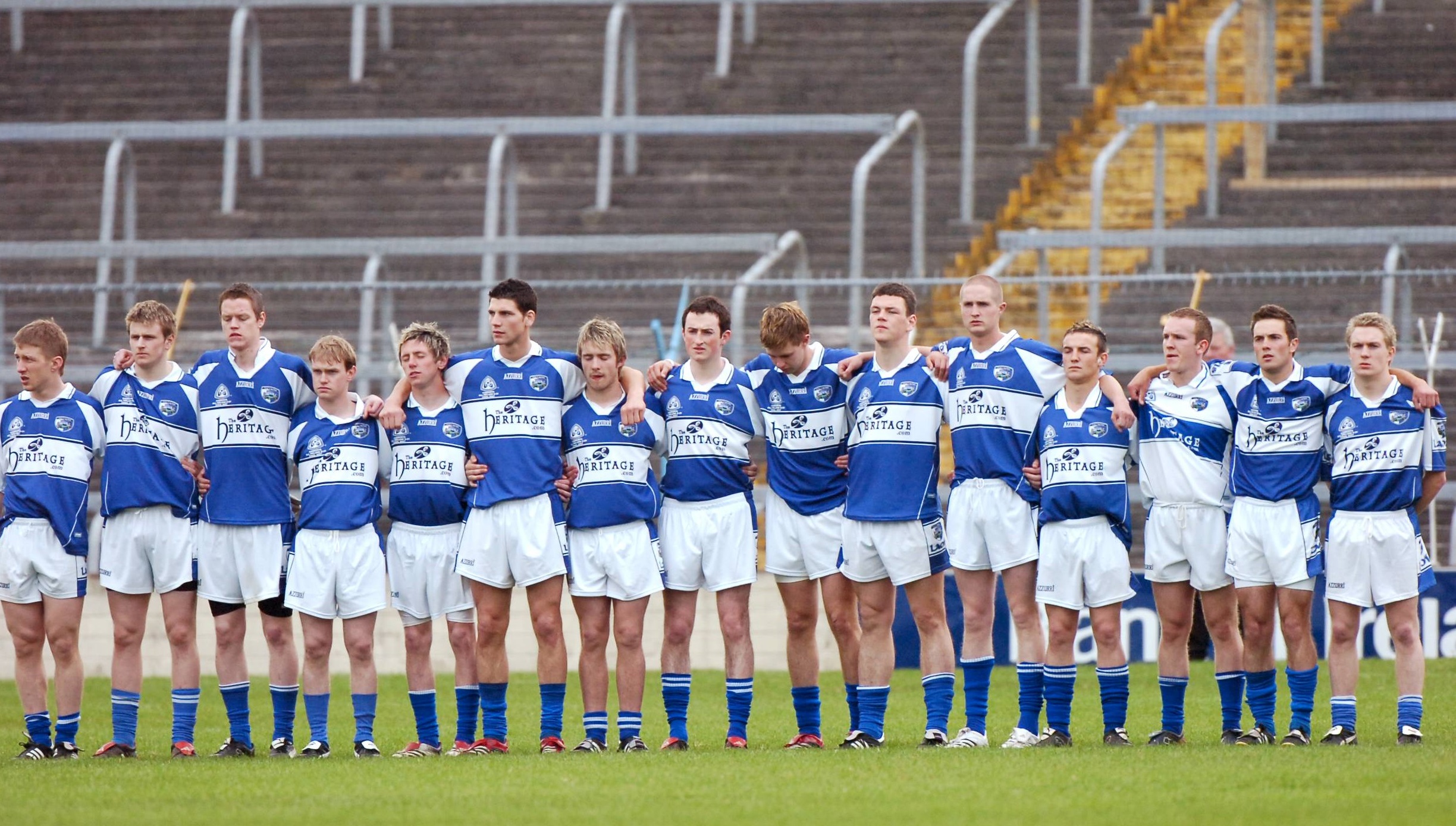 SCORERS – Cork: Daniel Goulding 1-6 (0-4 frees, 0-1 45), Colm O'Neill 1-1, Fiachra Lynch, Sean O'Donoghue, Paul Kerrigan 0-1 each. Laois: MJ Tierney 0-7 (five frees), David Conway 0-3, John O'Loughlin, Niall Donoher, Cathal Og Greene, Craig Rogers, Donie Brennan 0-1 each.
CORK: Ken O'Halloran; Ray Carey, Michael Shields, Kevin Harrington; S. O'Donoghue, David Limrick, Eoin Cadogan; Fintan. Goold, Andrew O'Sullivan; Fiachra Lynch, Cathrach Keane, Paul Kerrigan; Colm O'Neill, Daniel Goulding, Sean Cahalane.  Subs: R. Leahy for Cahalane; S. McCarthy for Lynch; G. O'Shea for O'Sullivan.
LAOIS: Colm Munnelly; Cahir Healy, Mark Timmons, Bryan Meredith; Stephen Lawlor, John O'Loughlin, Niall Donoher; Brendan Quigley, Cathal Og Greene; Donie Brennan, Craig Rogers, Stephen O'Leary; MJ Tierney, Shane O'Neill, David Conway.  Subs: Donie Kingston for O'Neill; Ian Fleming for O'Leary.
The other Laois panel members that day were: Eoin Culleton (Timahoe), Darren Maher (Stradbally), Daithi Carroll (The Heath), Jack Fennell (Portlaoise), Kieran Delaney (Park-Ratheniska), Mark Delaney (Park-Ratheniska), Simon Shortall (Annanough), Enda Butler (St Joseph's), Kevin Smith (Graiguecullen), Richie Ryan (Ballylinan), Martin Reilly (St Joseph's).