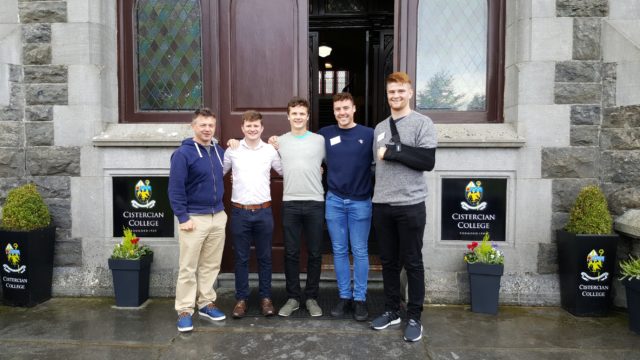 On the last Monday in August, the Cistercian College near Roscrea in Co Tipperary opened its doors to new and existing students for the 113th time in its long and illustrious history.
During the previous 112 years the college had been exclusively a 7-day boarding school with students returning home every 3 weeks. But for the first time since its foundation in 1904, day boarders and 5-day boarders were welcomed into the college.
This culminated in an increase in student numbers with two fantastic new schooling options for those living locally and nationally entering into second level education.
On October 6/7 Cistercian College in Roscrea invited parents and students from all over Ireland to its annual open weekend.
It is the first such event since the College increased its schooling options with the addition of Day Boarding (8.30am to 8pm Monday to Friday) and 5-Day Boarding (Sunday evening to Friday evening) to run alongside the existing 7-Day Boarding option.
The open weekend gives parents, primary school students or those wishing to transfer from other school an opportunity to see first-hand the extensive campus and excellent facilities in Cistercian College.
Over 220 parents and prospective students visited over the space of two days, with those interested in experiencing a taste of boarding school life staying over on the Friday night.
The Saturday schedule included sports activities for visiting students. Then tours, demonstrations and a group presentation for parents. The day finished with a meal for all those assembled in the schools excellent catering facilities.
This open weekend was the most recent in a series of events in Cistercian College which have been organised and facilitated by staff, parents and past students with the aim of marketing the School to a wider audience.
A hurling Super Blitz with over 30 teams involved was held in May of this year, while in September the College ran a rugby blitz with 24 U-12s teams from all over Ireland. On each occasion over 1000 people visited, participated and were fed on site.
Further open events will be staged over the coming school year, with prospective parents being invited to the annual school opera in November, then the Cistercian College Gala Music Evening in the University of Limerick Concert Hall in early 2018.
This will be followed by a second open event at the college in spring.
SEE ALSO – Laois student top of the class in Cistercian Roscrea
.