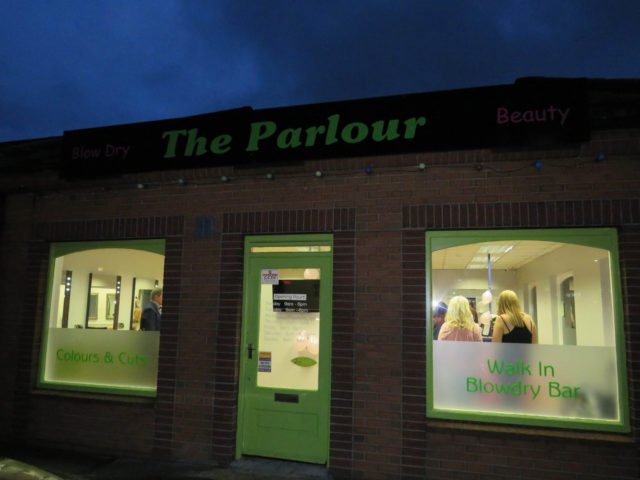 Having already been the first person in Ireland to offer a walk-in Blow Dry Parlour, Portlaoise man David Finn has now moved to a bigger premises in Lyster Square in the town, merging his two existing businesses under the one roof.
Earlier this month he moved from his outlet in the Laois Shopping Centre and from the Fairgreen to a new location in Lyster Square – a building that was previously home to D Kids and prior to that Kelton Bakeries.
The new premises – which he kitted out himself with the help of family members – is a spacious 1700 square foot building with 16 stations. Its completed with a full beautician service, a full colour salon and a full dedicated walk-in blow dry parlour.
The aim is to increase capacity and bring down waiting times and it's the latest chapter in the story of a young man now described routinely as a 'serial entrepreneur'.
He has had a number of ventures in a variety of fields. Son of Christy and Una Finn, he worked as a plasterer before spotting a gap in the market locally for a cleaning service. Kyle Cleaning was his initial successful business before he opened a barber's shop in the Fairgreen and then a Blow Dry bar in the Shopping Centre.
His wife Hannah spotted something similar in the US while watching TV one evening and it proved an instant hit in Portlaoise, becoming a hugely popular local service, only offering blow drys and one in which people didn't require a booking.  It was open on Sundays and Mondays, late in the evenings and early on Fridays and Saturdays.
Now he has a similar business in Carlow also and his new bigger salon in Portlaoise is allowing for a wider range of services than he has offered previously.
Last week, David had his official launch night, a chance to show off the Blow Dry Parlour's new home.
Right in the heart of Portlaoise, it's a bright new era for a young business that has already made serious progress in a short space of time.
Opening Hours
Mondays: 9am–5pm
Tuesdays: 9am–5pm
Wednesdays: 9am–6pm
Thursdays: 9am–8pm
Fridays: 8am–8pm
Saturdays: 8am–6.30pm
Sundays: 9am–4pm
Price List
NAILS
File and Polish: €10
French Polish: €15
Kids Polish: €5
2-week Polish: €20

WAXING
Eyebrow: €11
Half leg: €15
Full leg: €25
Half leg and bikini: €30
Full leg and bikini: €40
Bikini line: €12
Arm: €12
Lip: €9
Chin: €9
Underarm: €15
Abdomen: €10
Lip, chin, neck: €20
Lip, chin, side of face: €20
EYE TREATMENTS
Eyelash tint: €12
Eyebrow tint: €9
Eyebrow wax: €9
Eyebrow tweeze: €9
Eyebrow shape, tint and eyelash tint: €25
Individual eyelash extensions: €15
Strip lashes: €10
MAKE UP
Make up: €25
Make up application including eyelashes: €25
NAIL CARE
File and paint: €10
French Polich: €10
Mini manicure: €15
Deluxe manicure: €30
Mini pedicure: €20
Deluxe pedicure: €35
2-WEEK MANICURE
Coloured polish: €20
French polish: €25
BIO SCULPTURE NAILS
Full set gel overlay French: €35
Full set clear gel overlays: €30
Full set of gel with colour: €40
Full set of acrylic French: €40
Full set of acrylic with colour: €45
BLOW DRYS
Short Blowdry: €15
Straight Blowdry: €18
Curly Blowdry: €23
Treatment: €8
GHD curls: €18
Kids Blowdry: €10
Plaits: €5/€10