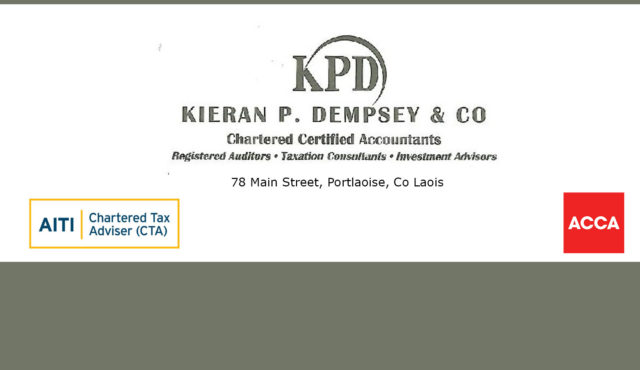 Kieran P Dempsey, Chartered Certified Accountants based in Portlaoise, are hiring for the following role:
PERSONAL ASSISTANT – ACCOUNTS ADMINISTRATOR
Duties to include but not limited to:
Managing Front office/reception/PA to Principal.
Data input on an Accounting Package to include Sales and Purchase cycle, Bank and Cash Reconciliations etc.
Preparation of Bi-monthly Value Added Tax returns.
Preparation of payslips, and monthly P30 client returns.
Reporting directly to the Principal.
KPD Logo
Previous Experience in an Accounting Practice environment essential, preferably Accounting Technician or similar qualification.
Reply in writing with Curriculum Vitae to:
Kieran Dempsey FCCA AITI
Kieran P Dempsey
Chartered Certified Accountants
And Statutory Auditors
78 Main St
Portlaoise
Co Laois
Would your business like to advertise a job vacancy? Then contact 057 8670722/085 7180700 or email advertising@laoistoday.ie to find out more.