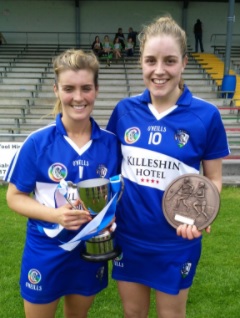 We've launched a new regular light-hearted interview here on LaoisToday, one that will see us chat to a different sports person about the teams they're involved with, the characters they've come across and some burning questions we're sure you're all mad keen to hear the answers for.
The first person we chatted to was Laois camogie player Sarah-Anne Fitzgerald. She has struggled with injury this year but she will still be a key player for club and county this year – as well as with the Portlaoise ladies footballers.
Teams played for?
Laois Camogie, Camross Camogie, Portlaoise Ladies Football, Waterford IT camogie, brief stint with Portlaoise Rugby (played one match), brief stint with Portlaoise Soccer (played a practice match against an U-15 boys team)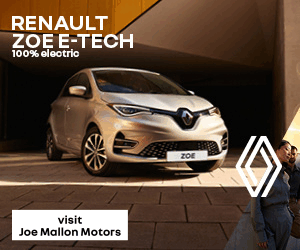 If you were throwing a party and you could invite anyone in the world, dead or alive, who would you ask around?
Breakfast Republic team, Bernard, Jen and Keith
Where do you like to go out to celebrate after a big victory?
Stapos bar at the bottom of Main Street. He is a great supporter of Laois Camogie and Portlaoise Ladies and always guaranteed a great night there. Christmas gone we embarked on a tour of Laois, doing 12 parishes instead of 12 pubs.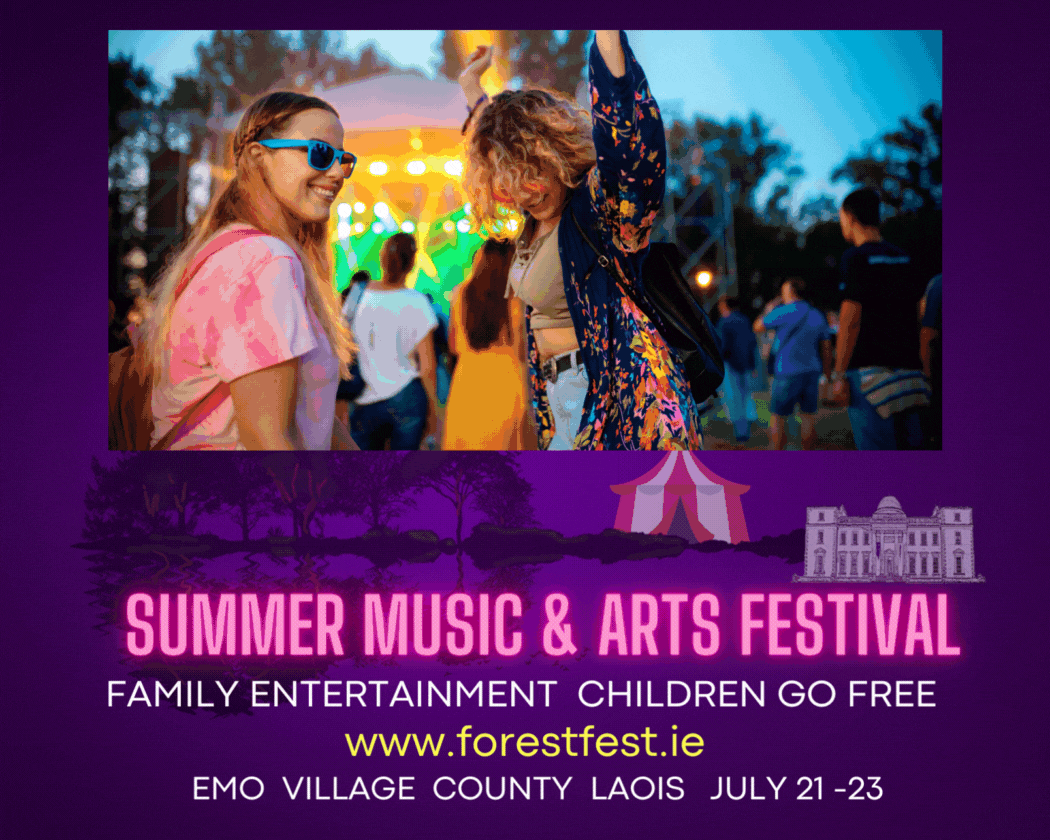 We hit all the camogie strong holds of the county, it was great success and hoping to make it an annual event. So, if any publican is reading this and would like us to visit your pub, please get in touch, supply the free drink and we will be there!!
With Camross then we have Bennetts in Mountrath before we head to Bergin's in the Village and Coolrain for the next day.
If you weren't playing sport what would you spend that time at instead?
I honestly don't know, nights I don't have training I enjoy doing absolutely nothing.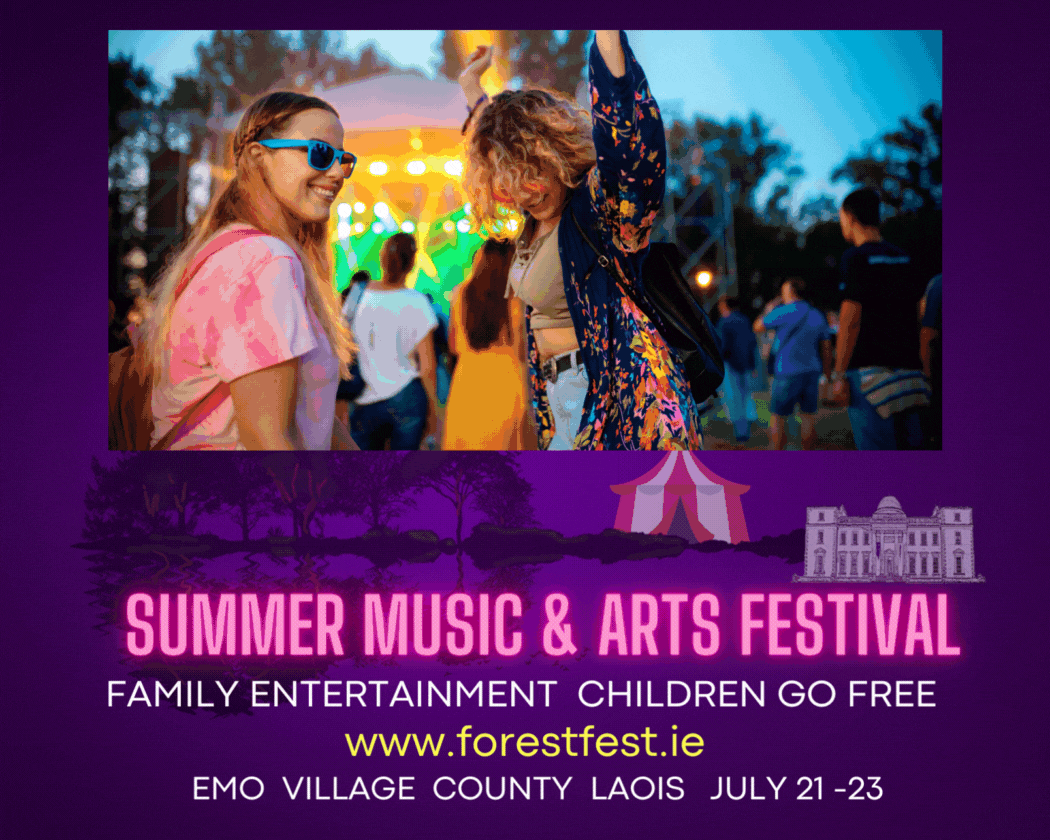 What's the worst pitch you've ever played on?
To be fair most pitches are great it's the facilities that leave a lot to be desired. When we travel to Meath or Kildare for games, they all seem to have state of the art complexes. You have to wonder did the Laois funding get stuck in traffic on the M7!
Well actually there is one place that could be deemed as the 'worst pitch' I hate training in Clonin with Camross – sorry to all the Burkes as Clonin is their pride and joy – but I hate seeing the message to say training is in Clonin.
Any odd items in your gear bag?
No pretty standard enough items in the gear bag, but a former team mate of mine Sinead Collier of Camross use to have everything bar the kitchen sink in her gear bag, she was always our go-to woman if you were missing something. Now I play with her daughter Aimee who has kept up the tradition.
What's your preferred brand of gear?
Adidas for the gear and boots, Nike for the runners.
Who's the biggest joker in the teams you play for?
Niamh Coss, Aoife Collier, Mag Burke.
Interesting story about one them:  Before a big match one year we were inside the dressing room, we were all in huddle with one of our selectors getting us fired up and we were buzzing for this game ready to take the door down kind of stuff, our selector asked us (well shouted)
'Are ye going to let them walk all over ye?'
To which we all said a resounding: NO!
He then asked us:
'Are ye going to let them dictate the play' again we all said 'NO' getting louder and louder each time. The final question:
'Ana are ye gonna win today?
One of the above-mentioned girls shouted before everyone else 'NO… I mean Yes'
We erupted in laughter and out the door we went still laughing. Ended up winning well that day!
Which team-mate has the best looking other half?
No comment!
Who is the worst trainer?
Most of us are great to train to be fair. My sister Clare while not the worst trainer in fact is probably the most dedicated person I know when it comes to training, but my god she is the one person you don't want to mark at training, she simply pulls left right and centre regardless of what player is in her way, injuring herself and her teammates in the process!
Who spends most time in front of the mirror in the dressing room?
Mag Burke … she has to make sure her hair is maintained (well controllable)!
Who's the best/worst person to share a room with on away trips?
We travelled up to Derry a few weeks ago with Laois (#DerryGirls) and apologies to anyone who is Snapchat friends with most of the team as there was a barrage of snaps from the trip.
That was the first time that we ever travelled the night before a game would you believe. I shared a room with Sarah Creagh that night and I've no complaints – she was a great roommate. We found out on that trip that Aisling O'Dea is no good at card games!
I would imagine that the worst person to share a room with would be Aoife Collier!!
Who's the best/worst person to sit beside on the team bus?
Best is Joan Dollard – she gives minute by minute updates on how far away you are from the pitch.
The worst is a tough one. It depends if you are tired and want a quite seat to get focused do not sit down the back with the likes of Niamh Coss, Aoife Collier, Aisling O'Dea and Eimear Guider aka Cider Guider.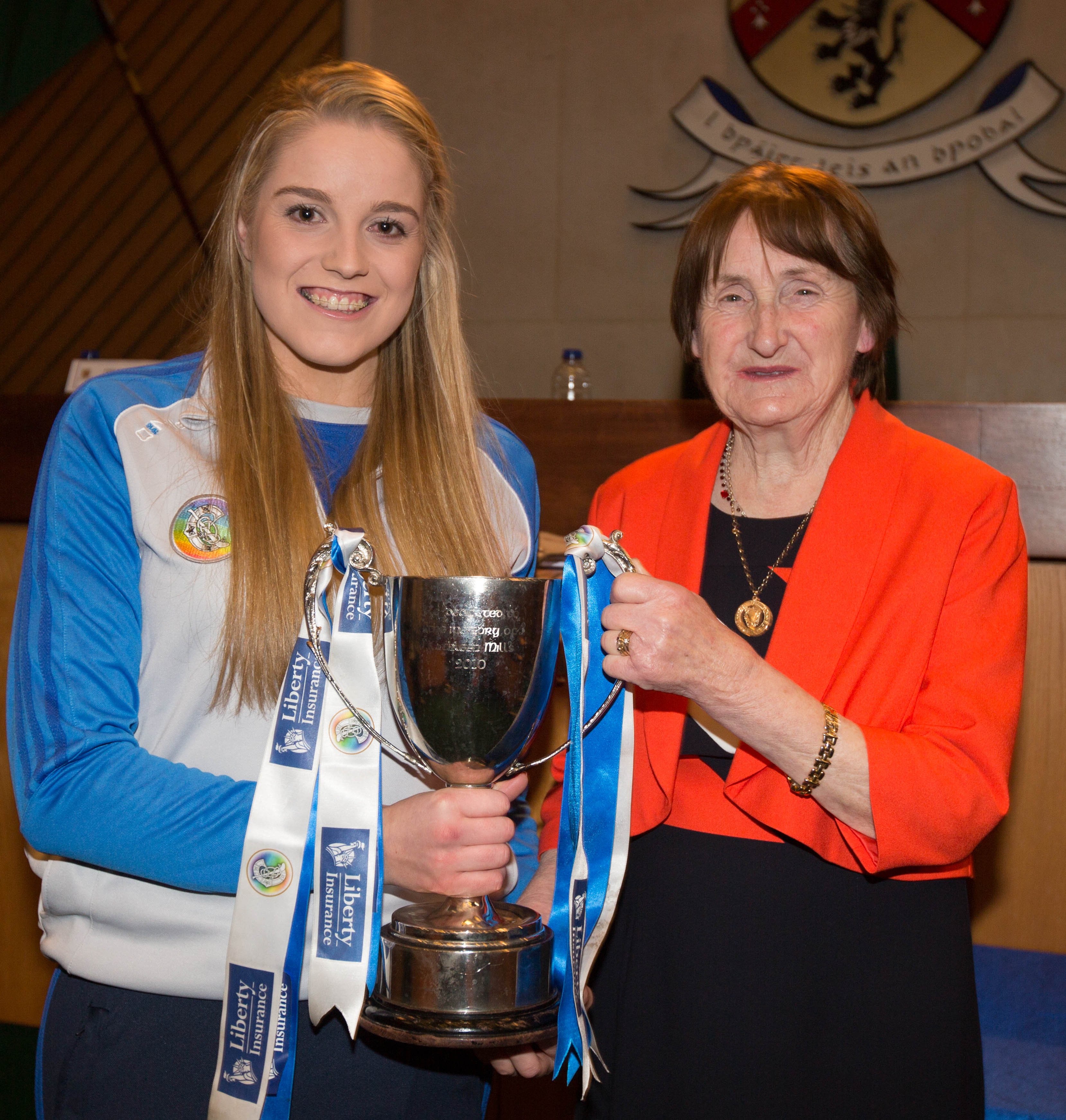 Who has the best and who has the worst diet on the team, and what does it include?
We are all pretty good when it comes to diet I think, although Laura Dunne is probably the fussiest eater!!
Supermacs at Manor Stone in Ballacolla is a regular spot for a lot the Laois girls (I won't mention names) oh and Alison McEvoy has been known to get a Chinese the night before a game!
Toughest opponent you have faced?
Louise Mahony is just a nightmare to mark. She stays running and running and running and running and running the whole 60 minutes! And not only can she run, she can do everything else to a tee!
if you get close enough to foul her, she'll pop the free over! She is the queen of fitness who is flat out winning cross-country events now.. #Tokyo2020
Best or worst quote you've heard, either from a manager, player, opponent?
Martin Moore, lord rest him,  had a massive influence on my career. He would always tell me to hit the frees straight through like a rocket anytime I was standing over a free.
Best manager you've ever played under?
Lucky to have played with some great managers but my college manager in WIT – Helena Jacob was definitely one of best. She left no stone un-turned in terms of preparation. Introduced me to a professional set up. Always had a great team around her.
Best ever performance?
One that springs to mind was last year's county final a great day and great weekend, everything just went right for me and the team.
One to forget?
Leinster final with Camross a couple of years ago against Piltown of Kilkenny. It was a brilliant game to watch end to end stuff, nip and tuck the whole way through.
The final whistle went I ran around for 2/3 seconds celebrating vigorously. I looked around for someone to embrace and my teammates were all on their knees crying. We lost by 2 points and were not up by 2 points like I had originally thought. I was never good at maths!!
I also was the cause of a goal that day too. I wish I could forget that game but it will always sit with me!
When you were playing in the back garden, who did you pretend to be?
Seanie McMahon of Clare the great centre back. He was a fantastic hurler and part of a great team.
I idolised the Clare team of the 90's, my Dad is a Clare man and I use to tell people I was related to Davy Fitz – pure lies !
If there was a transfer market who'd be in and who'd be out of the team?
Out would be Laura Dunne as every team has a goalie but not every team has a great goalie so I would imagine she would be in high demand by other counties.
Transfer in would be Niamh Mallon of Down, up there as one of classiest forwards in the game always a pain in our side when we play them.
SEE ALSO – Outstanding Laois camogie team reach All Ireland minor semi-final