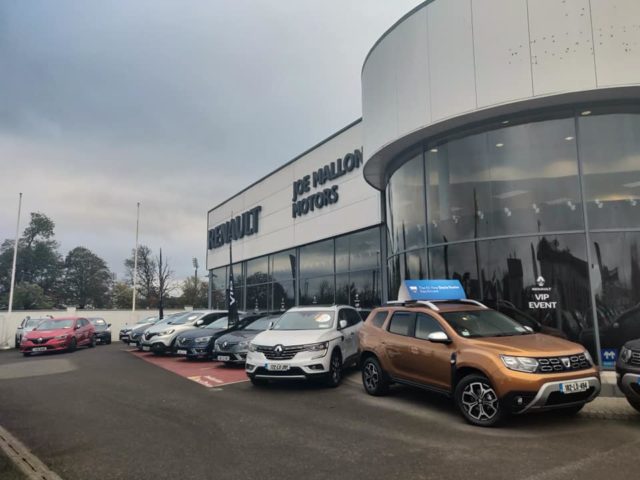 Joe Mallon Motors Ltd is a family owned and run business in Naas since the 1960s. Joe Mallon Motors has been selling Renault cars and commercials and is the main Renault dealer for Kildare and Laois.
Over the years, we have established a large base of satisfied customers. A quality service for each customer is forefront to all staff members to achieve our company motto: TEAM – Total Effort Among Many.
We are currently to hire for the following position:
Senior Sales Executive – Required for Naas & Portlaoise
The role
The successful candidate will be required to work as part of the sales team, to continuously deliver the highest level of satisfaction to internal and external customers.
This will require you to continually strive to meet sales and profit opportunities via the sales of vehicles, finance and insurance products. Profit margins achieved on the sale of all products are in line with manufacturer standards. This results in the selling of an agreed volume of new and used vehicles.
Role Responsibilities
Actively prospect for new customers by cold calling, emails and use of the appropriate databases
Follow up assigned sales opportunity through the company website leads, customer enquiry calls and emails
Follows the sales process, designed to achieve maximum results from the available sales opportunities
Deliver the highest level of customer satisfaction continuously
Sell an agreed volume of new and used cars set out by Sales Manager
Pursue and achieve incremental sales and profit opportunities through the sale of finance, warranty, insurance and accessory sales
Achieve the individual profit objectives set by the Sales Manager
Provide expert and prompt advice to new and existing customers regarding the various products that are available with the sales of their new/used vehicle
Participate in external promotional activities to raise the profile of the brand and generate sales opportunities
Qualify the customer's needs and present the dealerships products and services which will enable these needs to be met
Establish the most appropriate way for the customer to fund their acquisition (PCP/Hire Purchase/Other funding arrangements), according with FCA regulations
Conduct a structured and professional vehicle handover in accordance with the vehicle handover checklist, guide and customer pack for the appropriate product
Develop and maintain comprehensive product knowledge in respect of all vehicles, prices, promotions, funding and taxation of vehicles
Maintain good relationships with customers by meeting and exceeding their expectations
Maintain regular contact with all customers both with pre and post-sale
Handle customer issues and complaints using the necessary skills and resolving the issue to the mutual satisfaction of the customer and the business
Provide completed deal file with appropriate dealer and insurance documentation to the sales administration department to ensure that the vehicle is ordered and taxed on time
Maintain and updates customer contact data on DRIVE (CRM System) on a daily basis
Undertake all administration requirements of the position to include relevant paperwork and reports
Understand and complies with all appropriate sales legislation
The person
Skills and Competencies:
Minimum of 3 years experience in a Sales environment, Motor industry is not essential
Strong communication skills with internal and external customers, suppliers and the manufacturer
Proficient in Microsoft Office Package (Word, Excel, Email)
Experience of using Kerridge (CRM System) – Desirable not essential
Ability to prospect effectively
Ability to qualify customers effectively
Ability to present and sell the unique selling points of all products
Ability to manage and close existing deals while cultivating new opportunities
Build and maintain relationships across the group
Possess strong attention to detail with administrative functions
Time Management skills -Work independently in a busy, active environment, managing own time and workflow
Strong problem-solving ability to identify and resolve queries in a professional in a timely manner
Present a professional image to both internal and external customers, through attitude, behaviour and personal appearance
Full clean drivers license is essential
To Apply
If you meet the above requirements and are interested in becoming a member of our team please apply below including full Cover Letter and CV attached – pmallon@joemallonmotors.ie
SEE ALSO – Check out the dedicated jobs section on LaoisToday.ie