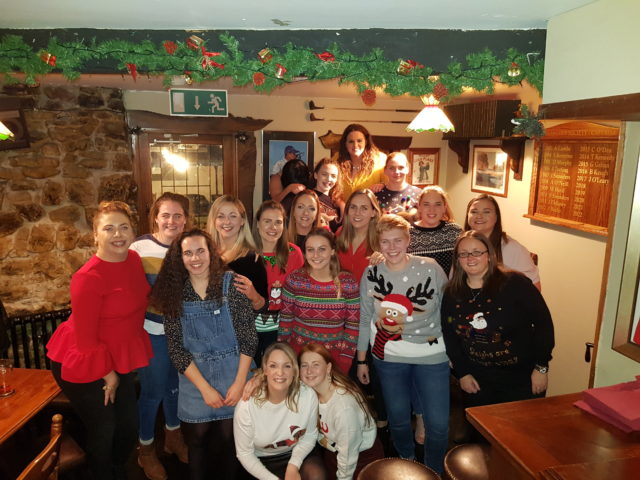 The PortDara Falcons travelled to Dublin to take on Clontarf last Sunday and a dominant team performance meant that they left with a five point haul while denying their hosts even a losing bonus point.
The result means that the Falcons join their opponents in second place on the league table.
Despite coming into the game with eight players on the injury list, head coach Cassie Dunne saw the game as a great opportunity to test her squad depth.
The Falcons completely dominated the opening ten minutes before finally being rewarded when full back Orla O'Donovan capitalised on her pack's hard work and scored in the corner.
However, despite continuing to dominate the opening quarter, the Falcons failed to add to that try and when Clontarf finally gained some territorial advantage a period of static defending allowed the North Dublin outfit to power over and tie up the scores.
Clontarf then used the shift in momentum to punish some weak defending further and with twenty six minutes gone the hosts led 10-5.
This setback seemed to re-awaken the hunger in the Falcons that had characterised the early part of the game and they very quickly wrestled back control of both territory and possession as they piled pressure on the 'Tarf defence.
Some strong carries from forwards Andrea Broughan, Celeste Cannon and Elaine Slevin backed up by accurate clean outs from their fellow forwards allowed scrum half Kate Tynan to feed quick ball to her half back partner Hannah Mulcahy who showed great game control as she mixed up hard running and accurate distribution to cause chaos in defence.
Her clever game management finally unlocked the Clontarf resistance when she faked a pass and then wove her way through two attempted tackles to score herself.
Soon after, and with only four minutes remaining in the first half Mulcahy ran a hard line to fix two defenders and then passed to inside centre Orlaith Kiely who drew another defender as she offloaded to eighteen year old Emma Doolan who's quick hands released O'Donovan in space.
The full back looked likely to score when she was tackled high by the final defender and so the referee had no choice other than to penalise the tackle and show a yellow card.
The Falcons immediately took advantage of the extra player and it was O'Donovan herself who finished off another fine move after Kiely and Doolan had again made powerful breaks. At half time the Falcons led 10-15.
Clontarf started the second half with a real sense of intent but excellent tackling from Michelle Maher, Hannah Mulcahy, Siobhán Griffin and Kim Tully frustrated their efforts.
The introduction of influential back rower Sarah Pickford and powerful runner Yvonne O Neill as substitutes added some energy to the Falcons' efforts and again the momentum swung in their direction.
And it was at this point that the outstanding Hannah Mulcahy came into her own as her pace and accuracy of pass really stretched the Clontarf defence.
The threat of Emma Doolan and Orlaith Kiely kept the defenders interested and allowed Mulcahy some space to work her magic in.  And it was the out half who stretched the lead further as she powered over the line following excellent work by her pack. Mulcahy converted her own score to push the Falcons into a twelve point lead.
At this point the Falcons knew that they would have to meet the challenge of a team desperate to get back into the game head on and so they had to dig deep. Laura Oakley and Leanne Caulfield worked hard to keep control of possession for their side with Ellen Enright providing some freshness to the attack.
Just as it looked like PortDara would deny Clontarf any further opportunities, a long speculative kick was knocked on and the home side had a scrum close to the Falcons line.
Brave and determined defended kept the assault at bay for seven phases before a gap appeared and 'Tarf scored to move within seven points again.
With only ten minutes remaining and with a try bonus point in the bag the Falcons knew that it was important to score again and deny their opponents a losing bonus point if they were to catch them on the league table.
Emma Doolan carried with devastating effect and the eager support of her team mates allowed them to capitalise on the breaks.
The Falcons pack then went through multiple phases with Amy Guilfoyle hitting the line with a powerful straight run and a frustrated defence handed them the penalty that they craved.
Mulcahy kept her nerve to slot the kick over and cap a Player of the Match performance off with this final crucial score.
When the final whistle blew, both teams fell to their knees after giving absolutely everything to the cause in a highly entertaining, fast tempo game.
Falcons head coach Cassie Dunne was delighted with her team's performance saying "every one of those girls gave us everything that they had today.
"Nobody would have expected us to come to Clontarf and win today with so many influential players out injured but the girls put up their hands and took responsibility when we needed them most.
"We have our Christmas party tonight and we really have something to celebrate now".
Next up for the Falcons is a home game in Portarlington against Wanderers on Sunday at 1.00pm.
PortDara Falcons: Andrea Broughan, Leanne Caulfield, Kim Tully, Elaine Slevin, Amy Guilfoyle, Celeste Cannon, Siobhán Griffin, Sarah Pickford, Kate Tynan, Hannah Mulcahy, Orlaith Kiely, Michelle Maher, Ellen Enright, Orla O'Donovan, Yvonne O Neill, Noelle Doody, Laura Oakley, Allanah O Toole.
SEE ALSO – PortDara Falcons secure impressive victory over Dublin side