The importance of water safety simply cannot be underestimated – and Laois Water Safety are enrolling now for their new classes.
The classes begin this Saturday, January 26, for juniors/students from 9am to 10am in Portlaoise Leisure Centre and on Tuesday, January 29, for seniors and students.
The course is Bronze Gaisce Award Approved – which is especially important for Transition Year students who are deciding on their community challenge for the Gaisce Award.
Among the Irish Water Safety ambassadors are actor Liam Neeson, former Ireland rugby captain Paul O'Connell and model Rosanna Davison.
This Water Safety course can eventually lead to a Pool Lifeguard qualification which is very important for all students studying Sports and Leisure for future employment. Most gyms have pools and require personal trainers and coaches to have this certification.
These classes are important for parents as well and having the necessary skills when needed during accidents at the beach and pools during the summer can be absolutely vital.
The course is suitable for all fitness levels and costs €75 for an adult or €60 for a student/junior. Juniors are aged 12-15 while adults are 16+.
Booking is essential and you can register before or on the day at the desk.
Laois Water Safety Spring Classes at Portlaoise Leisure Centre begin on the following:
Saturday, January 26 – from 9am-10am
Juniors/Students €60
Tuesday, January 29 – from 9pm-10pm
Seniors €75, Students €60.
Booking Essential, call 0578664058 or email sports@laoiscoco.ie to register.
Names can also be given at the desk at Portlaoise Leisure Centre.
Phone 057 8664058 or email sports@laoiscoco.ie for more information.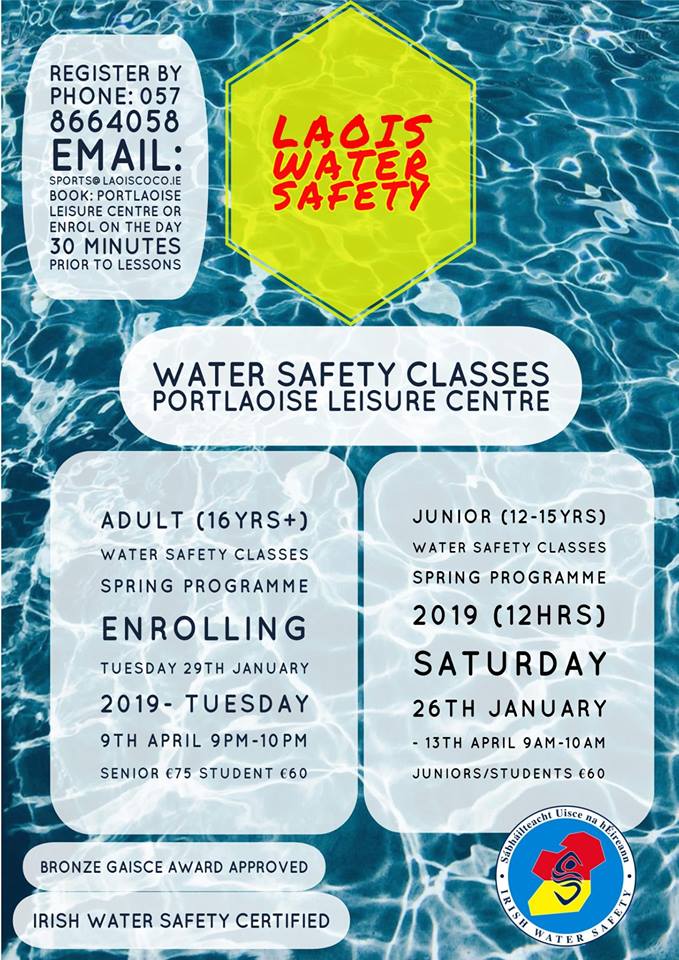 What We Do at Irish Water Safety?
Laois Water Safety's focus is on Public Awareness and education. Tragically, an average of 127 people drown each year in Ireland.  We feel that this is simply unacceptable considering that most fatalities are avoidable.  We strive to reduce these fatalities by increasing water safety awareness and by changing attitudes and behaviours so that our aquatic environments can be enjoyed with confidence and safety.
Lifesaving
Learning to save a life can be the best investment you ever make and everyone can benefit from knowledge of simple lifesaving techniques.
With Irish Water Safety you can go a step further, we can help you develop a career in lifesaving and to find lifesaving jobs throughout the country.
Courses
IWS Pool Lifeguard, courses are delivered to best international standards and are recognised by the International Lifesaving Federation. Our lifeguards have worked in almost every country in the world where lifeguards are employed. Click here for more information on Lifeguard courses in your area.
Please checkout Irish Water Safety's website for further information – http://www.iws.ie/
SEE ALSO – Check out the dedicated jobs section on LaoisToday.ie