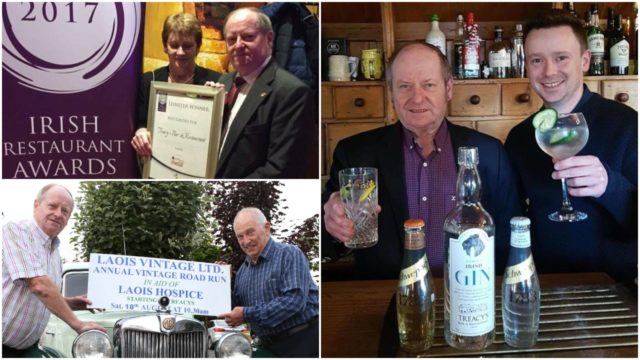 The plaudits and praise came pouring in thick and fast for Tom Treacy as Laois bestowed the highest honour it has to acknowledge achievement, a Civic Reception at County Hall last night.
Small wonder that the commendations and celebrations should spill over in to Valentine's Day as Tom and his family were certainly feeling the love.
There was a relaxed banter to the evening too, appropriate for a man who doesn't stand much on ceremony and he took it all in his stride in a typical no fuss down-to-earth-fashion.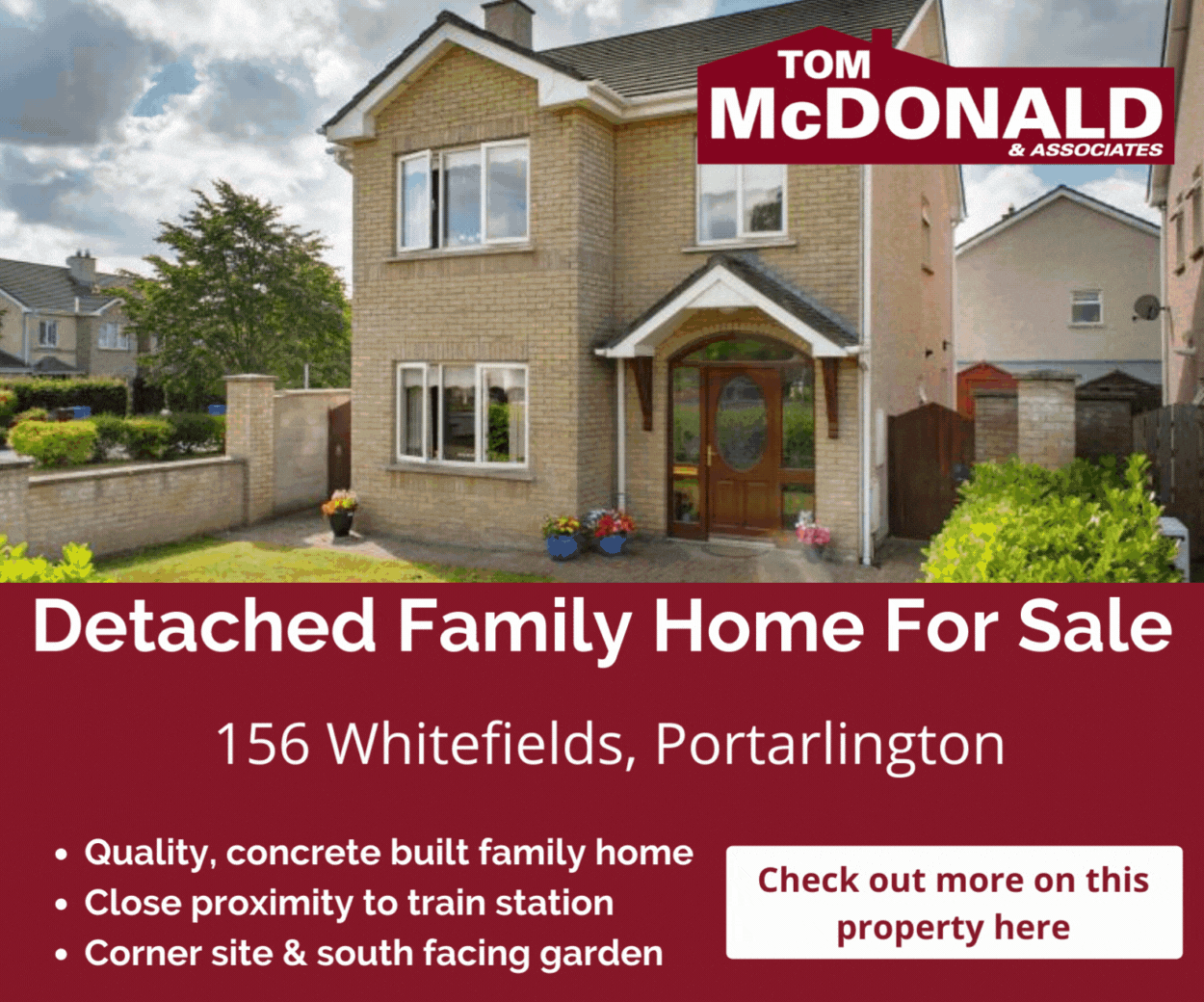 There were of course the formalities, the speeches, the presentations and the citation but this was more a celebration of a man who has devoted himself to promoting his native place and who has spent his life telling and selling others his love of Laois.
Appropriately too Marie was there right by Tom's side along with their extended families of Treacy's and Keane's.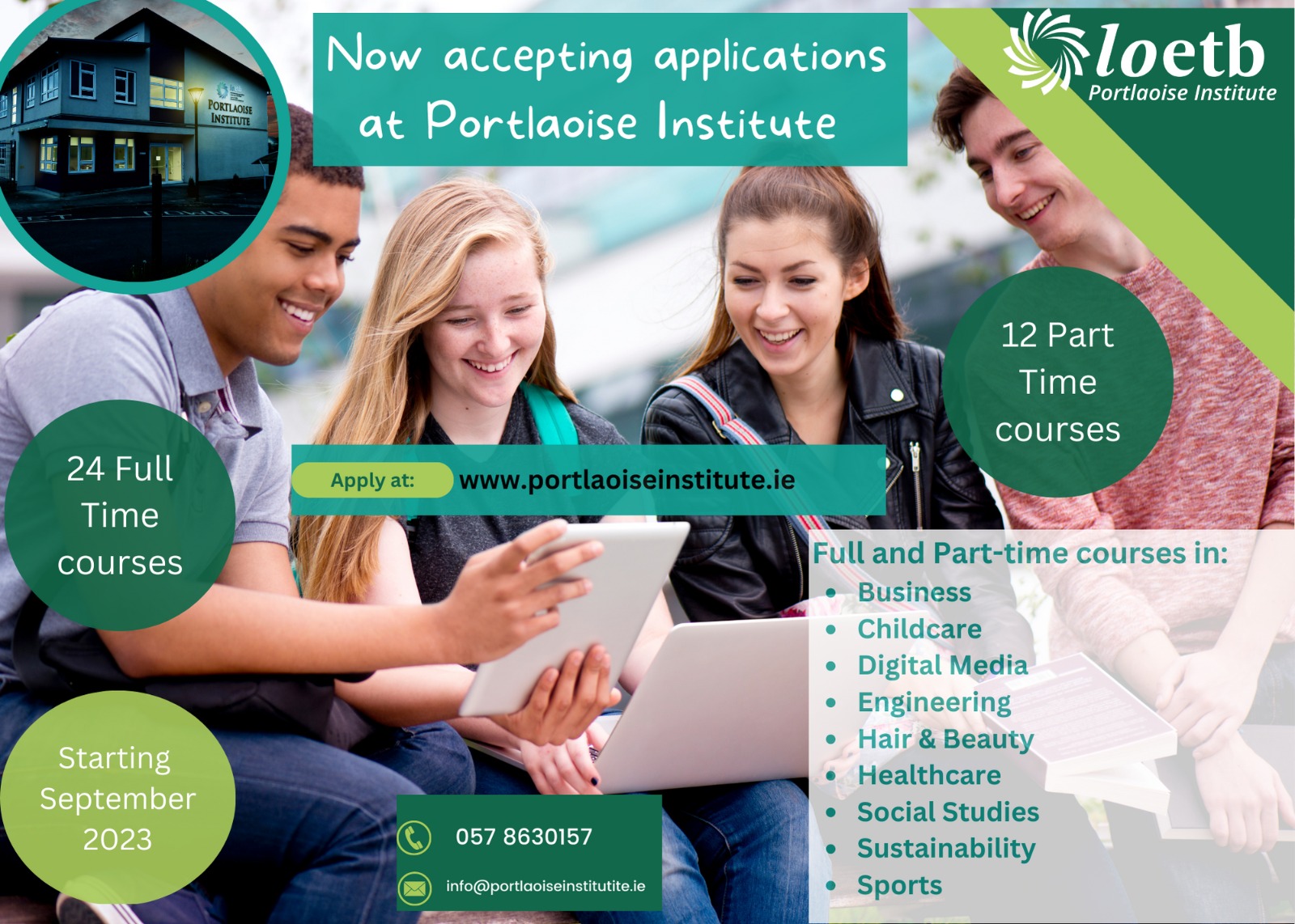 Great families from An Fraoch Mór, The Great Heath, out in force to pay tribute to one of their own, as Acting Chief Executive of the Council, Gerry Murphy described him, the great Tom Treacy.
And behind every great man, a great woman, as Cllr Tom Mulhall, who first proposed the idea of the civic reception, put it. Tom and Marie are married 40 years.
There too were customers, like the oldest one, Dickie Byrne a former Odlum's driver and staff from down the years, like business woman Pepe Booth, Tom's first employee when he took over the business.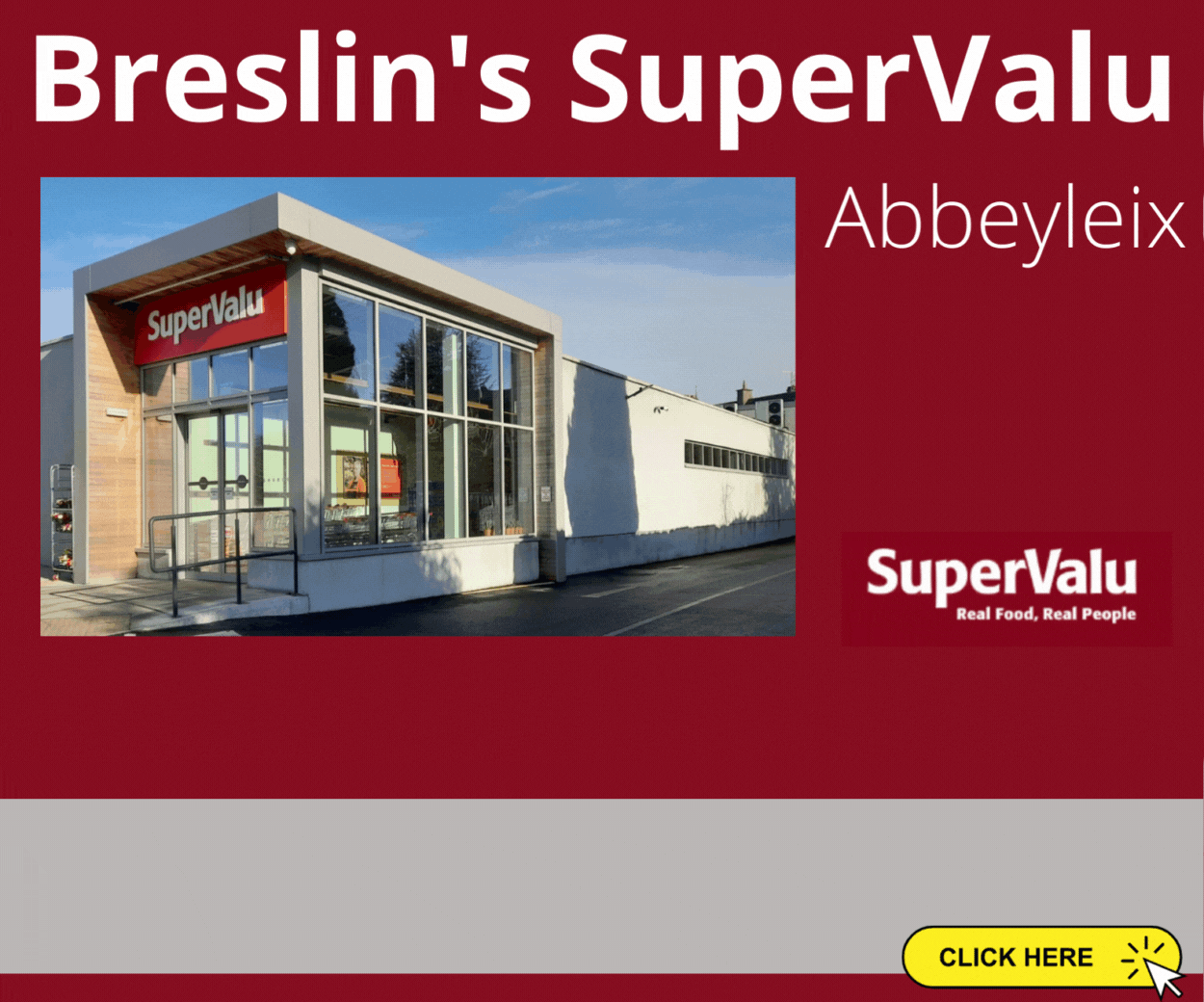 Today the family business, at Treacy's of the Heath and the Gandon Inn, employee 100 people, many long serving, and loyal staff.
A hallmark of their success the hands on approach, the personal touch, the work ethic, for which both their families are renowned, demonstrated by Tom and Marie as they led their team from the front, on all occasions and every occasion from breakfast to the bigger functions in peoples' lives.
This honour in County Hall was about so much more than Tom Treacy's business success, for the approval and endorsement, the unanimous regard, the genuine tone of goodwill and affection was about recognising a man who had devoted as much of his time, energy and ingenuity to supporting others and promoting his county as he had to his own family or business.
The thatched tavern at Treacy's of the Heath can be traced back to 1780 and the Treacy name over the door dates at least to 1830, a famous establishment for locals and visitors all that time. With Tom and Marie's children now actively involved in running the business this marks the 8th generation delivering that unique family friendly charm and welcome.
Tom took over the business in 1975 from his Mam, Mary, his father Billy having died when Tommy was only four.
Treacy's has always been known for its warm welcome, as many speakers at last night's reception remarked, it is a favourite with Laois families as well as those passing up and down the country, seven days a week.
But Tommy has gone further and over and above the call of duty on a voluntary basis and extended that warm welcome to Laois.
His love of Laois always in his heart and at the heart of all his work whether promoting Laois Tourism or the Laois Hospice.
His has been a lifetime of dedicated service to constantly representing the best of what Laois has to offer at every opportunity.
This Civic Reception was to say thanks to Tommy for all his hard work and dedicated service in putting Laois on the map, in promoting Laois, in heading up Laois Tourism over the years and leading the way in singing the praises of the richness of what the county has to offer visitors.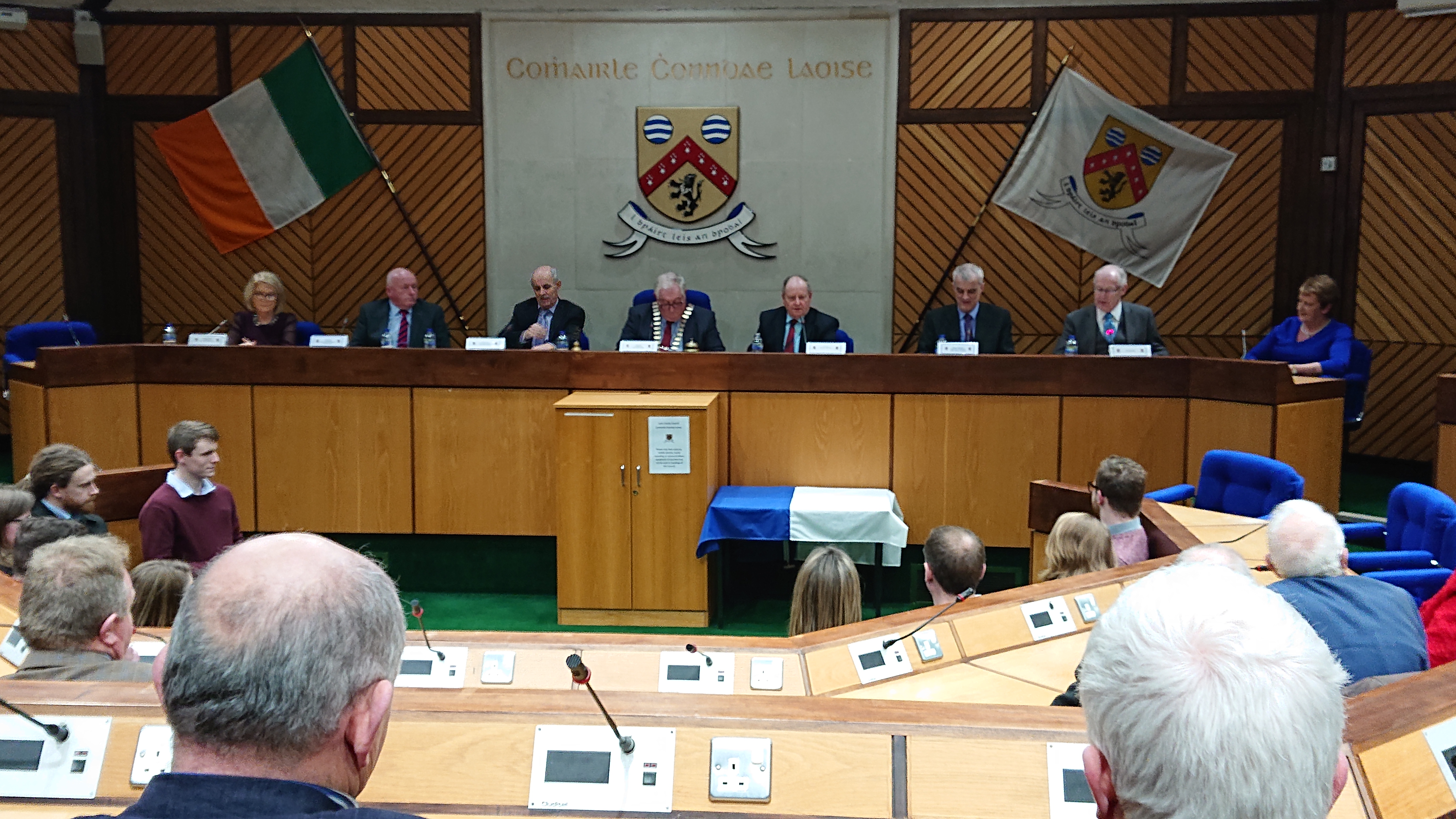 One of the great success stories in this regards has been the Gordon Bennett Rally, which Tommy and other 'petrol head' and vintage car enthusiasts initiated back in 2003 to mark the centenary of the original motor race.
The event Tommy was delighted to say has snowballed, is receiving the backing of Fáilte Ireland, who recognise its potential and this summer will see a number of international journalists and writers in attendance to report on and help promote the event to a worldwide audience.
Tommy is as chuffed about this as he is about any civic reception for himself.
This was probably best summed up on the night by former TD and Minister, John Moloney who said that many businesses never get to pass the third generation, but that Treacy's had flourished for an 8th generation was a tribute to the endeavours and resilience of the Treacy and Keane families.
He noted that when Tom and Marie took over the Gandon, many wondered, would it work out, but the proof of the pudding is in the eating.
"Tommy is always himself, he never goes overboard, and you take him as he is. There is never any plamás with Tom, he might say hello, and he might not," regaled John, in his own inimitable style.
The night was all about Tom. No plamás. Just a genuinely big and deserved Thank You, to the great Tom Treacy, from The Heath.
But Tom wouldn't be Tom if he wasn't all about others. In reply to the lavish praise he in turn spoke highly of others.
Others like the late Seán O'Reilly, a former Council employee, who made it all happen and worked so hard for tourism. Tom was especially glad to see Seán's wife and son, Nancy and Aidan present at the event.
"Working together and pulling together is the only way we will ever achieve anything for Laois," Tom's own message on the night that he received Laois' highest honour.