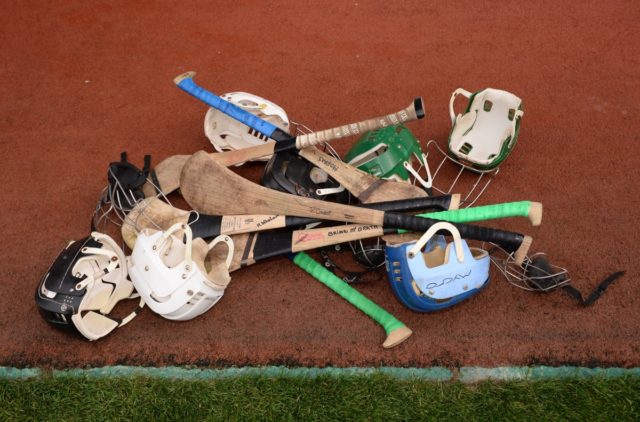 Each team of division 1 was out in action on this bitterly cold Saturday night around the county.
Clough-Ballacolla maintained their winning streak, defeating last year's county finalists Rathdowney by six points.
Rosenallis caused somewhat of a shock as they saw off St Lazerian's Abbeyleix 0-21 to 0-15 in Abbeyleix this evening.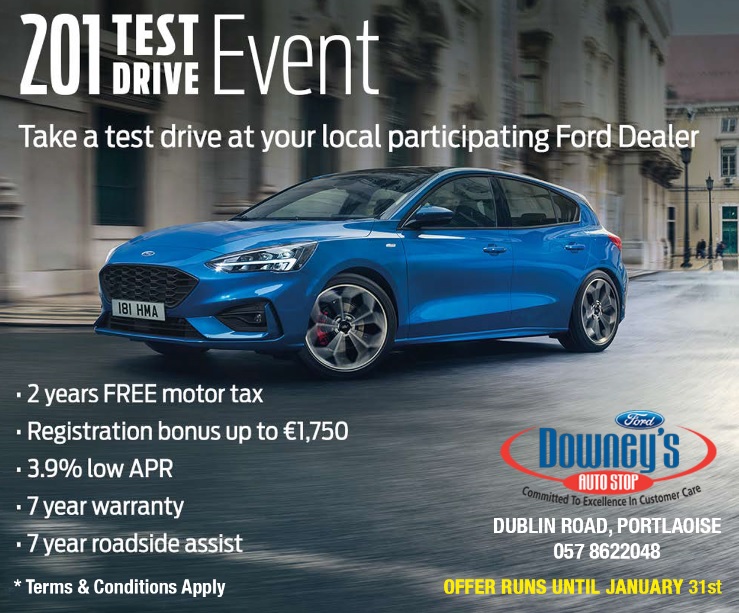 Camross and Borris-Kilcotton also walked away with wins over The Harps and Castletown, respectively.
Clough-Ballacolla now lead on the division 1 table on six points, while Camross, Borris-Kilcotton and Rosenallis follow on four points each.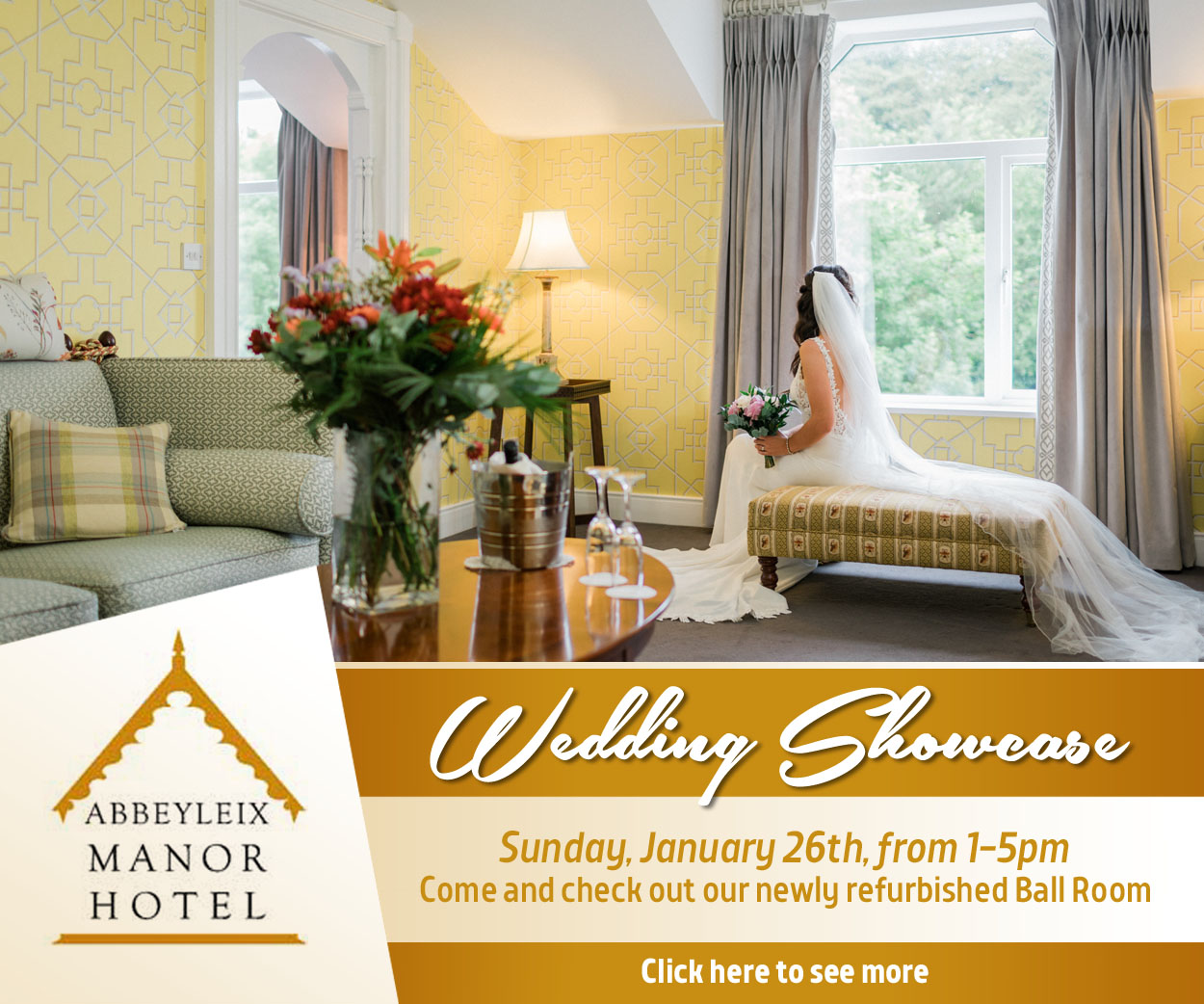 Here are roundups of some tonight's games and how the table looks after round three of the league.
Laois Shopping Centre ACHL Division 1 
Rosenallis 0-21 St Lazerians Abbeyleix 0-15
It was youth that guided Rosenallis to victory tonight – primarily through 17 year old Conor Cosgrove, who scored six points at centre-back.
Abbeyleix led for much of the first and second half, until Rosenallis went ahead with a lead they wouldn't relinquish in the dying minutes of the game.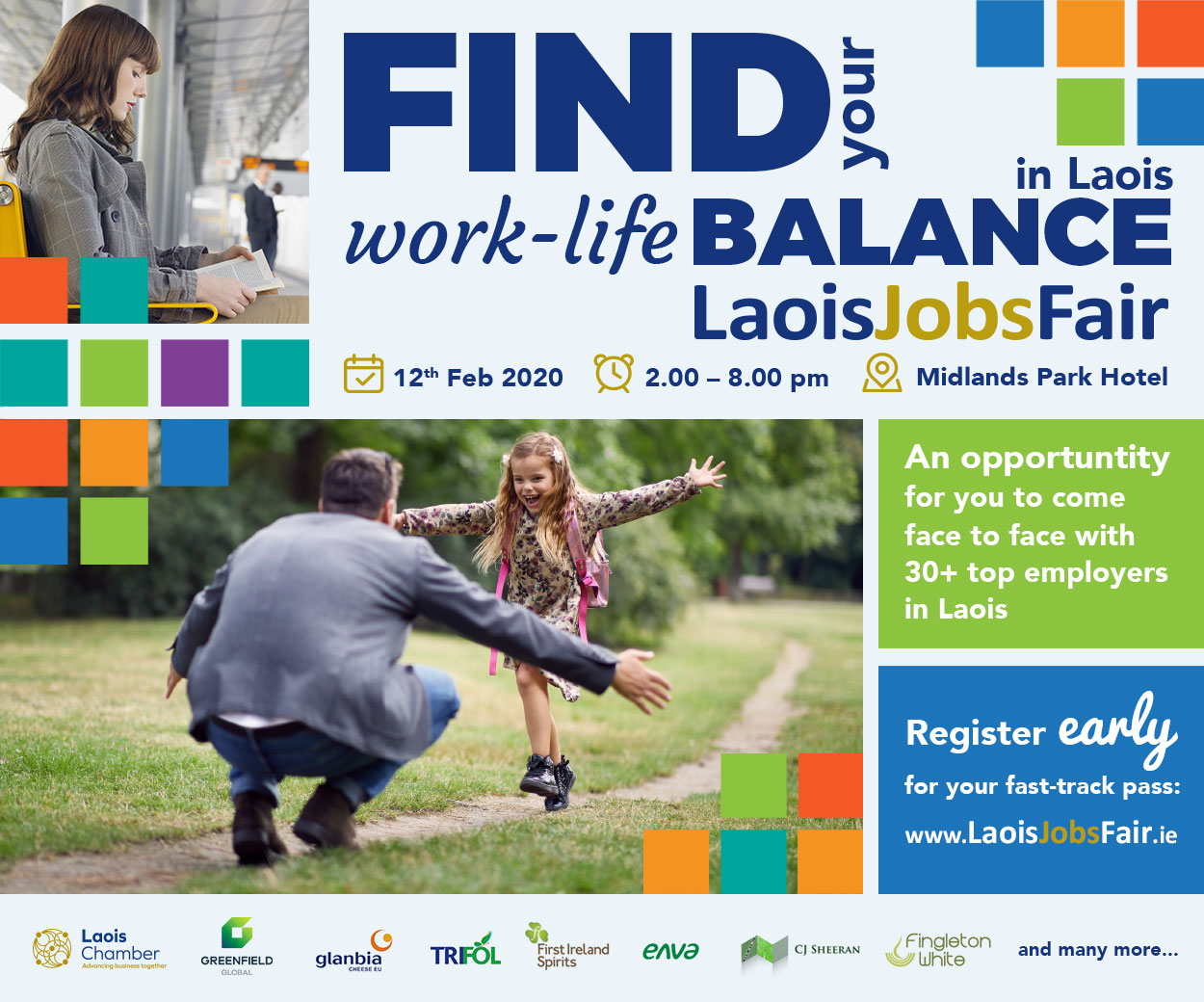 Abbeyleix, playing with the wind in the first half, struck two wides before Eugene Hearns put them on the scoreboard after two minutes.
Their top scorer, Eoghan Fennelly, earned the first of his eight points shortly after while Paddy Keating drew the sides level with two frees.
Conor Bergin worked up two fine scores after dispossessing Rosenallis twice on the full-back line but Abbeyleix are bound to be disappointed in the number of sliotars falling into the hands of Rosenallis goalkeeper Stephen Kelly in the opening half.
Fennelly and Keating traded frees while corner-forward Walter Murphy struck the ball over the blackspot to give Rosenallis their fourth of the game.
A Paddy Keating free in the 16th minute put Rosenallis into the lead for the first time but this was quickly cancelled out by a 21 yard free at the opposing end by Fennelly.
Liam Delaney excellently spotted out Dayne Peacock on the wing who struck Abbeyleix one ahead before Enda McWey won a Rosenallis sideline and struck off the sliotar over the crossbar to give his side their eighth point.
John Maher proved to be a saving grace for Rosenallis, clearing numerous ball in the full-forward line to stop the threat on goal.
Fennelly slotted over two further frees to make it Abbeyleix 0-10 to Rosenallis's six points.
Rosenallis almost had a goal opportunity as Walter Murphy went through into the square but it was bread and butter for Laois keeper Enda Rowland who blocked the ball with ease.
Abbeyleix's Oisin Carroll cleared two consecutive balls, one of which secured a free for Fennelly to puck over with ease.
Cosgrove raised the white flag for the first time to cut Abbeyleix's lead to two before helping Lennon find the blackspot and leave just one between the teams.
Paddy Keating drew the sides level but a 65′ yard free from Fennelly just kept tipping Abbeyleix that bit ahead.
Steven Reilly found Fennelly to make it 12 points to 10 but Keating brothers Paddy and Joe cancelled this out after 48 minutes with two points to draw the sides level again.
Lennon and Cosgrove pushed Rosenallis two ahead before Fennelly and subsitute Kinsella made it 0-14 to 0-14 after 49 minutes.
This would be the last time Abbeyleix raised the white flag as Rosenallis took over, primarily through the work of Cosgrove. He struck quite possibly the score of the game – 90 yard out from play – to bring Rosenallis one ahead.
Adding two frees and a point from play, the former Laois minor captain helped his side go four ahead, with Lennon and Keating aiding the scoring efforts, as subsitute Enda McEvoy did his part to set up the scores inside.
Rosenallis managed to stay six points clear and the game ended Rosenallis 0-21 Abbeyleix 0-15.
SCORERS – Rosenallis: Paddy Keating 0-7 (0-5 frees), Conor Cosgrove 0-6 (0-3 frees), John Lennon 0-6 (0-1 frees), Walter Murphy 0-1, Jospeh Keating 0-1 Abbeyleix: Eoghan Fennelly 0-9 (0-7 frees), Conor Bergin 0-2, Eugene Hearns 0-1, Dayne Peacock 0-1, Enda McWey 0-1, Colin Kinsella 0-1
ROSENALLIS: Stephen Kelly; John Maher, Marcus Redmond, Cormac White; Tommy Keating, Conor Cosgrove, Jack Claffey; Jack Conroy, Paddy Keating; Donnagh Callaly, John Lennon, Sean White; Paul Lynch, Joseph Keating, Walter Walsh. Subs: Enda McEvoy for P Lynch (36 minutes)
ABBEYLEIX: Enda Rowland; Jamie Coffey, Oisin Carroll, Enda McWey; Cathal Doyle, Liam Delaney, Jake Cranny; Eugene Hearns, Daniel Coffey; Steven Reilly, Dayne Peacock, Stephen Thompson; Colm Walsh, Eoghan Fennelly, Conor Bergin. Subs: Colin Kinsella for E Hearns, Ciaran Carroll for D Peacock (injured)
Referee: John Lalor (Shanahoe)
Clough-Ballacolla 2-11 Rathdowney-Errill 0-11
A great team performance and the 1-6 from Stephen 'Picky' Maher gave Clough-Ballacolla their three wins out of three games played after defeating Rathdowney tonight.
Playing with a strong wind in the first half, Willie Dunphy cemented a perfect start to the game for Clough-Ballacolla by scoring from the throw-in.
The following ten minutes was nip and tuck between the two teams before Clough-Ballacolla hit a purple patch in the middle of the opening half.
They scored 2-3 without reply, as Rathdowney-Errill struck 11 wides within the opening half. Damien Madden proved a saving grace for his side as he pulled off some superb saves for Rathdowney-Errill.
Picky Maher slotted in Clough-Ballacolla's first goal while a stellar individual effort from Mark Hennessy raised the green flag to put Clough-Ballacolla 2-7 to 0-4 up at the interval.
Rathdowney-Errill hit back strongly in the second half. They edged within four of Clough-Ballacolla but two late points from Brian and Aidan Corby saw Clough-Ballacolla go through six point leaders in the end.
SCORERS – Clough-Ballacolla: Stephen Maher 1-6 (0-3 frees), Mark Hennessy 1-1, Aidan Corby 0-2 Willie Dunphy 0-1, Brian Corby 0-1 Rathdowney: Mark Kavanagh 0-9 (0-7 frees), Ross King 0-2.
CLOUGH-BALLACOLLA: Danny Hanlon; John A Delaney, Darren Maher, Diarmuid Conway; Mick McEvoy, Lee Cleere, Tom Delaney; Brian Corby, Aidan Corby; Willie Dunphy, Jordan Walshe, Sean Corby; Mark Hennessy, Stephen Maher, Steven Bergin Subs: Brendan McEvoy for Tom Delaney, Shane Hanlon for Sean Corby, Chris Rafter for Mark Hennessy
RATHDOWNEY-ERRILL: Damien Madden; Joe Fitzpatrick, Brian Campion, John Purcell; Jack Kelly, Eric Killeen, James Ryan; Shane Dollard, Jimmy Corrgian; Tadhg Dowling, Mark Kavanagh, Paddy Purcell; Paddy McCane, Ross King, Ray Bowe. Subs: Eoin Bourke for P Purcell, David Poynton for S Dollard, Paddy Meehan, Shane Bowe for T Dowling, Kevin O'Deab for R Bowe.
Referee: Alan Doheny (Castletown)
ELSEWHERE 
Camross 0-13 The Harps 0-10
Camross overcame The Harps 0-13 to 0-10 to give them their second win from three games and they go second on the table due to score difference.
Borris-Kilcotton 4-17 Castletown 1-14
This is how Division 1 currently looks: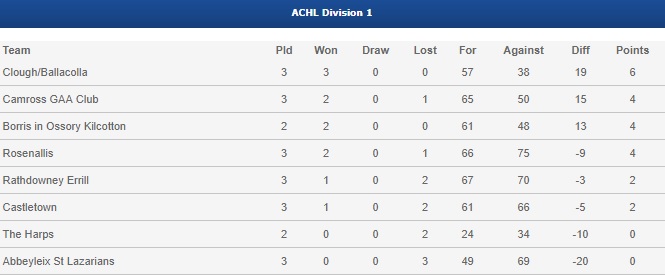 SEE ALSO – Laois club championship camogie fixtures have been announced