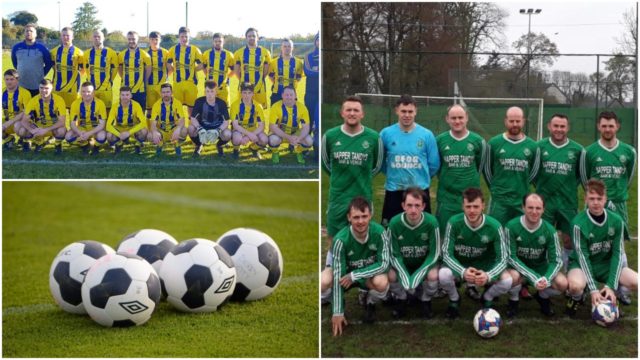 It was a day of cup action and it was a largely good one for the Laois teams involved.
Meanwhile, in Division 1, Rosenallis received a walkover from Mullingar Town which means they are still firmly in the hunt to win Division 1.
COMBINED COUNTIES CUP QUARTER FINAL


Mountmellick United 3 Towerhill 1



A gutsy performance from Mountmellick United saw them go through to the semi-finals of the Combined Counties Cup today.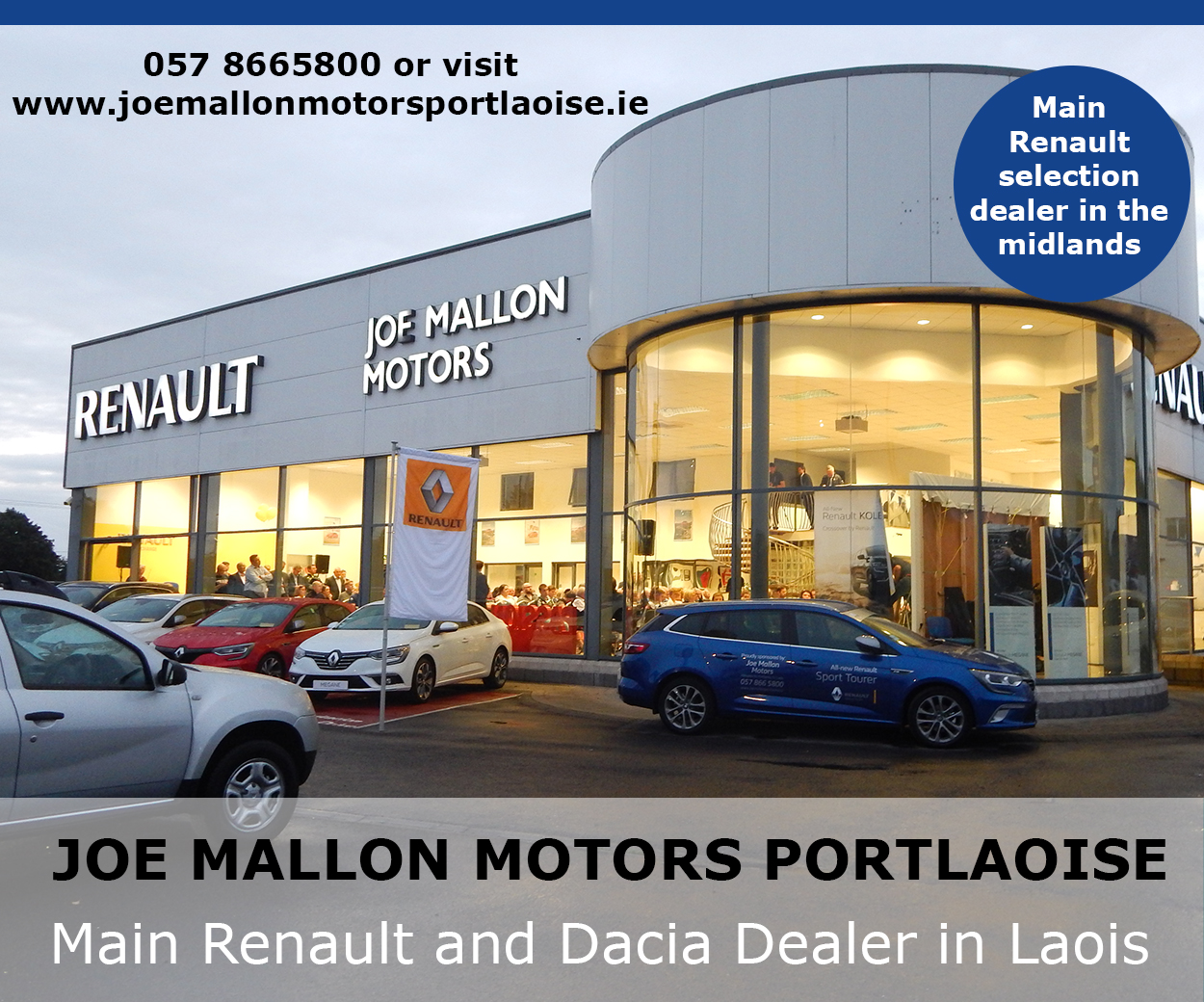 After consecutive losses in the league, Mountmellick needed to dig deep to beat Towerhill today in the CCFL cup. With a full strength side for the first time in weeks, manager Tommy Christie said today was the turning point for Mountmellick, with both eyes now firmly on the Cup.
Towerhill started well though and took the lead after 20 minutes in the opening half when a cross dropped to Emeka and he lobbed the ball over Matty Forde's head.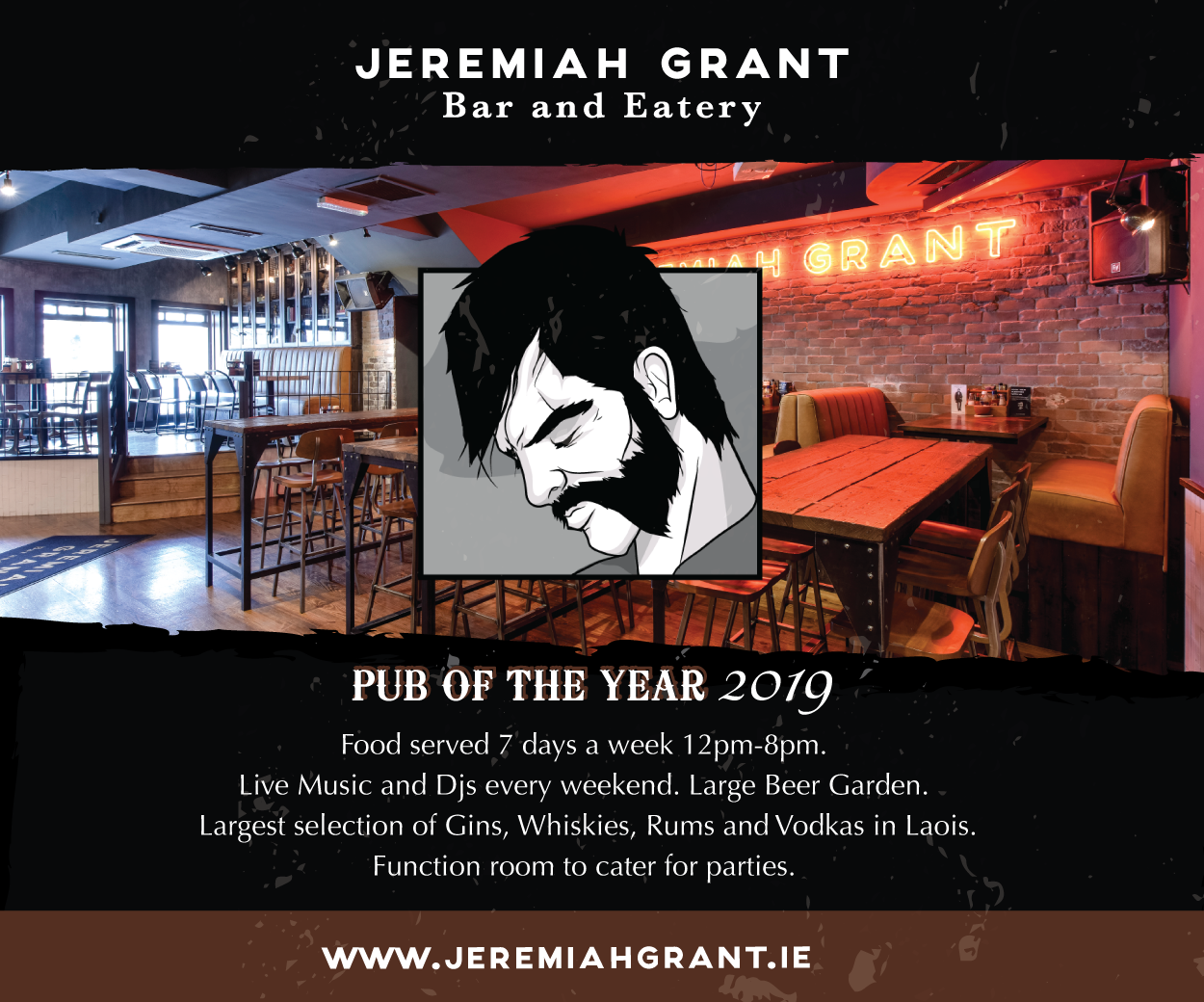 Mountmellick equalised on the stroke of half time through Mark Grennan to go in 1-1 at the break.
Grennan added a second to his tally 15 minutes into the second half as he lobbed the keeper with a perfect pass in by Robbie Hibbitts – that chance came after Mountmellick had been awarded a free which Towerhill fiercely contested.
The next 25 minutes turned into a real battle with tensions boiling over on a couple of occasions.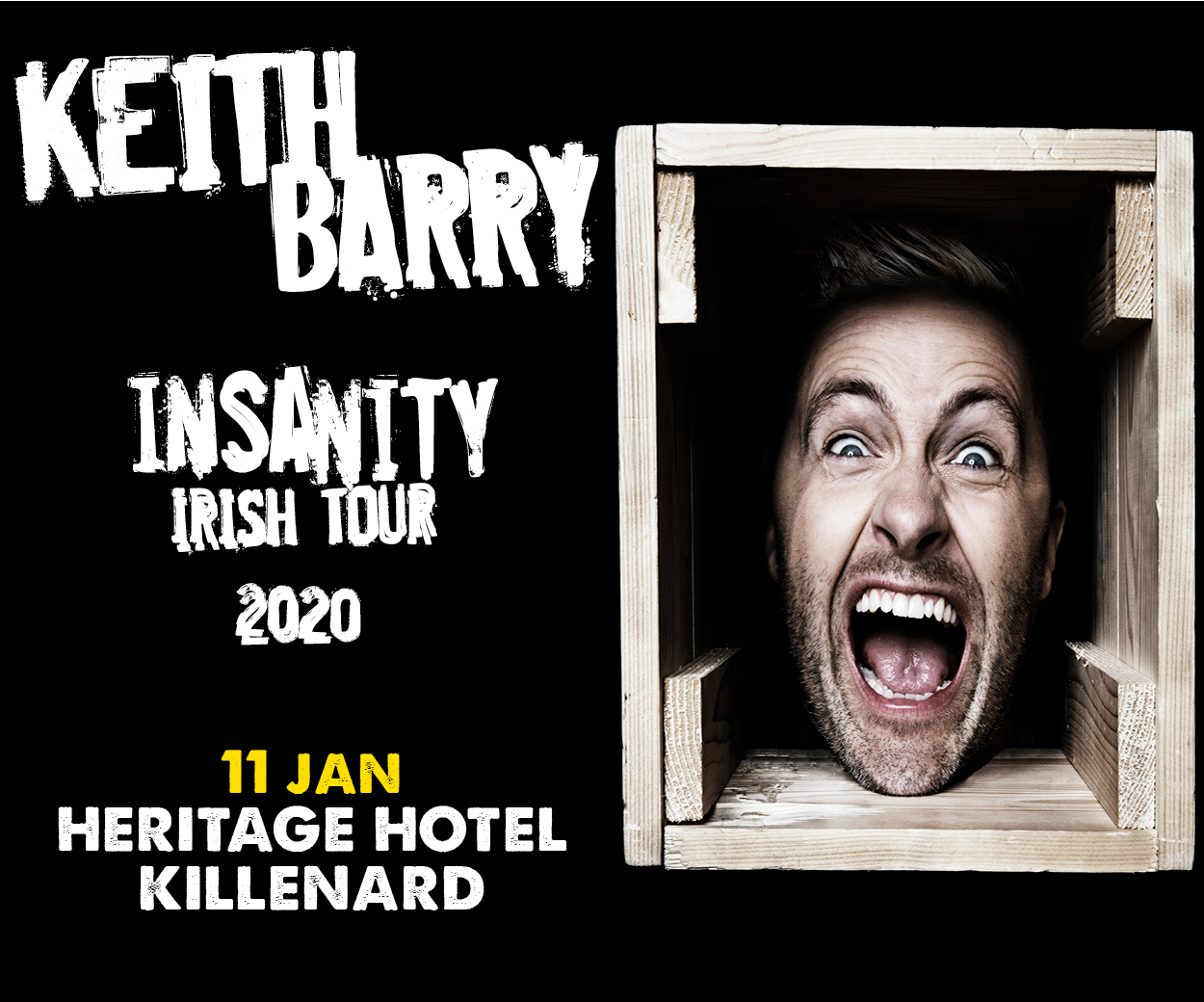 Towerhill had some offside decisions go against them while Emeka had two great chances in but couldn't convert. Towerhill tried to push forward to get equaliser and changed to three at the back but couldn't get that slice of luck.
Robbie Conran made it 3-1 on the stroke of the 89th minute to finish up an excellent link in play from Brandon Cooper, Eoghan O'Riordan and Mark Grennan.
They advance to the last four with the final firmly in their sights.
MOUNTMELLICK UNITED: Matty Forde, Dan O'Riordan, John Watchorne, Eddie Melia, Brandon Cooper, Eoghan O'Riordan, Mark Dowling, Darren Strong, Robbie Hibbitts, Robbie Conran, Mark Grennan. Subs: Ethan Lawlor for M Dowling
TOWERHILL: Richard Downey, Leon McDonald Sean Egan Aidan McGovern James Furlong, Paddy Downey Paul Sutton Nathan, Carpenter Gary Roe, Martin Hillard Emeka Subs: David Hughes for Sutton (inj 12mins), Jack Fennel for McDonald, Kevin Sheehan for egan
COMBINED COUNTIES CUP ROUND 3
Abbeyleix Athletic 0 Stradbally Town 1
Stradbally Town travelled to Abbeyleix on Sunday morning in the last 16 of the CCFL John Farrell Counties Cup, the blue ribbon cup of the CCFL.
Credit has to be given to both sides who served up an entertaining game of football in wet and windy conditions.
Stradbally, wind assisted started the first half better enjoying the majority of the possession without really creating too many clear cut chances.
The games first real chance was to fall to Abbeyleix but just as the forward was about to strike the ball bobbled on the pitch and his shot flew high and wide.
The tough conditions were being managed by both sides pretty well and as the half closed out it looked like there would be nothing between the teams.
A long diagonal pass from the Stradbally midfield was then spilled from the Abbeyleix goalkeeper's hands and the chasing Jimmy Langton calmly directed the ball into the empty net. First blood to Stradbally on the stroke of half-time.
The second half was again a battle with Abbeyleix pressing hard for an equaliser but the Stradbally defence stood strong. Justin Lalor almost made sure of the win when he rattled the crossbar with a free kick from all of about 30 yards – the Abbeyleix keeper making a fantastic save tipping the ball on to the bar.
Again right at the death Liam Knowles had another opportunity to wrap up the game but yet again the Abbeyleix keeper was up to the challenge.
That was to be the last real chance of the game and Stradbally Town advance to the quarter finals where an away game to Horseleap United awaits the men from the little town.
STRADBALLY TOWN: Wayne Comerford, Colin Beale, Billy Murphy, Ray Mulally, Podgie Fitzpatrick, Jimmy Langton, Richie Ryan, Justin Lalor, Jack Langton, Benny Lalor, Jake Byrne. Subs; Conor Brady, Liam Knowles, John Clancy, John Hayden, Adam Murphy, Jack Larkin
____________________________________________________
Division 1 Cup Quarter Final
Clonaslee 1 Highfield United 1 (Clonaslee win 7-6 on pens)
For the fourth time this season, Clonaslee United have won a game following a penalty shoot-out.
This time the victory meant they advance to the semi finals of the Division 1 Cup after defeating Highfield United this morning.
Clonaslee had the wind in the first half and took the lead after 15 minutes when Bob Downey converted after a great pass from Michael Hyland.
Highfield dominated the remainder of the half and did the same in the second period with wind advantage.
It looked like Clonaslee would hold on but their defence was breached after 85 minutes when Highfield equalised from a corner.
The game remained deadlocked and headed for penalties after extra time where Clonaslee triumphed with club legend Padraig Hogan converting the winning spot kick.
CLONASLEE: Seamus Rosney; John Rigney, Jack Malone, Ger Reilly, PJ Fitzpatrick, Michael Hyland, Diarmuid Conroy, Bob Downey, Gerry Carroll, Sean Dunne, Niall Hogan. Subs: Padraig Hogan
____________________________________________________
Division 4 Cup Semi Final
Mountmellick Celtic 4 Rosenallis B 1
Mountmellick Celtic are through to the Division 4 Cup final after they defeated Rosenallis B in Portlaoise this morning.
Celtic went ahead after Jamie Clover was brought down in the box and Oran Murphy scored the penalty.
Celtic doubled their lead when Kurt Clover found brother Jamie on the edge of the box and he slotted it into the corner of the net.
Rosenallis battled back and scored just before half time from James Jackson penalty and that made it 2-1 at the break.
Rosenallis had chances to equalise on the resumption of play but just couldn't find the net.
Glenn Shaw had a shot just go wide while William McEvoy had a header that just shaved the post.
Ten minutes into the second half it was 3-1 when Jamie Clover latched on to a through ball by Paul Allen and went by two defenders before curling the ball into the far corner to give Celtic some breathing space.
With 15 minutes to play, Oran Murphy broke into the box and finished coolly for Celtic's fourth.
Rosenallis put plenty of pressure on in the final few minutes but Celtic held on for the win.
MOUNTMELLICK CELTIC: Eugene Nolan, Stephen O'Neill, Michael McDermott, Kurt Clover, Stephen Conroy, Paul Allen, Oran Murphy, Jamie Clover, Jordan Williamson Gary Hofmeister, Sean Hofmeister. Subs: Liam Fraser, Jamie Murphy, Curtis Murtagh, Aaron Kilpatrick
ROSENALLIS B: Devin Creagh, Bill McEvoy, David McEvoy, Mark Graham, Tommy Hyland, Adam Finlay, Robbie Stephenson, Mick Flanagan, Alan Herbert, James Jackson, Glenn Shaw Subs: John Hughes, Joey Shelly, Sean Dunne, Eoin Dunne, Ian O'Callaghan
Lummy-O'Reilly Cup Quarter Final
Portlaoise AFC 1 Dunboyne 1 (Portlaoise lose on pens)
Portlaoise's Lummy O'Reilly Cup journey is over after they lost out on penalties to Dunboyne this afternoon.
Portlaoise took the lead on the half hour mark following a Jason McCaffrey free-kick which flew into the net from 30 yards.
They remained ahead until the 72nd minute when Dunboyne equalised and sent the game to extra time.
Portlaoise had two great chances to win the game in the added periods and both came to Chris Mulhall but he couldn't convert.
Colm Coss, Darren Rogers, James Dermody and Chris Mulhall all scored penalties in the shoot out but Shane Collins saw his effort brilliantly saved and Portlaoise were out.
They continue their Leinster Senior League campaign at home to Arklow on Wednesday night where they continue to push for promotion.
PORTLAOISE: Mathieu Cwienk; James Dermody, James Mullaney, Colm Coss, Chris Mulhall, Colm Poole, Joe Breen, Jason Caffrey, Aaron Rafter, Evan McEvoy, Niall Doran. Subs: Sean McCormack, Darren Rogers, Oisin Fitzpatrick, Shane Collins, Stephen Flanagan, Jason Woods, Shane Lynch
CCFL RESULTS
Lambe Brothers CCFL Youths Cup Semi Finals
Willow Park 18's 2; Mullingar Athletic 0
Willow Park 17's 2; Portlaoise AFC 0
John Farrell Combined Counties Cup 3rd Round
Abbeyleix Athletic 0; Stradbally Town 1
John Farrell Combined Counties Cup Quarter Finals
Mountmellick Utd 3; Towerhill Rovers 1
Derry Rovers 2; Mullingar Athletic 1
Division 1 Cup Quarter Final
Gallen Utd 3; Ballymahon 2
Clonaslee Utd 1 (7); Highfield Utd 1 (6); pens aet
Division 4 Cup Semi Finals
Mountmellick Celtic 3 Rosenallis B 1
Kenagh Utd 3; St Cormacs Athletic 1
Division 1
Rosenallis AFC 3; Mullingar Town 0
Division 2
O'Moore FC 3; Moate Celtic 0
Division 4
Clonmore Utd 3; Maryborough 3
Maryborough 0; Abbeyleix Athletic 3
Lummy O'Reilly Cup Quarter final
Portlaoise AFC 1 Dunboyne 1 (Portlaoise lose on pens)
SEE ALSO – Captain Corey leads Portarlington to first ever Feile football title