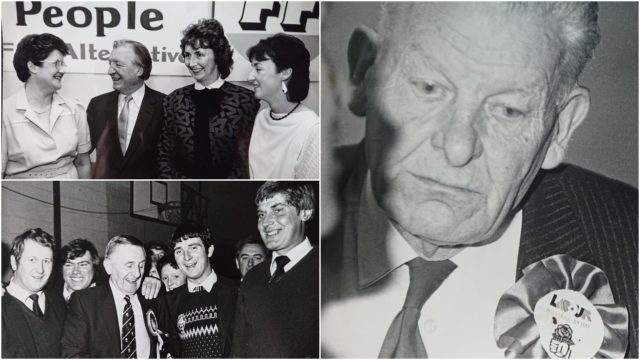 Brought to you in association with People First Credit Union
The local elections of 1985 in Laois were the most significant and dramatic in more than a generation. Eight councillors of the outgoing 25 in the five electoral areas lost their seats.
More significantly by far though was the overall result. A Fianna Fáil onslaught that routed their Fine Gael rivals and delivered an unprecedented 14 seats for FF, among them the first woman ever elected to Laois County Council, Mary Wheatley.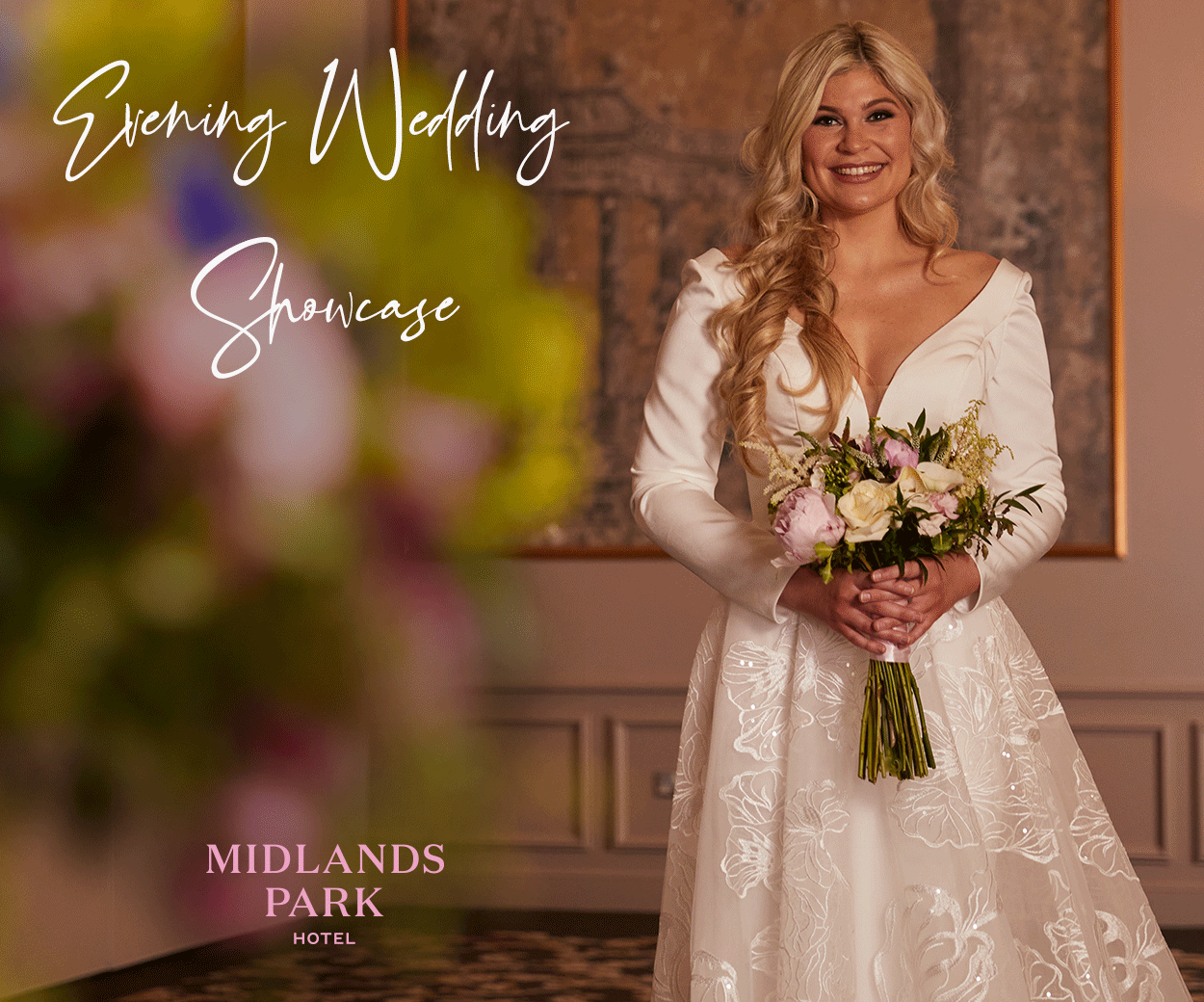 Some big names took a hit, senior men from both FF and FG falling victim to changing times and a new wave of candidates. Hanging in there though were the wily and canny Ned Kelly in Portarlington and Jimmy Kelly in Borris-in-Ossory both who weathered the Fianna Fáil landslide.
It was the end of an era too for the Fine Gael grip on local government in Laois, not just the Council but its ancillary bodies like the VEC, the Laois Agricultural Committee, the local Health Committee and the Midland Health Board.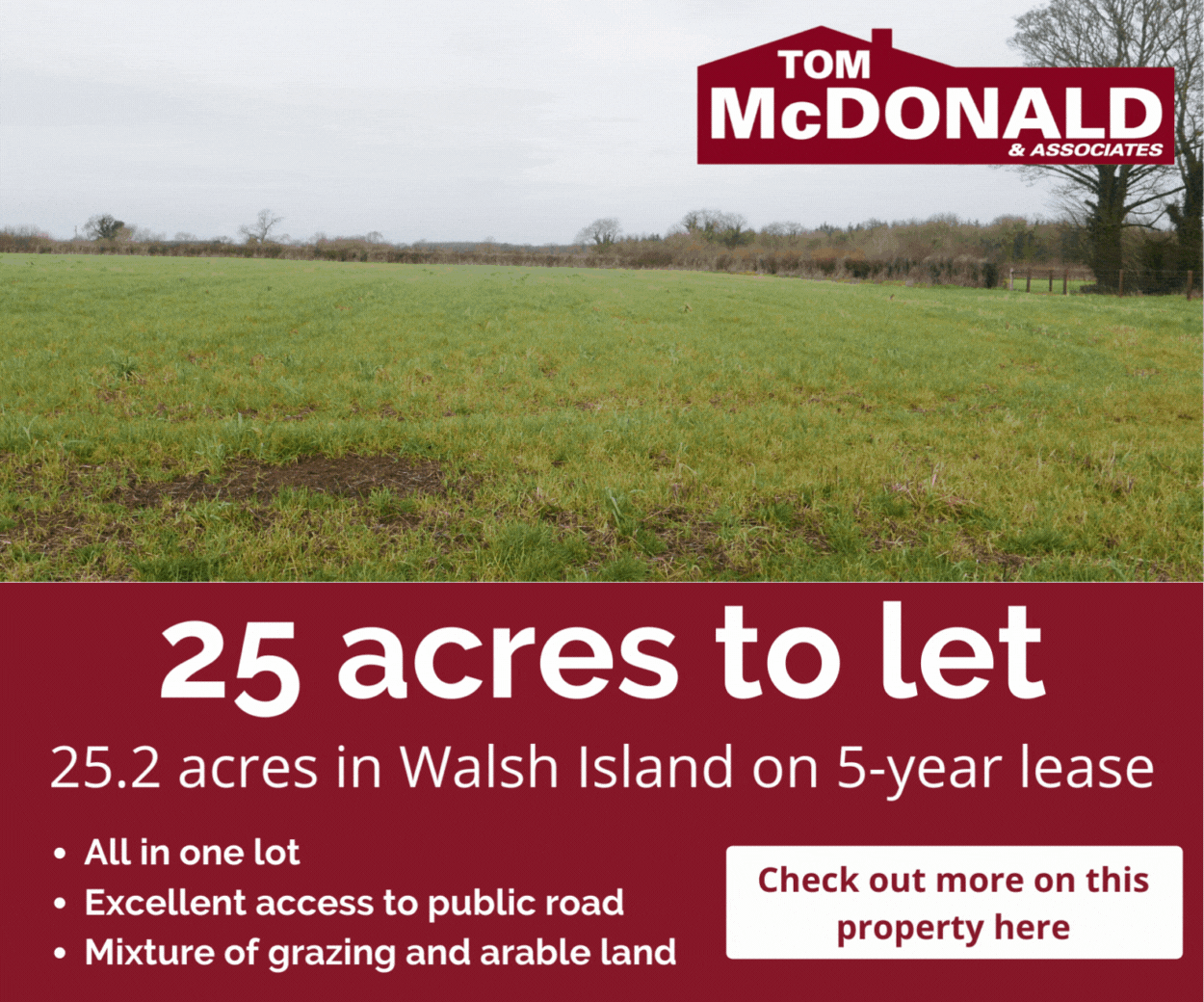 Fine Gael took a hammering too on the two Town Commissions in Portlaoise and Mountmellick where their decades of dominance was brought to an abrupt end.
For years Tom Keenan, both revered and feared by rivals, colleagues and officials alike for his encyclopaedic knowledge of local government, legislation and statutes was one of the most powerful people in politics, not just in Laois, but in the country.
Not only did he serve as Chairman of Laois County Council for 14 years, seven years in succession from 1978 to 1985 but he was also Chairman of Laois VEC, the Midland Health Board, the General Council of County Councils and the VEC's national governing body the IVEA as well as being an influential director of Irish Public Bodies Insurance.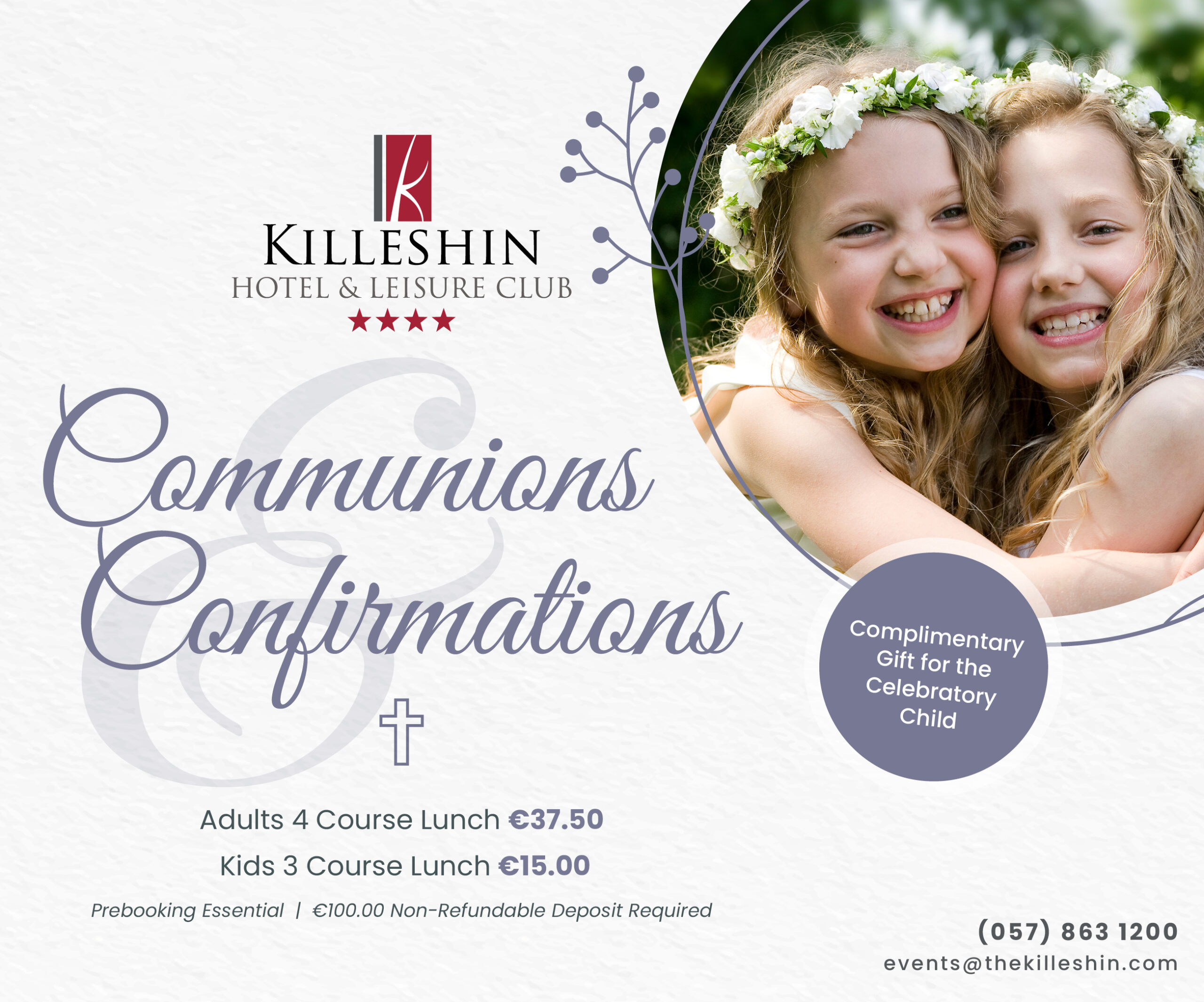 No one knew how to call a meeting to order, apply standing orders or rule the roost quite like Tom Keenan. All that was now at an end.
Tom Keenan had forged his power base out of a deferential loyalty from his FG Council colleagues and a pact with the Ned Kelly of Labour and Jimmy Kelly Independent Labour, with the 11 FG seats and the two Kelly's constantly giving him the upper hand, 13 votes of the 25.
Fianna Fáil's 14 seat overall majority trumped all that and gave them outright control of the Council, the Chair and the myriad of other Committees. Liam Hyland who had bided his time was finally installed as Chairman of the Council as FF divided up the spoils of victory.
He was to be followed in the subsequent five years by John Hosey, Joe Dunne, John Moloney and Marty Rohan.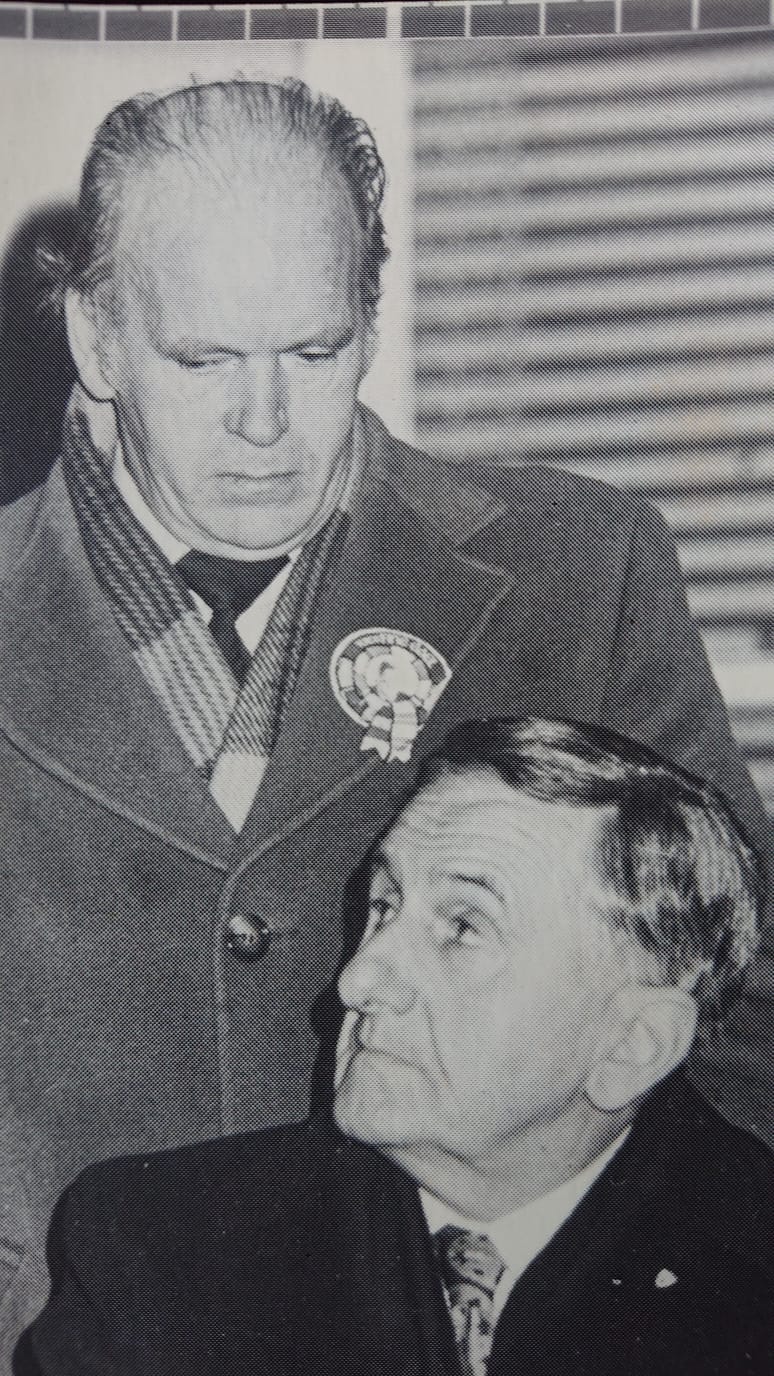 Fianna Fáil for their part had decided to share out the plum jobs and rotate the Council chairmanship, at least among themselves, unlike Tom Kennan who had controlled the chair and other key roles.
The kingmakers, Cllrs Ned and Jimmy Kelly (no relation incidentally) also saw their currency dwindle, leaving the witty Jimmy Kelly to remark afterwards: "They have tried to pull the wool over my eyes on the Sheep Dipping Committee and bury me on Dungar Burial Board," as he and Ned were left to pick up the scraps from the divvy up of positions that is the norm in the aftermath of the elections.
The front page of the Leinster Express that week declared, FIANNA FÁIL LANDSLIDE in bold capitals. This was championship hurling. On the same page a picture of the Cuddy brothers Martin and PJ, along with Pat Critchley in a crowded Croke Park square as they celebrated a goal and a Leinster semi-final win over Wexford. A formidable trio bearing down on any goalmouth.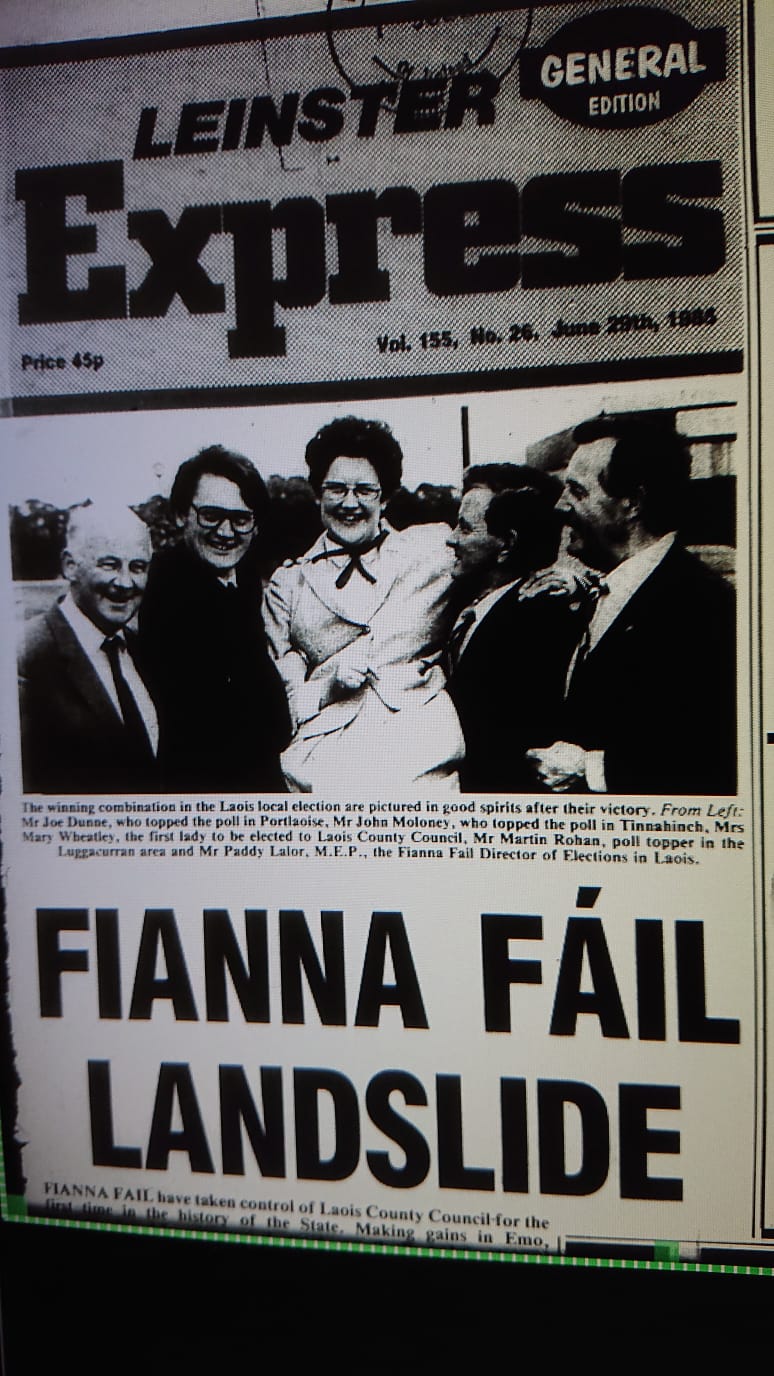 The Fianna Fáil unit was formidable too, their victory was no fluke either. It was strategic and masterminded by a blend of campaign savvy and respect for the likes of Liam Hyland who after a term as Senator from 1977 to 1981 was first elected to the Dáil in '81 and every subsequent general election until 1992; the considered party Comhairle Chairman, John Hosey and the organisational skill and commitment of John Moloney and Padraig Fleming, who had also brought in fresh faces to help break the Fine Gael stranglehold.
Paddy Lalor the vastly experienced former Minister, TD and MEP was their director-of-elections. It didn't hurt their cause that Fianna Fáil ran an anti – service charges campaign across the country.
It all played out against a national background of ongoing political turmoil. That summer the country drenched in rainfall became convulsed with moving statues of the Virgin Mary in grottos in Stradbally and Spink, Monasterevin and Ballinspittle.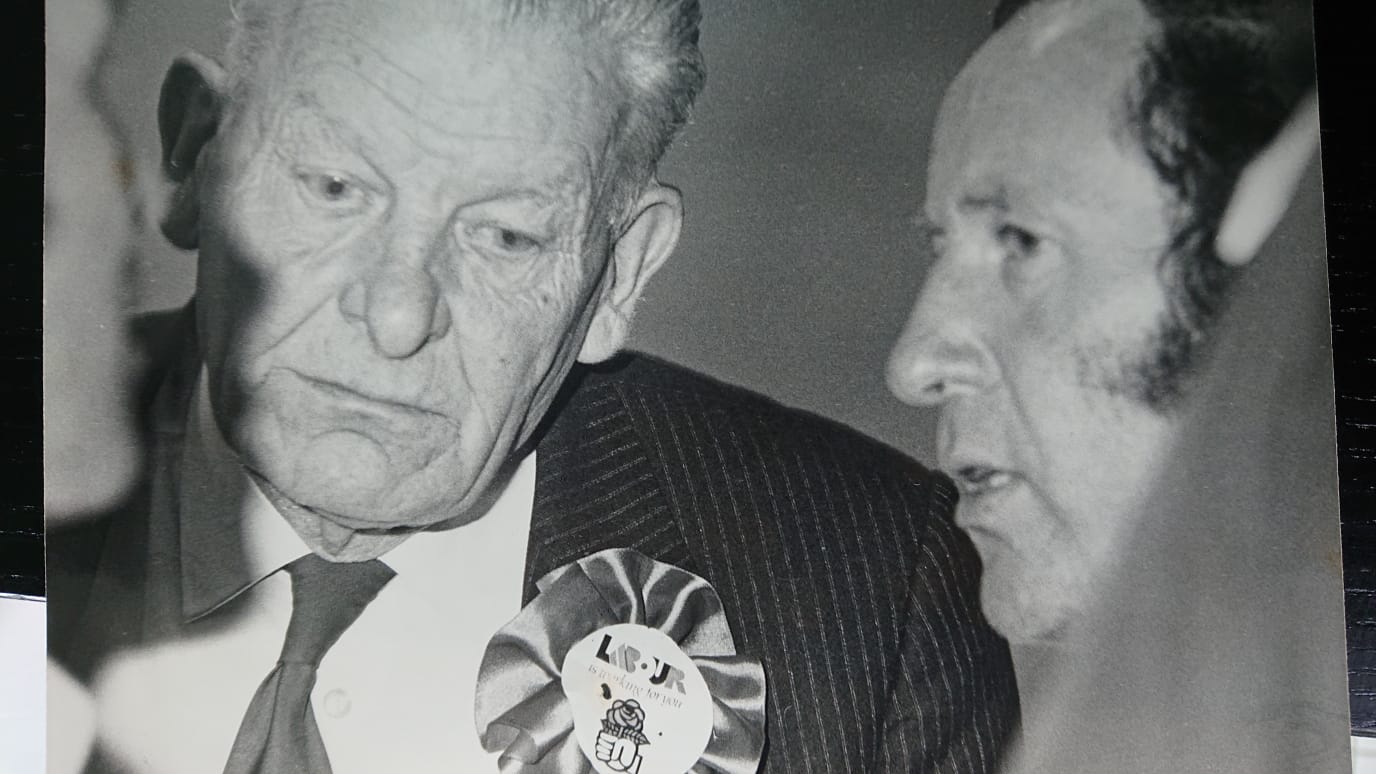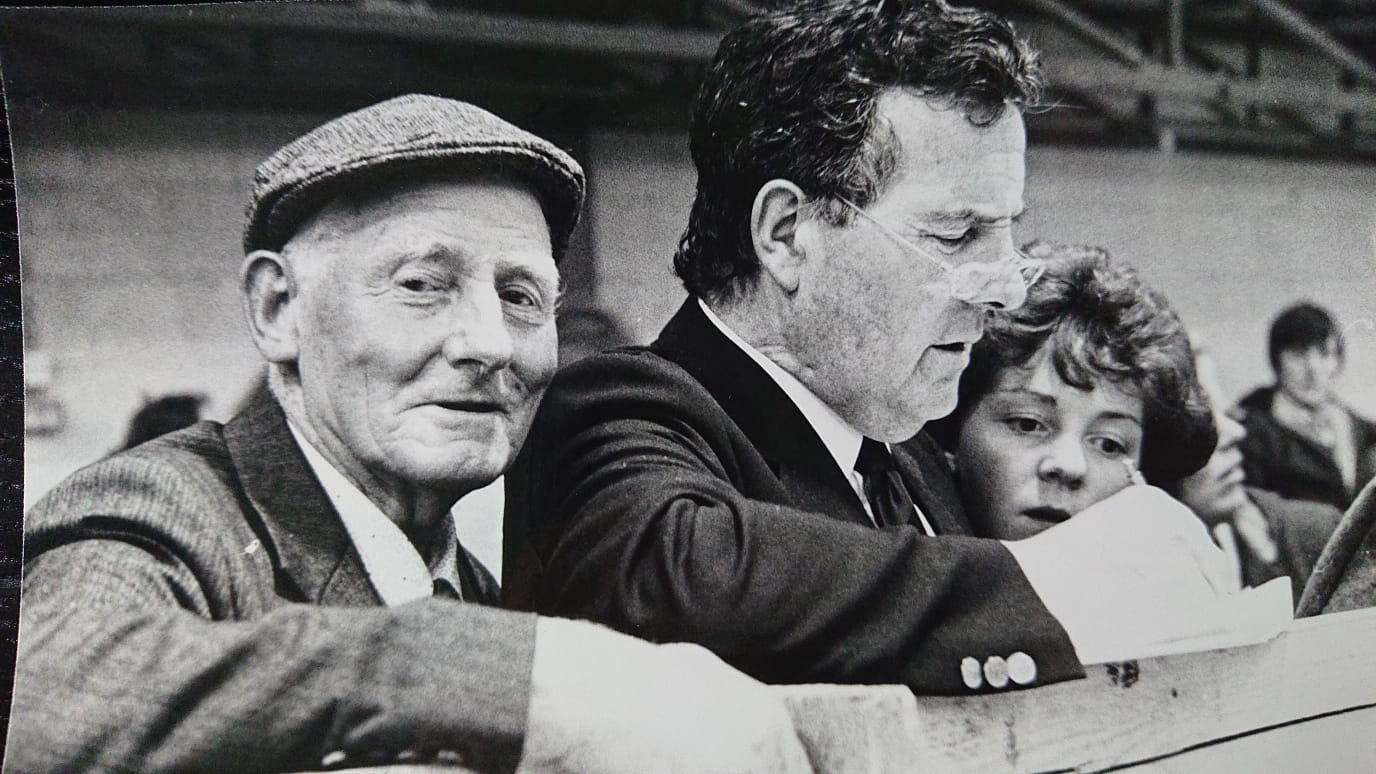 Like chalk and cheese and locked in mortal combat the yin and yang of Irish politics, Charlie Haughey and Garret Fitzgerald continued their arm wrestle for the hearts and minds of the people.
The two had slugged it out remorsefully into a virtual deadlock in the infamous 3 elections in 18 months across June, February and November of 1981 and 1982.
Three inclusive results led to minority governments, fear and loathing in the corridors of Leinster House. Garrett Fitzgerald eventually partnered with Labour's Dick Spring to form a coalition that would run a full term from December 1982 to 1987.
Haughey would have another shot at redemption in February 1987 but once more outright victory eluded him and he served his third term as Taoiseach as head of a short-lived administration for only two years until 1989.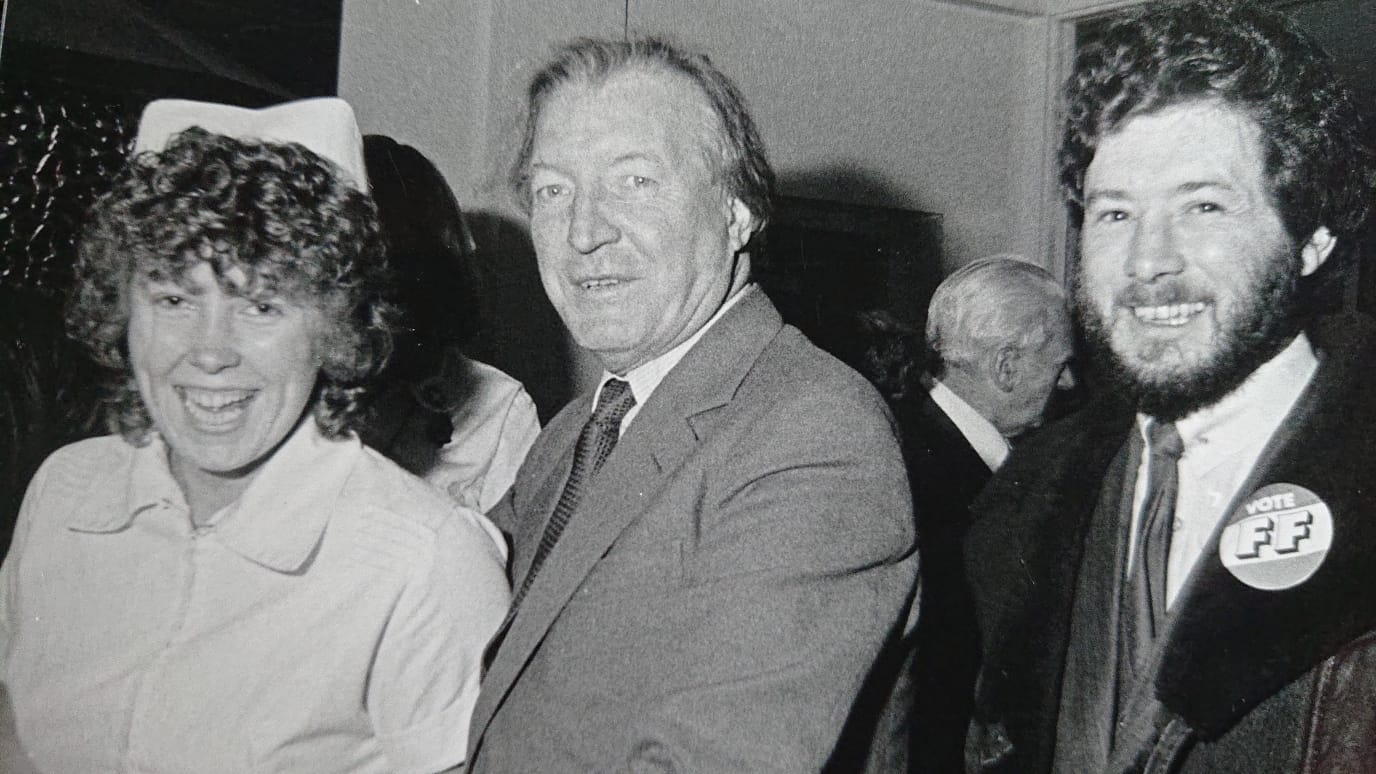 'Welcome to Fianna Fáil country'
In Laois-Offaly though Fianna Fáil ruled supreme and an inkling of what was to come in the 1985 locals was flagged in the previous year's bye-election when a 24-year-old Brian Cowen became the youngest member of the 24th Dáil when he trounced Fine Gael's All Ireland winning hurling captain, Padraig Horan with almost 55% of the vote, 26,022 to Horan's 18,173. The by-election was brought about by the sudden death of Brian Cowen's father, Ber at the age of 52.
Welcome to Fianna Fáil country proclaimed the FF posters.
The 1985 local elections saw the well-oiled and formidable FF machine firing on all cylinders to devastating effect. A prominent advert in the Leinster Express the week of the election ignored local issues and instead urged people to vote against Coalition mismanagement nationally, citing unemployment at 224,000; emigration at the level of the 1950's; national debt soaring to over £19 billion; crippling levels of personal taxation and a breakdown in law and order.
In hindsight it all sounds a bit rich as much of the country's economic woes were founded in flagrantly reckless Fianna Fáil policies, most notably the abolition of domestic rates and motor tax as part of his 14-point manifesto by Jack Lynch to ensure victory in the 1977 general election.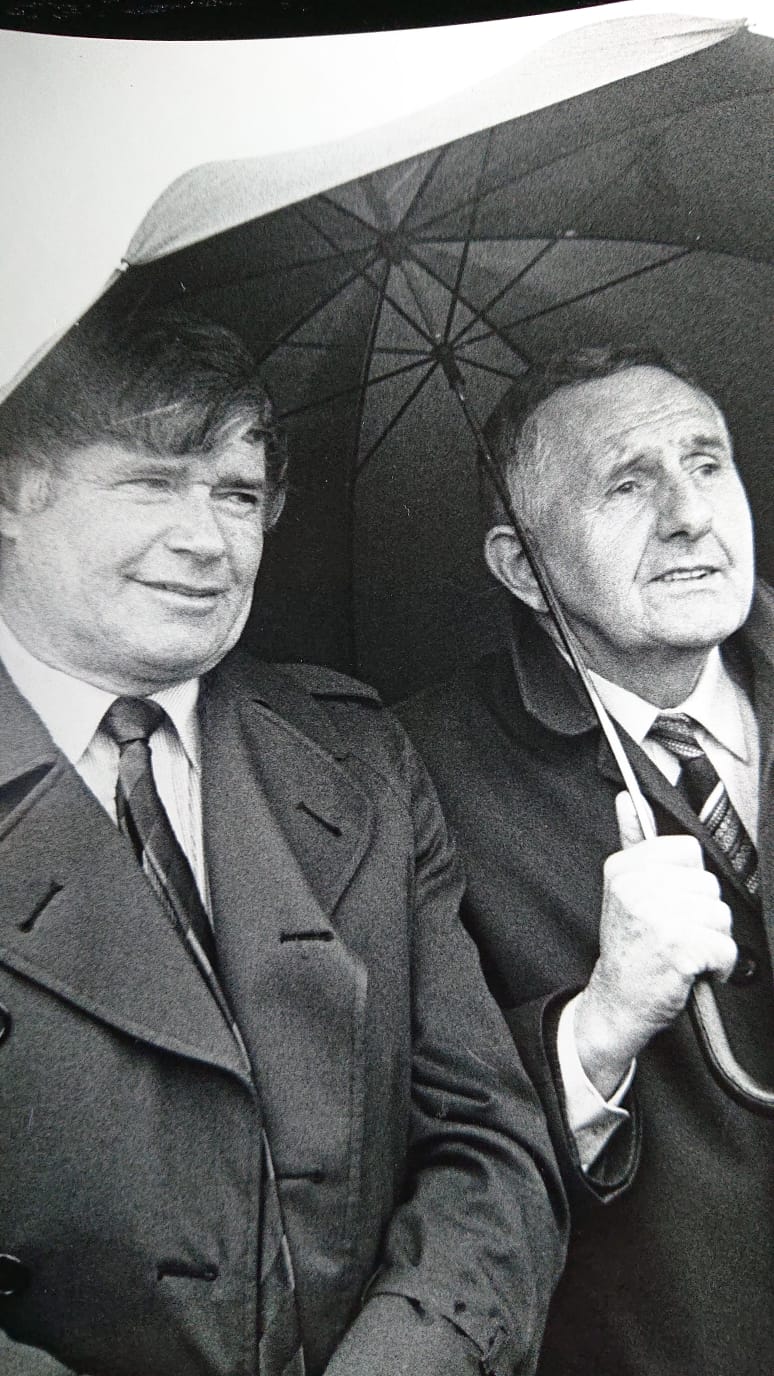 It was a decision which crippled County Councils, devastatingly damaged the national tax base and removed any financial autonomy from local government.
It is a spectre that haunts not only Councils but national politics to this day with the constant rowing and doomed attempts to replace rates with service charges, bin charges and more recently, water charges.
In the immediate aftermath of the 1985 locals, Tom Keenan pledged not to pay the service charges and urged others to do likewise. In the subsequent bitter campaign to have the service charges abolished some households and businesses in Laois would have their water supply cut off.
"Don't pay the service charges because I won't be. I am glad I haven't yet passed on my £70 cheque to the Council. I will not pay and recommend to everyone in Laois not to pay.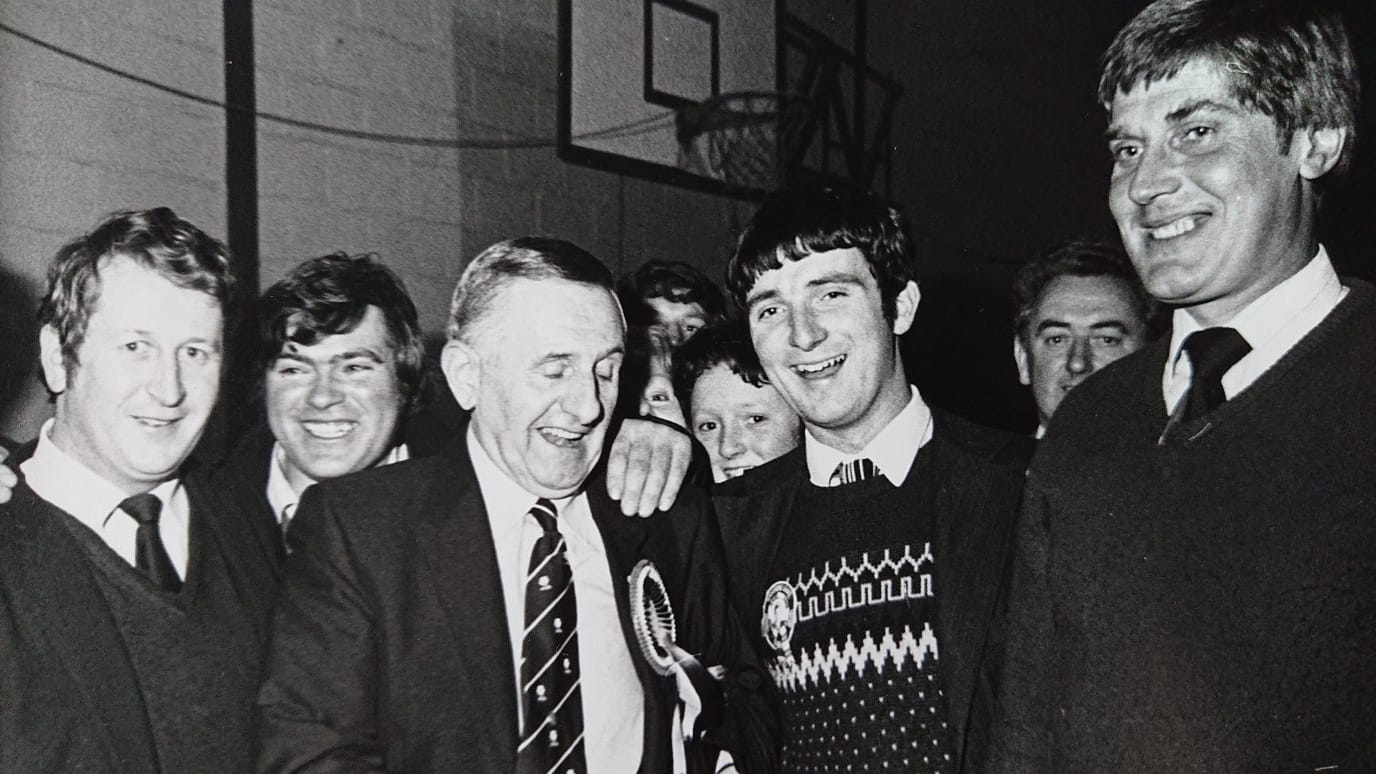 "The abolition of the charges was one of the political promises of Fianna Fáil. I'm accepting them at their word and it is a commitment which must be honoured by a majority Fianna Fáil Council in Laois," he insisted.
Nevertheless as Fianna Fáil swept the boards in Laois this pattern was repeated in spectacular results for the party across the country, prompting the editorial writer of the Leinster Express, Managing Editor, Dan Carmody to call for an immediate general election "which would sweep Fianna Fáil and Mr Haughey back into power."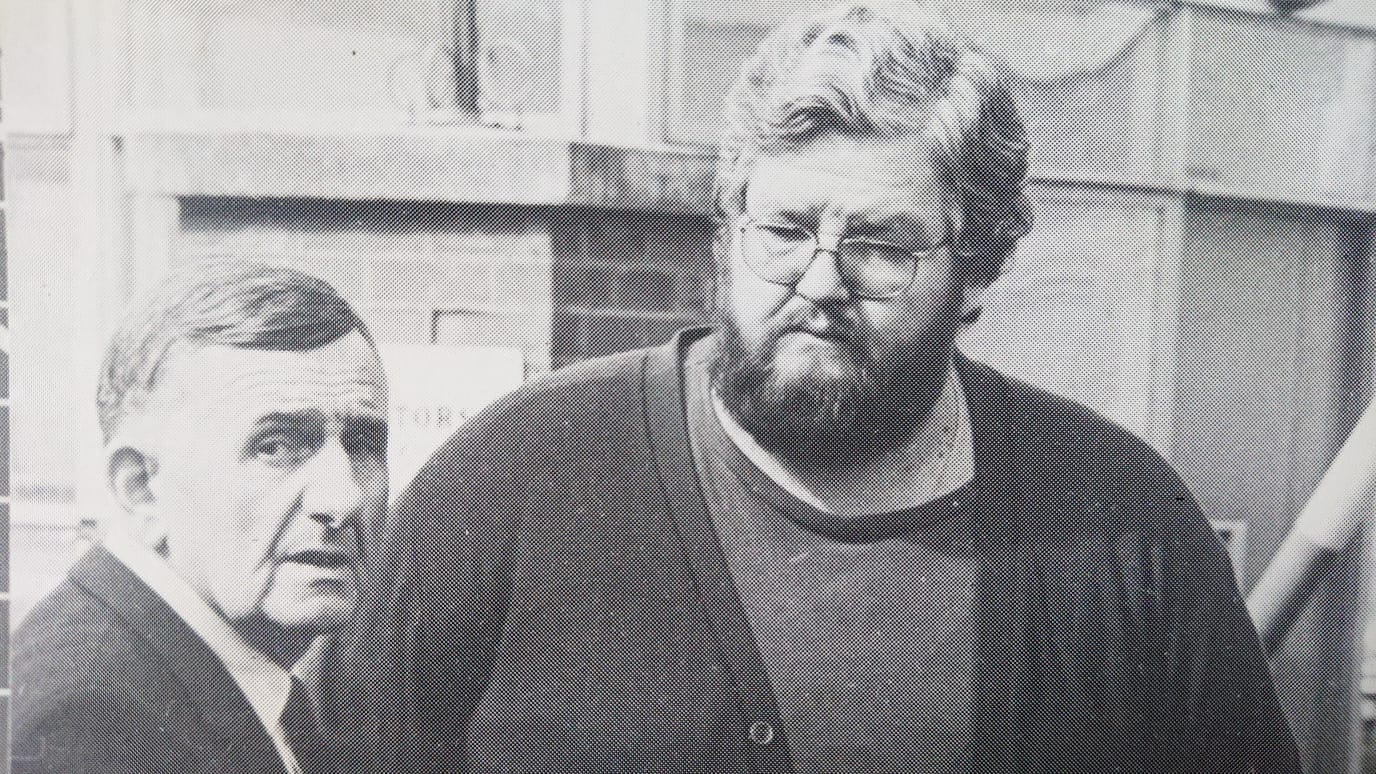 Joe Dunne tops the poll in Portlaoise
While Fianna Fáil were never to sweep back into power in a single party majority government again, their finest hour in Laois came in 1985.
The immensely well liked Joe Dunne topped the poll in Portlaoise as did his FF counterparts in all four other electoral areas. He was first home on the first count but the highly respected John Hosey and Jerry Lodge also re-elected.
Tom Keenan held his ground exceeding the quota on the first count too but the big shock saw the senior councillor Joe Carroll losing his seat to his Fine Gael running partner Willie Aird.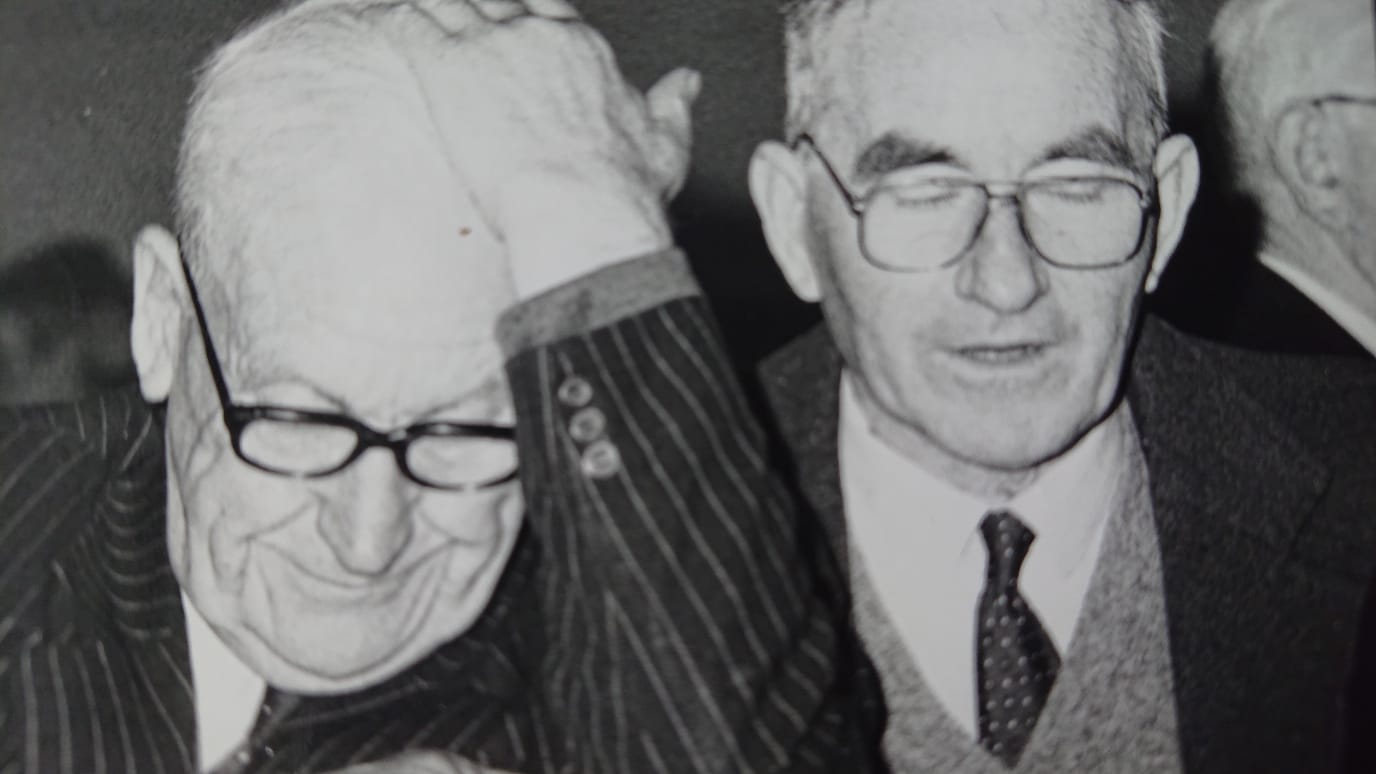 In 1979 Willie was the youngest candidate elected in the country when at the age of 19 he was voted on to Portlaoise Town Commission, which heralded his Council breakthrough six years later.
Among other things Cllr Aird had campaigned against slot machine arcades and attributed some of his success to that stance.
And while the colourful Joe 'The Hesh' Mc Cormack didn't make it onto the Council he was elected to Portlaoise Town Commission for the first time in '85.
Mick Lalor loses out by 4 votes to Joe Digan
If ever you had any doubt about the value of your vote, ask Mick Lalor from Camross. He was one of the most unlucky losers in the 1985 locals. The Tinnahinch electoral area (as the Mountmellick electoral area was then called) had five seats.
It was here that John Moloney put down a marker for his subsequent highly successful political career when he handsomely topped the poll with 1,279, a position which was more usually the preside of the legendary Oliver J Flanagan whose influence was clearly on the wane as he had to be content to trail in second on 779 first preferences.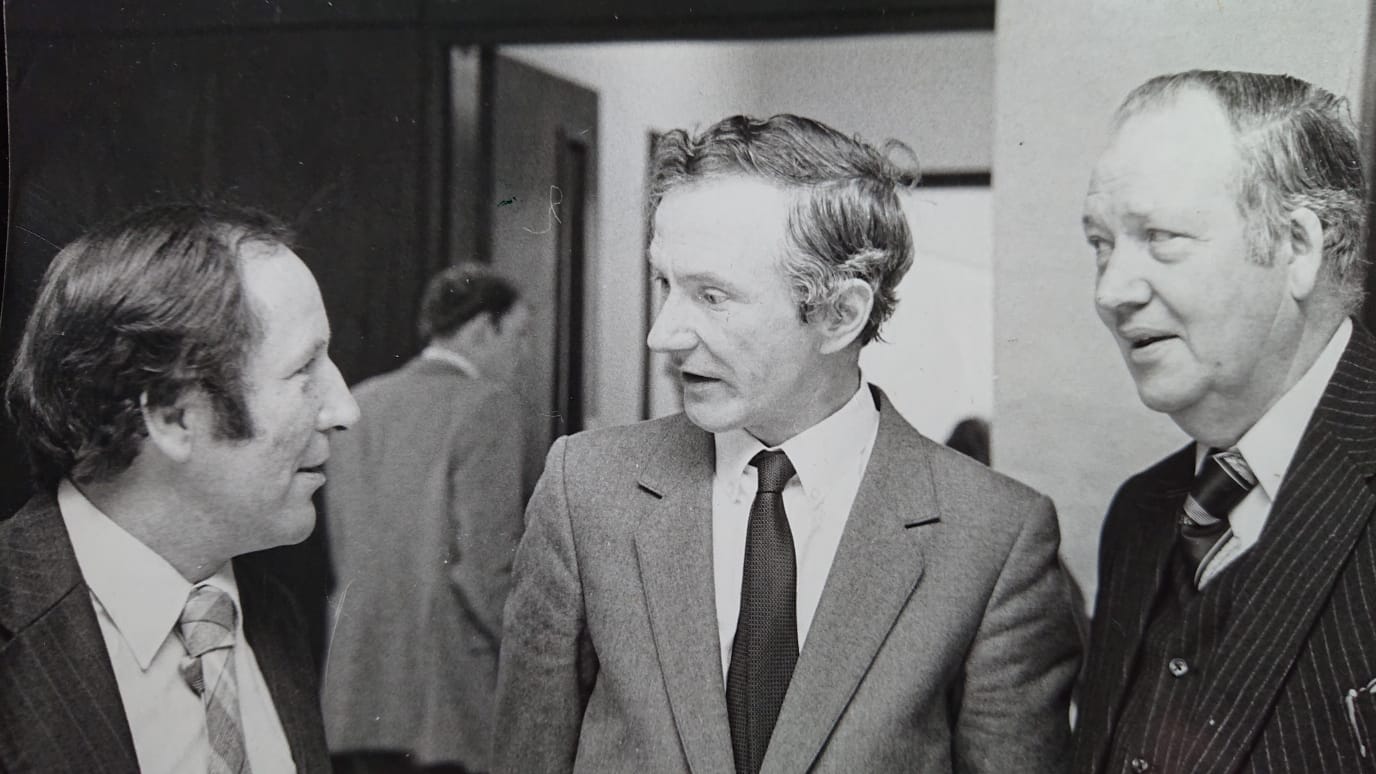 However, the big story from this electoral area was the defeat of Mick Lalor of Camross by newcomer, Joe Digan from Clonaslee, by just 4 votes. It was also a salutary lesson in how geography and local loyalties can be every bit as important as party affiliation when it comes to transfers.
The decisive moment came on the 7th count with the elimination of Fine Gael's Denis Feighery and the distribution of his 522 votes.
At this point Joe Digan was ahead on 616 to Lalor's 555. In theory 61 was a manageable gap to catch up, particularly with over 500 votes back in play. The conventional wisdom was that the bulk of Feighery's transfers would go to his party colleagues Mick Lalor and David Goodwin.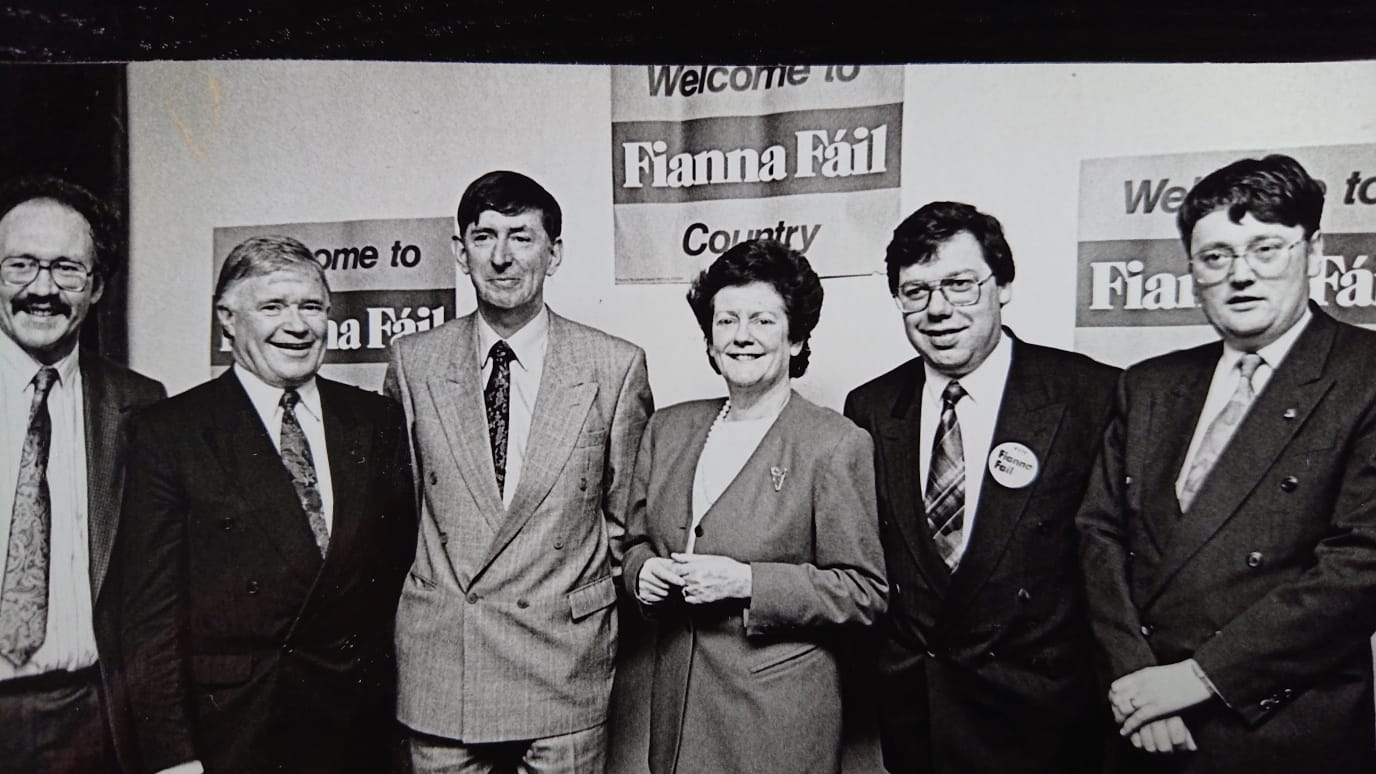 But that's not how it panned out. David Goodwin in Rosenallis got the lion's share of 248 to see him elected but Joe Digan received 111 compared to Lalor's 103. Sufficient transfers had not crossed over the mountain to Cardtown. Even though Mick Lalor picked up 81 votes and Joe Digan only 16 from David Goodwin's 97 surplus, the damage was done and Lalor lost out by 4 votes, with two recounts merely prolonging the agony as they confirmed the result. (Remarkably too every single one of Goodwin's surplus were transferable).
While Mick Lalor was left to rue four postal votes he suggested had gone "astray", in typical Camross fashion he sucked it upped and bounced back to regain his seat in the next locals in 1991, this time at the expense of David Goodwin.
Mary Wheatley makes history
And so it unfolded across the county. The icing on the cake was in Luggacurran where Fianna Fáil not only won 3 out of the 4 seats but also saw history made with the election of the county's first ever woman councillor in Mary Wheatley.
Mary was a fiercely committed party member and also renowned for her tireless work in promoting and developing ladies football within the GAA. She would later go on to serve a term as Mayor of Laois from 1997 to 1998.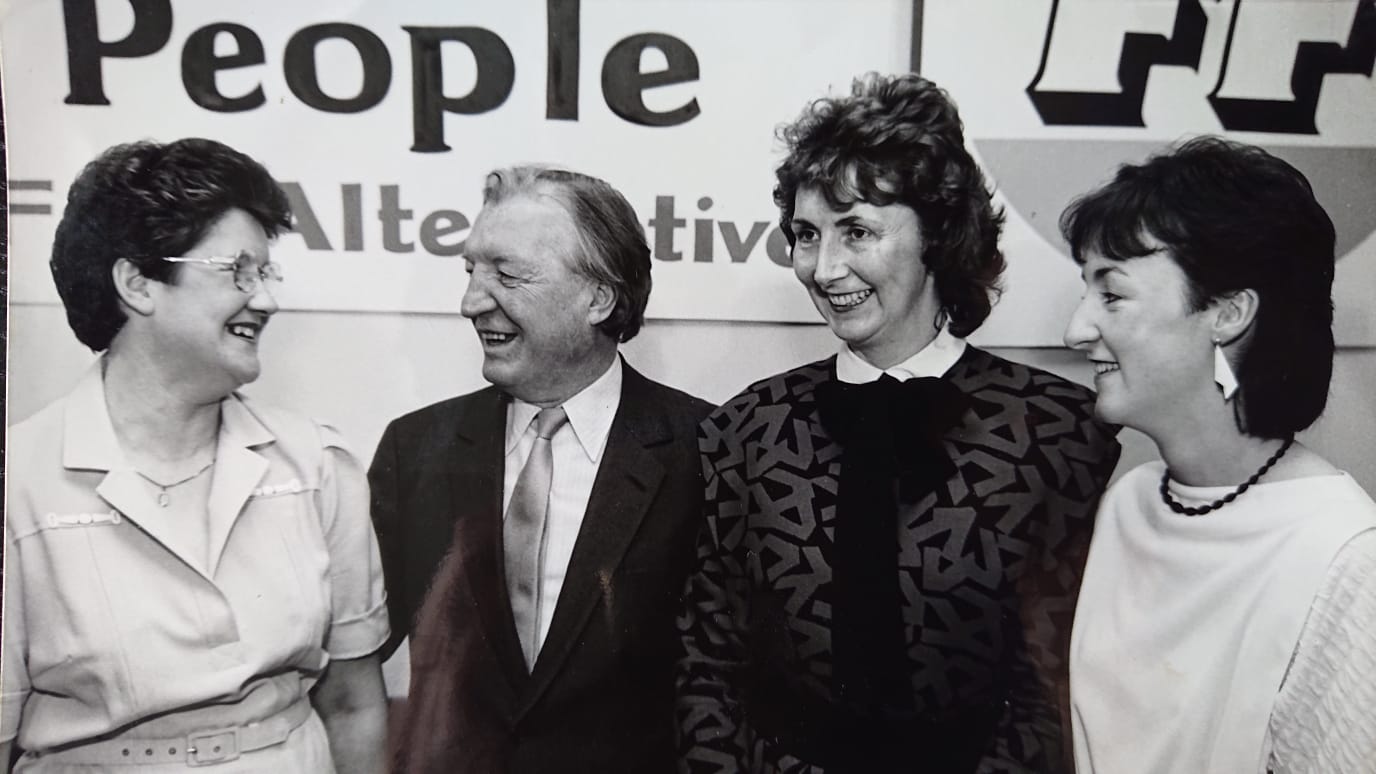 Marty Rohan from Ballinakill and Jimmy Cooney completed the FF trio from Luggacurran, leaving Fine Gael candidates to scrap it out for the fourth and final seat.
It was an unseemly affair. Fine Gael had dropped long serving Johnny Daly from Timahoe from their ticket in preference for Senator Charlie McDonald who had previously served as a TD from 1973 to 1977, as well as a stint at an MEP. Party stalwart Bill Fleming was to mark his 70th birthday by losing his seat too.
Senator Mc Donald who had polled poorly on first preferences of 338, fared better on the transfers and held on to win the only FG seat on the final count, thanks chiefly to a good chunk of earlier transfers from John Gaffney who was also on the FG ticket, along with John Moran, who would live to successfully fight another day despite his early elimination in 1985.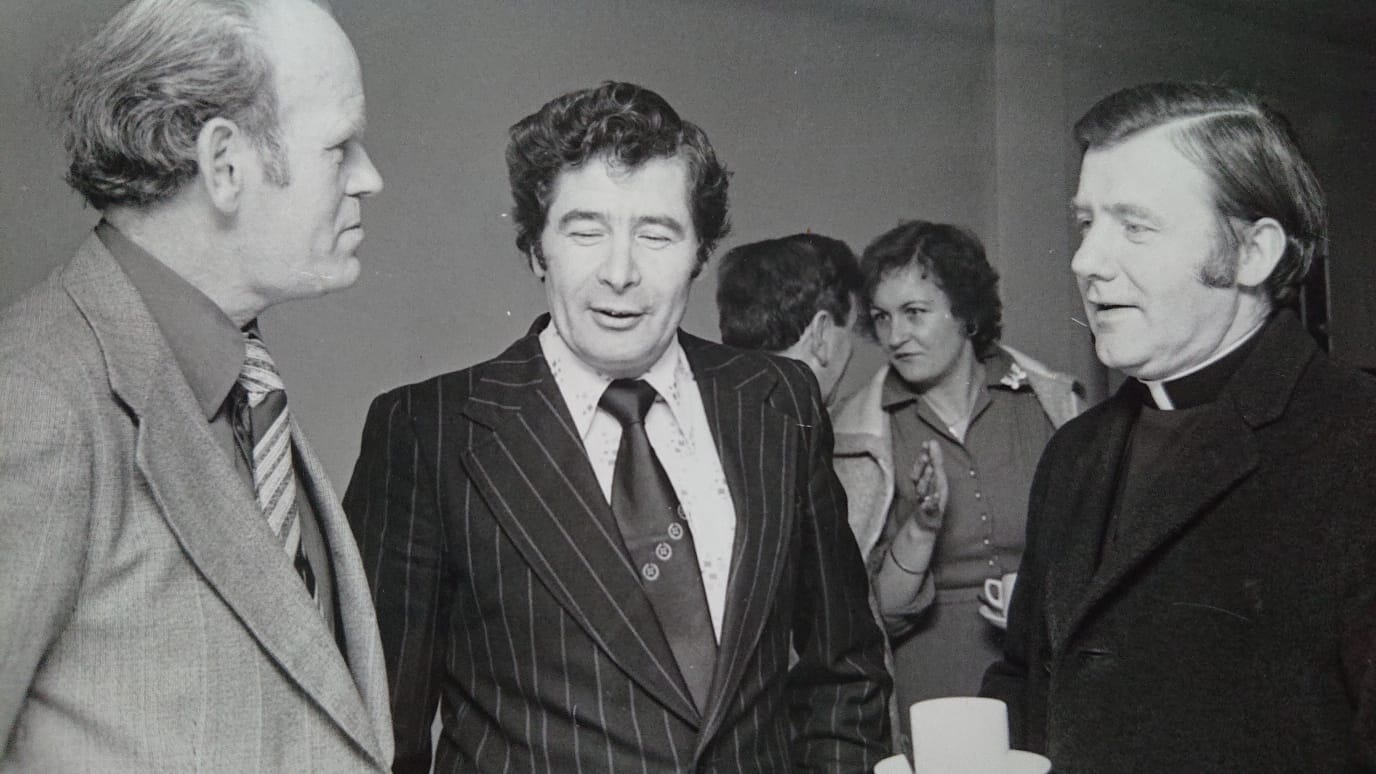 In the Emo electoral area Fianna Fáil registered a gain at the expense of Fine Gael's John O' Reilly, who had been part of the successful family run garage business in Ballybrittas. Ray Cribbin topped the poll with Michael Nerney retaining his seat for FF.
Ned Kelly held his seat for Labour and while Mary Lewis of Emo did well on her first outing it was FG veteran Jimmy Buggie of Strabally who was returned as FG's sole standard bearer.
The only electoral area in which Fine Gael held their ground was in Borris-in-Ossory, where FF were confident they could steal a march on their rivals. With Independent Jimmy Kelly standing firm in Borris it was left to the two main parties to divide the spoils with three seats each.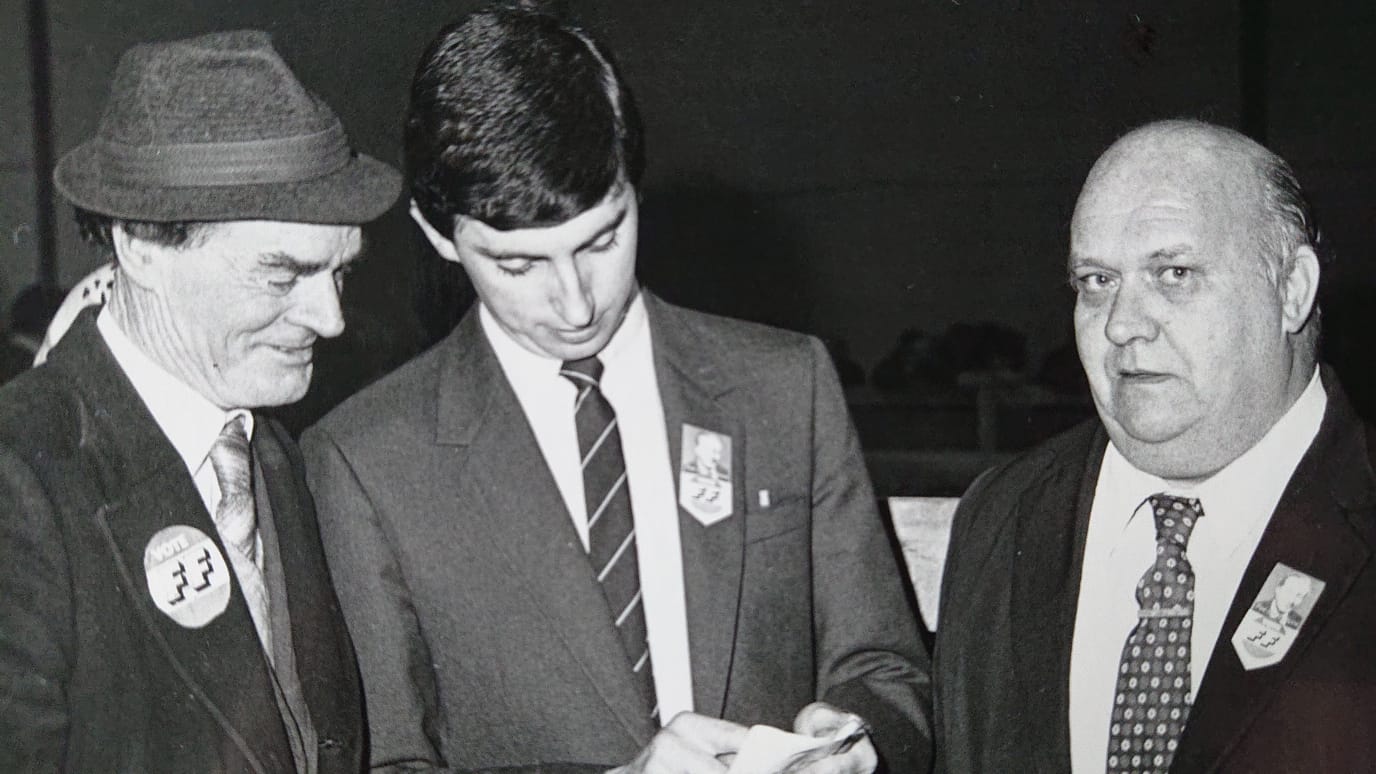 Fine Gael returned all three of its outgoing councillors James Phelan, Willie Mansfield and Seán Jacob.
Liam Hyland romped home topping the poll streets ahead of anyone else and the only candidate elected on the first count with 1,479 votes.
The big talking point here was to be the change of personnel on the Fianna Fáil side with outgoing councillors Eamon Rafter from Durrow and Pat Phelan in Rathdowney being replaced by Eddie Kirwan and Fintan Phelan, both from Mountrath. However, in the next elections of 1991 Kieran Phelan would redeem his father's seat, while Eamon Rafter ran again to regain his place on the Council.
No respite for FG on the Town Commissions
The Fianna Fáil rampage was underscored in the results for the Town Commission elections in both Portlaoise and Mountmellick. There was to be no respite whatsoever for Fine Gael as FF dominated and took a majority on both Commissions (later to be renamed Town Council's and abolished in 2014).
Elected to Portlaoise Town Commission for FF were Joe Dunne, Jerry Lodge, Tom Jacob, Liam Breen and Tom Golgan; for FG, Willie Aird, William Carroll and Tony Dunne and independent Joe 'The Hesh' Mc Cormack.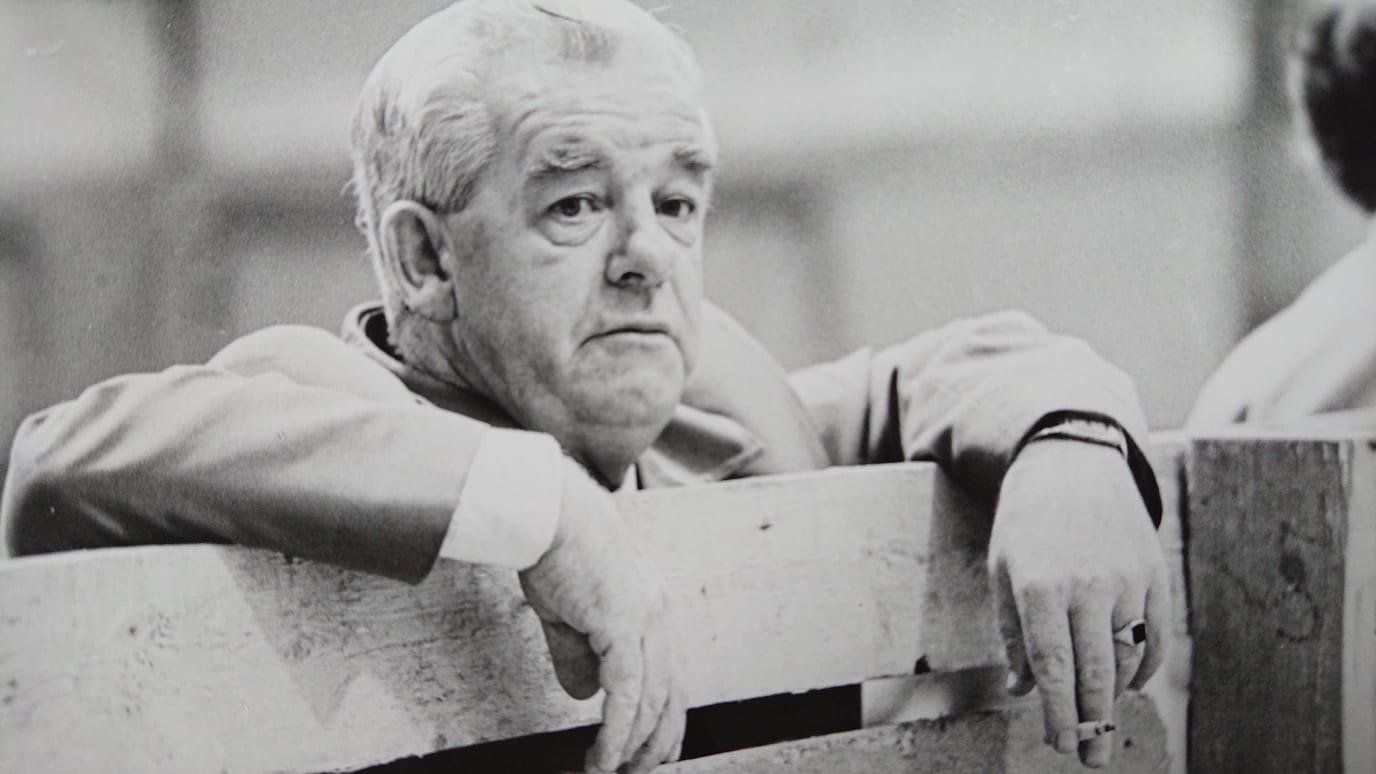 In Mountmellick the outcome was similar and where Oliver J once held sway Fianna Fáil elected John Moloney, Michael Gormley, Jack Gorman, Paddy Dowling and Thomás Culliton; Fine Gael returned Noel Deffew, Johnny Conroy, Pat Bowe and Ollie Conroy.
The 1985 elections will never be forgotten by Fianna Fáil and Fine Gael, but for entirely different reasons, not least as it would provide the platform for 20 years of further Fianna Fáil dominance of local government in Laois and the solid foundation for their three out of five Dáil seats in Laois-Offaly for years to come, up until the general election of 2011.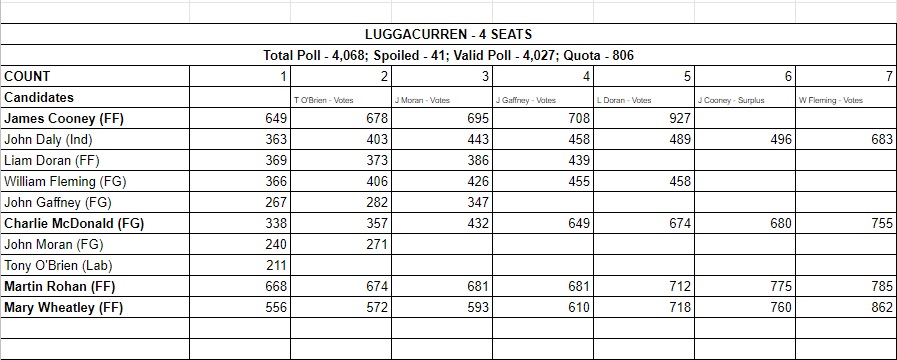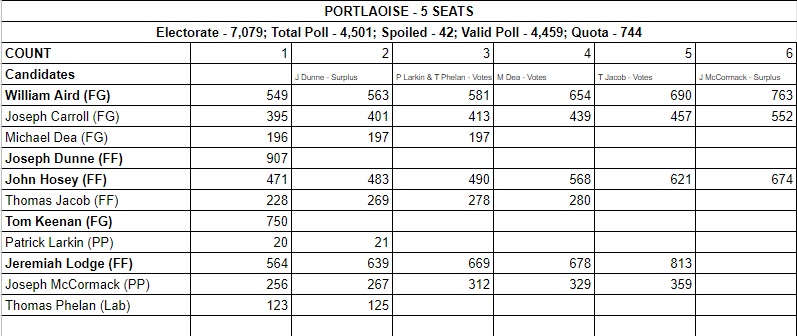 SEE ALSO – 2004 Local Election Memories: No TDs, some PDs, a Sinn Féin breakthrough and a split in FF