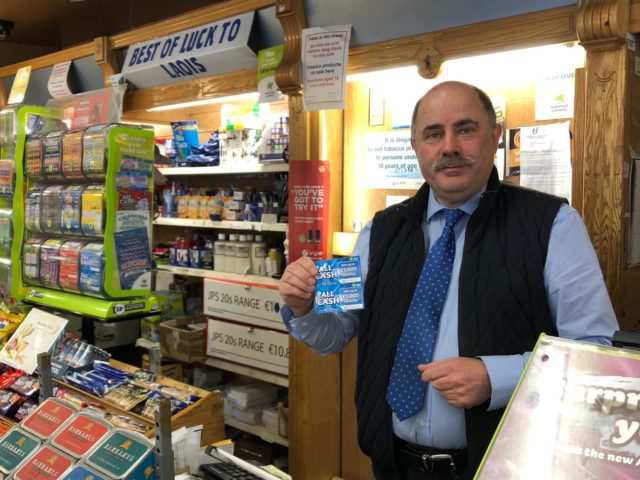 Respectful, genial, affable. Just three of the words to muster up about the shop owner Paddy Dowling, who celebrates a remarkable four decades in business with News Express this year.
News Express has a firm standing beside the old Dunne Stores on the Green Road, and has seen many changes from when Paddy first opened the doors in 1979.
Three recessions, numerous neighbours, changing currencies and – Paddy and News Express has seen it all.
As people walk in and out of the Portlaoise newsagent, Paddy is friendly and courteous to all. It doesn't matter if they are a pensioner on the Ridge Road or the Queen of England – everyone gets equal respect and time from Paddy.
Paddy sums up what being 40 years in business has meant for him.
"It many ways it seems to have passed so quickly but my God there were some hard times which seemed to go on forever. Yet, the whole thing seems to have flashed by," said the Portlaoise shop owner.
Paddy's journey into retail began with his upbringing in The Rock. Born and reared on a farm, Paddy says that he didn't know too much about being a sole trader.
However his upbringing on the farm being built on the importance of hard work stood to him, as he opened the newsagents while still in his teenage years.
"I was 17 or 18 years of age and I barely knew what a newsagent was. The thought of selling newspapers sounded good and I just got stuck in," said Paddy.
He recalls the landscape surrounding News Express then, which has vastly changed over the 40 years.
When Paddy first opened his doors, Three Guys was in the place no occupied by Dunne Stores beside Paddy's premises.
The Portlaoise Three Guys and 12 other chains around the country were owned by Welsh entrepreneur Albert Gubay, perhaps best known for his no-frills approach of, 'stack 'em high and sell 'em cheap'.
Then Three Guys was then sold to Tesco, and Paddy says that he occasionally gets letters referring to the two previous Green Road retailers.
"People forget that Tesco were actually right here. Some of the mail I get still says: Pat Dowling, Tesco, Green Road. Some other mail I get says: Pat Dowling, 3Guys shopping centre, Green Road," he said.
Tesco then sold the premises to the company H Williams, who traded on the Green Road until they crashed in 1987.
1987 brought a storm of uncertainty for Paddy, as suddenly there was no-one apart from News Express trading on the Green Road.
"For just about a year, there was only myself and the crows here. Of course we were wondering, 'What's going to happen? What's going to happen?'"
1988 was to change all that.
"But luckily a year later this really well-dressed guy came in and said, 'Can I use your phone?'. This was before mobile phones of course.
"I said no problem. I said, 'Do you mind me asking who you're with? He said, 'I can't tell you that, but what I can tell you is that 'Better value beats them all every day'."
Paddy lights up thinking of the memory of the Dunne Store executives rolling into town.
"On this day, you couldn't believe it, you couldn't make it up. Ten BMWs and ten Mercedes lined up in the car park!" he exclaimed.
Paddy refers to that time as 'the boom days'.
"We had all the agencies for Lego and Fisherprice. We had the biggest range of cards in the Midlands and biggest range of newspapers in the area," he said.
News Express are still highly regarded for their range of regional newspapers, with even the Carlow football manager Turlough O'Brien popping in once a week to collect the sporting news from surrounding areas.
Paddy and News Express have seen many changes over the 40 years – and The Rock native credits his family, hard-working staff and loyal customers for being able to keep the doors open 364 days of the year.
"In 1993 my wife Deirdre came along, who is the rock I lean on. Mary has been with us over 20 years, I would be a very poor man if I didn't give her a special mention. I'd have no life without her. Then of course there's Aoife, James and Mikey.
"My greatest gratitude goes to the people around here who have supported me through thick and thin. We've been remarkably well supported by our customers and friends."
"We have worked very hard to give that service. We never close, through storms, strikes and floods. The only day we close on is Christmas. I consider it my job to provide that service," said Paddy.
One of the largest changes Paddy has had to face is the movement of business away from the Portlaoise town centre and Main Street, which he called 'chronic' and 'terrible' planning.
"I think it's terrible. Terrible planning. I think where Tesco is should have been built on the Kelly's [Kelly's Foundry] side and the town would have thrived.
"It was chronic planning. I don't think the councillors have represented us well at all. It really grieves me to see the Main Street die as it did," said the Portlaoise businessowner.
"When I think of all the generations of people who worked hard and built up the soul and the heart of the Main Street of the town like they did. The heart of the town has been dragged out of the town like it has been in so many places.
"Then they go down and look for rates off businesses after dragging the business away from them – it's all wrong.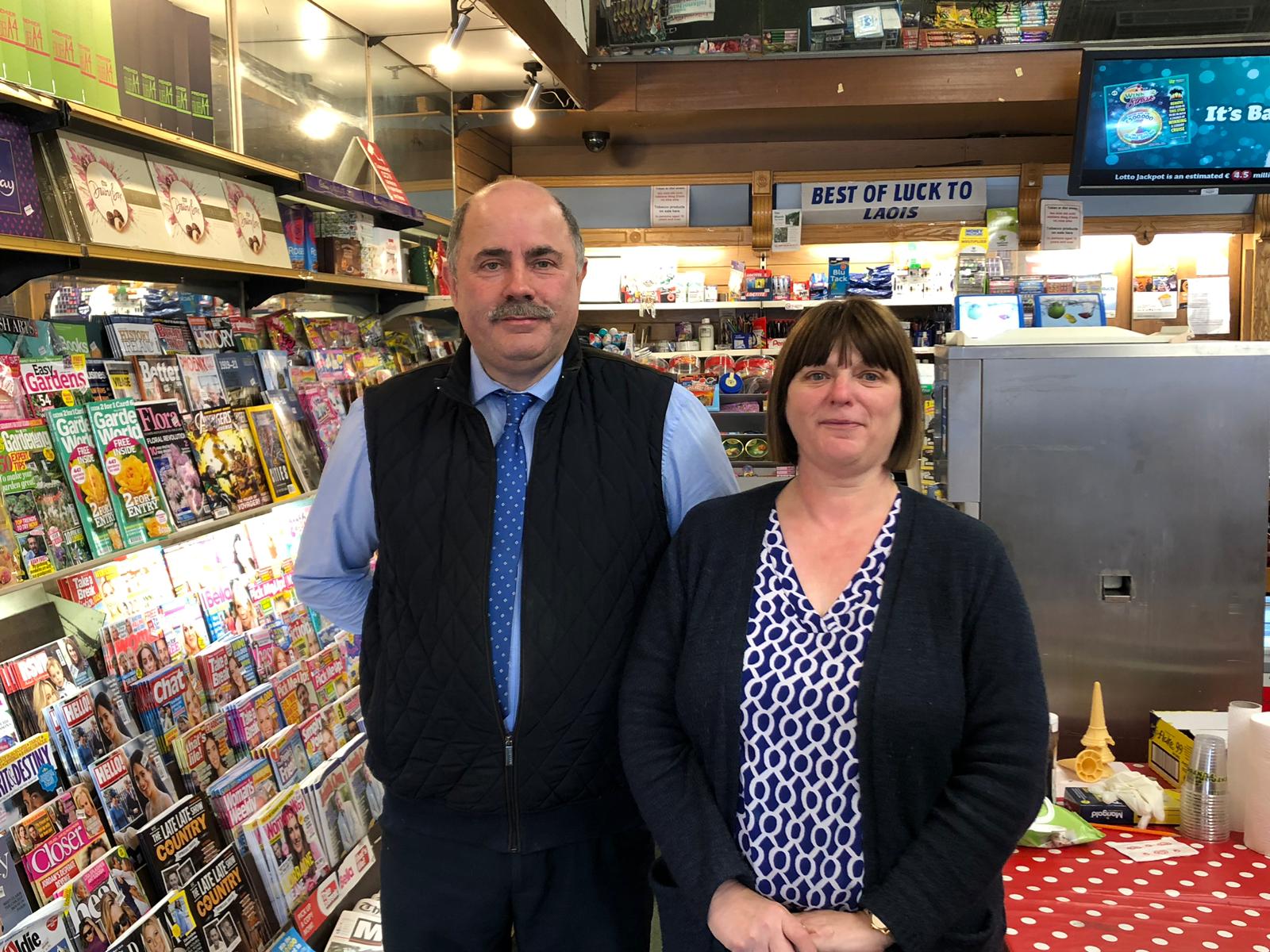 "In many places this is not the case. Go to Kilkenny, go to Newbridge, go to Gorey, go to Clonakilty. There are many well planned towns.
"When they tell you, 'Ah sure look it, that happens in every town, that's not true. All these people make decisions which affect small business owners, and there's no effect on them and leave a mess in their wake," said Paddy.
He also has a few ideas which would bring positive changes to the area. For years, Paddy has requested that Laois County Council take in charge to field beside Dunne Stores, and use it to build an area for children to play and groups to congregate.
"The leisure centre is brilliant, and full marks to all concerned there. But there's a field right beside us here and there's only horses grazing on it now. We could have acquired that and turn it into a football pitch, basketball court, tennis court."
Paddy believes that a lack of facilities only encourages crime, and while people speak about crime rates they don't tackle some of the issues behind that.
"They've all these young people here and what have they to do? Then they're surprised that there's crime and other antisocial behaviour going on. Build something for people to do."
Another blow to newsagents like Paddy was the sale of the National Lottery to Premier Lotteries Ireland for €405 million in February 2014, placing the franchise in private hands for the first time in its history.
Premier Lotteries Ireland began selling lotto tickets in supermarkets, ending the small shops stake on tickets.
"The lotto was the one thing small shops had. The lottery was sold – it was like giving the farm to the drunken son and ending up having to sell the family sliver. That was the last thing we had to prop us up. That was a terrible blow to us."
However Paddy and News Express remains as a permanent fixture in Portlaoise, serving both as a landmark of times gone by and as a guiding light of customer service which Paddy brings with him in times ahead.
He concluded; "This is what I enjoy. There are a lot of yarns, banter, the occasionally argument – all of which I enjoy, it's all very healthy.
"For now, I'm going to keep going as best I can. It is a privilege to be a part of this community."
SEE ALSO – Deep sadness as well-known Laois charity activist passes away