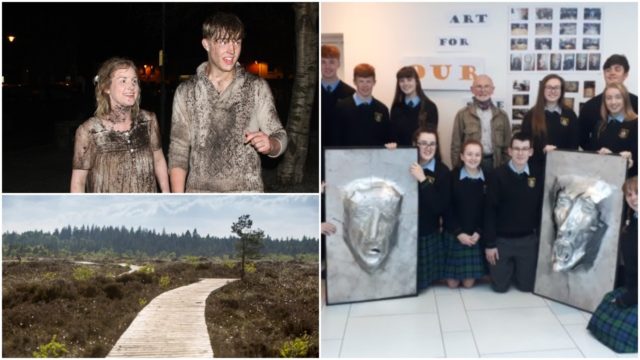 Brought to you by Laois Tourism
It's the weekend and as usual it's hustle and bustle around the county.  
The Bealtaine Festival is in full swing with lots of events around the county including a production of John B Keane's Sive on Friday and Saturday night in Dunamaise Arts Centre.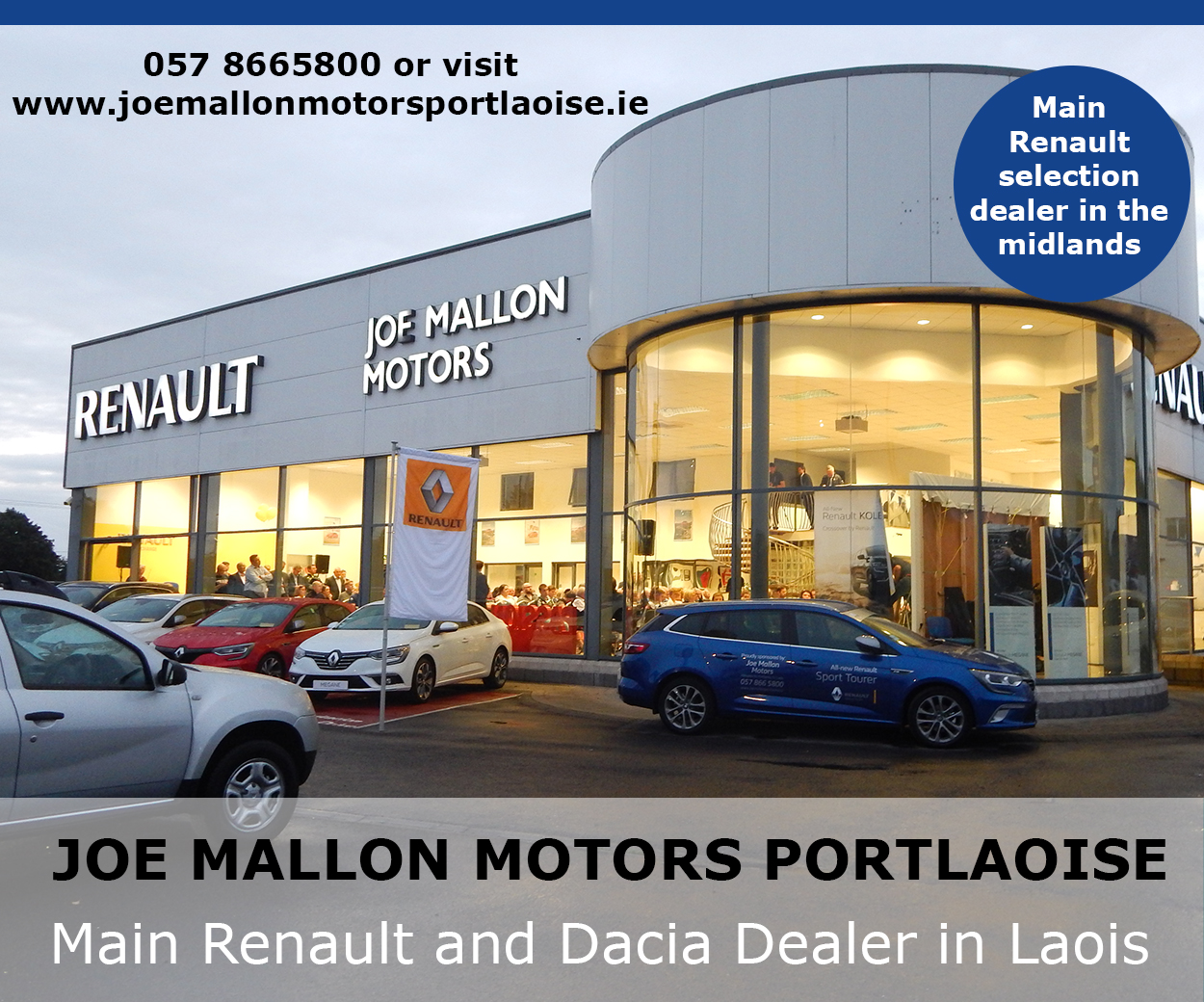 Let's hope the good weather continues as there is lots to do outdoors from guided walks, mountain biking, the farmers market in Emo and a bat walk in Abbeyleix Bog.
Or why not end the weekend with a good comedy production in the lovely surroundings of Roundwood House. As usual it's a very broad and varied mix of things to do in lovely Laois.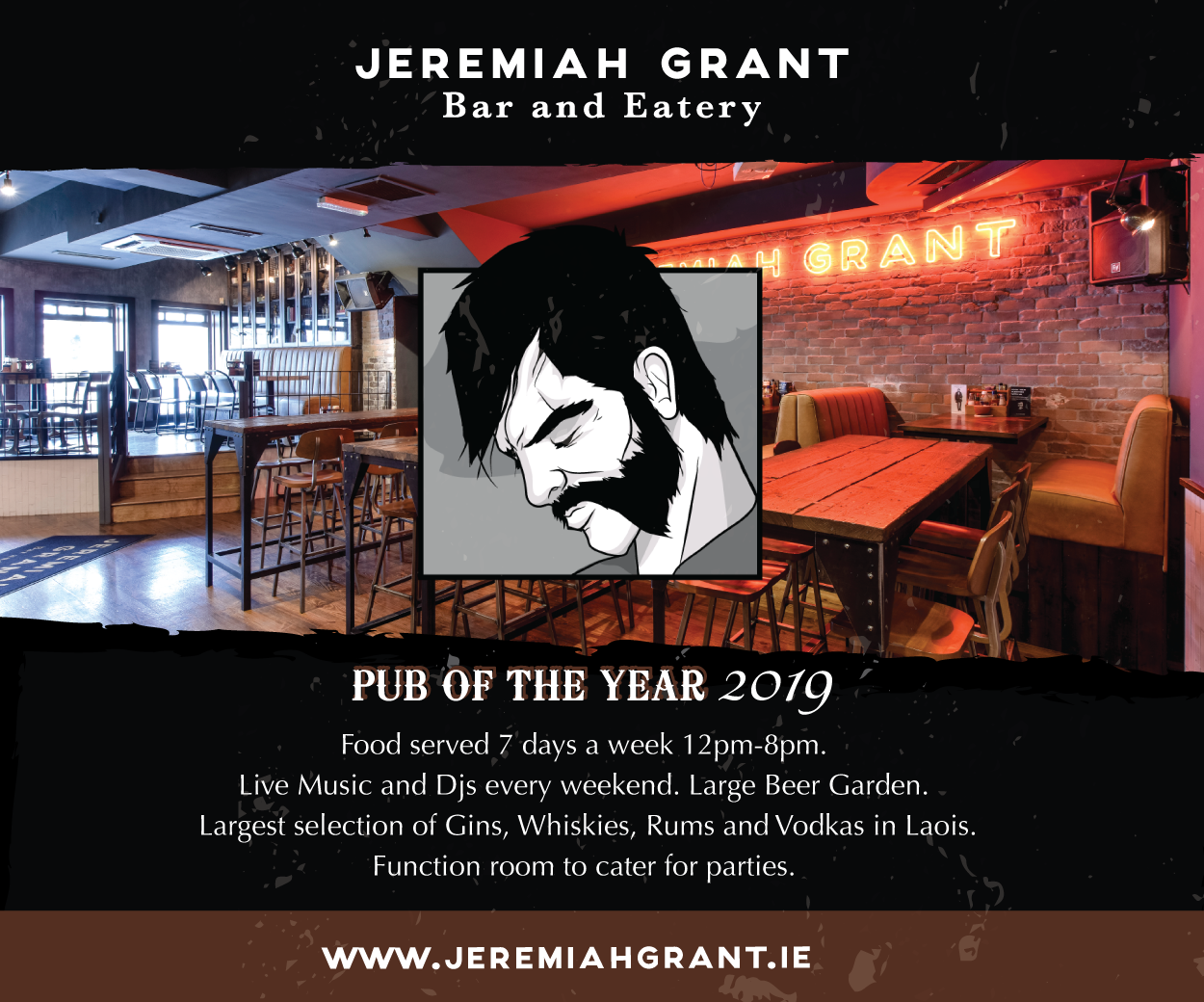 THURSDAY MAY 23
Art Demo and Talk with Artist Tom Joyce
As part of the Bealtaine Festival, Tom will demonstrate landscape painting techniques and explain composition, costs involved, how to choose and mix paints, what to buy and what not to buy.
 This is a not to be missed evening for any budding artists. The evening will be held in Mountrath Library from 6pm-8pm. This is no cost but booking is recommended as places are limited. To book call 057 8756378 or see here.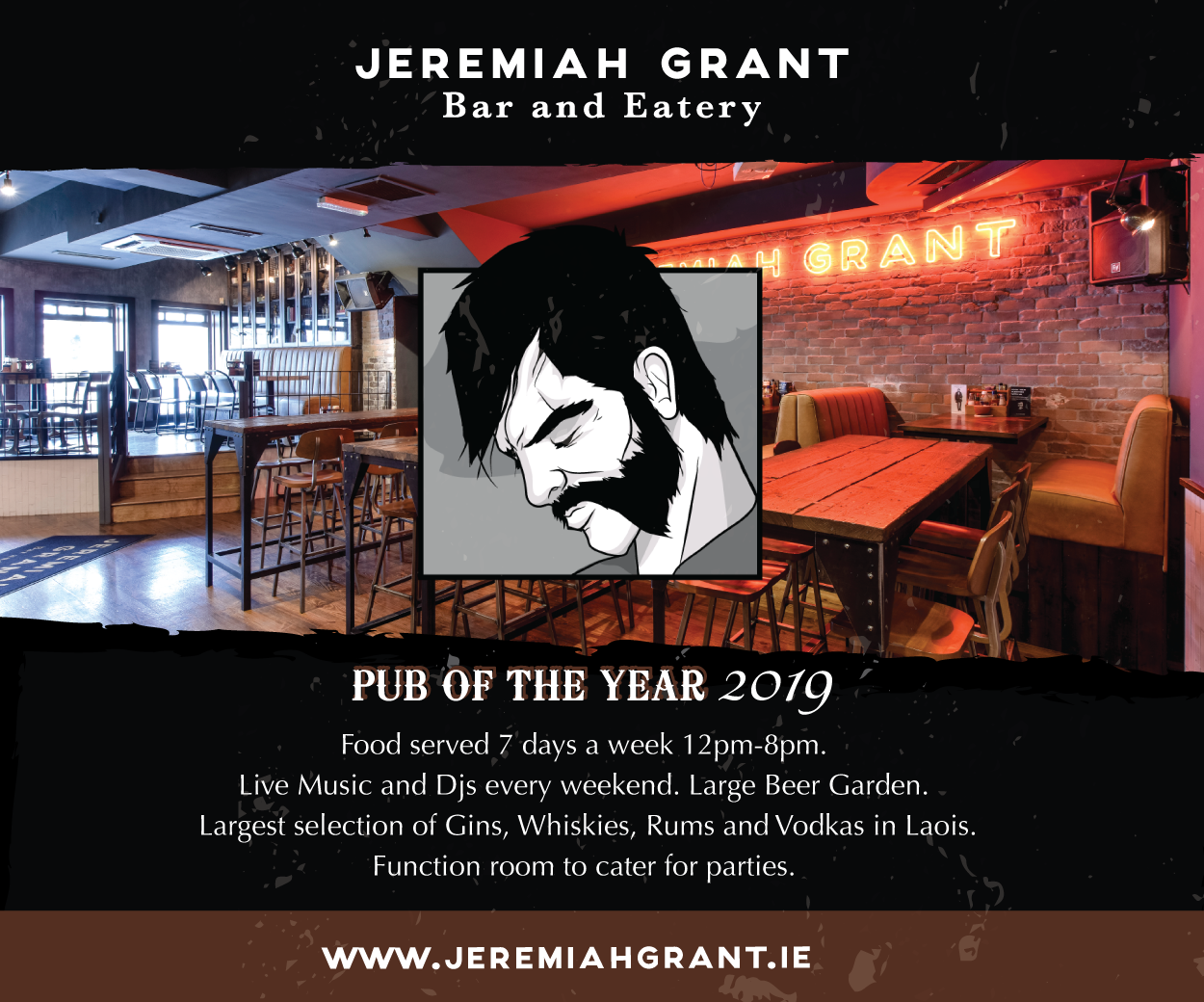 Flower Arranging
This is another great event from the Bealtaine Festival calendar. This workshop is perfect for beginners of flower arranging.  Bring along your own flowers to create an arrangement under Edel's expert guidance in Portlaoise Library at 11am.
The workshop is free but booking is essential as places are limited. To book call 057 8622333 or see here. 
Laois School of Music Orchestra – End of Year Gala Concert
Castle Durrow will host the end of year gala concert from the Laois School of Music and promised to be a wonderful evening of music.   
The concert will also feature some special guests including Harpers from Music Generation Laois.
Ticket are €5 (includes complimentary tea/coffee) and the show begins at 7pm. Tickets are on sale from Laois Music Centre.
FRIDAY MAY 24
Sive- Fourth Wall Theatre Group
Fourth Wall Laois Theatre Group's production of SIVE brings a contemporary credibility to J B Keane's timeless tale of young love, materialism, family life, and women's place in the world.
Though set in the sixties, this carefully casted drama demonstrates that these enduring themes and contrasting emotions are as relevant today.  
Sive is running as part of the Bealtaine Festival. The play runs Friday and Saturday night at 8pm in Dunamaise Arts Centre at 8pm and tickets are €16/€14. To book see www.dunamaise.ie or call 057 86 63355.
Musical Bingo
If you're looking for a fun night out and to help a very worthwhile cause Turley's Mountmellick at 8pm is the place to be.  Enjoy a fun evening of musical bingo with all funds raised in aid of Husky Rescue Ireland.
BOSS Night Jamie Webster, Kieran Moylneux, Ben Burke
Kavanagh's are hosting a legendary Liverpool FC BOSS Night in our Courtyard Venue featuring the legendary Jamie Webster, Kieran Molyneux and Ben Burke.
Just a few days after the Premier League wraps up, these guys take to the stage for what promises to be 'one of those nights'.
Tickets are €25 with very limited number still available. 
Table Quiz (& Charity Beard Shave) for Pieta House
Jeremiah Grant's Portlaoise will host a table quiz in aid of Pieta House. There'll also be a raffle with some great spot prizes, and David Cashen will be having his beard shaved on the night!
Their CDs for the 'Together Not Alone' project will also be available to purchase. All proceeds will be going to this fantastic cause.
Facts Fun Fitness weekend
The 'Facts Fun Fitness' Walking Group, supported by Portlaoise Rotary, are running a weekend of community walking events based around Mountmellick, Co Laois.
Friday 24 May at 7pm: Guided walking tour of Mountmellick taking in historical landmarks. This walk will be lead by a member of Laois Heritage Society. Meet at the Square, Mountmellick.
SATURDAY MAY 25
Facts Fun Fitness weekend
Saturday 25 May at 11am: Lace museum tour. Cover of charge of €3 payable to museum.
Saturday 25 May at 2pm: Gather in the village of Clonaslee for a Slieve Bloom walk—choice of either 13km or 6k (approx.) starting at the Forest Park. These walks are not suitable for children or wheeled vehicles.
Slippery When Wet
Fans of Bon Jovi are in for a treat with Slippery When Wet, The ultimate Bon Jovi tribute.  They play Kavanaghs Bar & Venue at 9.30pm and tickets are €15. To book phone 057 862 1744.
Slieve Bloom Guided Walk
The Slieve Bloom Walking Club's next guided walk is the Durrow Wild Garlic Guided Walk.  This walk is a Grade C 5km walk and takes 2 hours so is suitable for all.
Meeting point is the Castle Arms Hotel Durrow at 3pm.  €5 per walk or €20 annual membership (€30 for family). 
Sunset Bat Walk
This is a real treat for bat lovers and the outdoors in general. Join Abbeyleix Bog Project, Kildare Bat Group and The Men's Shed as they co-host this great evening on Abbeyleix Bog.
The meeting point is The Manor Carpark at 9.30pm and there is no charge. For more information contact kildarebatgroup@gmail.com
Core Mountain Bike Skills Course – Slieve Blooms
Get yourself ready for the new mountain bike track and get a taster of mountain biking. Even if you have never ridden a bike before, you will learn the core mountain bikes skills in a fun and safe environment.
All MTB instructors are qualified Cycling Ireland MBLA Trail Cycle Leaders and are certified in Remote Emergency First Aid Care and have an in depth knowledge of the Slieve Bloom Mts.
The course costs €50 and includes Mountain Bike & Helmet. It runs from 10am -1pm, with tea and coffee provided afterwards. To book contact 085 173 5204.
Heritage House Films
Abbeyleix Heritage House will be hosting 4 Saturday evening screenings of documentaries by Sé Merry Doyle.  This Saturday the first documentary will be "James Gandon – A Life" and "Emo – The Story of a House".
This is a great opportunity to learn all about the wonderful James Gandon and Emo Court ahead of its new opening on Monday 27.
The film will be followed by a reception and Q&A with Sé Merry Doyle, the films' creator. To book call Heritage House on 057 87 31653 for tickets which cost €5 for one night or €15 for four nights. Doors are 6.30 pm.
SUNDAY MAY 26
Slieve Bloom Guided Walk
The Slieve Bloom Walking Club's next guided walk is the Clear Lake and Kileen River Valley Guided Walk.  This walk is a Grade A 10km walk and takes four hours so is suited for those with a good level of fitness.
Meeting point is the Cattle Mart, Mountrath at 3pm. €5 per walk or €20 annual membership (€30 for family). 
Emo Village Farmer's Market
The monthly market returns on the last Sunday in May with food and craft stalls to entice everybody. This month we will be joined by Emo Tidy Towns with a book swap stall – bring a book, buy a book with all funds supporting the tidy towns in the village.
The market runs from 11am -4pm and is a perfect way to begin or end a trip to Emo Court and Parklands.
Fun Facts Fitness weekend
Sunday 26 May at 11am: The weekend will end with a leisurely walk in Emo Court starting at 11am. There is the option of a guided tour of the magnificent neo-classical mansion while you're there.
Bingo
Part of the Bealtaine Festival. Join members of Camross Active Retirement Group for a fun afternoon of bingo in Camross Parish Hall . All are welcome to attend.  Bingo costs €5 and it begins at 2pm. 
Where The Willow Meets The Ash
Roundwood House, Mountrath is hosting Where the Willow Meets the Ash" – an amazing serious comedy this Sunday.  Where The Willow Meets The Ash is the much anticipated sequel to Malachy McKenna's hugely successful and multi award winning drama, The Quiet Land.  
When the chaotic and easy going bachelor farmer Bobby Hogan gets a visit from a smooth talking Englishman, all sorts of local rivalries and ancient grudges are stirred up.
Where the Willow Meets the Ash is a serious comedy about stubborn men from the hilarious pen of an outstanding Irish writer.  
The play begins at 8pm and tickets are €30 and can be purchased by calling 057 8732120 or emailing info@roundwoodhouse.com. Pre-show dinner can also be added for an additional charge.
If you would like to have something included in our What's On Guide email us on info@laoistoday.ie or call 057 8670722.
SEE ALSO – Laois senior football captain braced for 'Titanic' tussle with Westmeath