Yesterday was a bittersweet day at Scoil Mhuire Fatima as the community of Timahoe celebrated the retirement of Deputy Principal Martina Mulhall.
In what was a very emotional afternoon, glowing tributes were paid to the Stradbally native after her 34 years of service at the school.
Parish Priest, Fr Gerard Breen, presided over a beautiful retirement mass that involved students, staff, the Board of Management and the Parents' Association.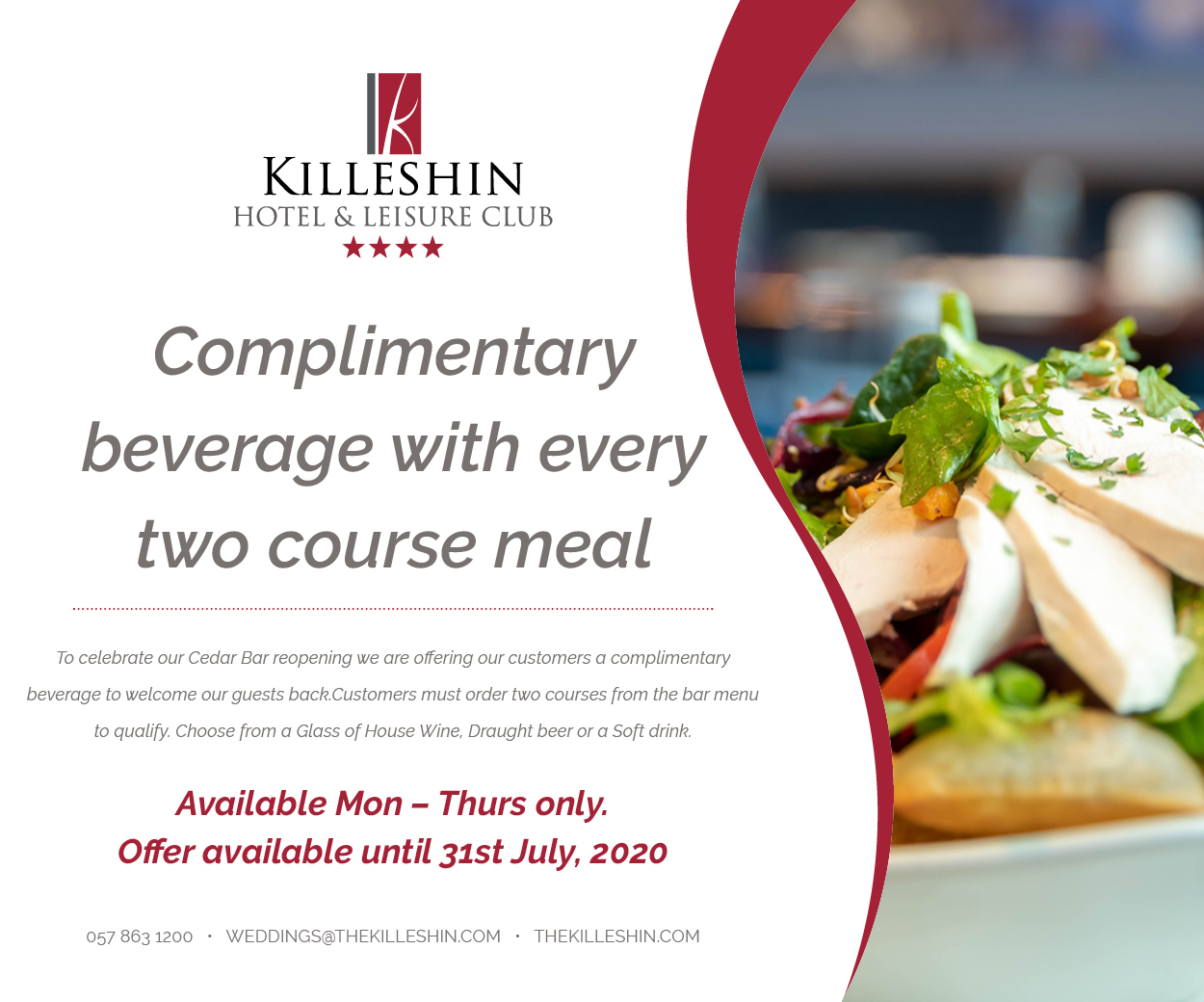 Following the mass, there were a number of speeches and presentations acknowledging Martina's exploits throughout her storied career.
Fr Gerard began the speeches by referencing the gospel and saying simply "you are the salt of the earth". He also offered his congratulations, thanks and best wishes for the future.
Fr Sean Kelly, retired Parish Priest and friend of Martina's for over 30 years thanked her "for the friendship, the inspiration and for everything she gave to Timahoe".
He said she "understood deeply, that a school is about children and she put the children at the centre of everything". He jokingly added "I wish you well with whatever scheme you have up your sleeve!!"
John Delaney, Chairperson of the Board of Management, commended her for "the service given to Timahoe over the years".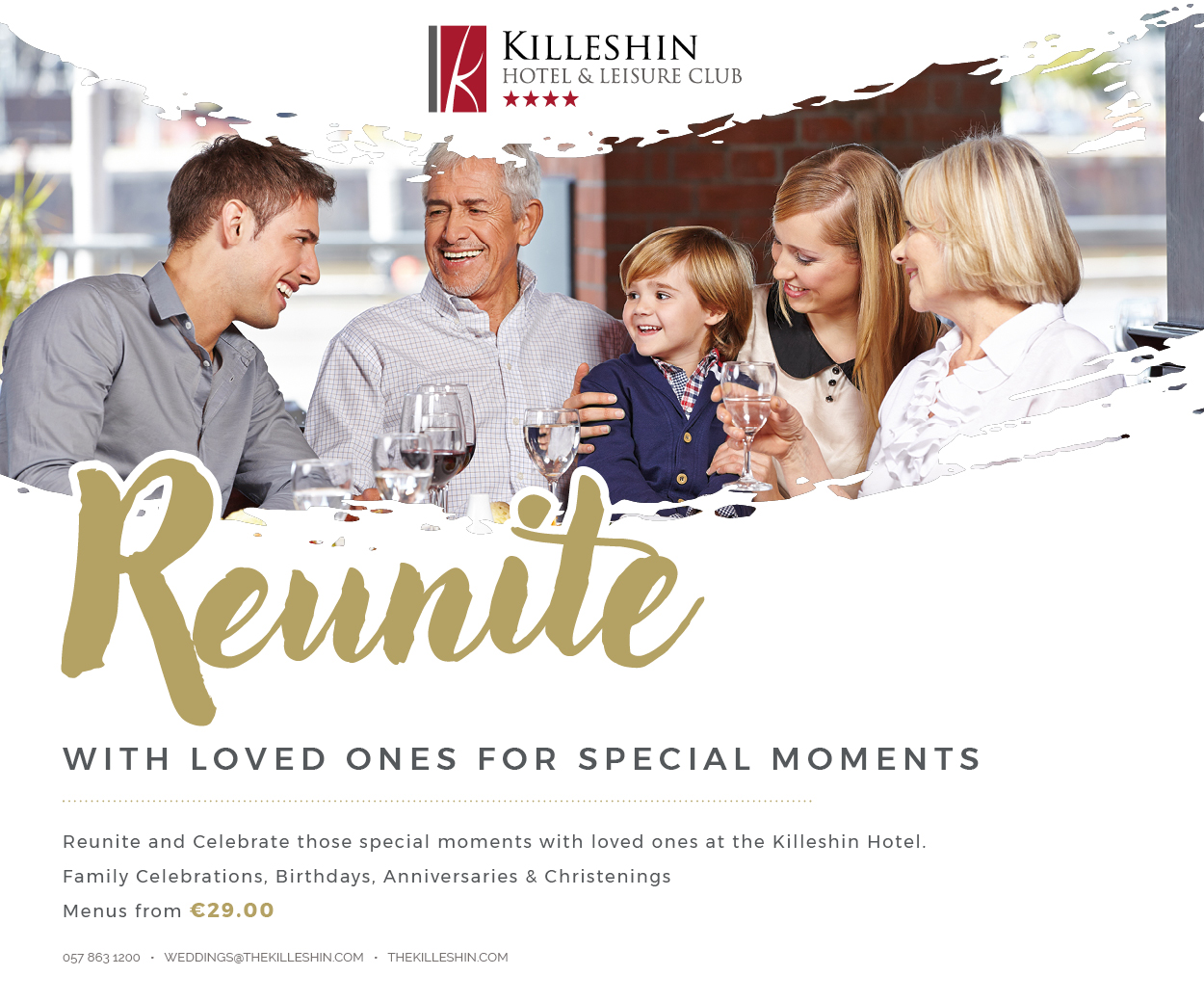 He said that the children from the area had benefitted immensely from "her interests in Community Games, Art, Science and photography".
He also acknowledged her strength in public relations noting how "school achievements were publicised to great effect, adding to the prestige of the school".
He concluded by saying "although we are losing you early, we wish you the best" before making a presentation to Martina with Kathleen Ramsbottom, Treasurer of the Board of Management.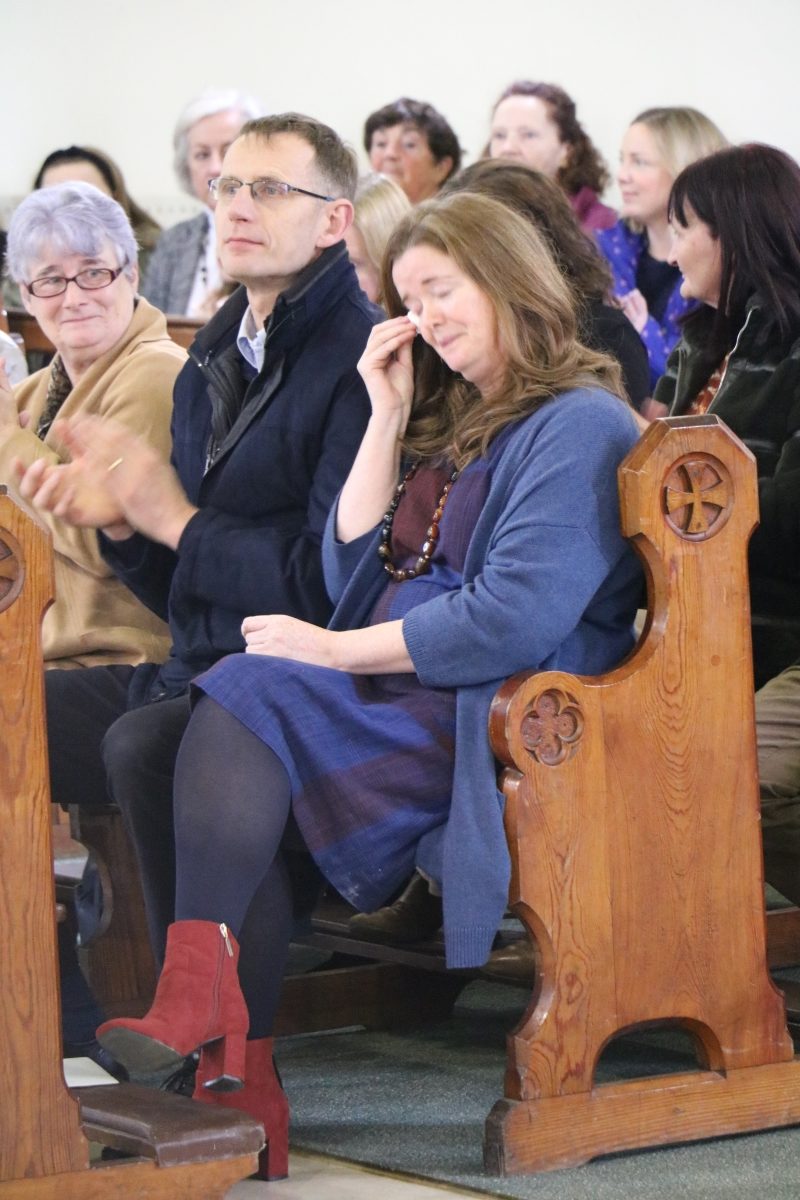 Principal Ann Bergin, with whom Martina has worked so closely over the past eight years, spoke eloquently about their experiences together and about all that Martina had given to the school.
She stated that "Martina's compass as an educator was to seek out enriching experiences for her pupils and all pupils. Their benefit her constant focus.
She has been outstanding in her discernment of opportunity for learning, in her advocacy for children and remarkable in her procurement of solution and resolution".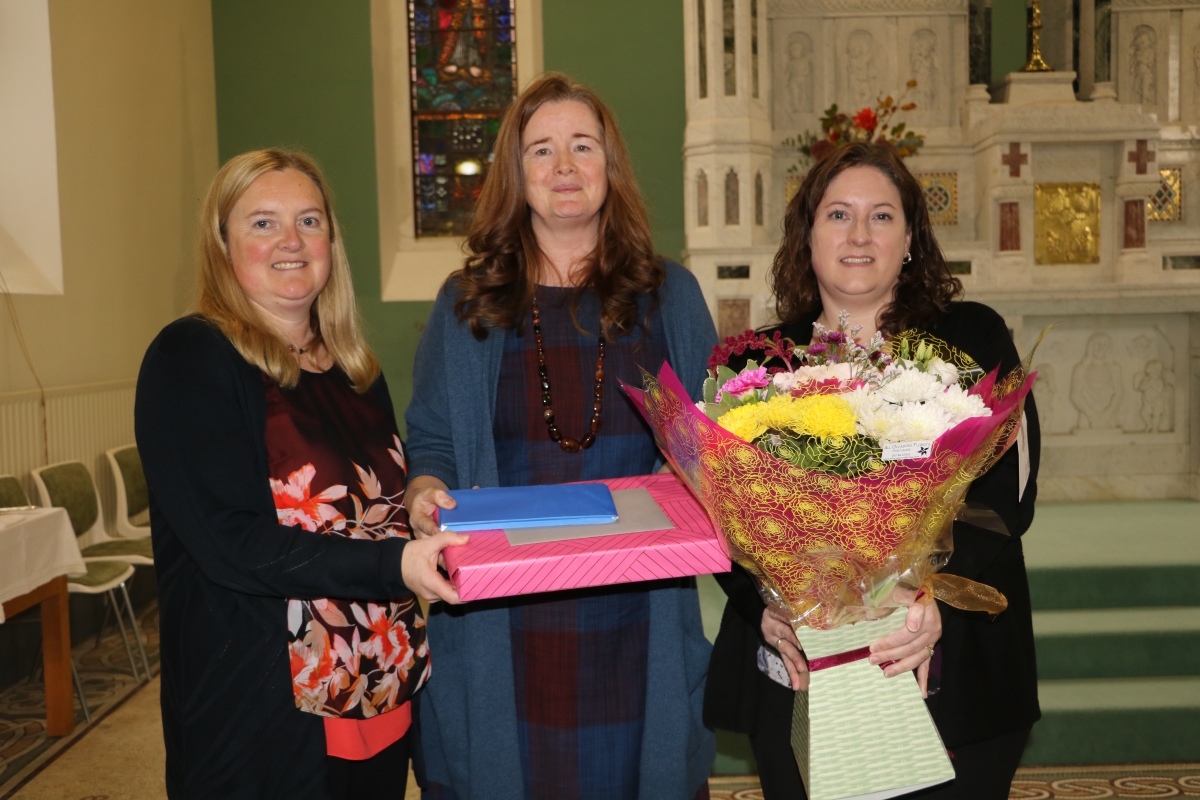 She noted "her high and true ambition for the pupils and the school", her "limitless energy and generosity" and of the lasting legacy she leaves behind in Special Education, Science and the Arts.
Her final words were of congratulations, saying "Martina, you truly have been a múinteoir den chéad scoth (a top class teacher). But equally you have been a colleague den chéad scoth, a mentor den chéad scoth and a duine den chéad scoth".
Margaret Buggy of the Parents Association offered her thanks and best wishes to Martina on behalf of the parents of Timahoe.
She acknowledged the "work and commitment Martina has given to the school over the past 34 years". She spoke of how "every child's needs were catered for through her expertise and her determination".
Again, she referenced all the wonderful initiatives that Martina had been central to including Art and Science but gave special mention to her photography skills. She said that "as a parent I have been reduced to tears twice at the graduation slideshow due to the amazing memories you have captured".
She also mentioned the yearly calendars "that take pride of place in our house". She concluded by making a presentation to Martina with Ann Farmer, on behalf of the Parents' Association.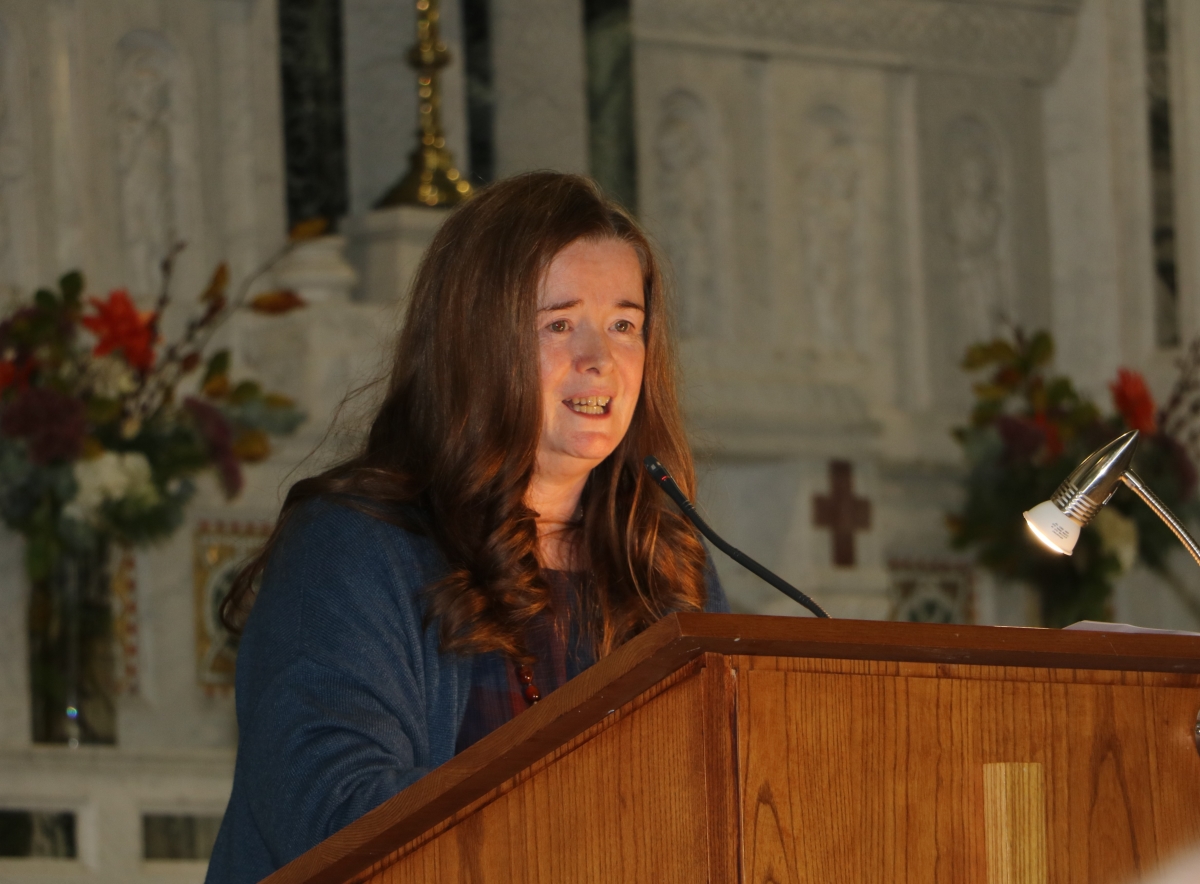 The final speech of the afternoon was left to the lady herself. She gave a brilliant account of her time in Scoil Mhuire Fatima filled with hilarious anecdotes of times gone by.
As she stood at the ambo, she thought "what a beautiful place to say goodbye, right here in the centre of the village. A village where the beauty of its scenery is matched by the beauty of its people. A can do village, a village that has allowed me in, a village where I belong".
She thanked everyone that had made her career so special, the children, staff, parents and community. As she looked down on the community members present, she stated that there "could not have been nicer community to work in", "a privilege" for her.
Of the 500 children that have passed through Scoil Mhuire Fatima since her arrival she said, "please do remember me – the day I showed you a better way and the days you did the same for me".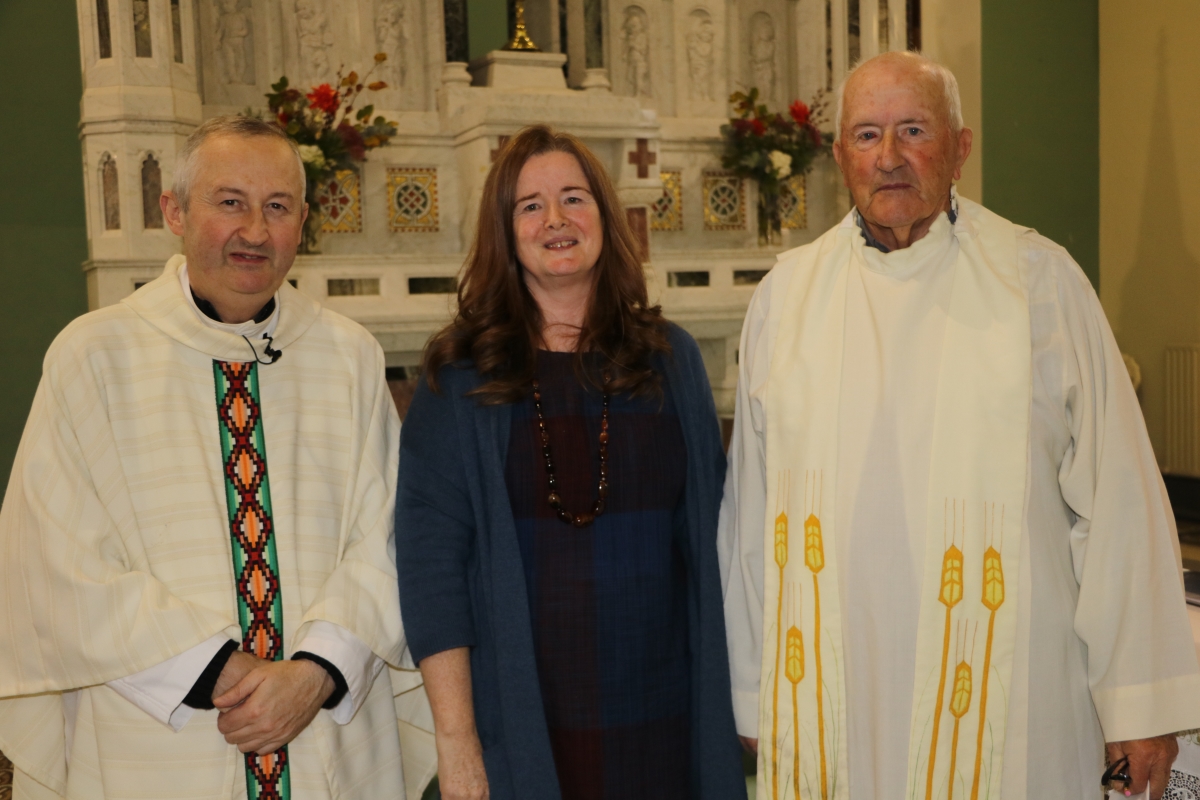 She spoke fondly of staff from the present and the past, staff who have shown a "commitment to raising the bar higher and higher". "Friends who are open, inclusive and respectful".
She thanked the "wonderful Board of Management who have gone the extra mile" and "brilliant Parents' Association".
This was a special day in the life of Martina and she took time to remember her deceased sister Carmel and mother Alice, two people of huge inspiration in her life. She concluded by saying "serving you has been an honour and a privilege. Always and ever."
As the speeches came to a close, the children treated her to a beautiful version of 'True Colours' that brought tears to many eyes.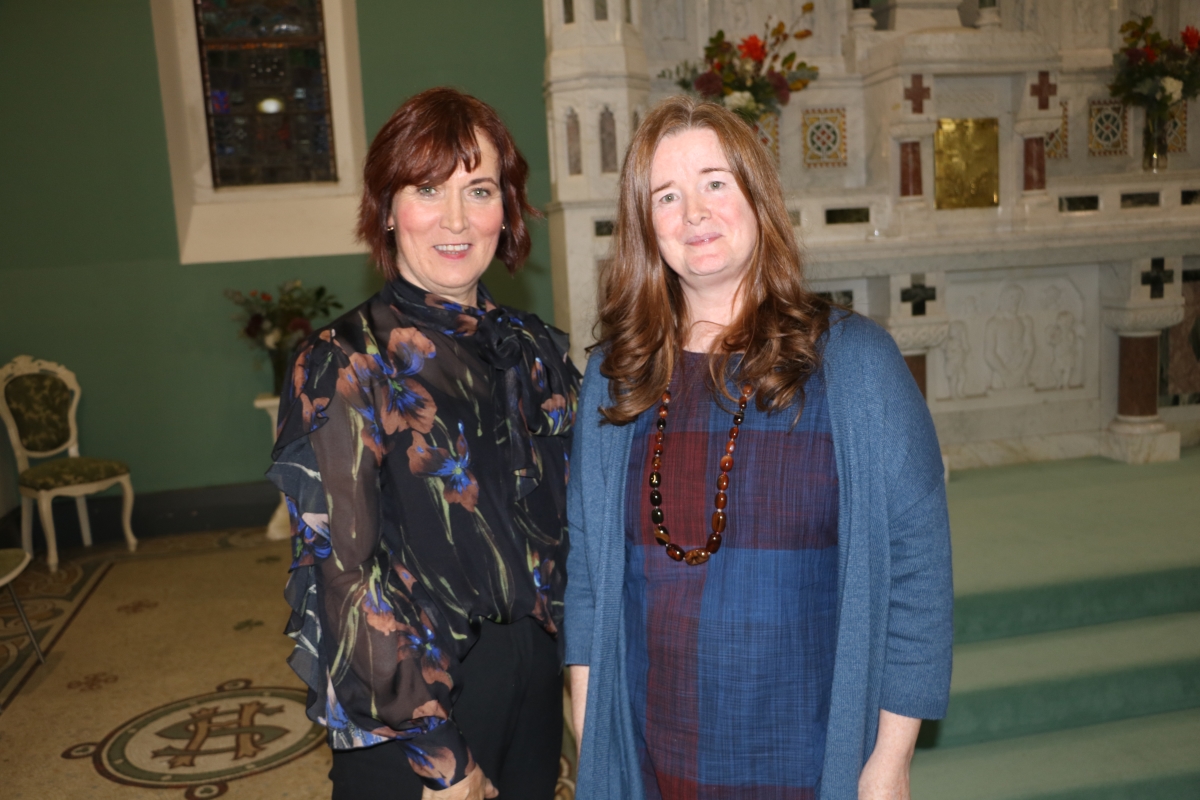 Martina began teaching at Scoil Mhuire Fatima in 1985 and had a massive impact on the lives of many children in the community.
She was well known for her love of the arts and was involved in numerous projects over the years, many garnering national attention.
One of the projects that will ensure her legacy remians in the village is 'St. Mochua's Desk', a beautiful sculpture on the grounds of Timahoe's Round Tower.
The work was designed and made by sculptor Michael Burke in association with Martina and the school children in 2004.
It is based on the wonderful tale of Mochua, a rooster, a fly and a mouse. Other projects such as 'An Bradán Feasa' and 'Enchanted Esker', a beautiful ceramic mosaic that was on shown at an Art Exhibition in Collins Barracks, adorn the school walls.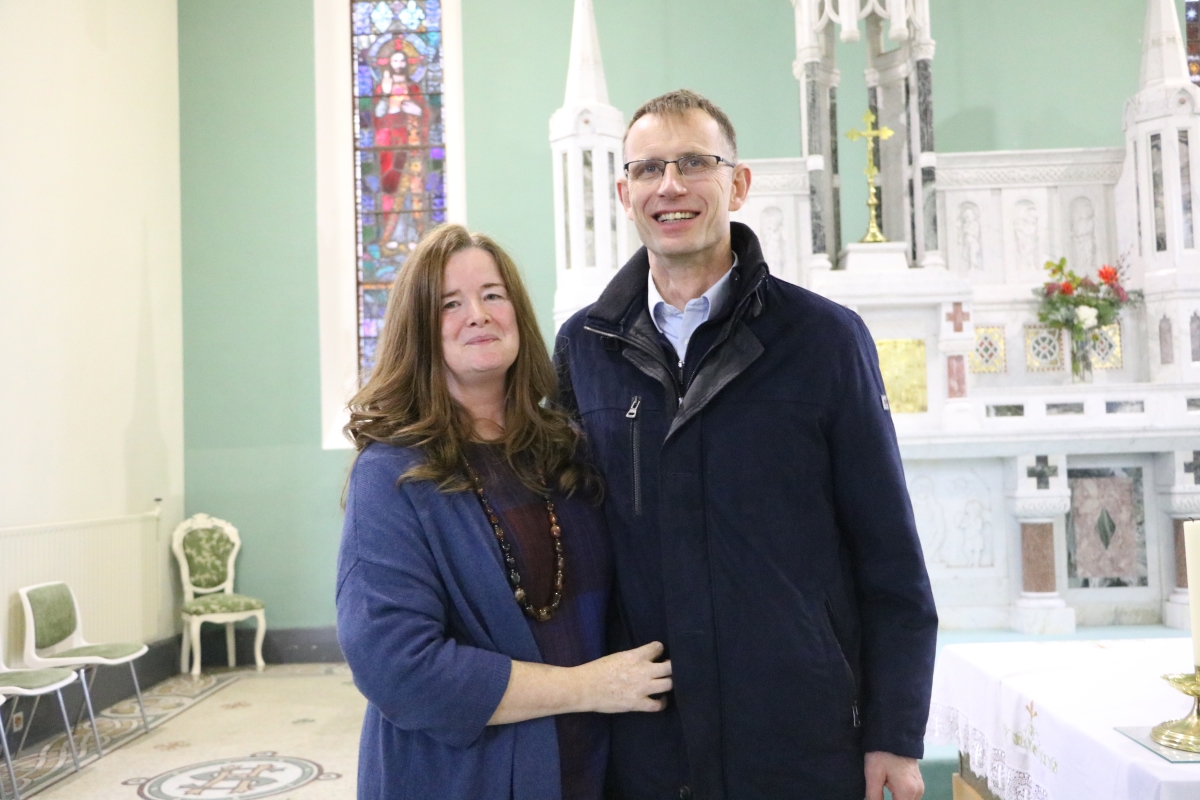 In latter years she was responsible for a significant focus on the teaching of Science in the school. Indeed, it was her ability to stay 'ahead of the curve' and to follow the trends of education that set her apart.
As STEM (Science, Technology, Engineering and Maths) took on more prominence and became the buzz word in education, Martina set about establishing a culture of teaching and learning in the school that gave every child a chance to engage with and succeed in STEM.
Project based learning in science, computer coding, visits from Engineers and scientists and a commitment to I.T. were just some of the initiatives introduced at an early stage in Scoil Mhuire Fatima.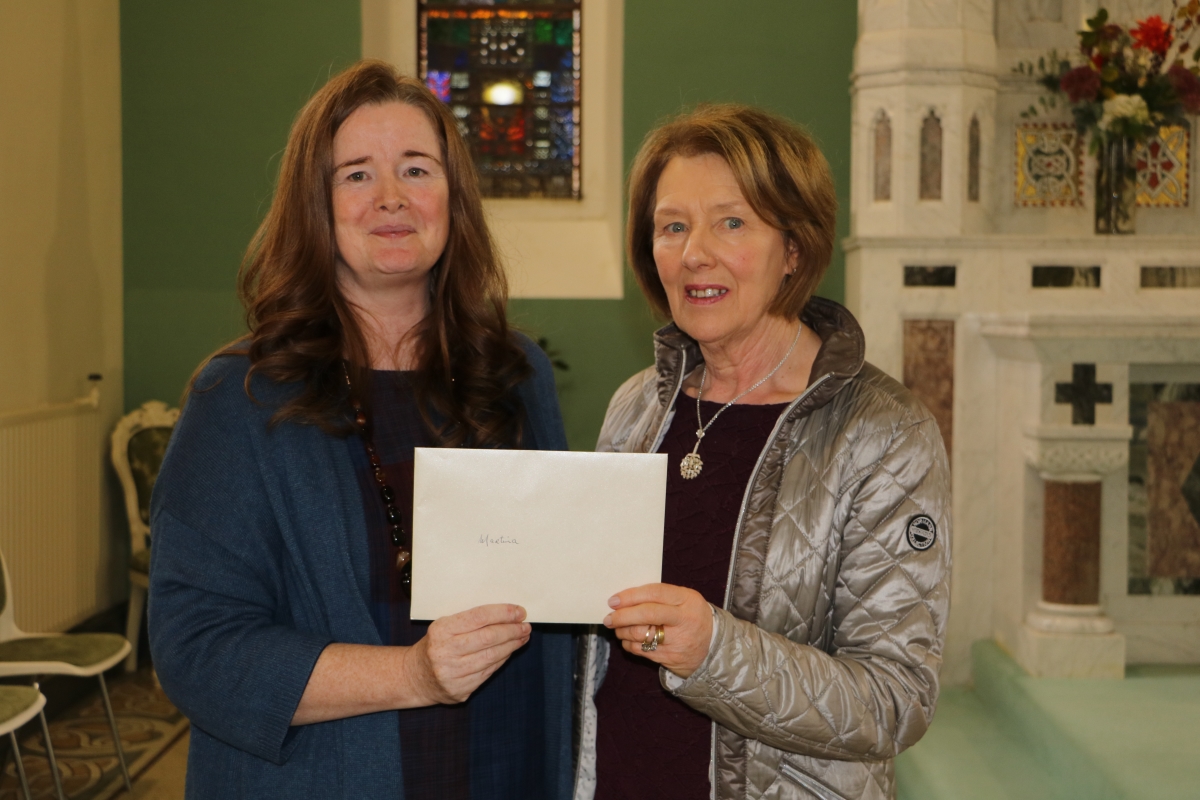 This commitment was rewarded with two All-Ireland wins in the Intel Mini Scientist, multiple years representation at the RDS Primary Science Fair and numerous other awards.
The run of success at national level culminated in an invite to meet President Higgins at Áras an Uachtaráin, a proud day in the history of Scoil Mhuire Fatima.
This retirement function followed on from the official opening of the new pre-school ASD unit, Naíscoil Kantara, on the 4th of October.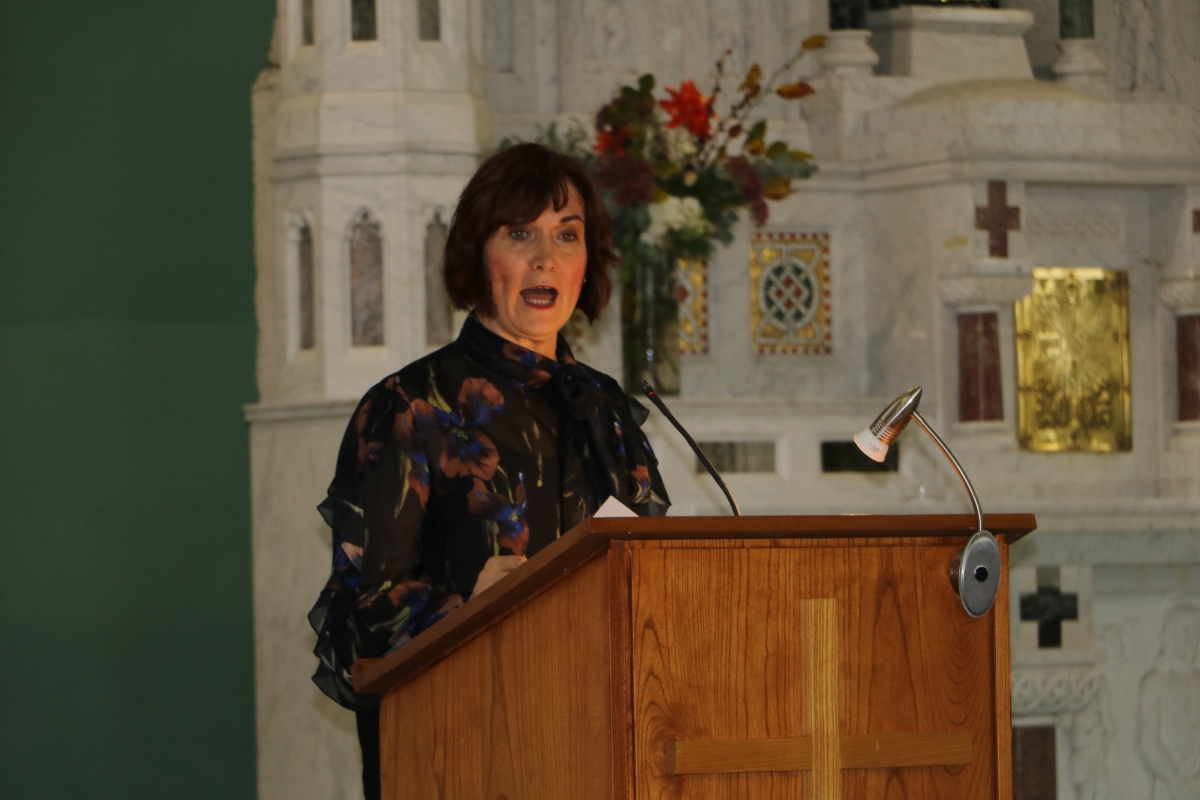 Martina was central to the delivery of this project and it was fitting that the project was completed before her retirement.
Martina's commitment to inclusivity was probably her greatest achievement in Scoil Mhuire Fatima as she ensured that every child who walked through the door was given the opportunity to achieve their potential.
Her role as Special Educational Needs Coordinator meant that she worked at the coalface of special education for over 14 years.
Her kind and caring demeanour and the welcoming environment in which she worked fostered a 'can do' attitude that was ideal for the special education setting.
She has always spoken about the relationships she has developed with her students and is proud to have had a positive impact on their development.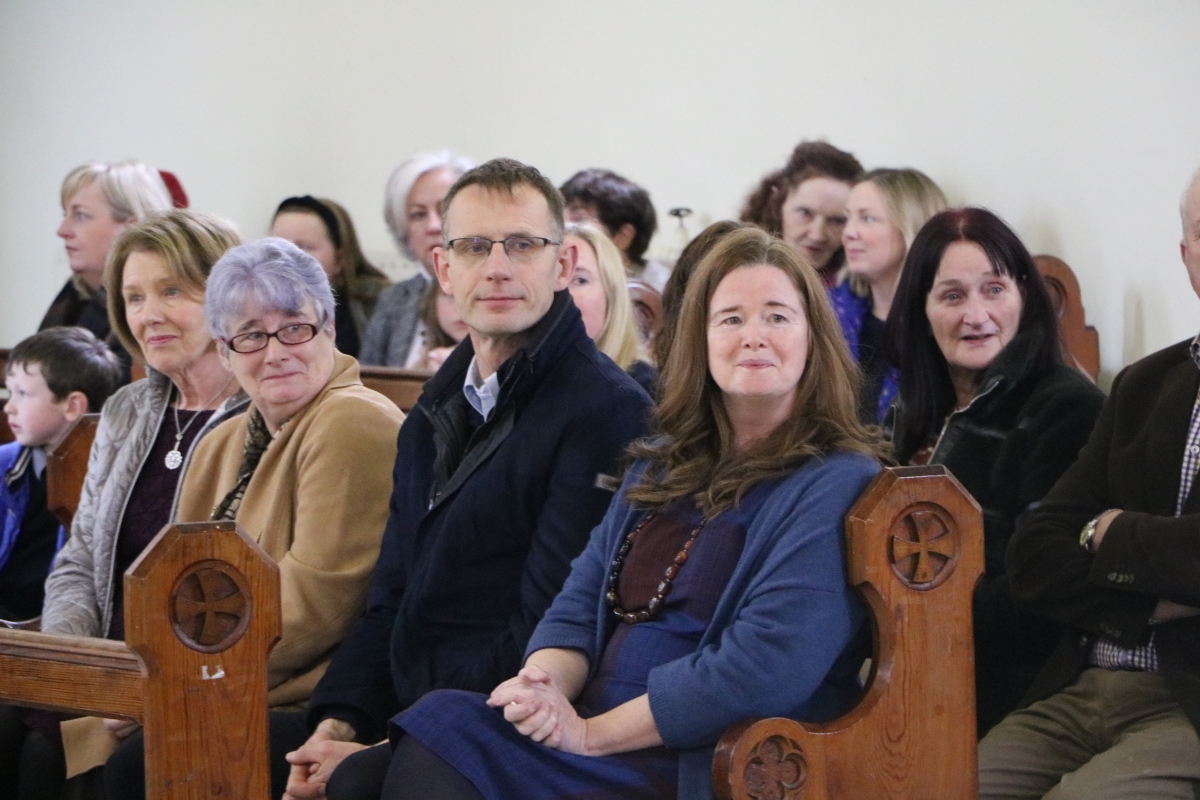 Throughout her time in the special educational needs setting, she gained a wealth of experience and has mentored numerous teachers in the area.
Martina is a talented photographer and has always used her talent to maximum effect in Scoil Mhuire Fatima.
She often jokes about wanting to be "at the other end of the camera" but there is no doubt that her eye for detail and commitment to perfection has been a big bonus to the school.
Throughout her time there she has been responsible for the annual school calendar which is always well received among the children and their parents.
Her graduation slideshows are legendary by now and always manage to capture the joy that the children experience in their time at the school.
She put an extraordinary amount of time into capturing memories for the children and this is another example of her selflessness.
Having completed 35 years in education, one might say Martina is well entitled to the downtime that comes with retirement.
However, given how busy she has been and the drive within her, it is hard to see her being idle for too long.
One thing is for sure, whatever route she decides to take, success will follow.
Best of luck Martina – from all of us here in LaoisToday too!
SEE ALSO – In Pictures: All the best images from Day 1 of the Cumann na mBunscol football finals