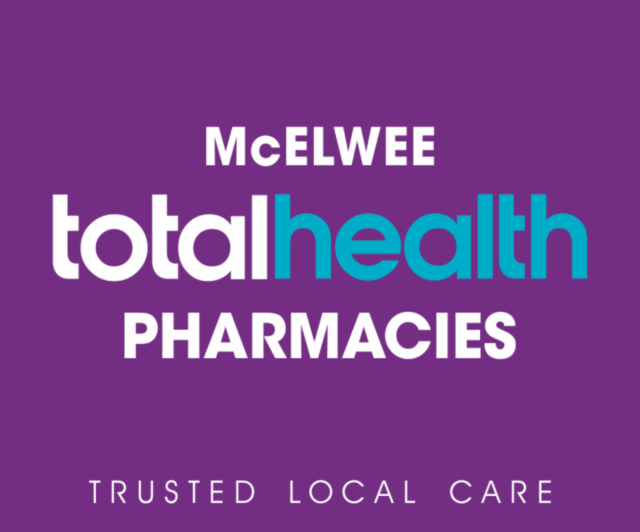 McElwee Pharmacies are here to stay as they announce new partnership with totalhealth Pharmacies.
McElwee totalhealth Pharmacies, under Peter, James and Mary McElwee, have outlets in O'Connell Square in Mountmellick, in the Davitt Shopping Centre on Connolly Street Mountmellick and at the Cedar Clinic on the Mountmellick Road in Portlaoise.
What is totalhealth?
totalhealth is a group of independent pharmacies who have come together under the symbol brand of totalhealth Pharmacy.
The group consists of over 70 independent pharmacies nationwide working together to give all the benefits of being part of a large retail brand to our customers. Customers can now benefit from local knowledge, local commitment and national benefits.
Why should a customer choose a totalhealth Pharmacy?
Trusted + Local + Care:
Trusted: totalhealth is the same local pharmacy where you have always received excellent advice and attention. Nothing of that has changed. Your local pharmacist now has the support and expertise of over 60 of our colleagues to add to that knowledge and advice.
With continued investment in training and standards throughout the group we can offer our customers services and assistance that are second to none.
McElwee totalhealth Pharmacies can be contacted on:
O'Connell Square, Mountmellick – 057 8624255
Davitt Shopping Centre, Mountmellick – 057 8624289
The Cedar Clinic, Portlaoise – 057 8666826
Launch Day
McElwee totalhealth Pharmacies special launch day Friday, December 13!
There will be special discounts on the day and special launch prizes including a 54" Panasonic TV, medical kits and more!
SEE ALSO – Check out the dedicated jobs section on LaoisToday