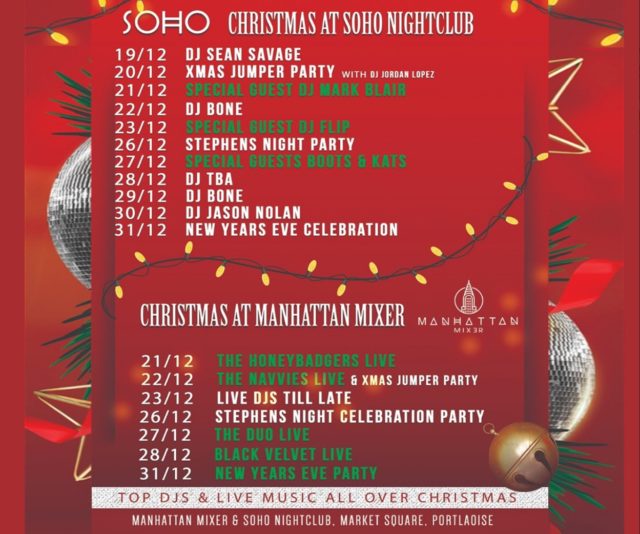 Christmas. What a wonderful time of the year.
And it's set to be great Christmas once again in Portlaoise.
The Manhattan Mixer and the adjacent Soho nightclub in Market Square in Portlaoise have a serious lineup between now and the end of the year.
With top DJs and live music all over Christmas, you'll be guaranteed a great night out.
Christmas at Soho Nightclub
Thursday, December 19 – DJ Sean Savage
Friday, December 20 – XMAS Jumper Party with DJ Jordan Lopez
Saturday, December 21 – Special Guest DJ Mark Blair
Sunday, December 22 – DJ Bone
Monday, December 23 – Special Guest DJ Flip
Thursday, December 26 – Stephen's Night Party
Friday, December 27 – Special Guests Boots & Kats
Saturday, December 28 – DJ TBA
Sunday, December 29 – DJ Bone
Monday, December 30 – DJ Jason Nolan
Tuesday, December 31 – New Year's Eve Celebration
---
Christmas at Manhattan Mixer
Saturday, December 21 – The Honebadgers Live
Sunday, December 22 – The Navvies Live & Xmas Jumper Party
Monday, December 23 – Live DJs till late
Thursday, December 26 – Stephen's Night Celebration Party
Friday, December 27 – The Duo Live
Saturday, December 28 – Black Velvet Live
Tuesday, December 31 – New Year's Eve Party
SEE ALSO – Check out the dedicated jobs section on LaoisToday