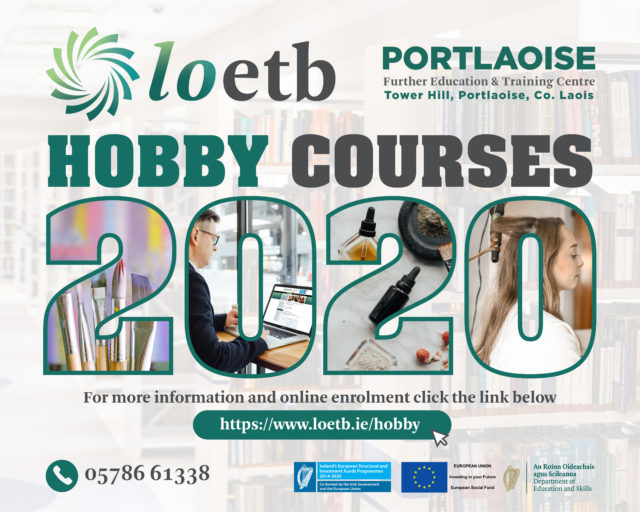 Everyone has the best of intentions in the New Year and what better than to take up a new hobby or challenge this January.
Portlaoise Further Education and Training Centre have a range of hobby courses beginning later this month.
Whether it's learning Irish or Spanish, improving your Excel skills, a dress-making course, art or aromatherapy, hair care and styling or learning quick healthy meals with your child, there really is something for everyone.
The majority of the courses are 6 weeks in duration and range in cost from €60 to €100.  See below for full details.
You can check out the full details below or visit www.loetb.ie/hobby or call 057 8661338.
Learn a Hobby or Language in 2020
Irish
Day: Monday
Time: 7.30pm to 9pm
Duration: 6 weeks
Starting: January 20
Cost: €60
Art
Day: Monday
Time: 7pm to 9pm
Duration: 6 weeks
Starting: January 20
Cost: €75
Aromatherapy
Day: Monday
Time: 7pm to 9pm
Duration: 6 weeks
Starting: January 20
Cost: €75
Spanish
Day: Monday
Time: 7pm to 9pm
Duration: 6 weeks
Starting: January 20
Cost: €75
Dress Making
Day: Tuesday
Time: 7pm to 9pm
Duration: 10 weeks
Starting: January 21
Cost: €100
---
Get organised in 2020
Excel
Day: Tuesday
Time: 6.30pm to 8.30pm
Duration: 6 weeks
Starting: January 21
Cost: €75
Getting the most from your smart phone
Day: Wednesday
Time: 6.30pm to 8.30pm
Duration: 6 weeks
Starting: January 22
Cost: €75
---
Look after You in 2020
Mindfulness
Day: Monday
Time: 7pm to 8.30pm
Duration: 6 weeks
Starting: January 20
Cost: €60
Hair Care and Styling
Day: Monday
Time: 7pm to 9pm
Duration: 6 weeks
Starting: January 20
Cost: €75
---
Get Healthy in 2020
Quick Healthy Meals – Learn with your Child
Day: Wednesday
Time: 6.30pm to 8.30pm
Duration: 5 weeks
Starting: January 22
Cost: €75
Closing date for applications – Tuesday, January 14, 2020
SEE ALSO – Check out the dedicated jobs section on LaoisToday