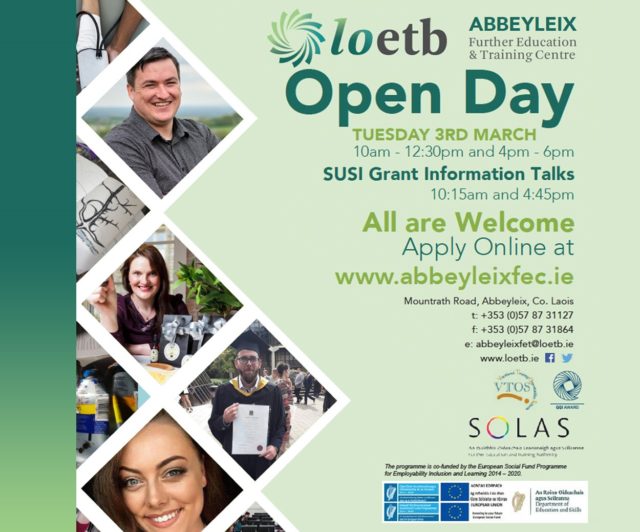 Abbeyleix Further Education and Training Centre are holding an Open Day on Tuesday, March 3, from 10am to 12:30pm and 4-6pm.
Find out what Higher Education, Further Education Course or Career you can progress to with a QQI qualification from Abbeyleix Further Education & Training Centre.
Prospective students will get the chance to speak with teachers and students to find out more about prospective courses.
Full-time Courses available in:
Animation
Art, Craft & Design
Art & Business
E-business
Business Administration & IT
Business Management
Healthcare Support
Community Care
Leaving Certificate
Craft/General Studies (options in Art, IT and Healthcare)
Courses are QQI certified at Levels 4,5 & 6.
Part-time Business Options:
Business Administration Skills (QQI Level 5, one morning per week)
Payroll – Manual & Computerised (QQI Level 5, one morning per week)
Find out about VTOS (Vocational Training and Opportunities Scheme).
To qualify for VTOS you must be aged 21 or over and be in receipt of a social welfare payment such as Jobseekers Allowance/Benefit for 6 months or signing for credits for 6 months.
Other payments such as One Parent Family, Invalidity Pension and Disability Allowance also meet the eligibility criteria. Please contact the Centre for further information.
Additional supports linked to VTOS:
Retain Social Welfare payment & benefits
Subsidised Childcare places (CETS)
Free course books
Free Transport (from Portarlington, Mountmellick and Portlaoise) or Travel Allowance payments.
Learn more about the range of financial supports available to Post Leaving Certificate students with SUSI Grant Information Talks scheduled to take place in the Centre on 3rd March @10:15am and @4:45pm.  All are very welcome to attend.
Apply on-line @www.abbeyleixfec.ie or contact the Centre.  Closing date for applications for 1st round interviews is Friday 8th May. For further information please contact Helen or Geraldine on 057 8731127 or email abbeyleixfet@loetb.ie.
Student Testimonials
A Roe – Business Management level 6 (2012/2014)
"While studying on the Business Level 6 programme, I availed of the links between Abbeyleix FETC and IT Carlow to progress to advanced entry to Year 2 on their Business Management Degree Programme.
"Without this opportunity, I may not have thought to advance further in education. By studying in Abbeyleix FETC, it allowed me to look forward and encouraged my thoughts around entrepreneurship and development. I have recently started a new business in Portlaoise town."
D Hennessy – Business Administration Level 5 (2018/2019)
"I have already gained employment since leaving the course and am working part-time as an Office Administrator.
"I am delighted because it affords me the perfect work life balance in my chosen vocational area. The year in Abbeyleix FETC gave me the confidence and skills that I needed to chase my dream of returning to administration.
"If you are thinking of returning to education, no matter what age you are, then I cannot recommend Abbeyleix FETC enough."
S Prendergast: Business Administration Level 5 (2018/2019)
"I completed my Leaving Certificate in 2018. I missed out on my first choice for college by only a few points but discovered that I would be able to get into my desired course at third level, using results from the Business Administration QQI Level 5 course offered in Abbeyleix FETC.
"I think doing this PLC was the best thing I could have done.  It allowed me to focus on what I really wanted to do in the future without rushing straight to a third level degree course."
M Dwane – Leaving Certificate (2016-2018))
"Four years ago, with no job, no qualifications and no real prospects, I decided to take the daunting plunge and return to education.
"Besides a lack of employment opportunities, becoming a father and wanting to be a good example to my children gave me the inspiration needed to explore what options were available.
"With nerves and apprehension, I enrolled at Abbeyleix FETC for their two year Leaving Certificate programme.
"All anxieties soon subsided when I came to realise how much support and guidance all of the teachers and staff provide their adult learners.
"One thing is for certain, the staff at Abbeyleix FETC, LOETB and the support I received from the VTOS programme have reopened doors I thought were closed forever."
SEE ALSO – Check out the Abbeyleix Further Education and Training Centre website here