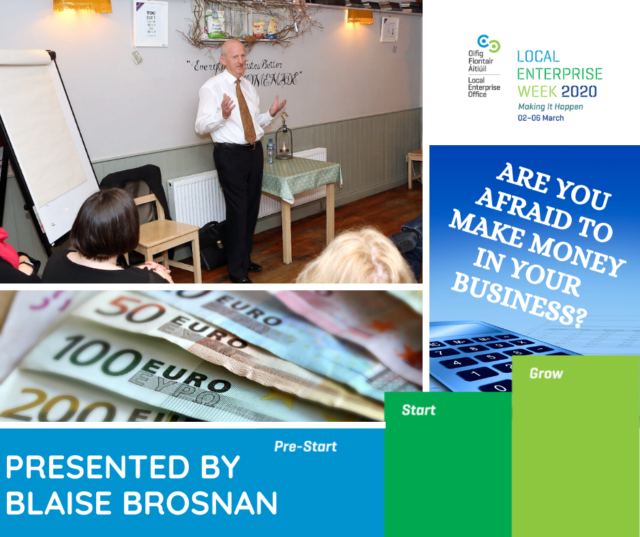 Local Enterprise Week takes place from Monday 2nd March to Friday 6th March with several free events and clinics taking place throughout the week which are designed to help you plan, start or grow your business in 2020!
There are still few places available so check out the Laois Local Enterprise webiste today and book your place!
Join us on Thursday, March 5 and gain insight into the experience of world renowned business strategy and management development consultant, Blaise Brosnan in the informal setting of the Pantry Café in Portlaoise.
Blaise will identify some of the issues which you the owner manager of your business can successful address in your business, irrespective of Brexit, Trump or others.
He will then give you guidance on how you can consistently go about making more money from these issues. Some of these issues include – your pricing and purchasing tactics, the business model you should be developing in order to optimise your bottom line and how best to communicate and influence your targeted 'sweet customers'.
About Blaise Brosnan
Blaise Brosnan has a unique blend of practical top management experience gained over 25 years in his capacity as Chief Executive of a well known National Irish business and later as business mentor to a range of Irish business types.
Blaise has also worked closely with many major international companies all over the world, to successfully implement business interventions and strategic growth programs, guiding these businesses through the many phases of change to successful outcomes and significant growth in business and profitability.
Blaise brings his wealth of practical and theoretical business experience to each of his roles – as entrepreneur, business director, business consultant and coach.
There are still a few places available so check out the Local Enterprise Office Laois website and book your place for this FREE event.
Early booking is advisable. Please book online on https://www.localenterprise.ie/Laois/Training-Events/Local-Enterprise-Week-2020/
For more information, please contact Honor Deevy, Local Enterprise Office Laois on 057 86 61800  or email   localenterprise@laoiscoco.ie. 
SEE ALSO – Local Enterprise seminar from Gerry Duffy – 'Goal setting made easy – daily habits of high achievers'