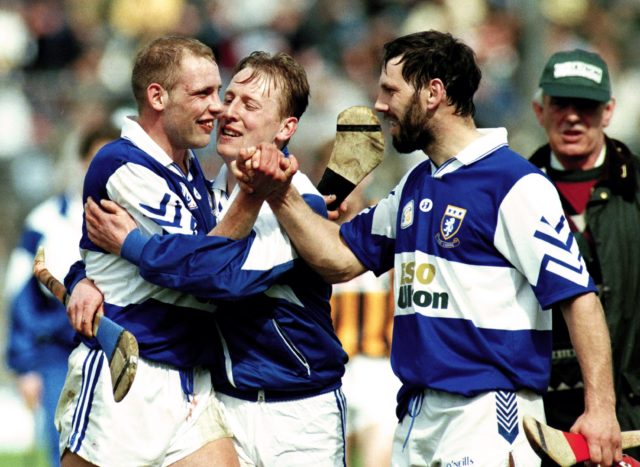 Laois dressing rooms after games with Kilkenny haven't been the most joyous of places over the years, but the tide changed as Laois recorded a famous victory over the Cats, who were reigning league champions, in the 1996 National Hurling League quarter-final in Thurles.
It is a day remembered fondly for Laois fans, and certainly not a game for the faint hearted.
Midfielder on that faithful day, Declan Conroy, spoke to LaoisToday about the victory for a piece in 2019.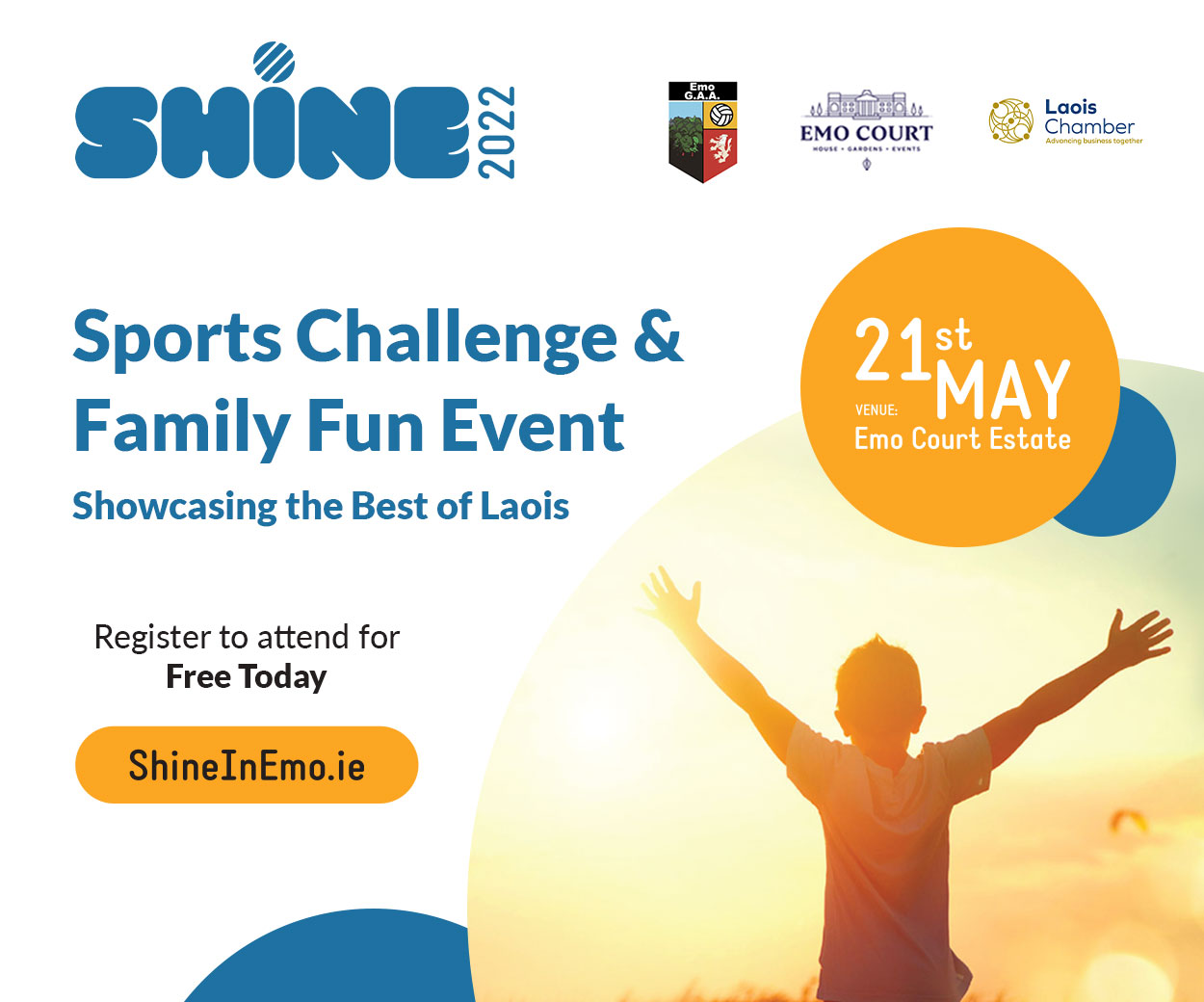 "I just remember getting over the line, beating Kilkenny in a game which really meant something. The atmosphere afterwards was great.
"It was great to see Laois fans come away from Thurles that day with a smile on their faces."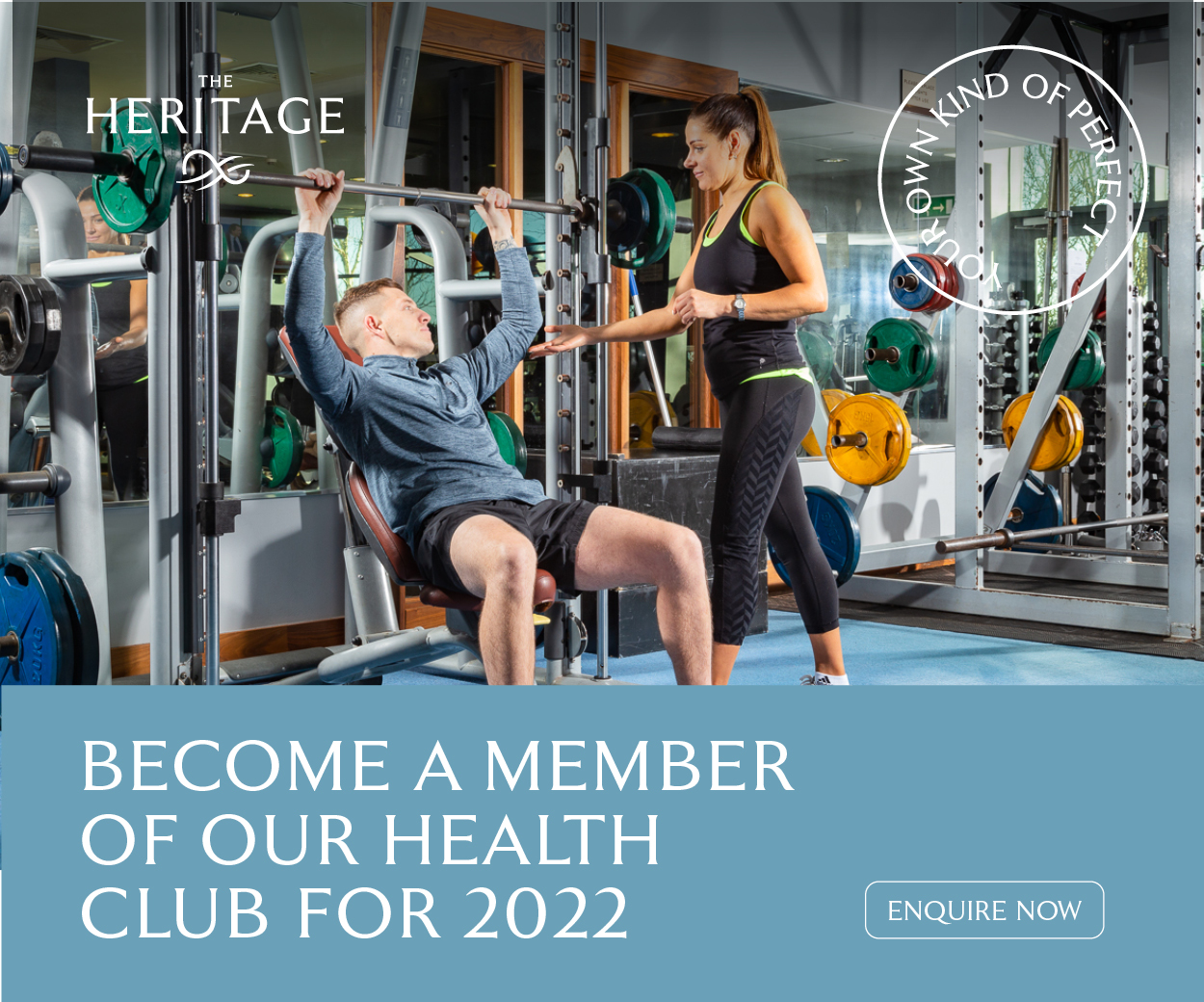 After the game, Laois full-forward and stalwart PJ Cuddy remarked: "We were owed a win by Kilkenny. They've broken our hearts for long enough. I don't think they'll begrudge us that one."
Aside from a shaky start to the second half, Laois, who were under former All Ireland-winning Tipperary manager Babs Keating at the time, dominated the game throughout.
Heroes were forged for Laois that day, no more so than Ricky Cashin.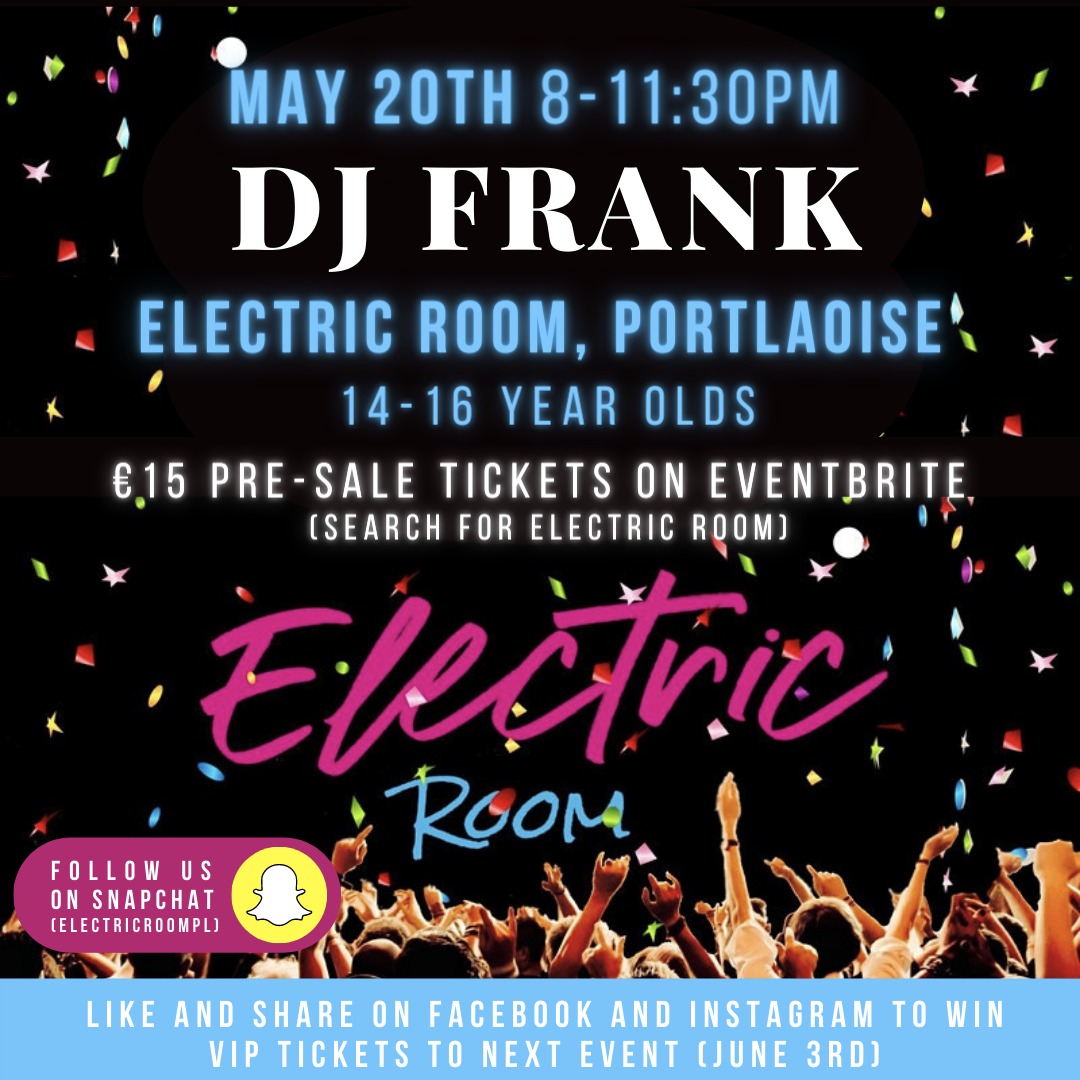 When a mere point separated the teams, Charlie Carter ran through going for a match-winning goal.
But Cashin made a save that will be remembered byr Laois fans who attended the match that day, securing Laois's two point win over the Cats.
Laois's half-back truly excelled under the leadership of Joe Dollard. He broke down numerous attacks, ploughing forward with the sliotar in hand to land the ball into his half-forward line.
Joining him on the half-back line were Niall Rigney and John O'Sullivan, who had tremendous games on the wings.
Laois's midfield was made up of the tireless efforts of Declan Conroy and Owen Coss, the latter securing a vital late point.
Seamus Cuddy managed to give Pat O'Neill a tough 70 minutes at centre-forward, aided on the left-wing by Declan Rooney and on the right by David Cuddy.
The pick of the full forward line was PJ Cuddy. He was instrumental in both Laois goals and when Laois needed someone to revive their challenge in the last quarter, it was Cuddy who stood up to the challenge with two glorious points.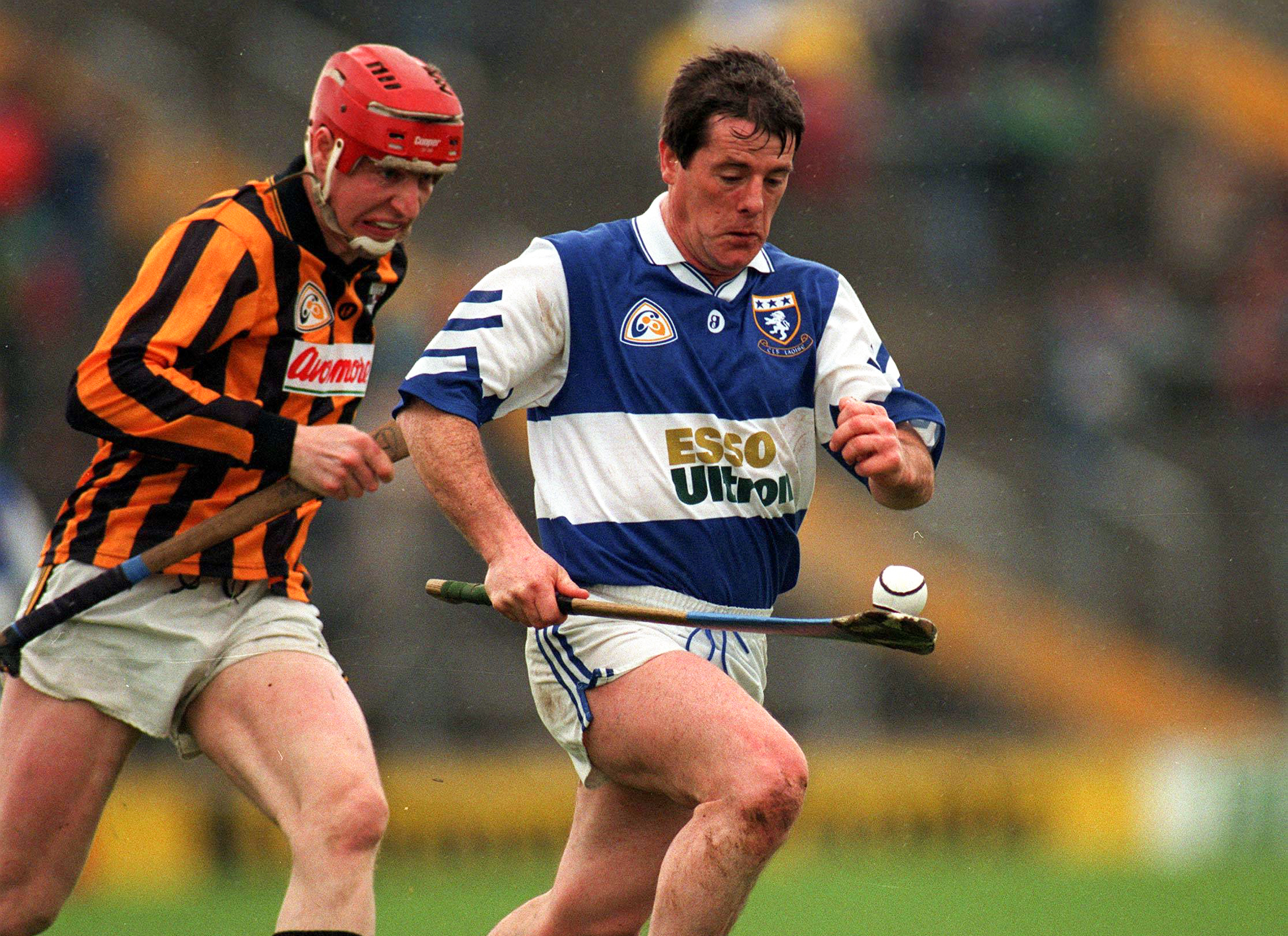 Kilkenny's defence and midfield put it up to Laois, but they failed to put them away on the attack. Although DJ Carey looked extremely dangerous, he failed to score from play.
Kilkenny opened the scoring with a point from Canice Brennan in the second minute of play.
Declan Rooney grabbed the sliothar straight from the puckout and ran through the Kilkenny defence to kick it  over the bar.
Fionan O'Sullivan gave Laois the lead with a point of his own in the fourth minute.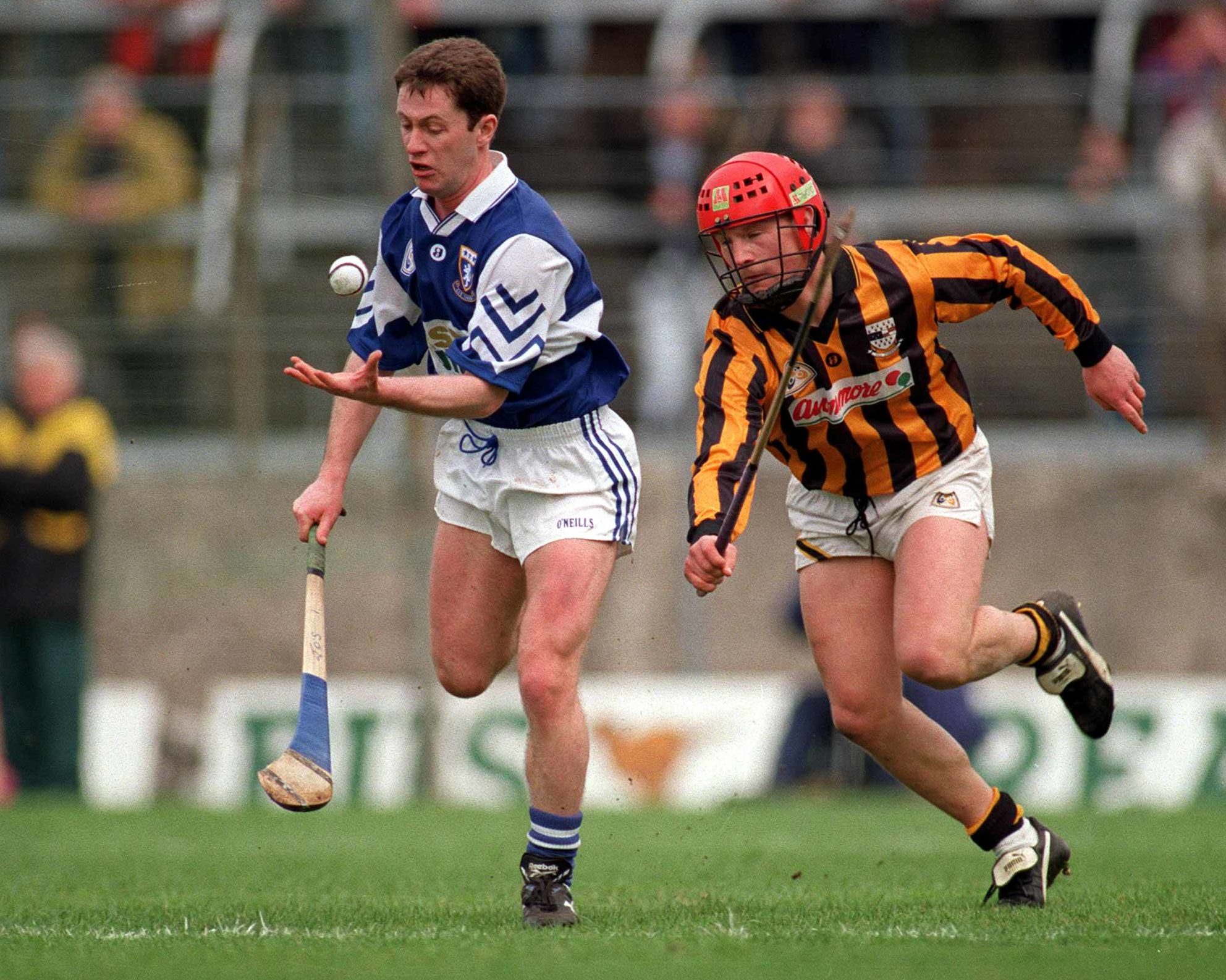 Laois then surged into a bigger lead when Tomas Kenna passed the sliotar across the field to David Cuddy. Cuddy skied his shot from 25 yards in before Declan Rooney drove the loose ball dropped in into the back of the net.
Kilkenny did narrow the deficit when Pat O'Neill dropped a free into the goal and Denis Byrne struck the sliothar over the bar.
Frees from DJ Carey and Pat O'Neill brought Kilkenny closer as Laois seemed to be faltering, but their nerve was restored in the 24th minute when David Cuddy pointed a free.
The Laois charges received a huge boost when Seamus Cuddy guided the sliothar into the net after Michael Walsh had made a fine save from Fionan O'Sullivan. Laois moved into a 2-5 to 0-4 lead with a David Cuddy point in the 26th minute.
Kilkenny's purple patch came in the closing minutes of the half. Adrian Ronan landed a point and Charlie Carter shot an excellent goal to leave Laois just 2-5 to 1-5 ahead at half-time.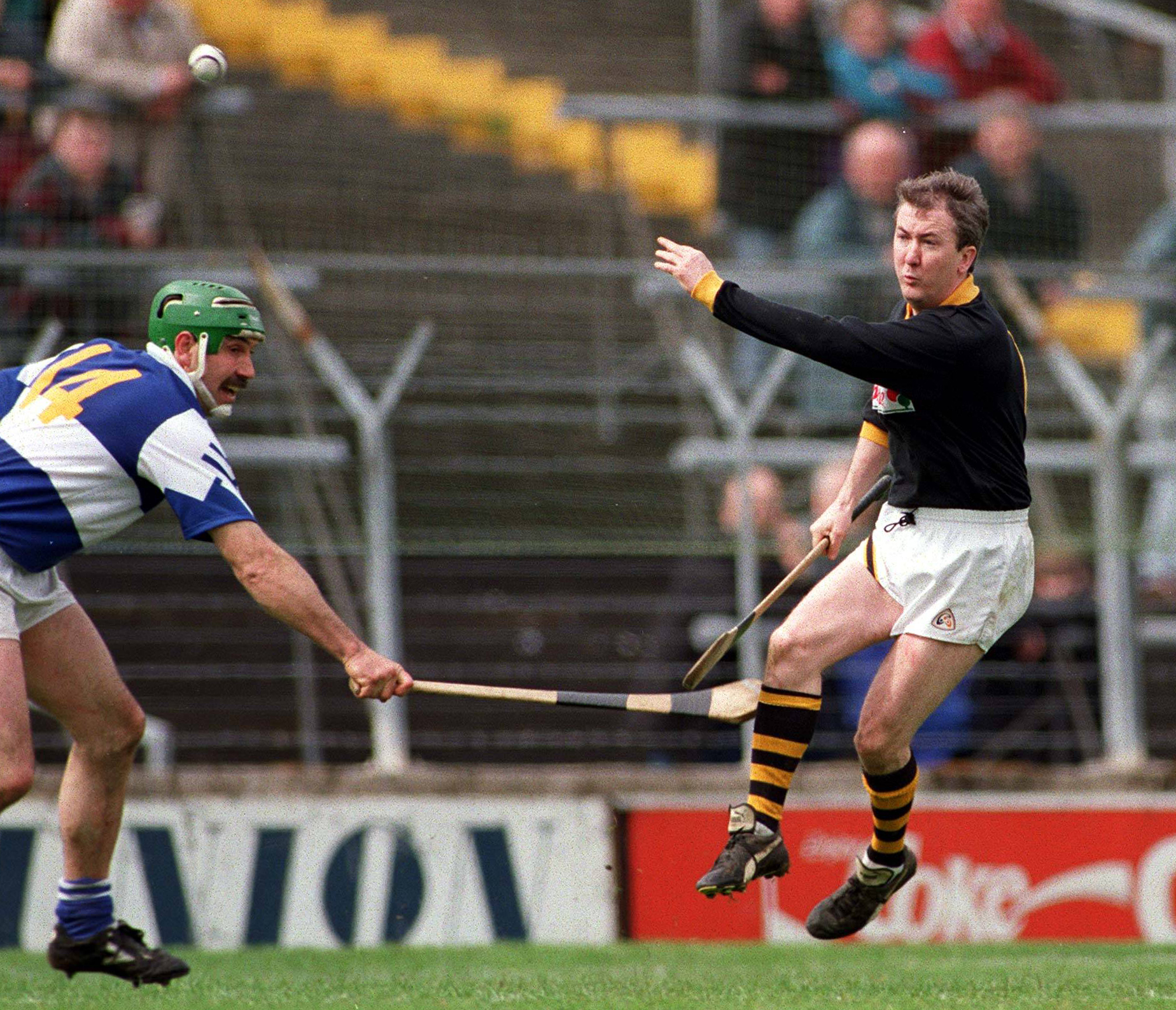 Kilkenny brought the game level with points from DJ Carey, Charlie Carter and John Power;  leaving the teams at 2-5 to 1-8.
A badly-needed score arrived when David Cuddy cut a brilliant line-ball over the bar from under what was then described as the  New Stand.
Pat O'Neill pointed a '65 to bring Kilkenny level after 44 minutes before PJ Cuddy restored Laois's lead with an excellent turn and shot.
O'Neill and David Cuddy swapped scores bringing the teams to an even keel once again.
Cashin's heroics in defending his goals inspired Laois to new heights.
Coss and a well-placed ball from John O'Sullivan to PJ Cuddy for a point gave Laois a 2-10 to 1-10 lead.
However Kilkenny weren't going down without a fight. DJ Carey finally escaped the clutches of Joe Dollard and raced along the right wing. As the Laois backs ran towards him, Carey flicked a pass to Denis Byrne.
A magnificent tackle on Byrne prevented him getting his shot in and although the sliothar fell to Charlie Carter, he was only able to shoot a point.
Laois held on for a glorious 2-10 to 1-11 victory.
They later went down to Tipperary in the semi-final.
SCORERS – Laois: David Cuddy 0-4, Declan Rooney 1-1, Seamus Cuddy 1-0, PJ Cuddy 0-2, Tomas Kenna 0-1, Owen Coss 0-1, Fionan O'Sullivan 0-1 Kilkenny: Charlie Carter 1-2, Pat O'Neill 0-3, DJ Carey 0-2, John Power 0-1, Canice Brennan 0-1, Denis Byrne 0-1, Adrian Ronan 0-1
LAOIS: Ricky Cashin; Cyril Duggan, Bill Maher, John Taylor; Niall Rigney, Joe Dollard, John O'Sullivan; Declan Conroy, Owen Coss; David Cuddy, Seamus Cuddy, Declan Rooney; Tomas Kenna, PJ Cuddy, Fionan O'Sullivan. Subs: Ollie Dowling for Kenna (51 mins), Fint Lalor for Fionan O'Sullivan (57 mins).
KILKENNY: Michael Walsh; John Costelloe, Pat Dwyer, Bill Hennessy; Liam Keoghan, Pat O'Neill, Mark Dowling; John Power, Canice Brennan; DJ Carey, Michael Phelan, Denis Byrne; Charlie Carter, PJ Delaney, Adrian Ronan Subs: Derek Gaffney for Ronan (51 mins), Patrick Farrell for Phelan (53 mins).
REFEREE: S McMahon (Clare)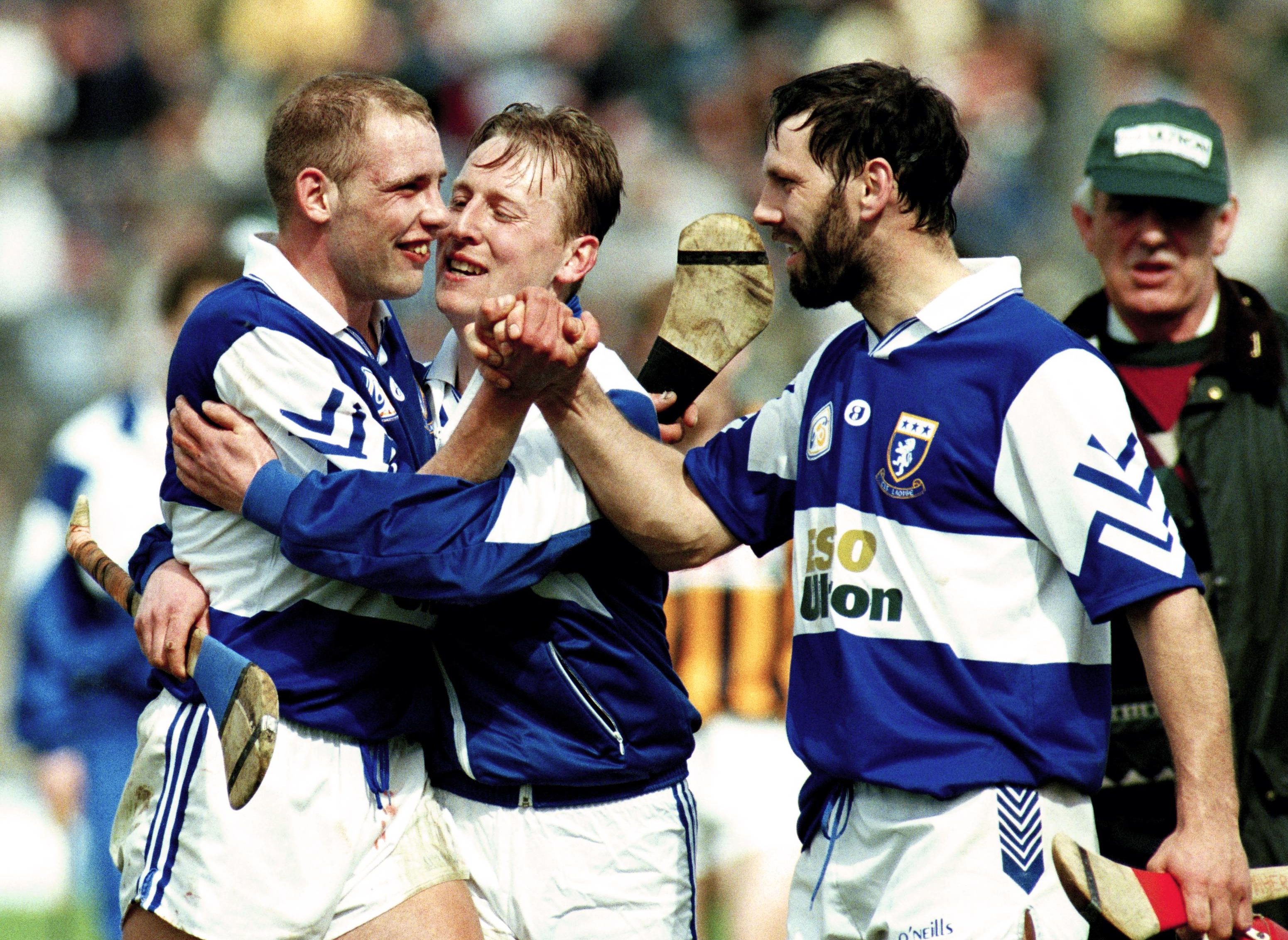 SEE ALSO – Draws made for 2020 Laois hurling championships