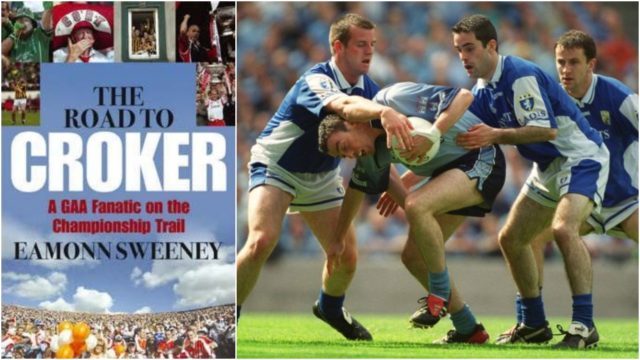 Eamon Sweeney is best known for his weekly column in the sports pages of the Sunday Independent. 
A very talented writer, he has a great body of work to his name, none more so than his 2003 publication The Road to Croker – A GAA Fanatic on the Championship Trail. 
The book is a hilarious and riveting account of the 2003 GAA season, not in a match-by-match style but rather his experience of going around the country to various games.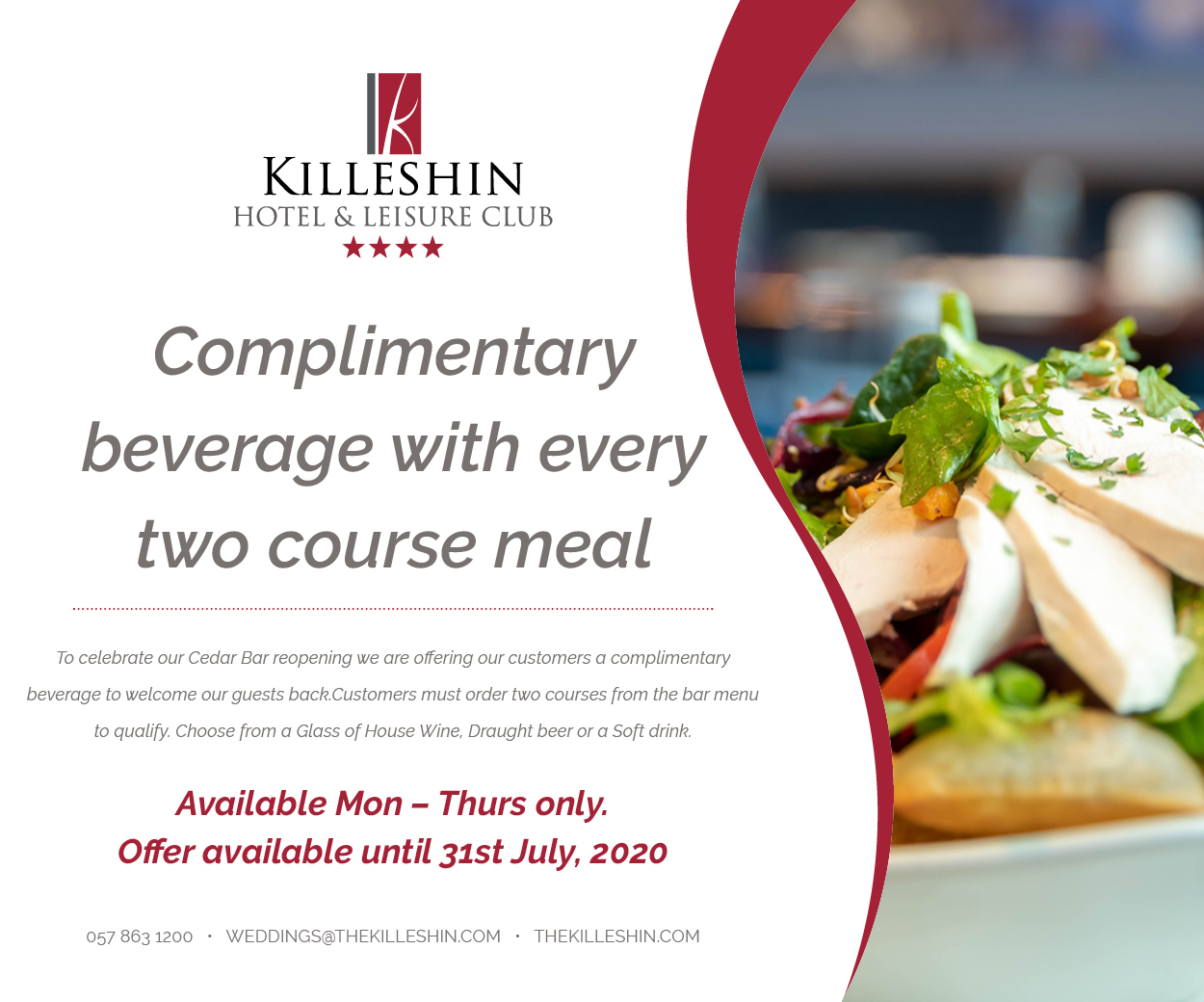 It includes interviews and anecdotes from players, managers, supporters and a host of weird and wonderful characters he meets along the way.
He also explores how understanding GAA is central to understanding the Irish psyche.
Given that Laois experienced such joy in 2003, it was inevitable that Laois would feature strongly.
And his chapter on the Leinster football semi-final win over Dublin makes for very entertaining reading, as you'll find in the extract below.
---
At half time, Laois wer 0-6 to 0-4 ahead and as the teams were going off there was almighty row in the tunnel. The television viewers had the best view of it but both (Padraig) Clancy and (Ciaran) Whelan seemed to be involved and the word was that Dublin had started the fracas but Laois had finished it, responding to a thump on one of their players by piling in mob-handed with extreme prejudice.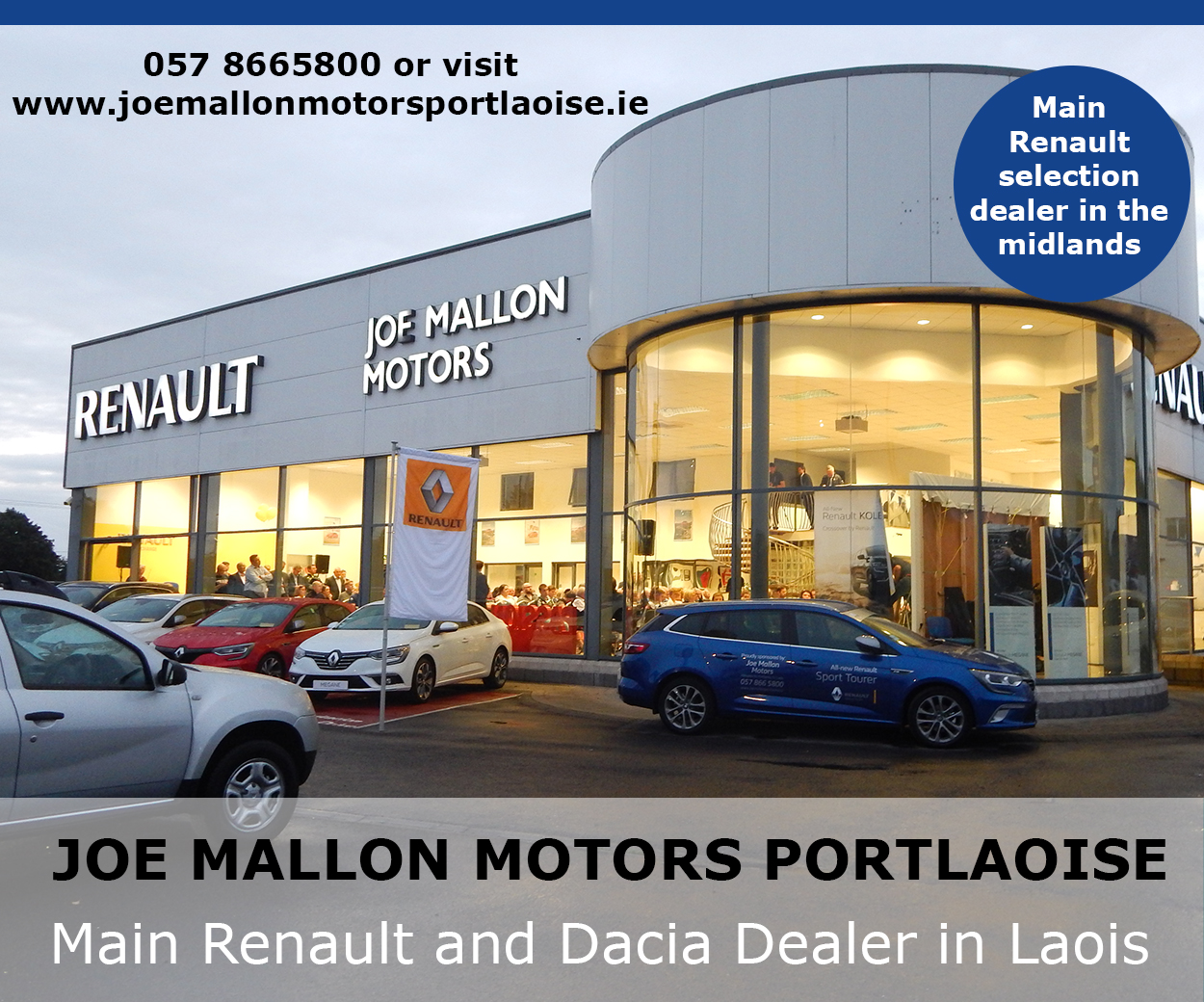 Did the scrap have any effect on the game? The Hemingway school of analysis, which sees all sporting competition as an effort by two sets of men (always men) to get a psychological edge over each other by dint of mental or physical intimidation, would reckon it was a deciding factor. 
Never mind the goals and the points, the dig was the real match winner. This was probably fallacious. There were very few cowards at inter-county level so intimidation was probably a waste of time.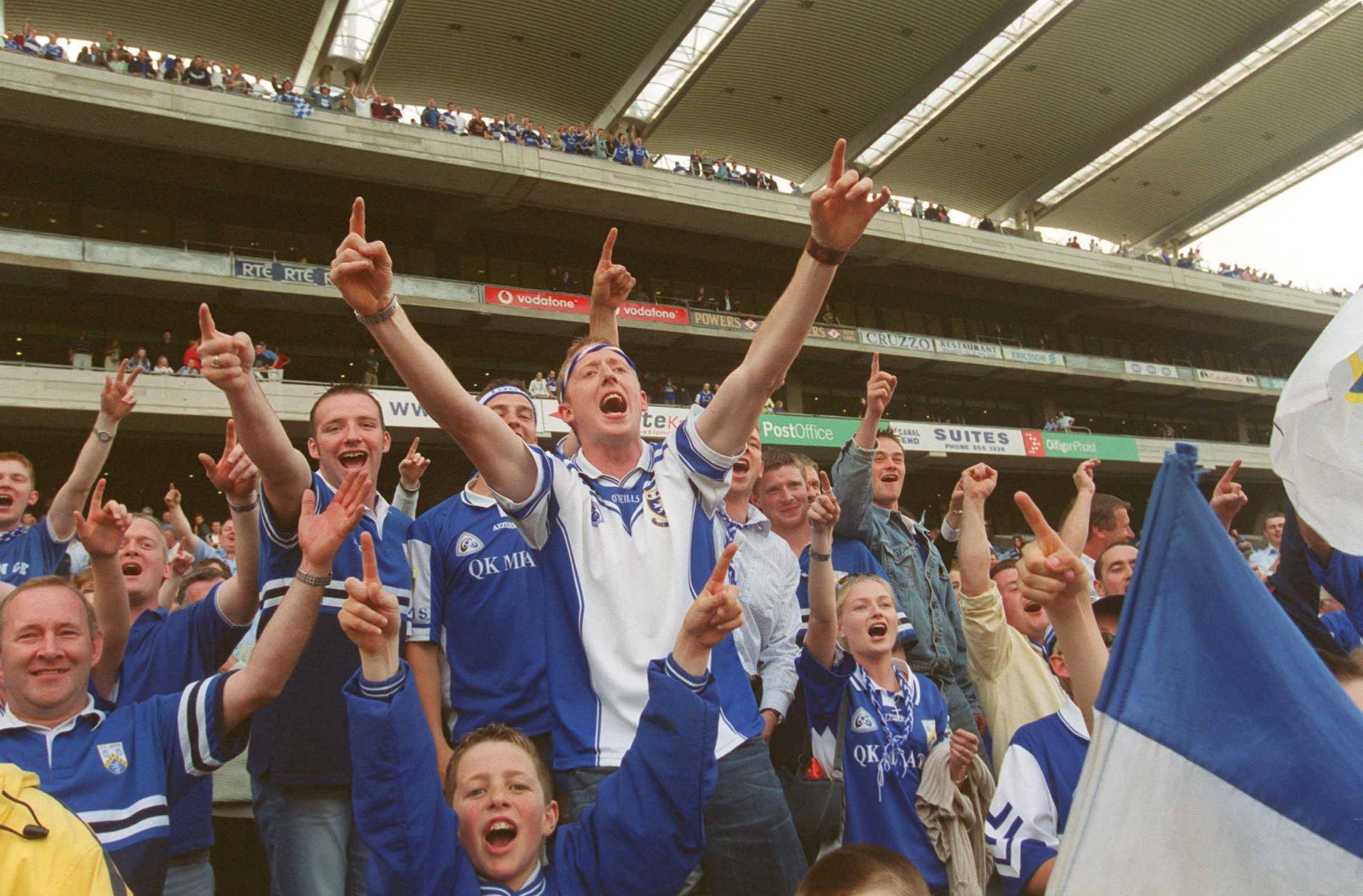 Yet Laois seemed a different team in the second half, suddenly confident where Dublin looked fearful and tentative. Perhaps the fight had given them an adrenaline rush at just the right time, given them something else to talk and think about instead of reflecting that they were two points ahead of the Dubs. 
Outsiders often led at half time and you saw them emerge for the second period and wait for the favourites to come back to them, as if their sudden good fortune was too great to be borne, as though they were Wile E Coyote going over the cliff, in no danger till he realised that he was standing on thin air. 
The realisation was what always got Wile E and sent him crashing to the valley floor. So it was with weaker counties who couldn't bear the enormity of what they were about to achieve and handed the initiative back to the oligarchs of the game. 
Not so with Laois. They were as dominant at the start of the second half as Dublin had been at the start of the first.
Ross Munnelly scored a great point and they were five points ahead with 20 minutes left. The spirit of this Laois team was summed up by Ross Munnelly. He hadn't been an underage prodigy, in fact he was still a youngster and no one outside Laois had hear of him until Micko took over. 
He held the ball kind of loose and was distinguished by his ferocious optimism. Laois gave the ball to Ross and he just ran past defenders as if he didn't know these were experienced inter-county men who deserved a bit more respect.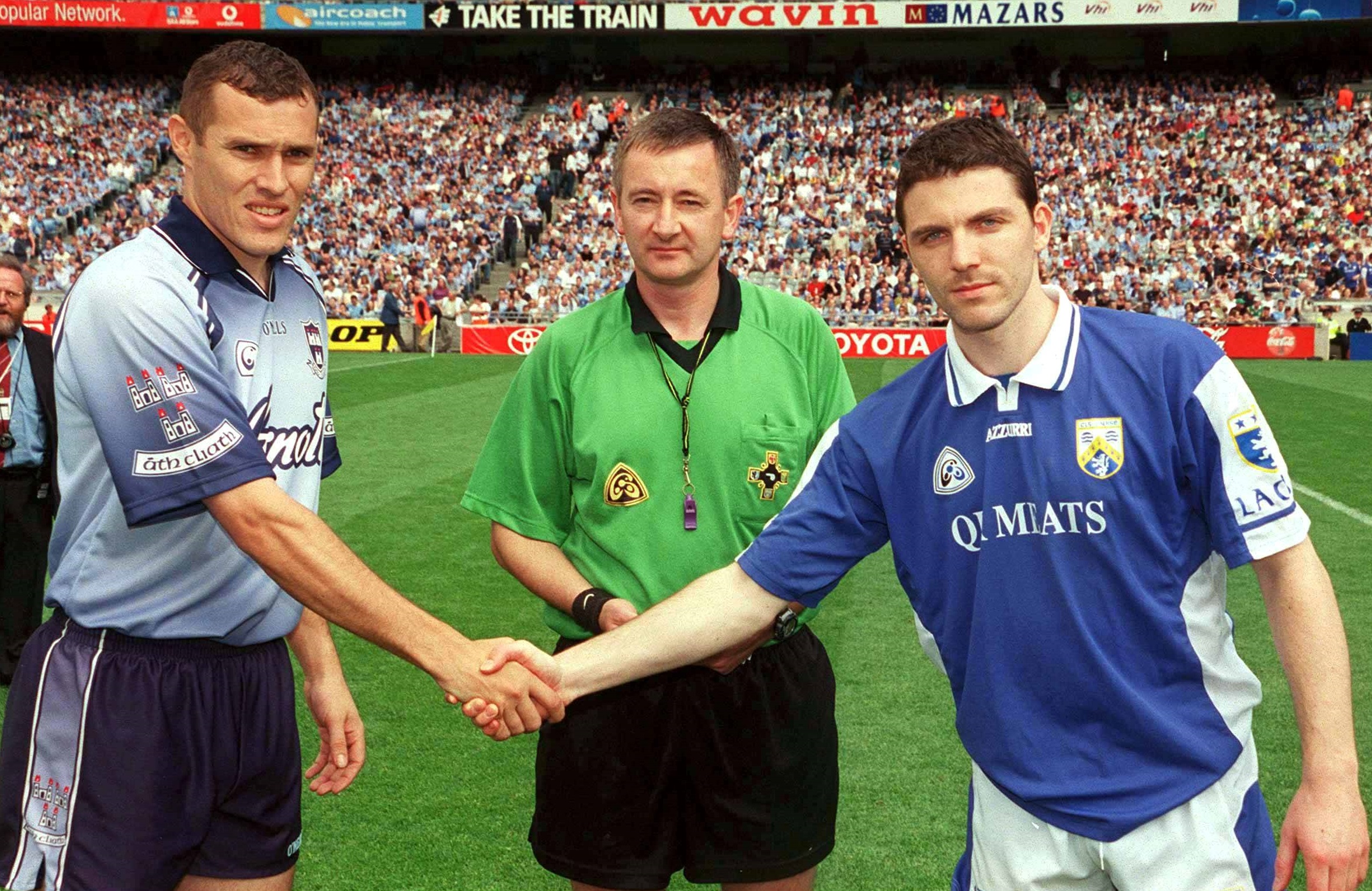 He shot for points that looked unlikely till the umpire was waving the white flag and, later on, he'd go for a goal that the wise and cautious attacker wouldn't have dreamed of. 
And he had a hell of a time. Like a 16-year-old playing his first game for the club junior team, Ross Munnelly got out there and enjoyed himself, seemed surprised sometimes at how easy it was. 
You waited for some crabby veteran to clobber him and let him know it wasn't that simple and you waited for his honeymoon to end. Except it didn't. He was a joy to watch and will remain my abiding memory of a Laois team who played without fear and who, this certainly can't have been the case, gave the impression of constant improvisation. 
An outraged Dublin scored three points in a row but Laois had points from Mick Lawlor and Damien Delaney, their two veterans who'd suffered plenty at the hands of the Dubs in the past. 
With the Hill out of commission, it seemed more difficult for the Dublin fans to lift their team. There was a chance of a goal for Ray Cosgrove, not an easy opportunity but the kind he'd scored every time the previous year. He missed it. 
In 2001, Cosgrove was an unknown and, in 2002, he deserved to win Footballer of the Year because, every time he came within 20 yards of the goal, he went for it and succeeded. Then, with his very last kick of the championship, he had missed an easy free to give Dublin a draw against Armagh. Since then, nothing had gone right for him, though he looked to be working as hard as ever, hadn't slowed down and was getting a good supply. Football had decided to be cruel to him again. 
Three minutes left now, Laois three points ahead. Dublin were putting on serious pressure but Padraig Clancy had one of those moments that make the opposition realise they have no business trying to win the match. There he was, rising to cleanly fetch a kick out and from 50 yards out bisect the posts – Laois weren't going to be caught now. It was probably the point of the year. When the umpire raised the white flag for that one, the Laois fans looked beatific as lottery winners. 
Laois hadn't even dared to think of the weekend's other shock and what it implied. The night before, Kildare had beaten Meath. Meath had held an Indian sign over Laois for some time and, even more than Dublin, revelled in the chastising of upstarts. Kildare, on the other hand, were eminently beatable. Not pushovers, but not as forbidding as Meath would have been. Laois youngsters checked a date with their elders. 1946? Yes, 1946. No Leinster title since then. Imagine, just imagine.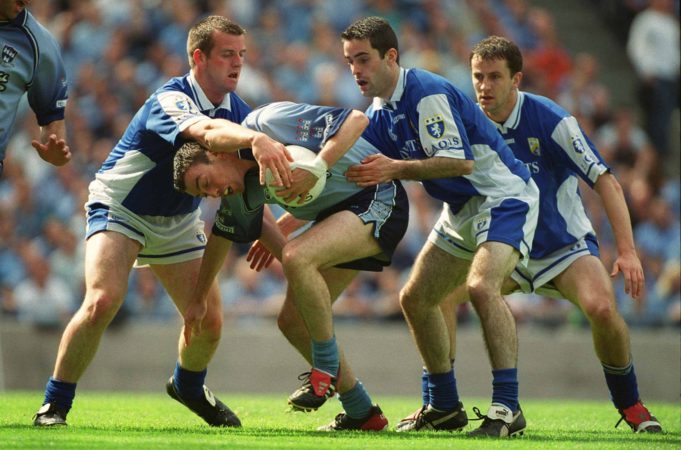 Anyone with a bit of romance in their soul had to be for Laois, or so I thought when the taxi driver who was taking me to Heuston asked me what I'd thought of the match. 
"It was a great win for Laois. I'm delighted for them."
Now, I don't know if this is just me, but I've met some bizarre characters driving taxis in Dublin. 
A guy stoned out of his brain who kept rolling down his window and squirting passers by with a water pistol. A man who burst into tears because his girlfriend had gone back to her previous fella even though her ex had recently cooked her cat in the microwave. 
Another man who told me he was cheating on his wife with a young one from the country and then produced a wallet snapshot of the young one with very few clothes on. A guy who thought Hitler was unfairly criticised because the Germans had taken a lot of annoyance from the Jews. But there's always room for one more. 
"You're delighted for Laois. You're delighted for Laois. Well, if Laois had beaten whatever shithole you fucking come from do you think I'd be delighted?
"I wouldn't it, or I wouldn't tell you if was. But you're delighted for Laois. All the culchies are fucking delighted when Dublin get beaten. Can you explain that to me, bud? How come yiz are all so happy when Dublin get beaten? Is it jealousy or what?"
We were only at Aston Quay yet. Make conversation, some kind of conversation. 
"I should just about make my train."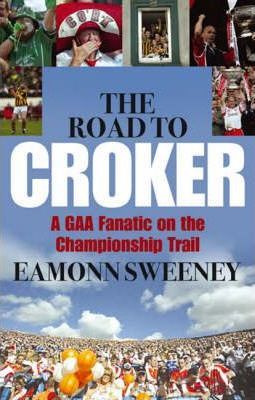 "Oh yeah, back to whatever kip you come from where they'll be all fucking delighted that Dublin lost too. Back home, home to your mother. 
"Cause that's what yiz all do down the country, live with your mothers till yiz are 50 years old. Farming, lying back and collecting money from the taxpayer and the EU. And then yiz come up here and are delighted that Dublin get beaten."
Merchant's Quay. God. 
I only said I was delighted Laois won for fuck's sake. 
Waiting in the station bar with its weird light and shell-shocked clientele, I got talking to some Laois fans. They were definitely Laois fans. I checked first. They were all wearing Laois jerseys but I made sure just in case they were disguised Dublin fans eager to expose the perfidy of the culchies. 
The funny thing was that I hadn't been half as delighted about Laois winning as since I'd met the taxi driver. 
The Road to Croker – A GAA Fanatic on the Championship Trail by Eamon Sweeney is available to buy here
SEE ALSO – Former Dublin manager Lyons recalls famous 2003 loss to Laois in new book