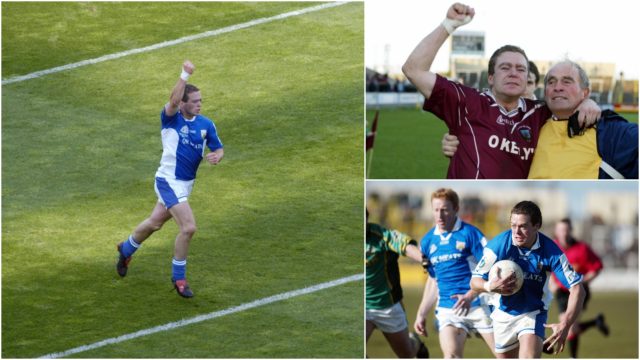 There's not too many Laois footballers with as many hard-luck stories as Chris Conway.
The Arles-Kilcruise man made a huge contribution to the Laois jersey over the years though an impressive senior career was pock-marked with more than his fair share of injuries and sickness at the wrong time.
He played for the Laois minors for three years, for the U-21s for four years and made his senior debut when he was just 19.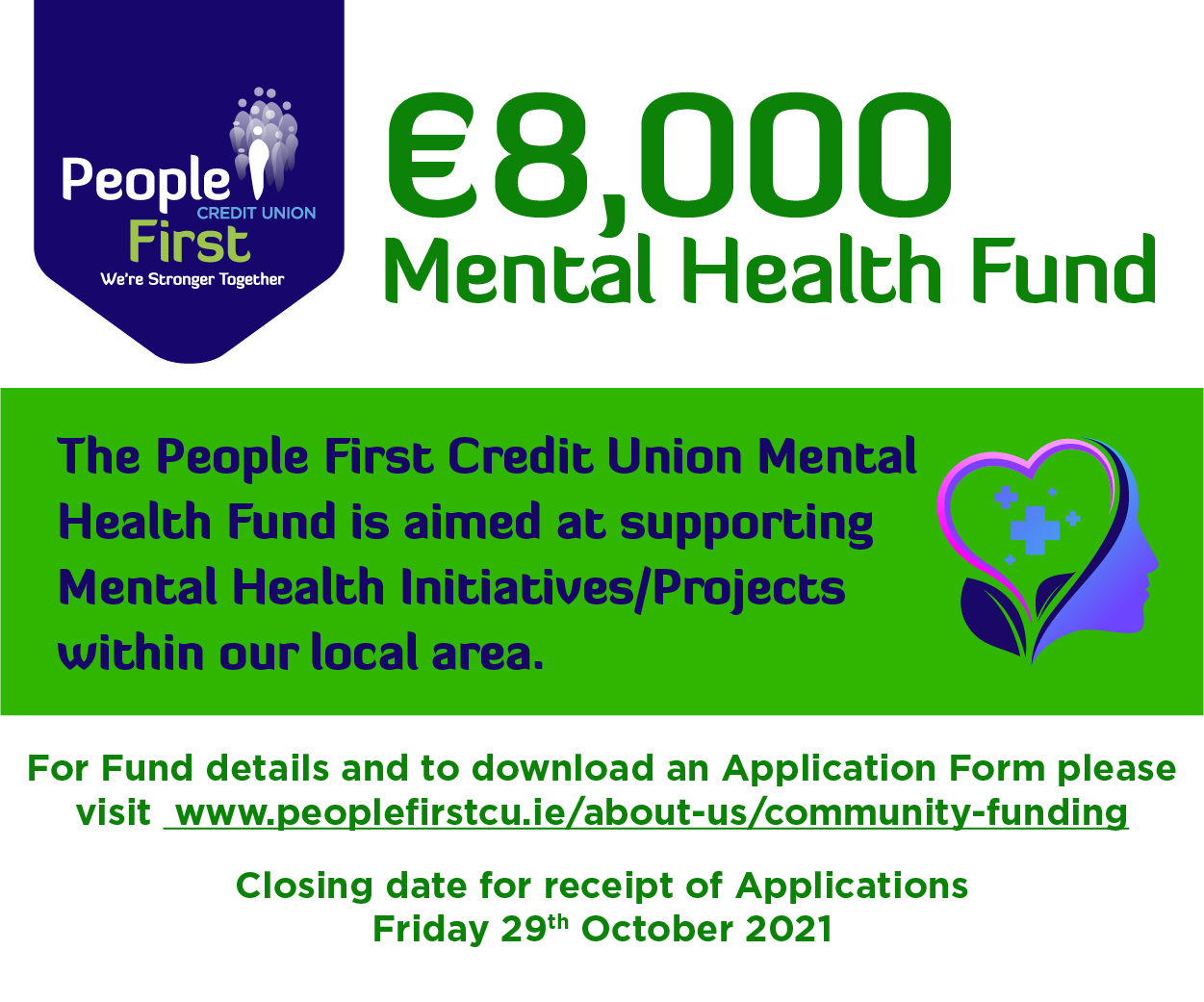 He was part of the minor team in 1995 that lost the Leinster final to Westmeath after three games and was centre-forward on the All Ireland-winning side of 1996.
He played in the 1998 All Ireland U-21 final and he has a Leinster senior medal from 2003. But he cruelly missed out on some big days.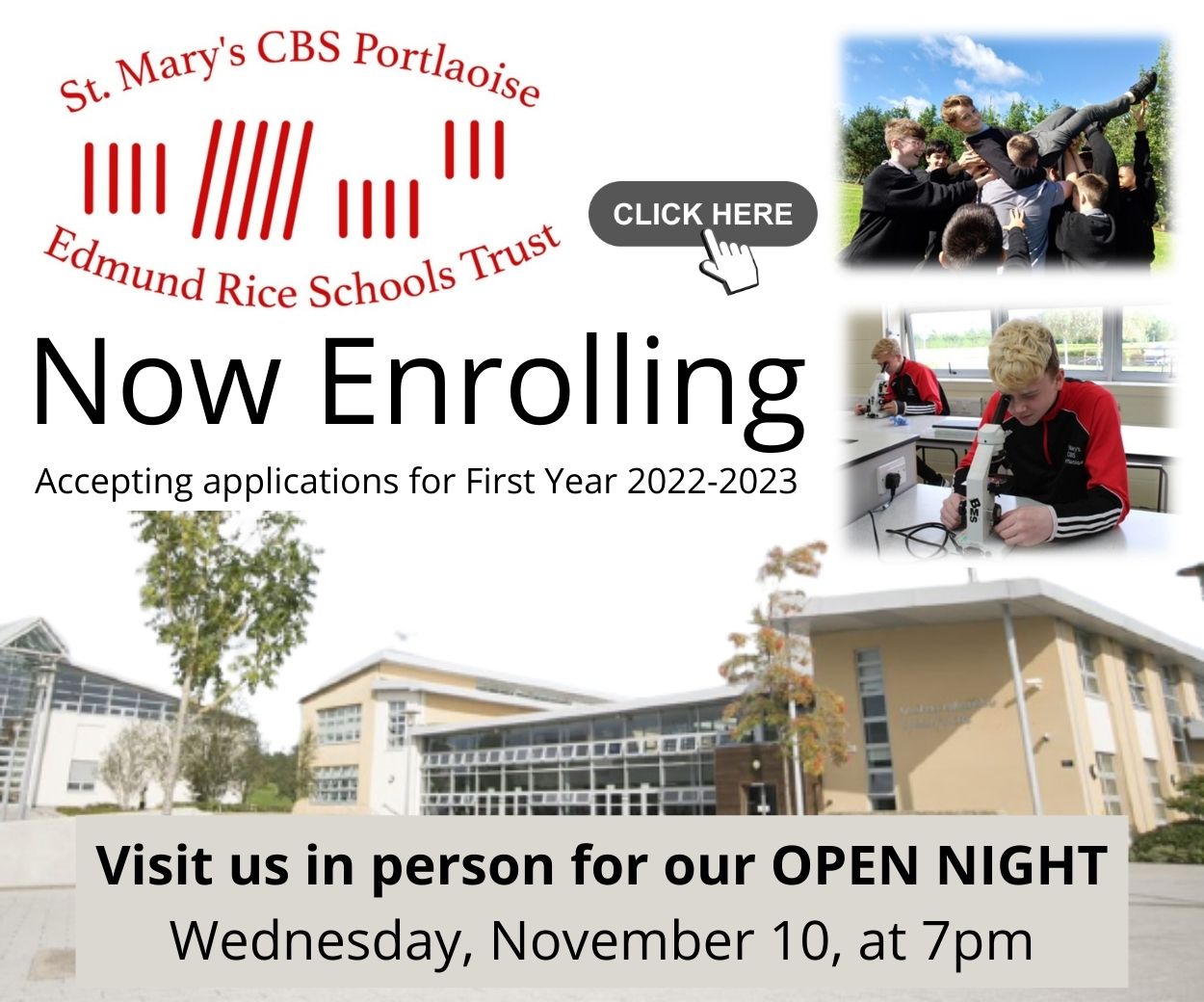 In 2001 and 2002 he was Laois's top scorer but he missed all of the memorable 2003 championship season after serious groin tear.
He returned to play a central role in Arles-Kilcruise's historic senior championship triumph later that year and was appointed Laois captain on the back of that in 2004.
That 2004 season brought both the best and worst of times. In the Leinster final against Westmeath he popped up with the equalising point in injury time – but he missed the replay six days later after an appendix operation on the morning of the game. He watched from a hospital bed in Portlaoise as Laois lost by two points.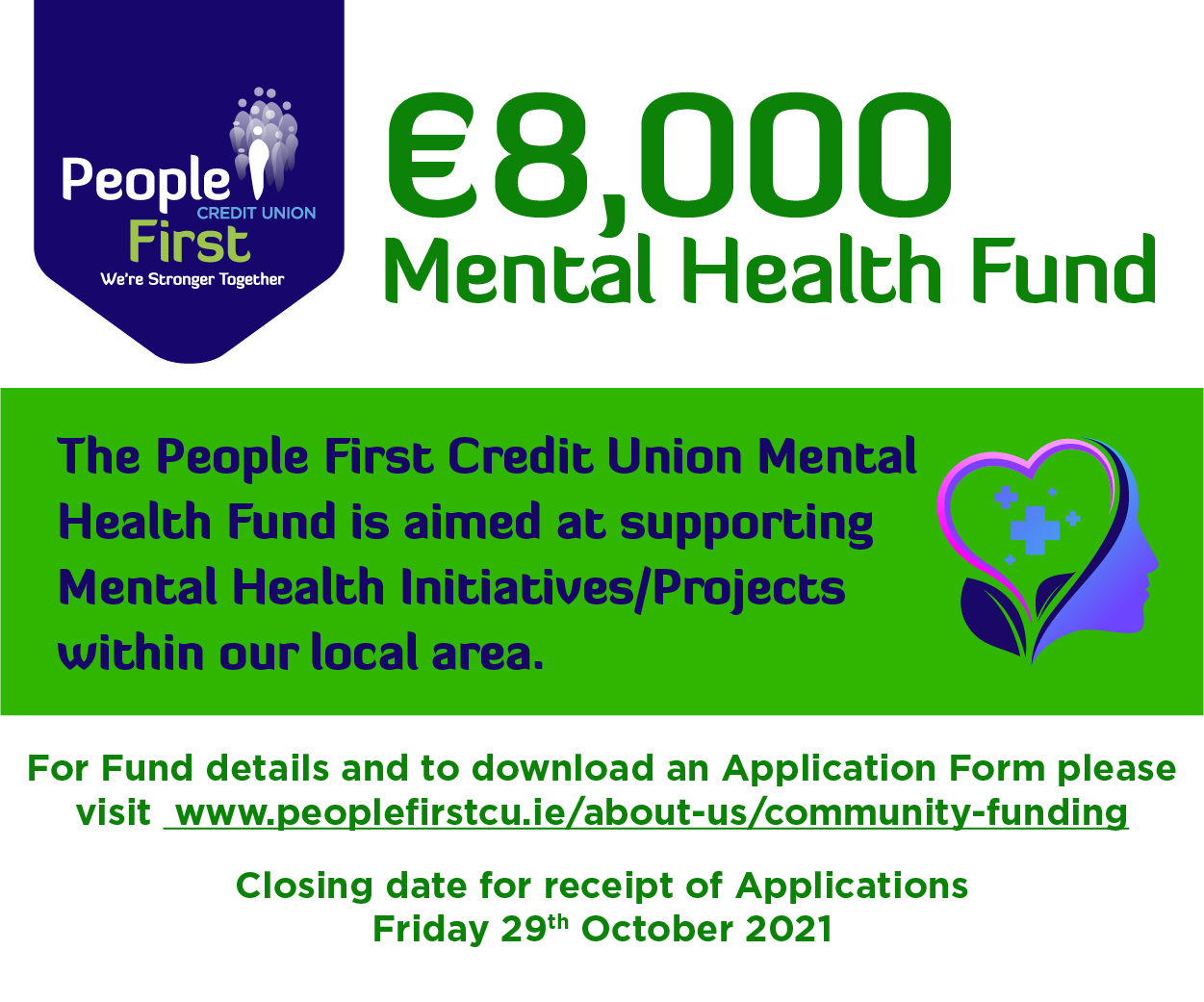 He came back to be a key player again in 2005 and 2006 as Laois reached back to back All Ireland quarter-finals, but he missed out on a third Leinster final in 2007 when he tore his hamstring in training a week before Laois were due to play Dublin.
After that he'd never wear the Laois senior jersey again but he did enjoy an eventful club career, reaching three further county finals with Arles-Kilcruise, though on each occasion they fell short to Portlaoise.
Even then injury played its part, dislocating his elbow in the 2010 semi-final win over Graiguecullen, a setback that was again to be costly as Portlaoise just scraped by en route to winning the Leinster club title.
He has also been a huge figure in Knockbeg College, the school he went to himself, where he has been teaching for the last number of years and been involved with their football teams, most famously when they won the All Ireland 'A' Colleges title for the first time in their history in 2005.
From a family steeped in GAA, the Conway name has been synonymous with Laois teams over the years. His uncle John is regarded as one of Laois's all time greats while his father JJ was on the 1968 Laois team that reached the Leinster final alongside John. Chris's aunt, Connie Conway, was a star of the Laois ladies team for many years also.
Chris's brothers Paudge and David have also represented Laois at senior level while another brother James also played underage and all four were on the Arles-Kilcruise championship winning team.
As the latest to feature on the LaoisToday Sporting Memories interview, he looks back on his career, his early memories, those who he influenced him, the big moments, the best he played with and against and how he views Gaelic football today.
What's your earliest football memory?
The 1982 All Ireland final – the day Seamus Darby got the goal to stop Kerry doing 5-in-a-row.
I watched it in my uncle Martin Miller's house with my brothers and a lot of my cousins. Martin is a brother of my mother's and Martin, my father and George Hipwell, who is married to my mother's sister Mary, were all gone to the match.
So we all watched it in Martin's house. It's probably more for the sense of occasion and the finish why it stands out – I can remember the room erupting when the goal went in.
I was only four and a half. A lot of people remember their first day at school. I don't but I remember that All Ireland final!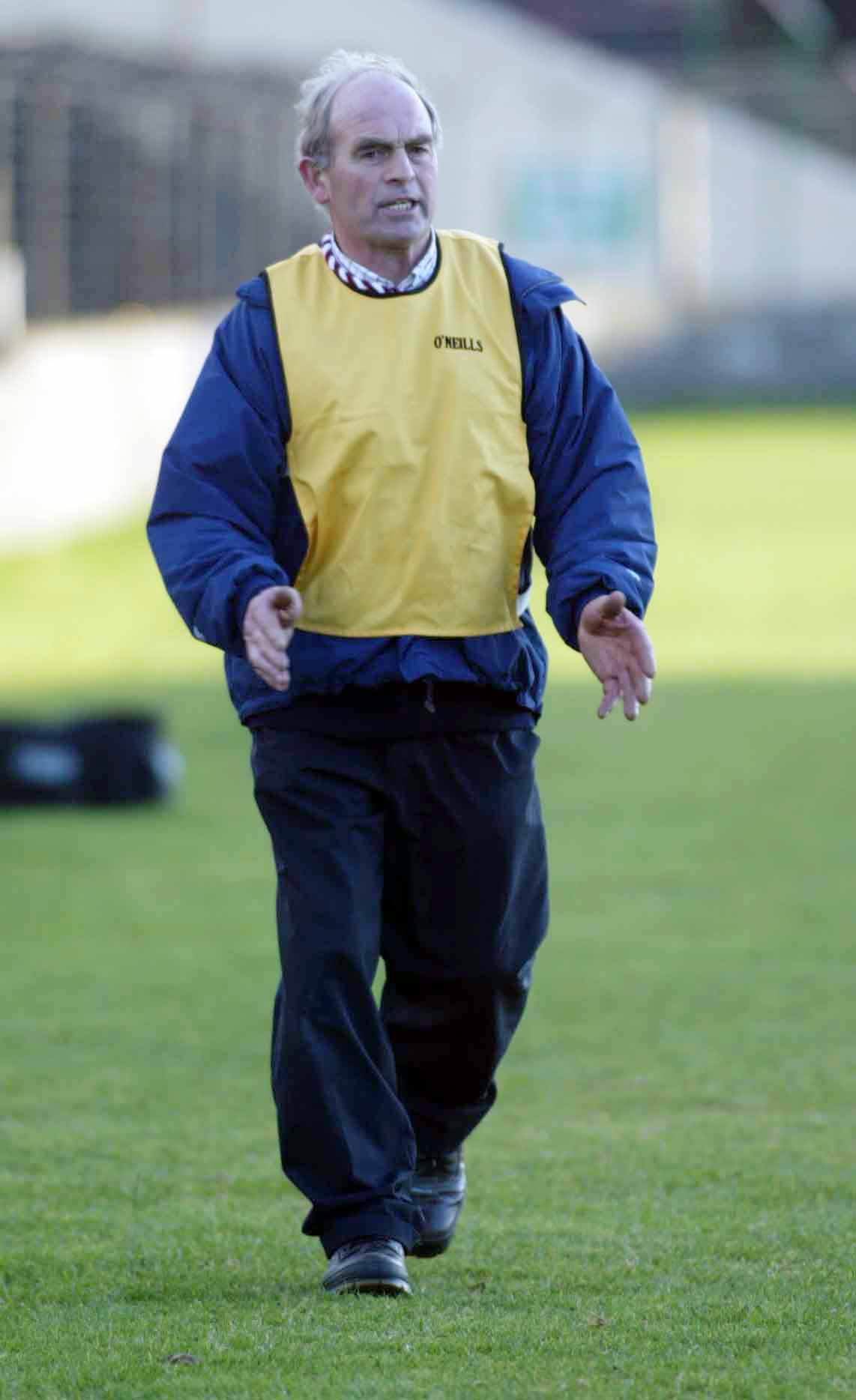 Do you remember your first game with your club?
It would have been a couple of years later in the Centenary Year of the GAA in 1984. All clubs all over the country had a field day and the Arles pitch then was opposite where the school is – where the housing estate is now.
There was a kids match on first and then an internal game between the adults and former players.
I remember being the small lad playing corner-forward and I kept going out the field away from my position. There was an older man sitting watching the match and I can still hear him telling me to get back into the corner.
As I got older then I can remember playing Cumann na mBunscol with Arles under Larry Wall and we had a very successful underage club St Michael's, who were Ballylinan and Arles joined together. I can remember playing many matches in the Lawn in Stradbally – togging out under the ditches. I'll never forget the flies there either!
We lost an U-12 final to Mountmellick and then won three-in-a-row. St Michael's won five-in-a-row in total with Beano (Brian McDonald) on all five teams.
We were drawing on the three primary schools of Ballylinan, Arles and Killeen and I can mostly remember Fran Moloney who was principal of Ballylinan school, Larry Wall from Arles and Tom McDonald (Beano's father) from Killeen being over us.
The only county medal I don't have is U-14 as we lost two finals in a row to Portlaoise – Kevin Fitzpatrick was in the full-forward line and a great man to get a goal.
I won an U-16 medal when I was young and then we won the minor in 1996, the same year we won the All Ireland minor with Laois. We beat Portlaoise in the final.
By minor, it was just Ballylinan and Arles-Kilcruise – as the split had happened in Arles by then.
Portlaoise had had seven players on the Laois minor panel and I was our only one but we had a couple of lads who felt aggrieved they weren't with Laois – the likes of Aidan Walsh, Pat Brennan and John P (Conway). And there was a great satisfaction winning that minor.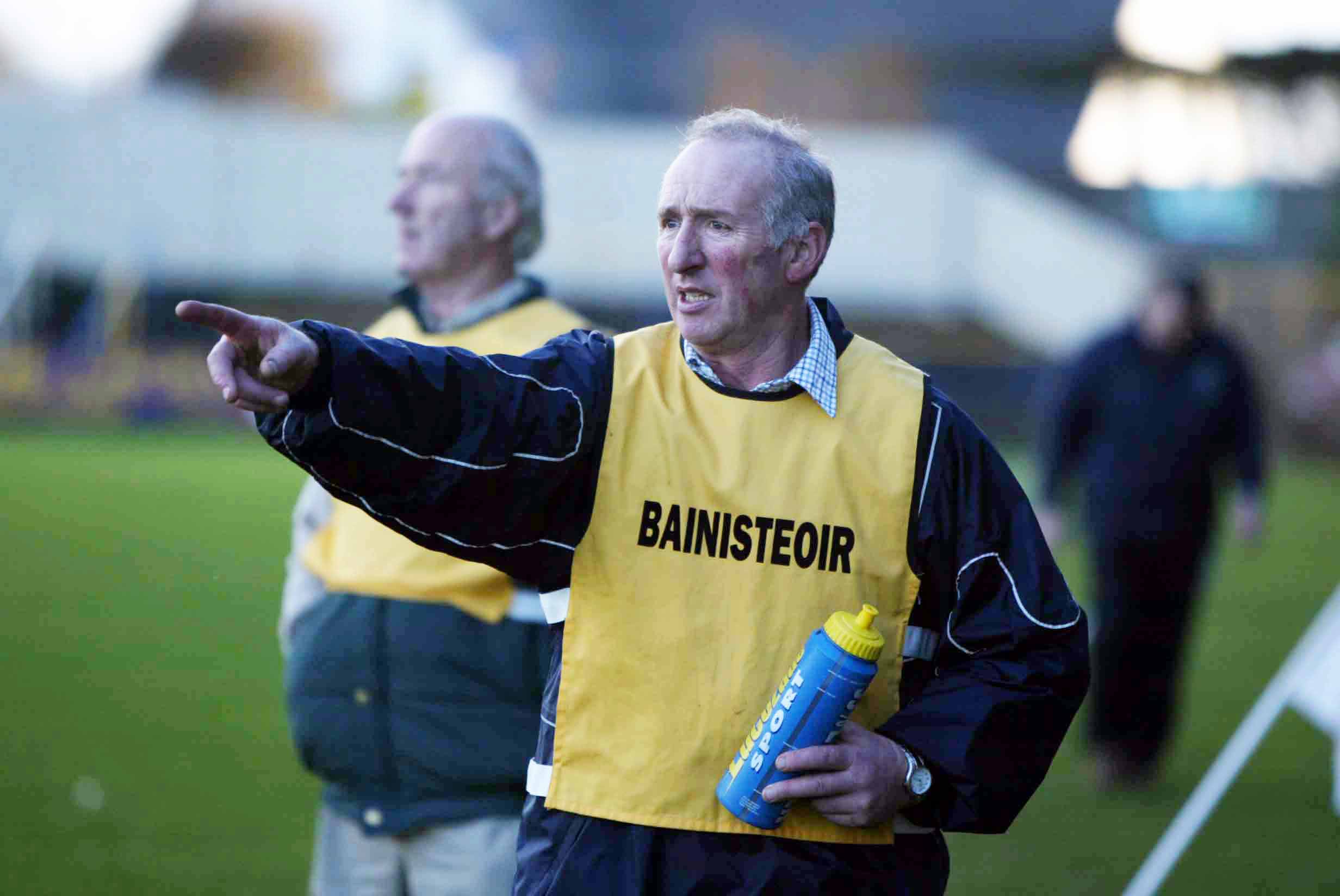 Who were the main influences on your career?
My father and Larry Wall. In terms of dedication, application and an absolute love of the GAA, it was indoctrinated into us from them from a very young age.
Larry did huge work with us. It was before there was ever a club-school link but he was over the Cumann na mBunscol and came into the school every week to coach us.
I do remember Colm Browne, Derek Coogan and Noel Delaney coming in but Larry probably started coming into the school when Jim and Lar junior, his own sons, were there and he stayed doing it for about 25 years.
He was over the old Arles team in the early 90s and he was over us all the way up then from the mid 90s, winning the senior in 2003 and he's still involved today.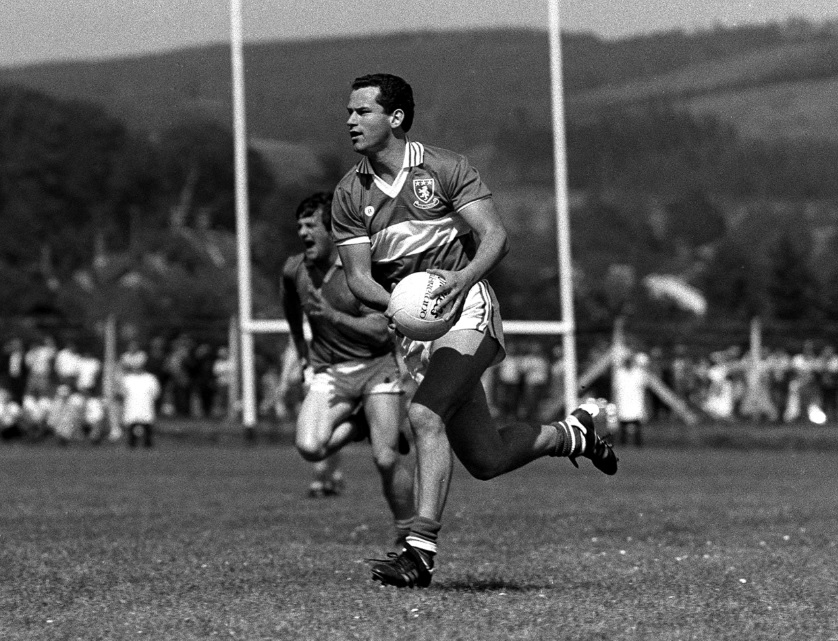 What players did you look up to growing up?
First it was my uncle John – he was stilll playing when we got going. While he had played centre-back for most of his career, he was centre-forward with us in his later year.
I would have looked up to my two older brothers James and Paudge too.
Among my earliest memories is watching the great Portlaoise team in the Leinster club in the 1980s and how good Colm Browne and Tom Prendergast were.
Outside of Laois, Barney Rock from Dublin was one of my favourite players. I grew up in a house of Meath supporters but I always preferred Dublin and I'd still take them today over Meath!
Did you play other sports growing up?
It was a pure GAA household so it was all football for the most part. When I was school in Knockbeg, some of the lads were playing rugby in Carlow and I got permission from my father to go play.
But around the same time at the end of 1993, early 1994, I got called to play with the Laois minors. I was still U-16 but that was the end of the permission and the end of the rugby!
I played a bit of hurling in Knockbeg and actually won a Junior C hurling medal in 2000 with Ballylinan. We had all been knocked out of the football early and we went playing hurling for the summer. I also played a bit of basketball in Knockbeg and then a small bit of soccer in college in Maynooth.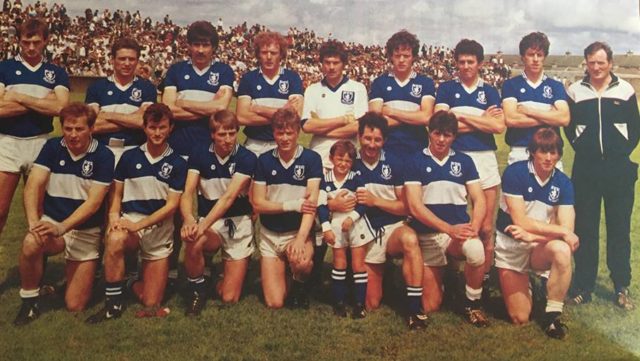 Do you remember your first time seeing Laois play?
The first definite memory I have of Laois is in 1985 beating Meath in the Leinster semi-final in Tullamore.
It was a sweltering hot day and I can remember being up on shoulders for the celebrations afterwards and the significance of the win.
I remember the two Leinster finals that year then one week after another. The footballers lost to Dublin on a real wet day and kicked an amount of wides.
We watched the hurling final when Laois lost to Offaly with my uncle Willie Conway and it was the first time we were in the Cusack Stand so it was a different perspective.
Do you remember your first and last time playing with Laois?
At senior level, Derry were involved in both. I had been with the Laois U-21s in 1997 and we ran Meath close in Portlaoise – they had about five of the team that won a senior All Ireland the year before.
I can remember Kevin Fitzpatrick giving Darren Fay a fierce hard time of it. Meath won the Leinster U-21 and got to the All Ireland final.
A few of us got called into the senior panel after that and I came on as a sub for the seniors in Croke Park in the league quarter-final against Derry – it was the day Hughie Emerson got the three goals.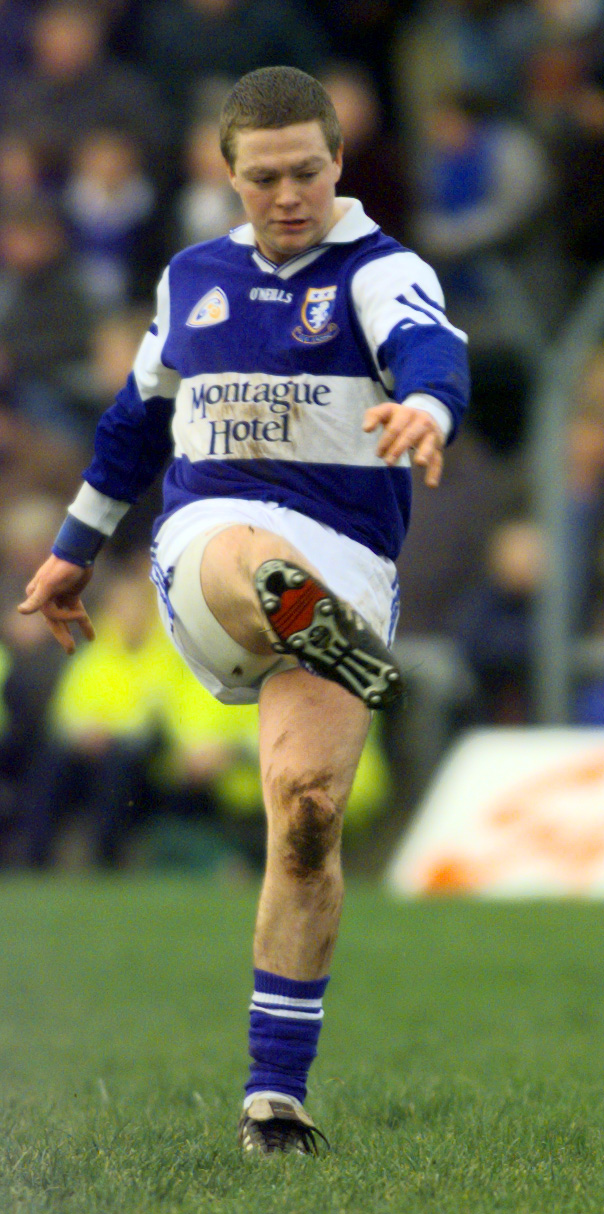 My last time with Laois was 10 years later in 2007 against Derry in the Qualifiers in Cavan. I missed the Leinster final that year with a torn hamstring. I was back for the Derry game but I wasn't brought on and I wasn't overly happy about that. That was my last time to tog out for Laois.
At underage level I can remember the inter-county blitzes at the time and the trials that were held on the old Portlaoise GAA grounds where the Centre of Excellence is now.
What's your memories of the 1996 All Ireland minor final and the celebrations?
It was just unbelievable. Jim McDonald, my grand-uncle who lived with us and did a lot of work on the farm, died that year and I remember going to his grave on the morning of the game.
At the time, Frank Langford used to bring the lads on one bus from our end and the lads from the other side of the county on another and we'd meet at the Poitin Stil where we'd have breakfast. A big fry – it wouldn't be allowed now!
We'd warm up then in St Mary's GAA grounds in Rathcoole which Dessie Brennan (former Laois player and manager) would organise for us. And then we'd get the bus into Croke Park. It was novel times.
The only music that Frank had was an Abba tape so we'd be listening to Dancing Queen going up along the quays!
For the All Ireland final I don't remember being nervous but I must have been as I forgot my gum shield.
In the semi-final against Donegal I was given out to after being seen on the TV spitting on the ground! And then in the final I was heard clearly saying "f**k it" after missing a free!
Noel Garvan scored a goal in the first minute that dropped into the net but we all thought it was a point. It wasn't until half time in the dressing room that it was cleared up that it was a goal.
During the celebrations on the pitch, I remember meeting my father on the steps of the Hogan Stand and then my brother David, who was only 10 at the time, coming on the lap of honour with us.
I can remember the celebrations in the Spa Hotel in Lucan where the reception was on afterwards and the following day we were brought over to the Burlington for a function for the senior teams and the minor teams from the All Ireland final. That was a thing that was done at the time.
I can remember going over to talk to Tomas O Se, who I had been marking the day before. He was fairly disappointed. Being an O Se who'd lost an All Ireland final wasn't nice I'd imagine.
For the homecoming I can remember the trickle of crowds on the way into Portlaoise and then thousands gathered at the County Council. It was way beyond what we imagined.
I remember us going around to the schools with the cup. It was just unreal – great times.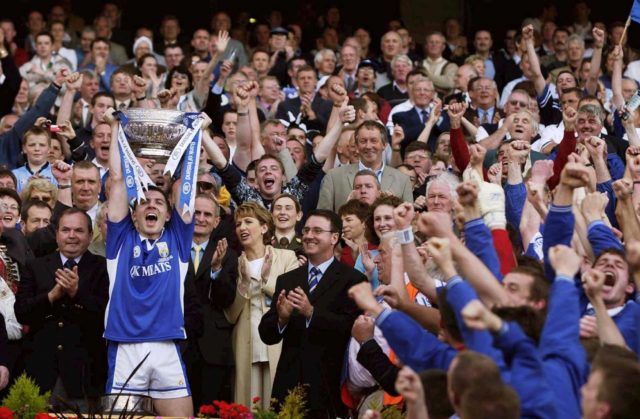 And what's your memories of the 2003 season, your involvement and the Leinster final celebrations?
Before we won the 1999 intermediate final against Courtwood, I can remember picking up a groin issue. I'd difficulty kicking the ball and I ended up giving up taking the frees off the ground and taking them out of my hands instead.
When Micko came in 2003 he preferred the free-takers kicking them off the ground so I went back to it. But the groin injury flared up again.
I played during the league but it was getting worse. We played Armagh in the league semi-final and then against Carlow in a practice match a couple of days later when I injured it again. It was completely torn off the bone.
I came on against Tyrone in the league final but after one run it was gone.
I was booked into Pat O'Neill and he told me the abductor was gone off the bone and it needed three months rest to let it heal.
I got back 10 days before the Leinster final but I wasn't playing. It was difficult but it's still up there as one of my top football memories.
Growing up watching Laois play you always wanted to win a Leinster final and the scenes on the pitch and back in Portlaoise were memorable.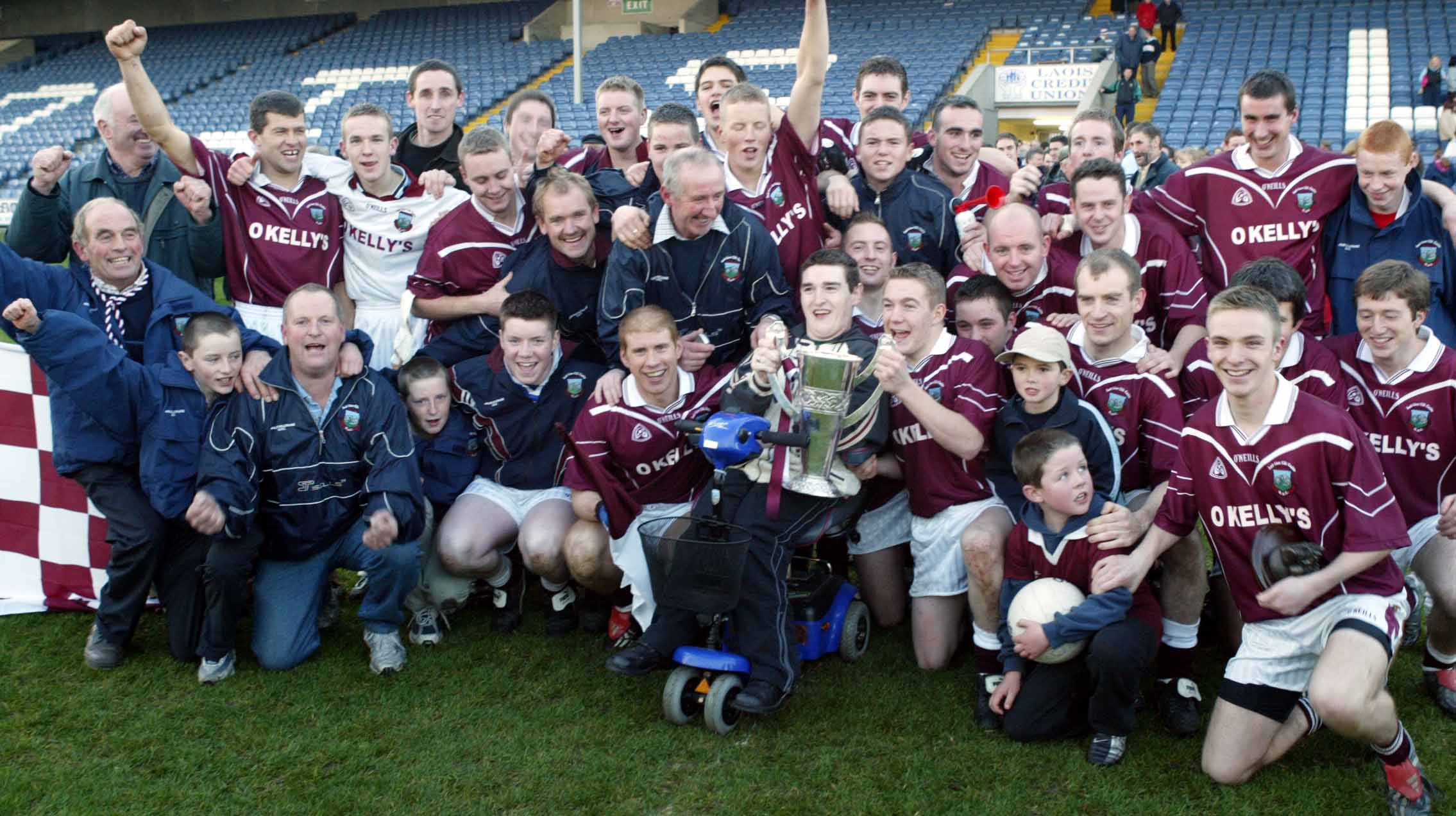 And your memories of the Arles-Kilcruise senior championship win in 2003?
Because of the injury, I wasn't able to train fully but Michael Murphy in the Seven Oaks Hotel in Carlow was very good to me. I used to go in there to the gym and be able to get a very good upper body work out.
With the club we got to the Division 1 league final and Larry Wall wanted me to play it but I was still trying to get back with Laois and I was only back to training with them.
We beat St Joseph's in the league final in Graigue (it was the second year in a row that Arles-Kilcruise won Division 1 of the league) and we felt that that if things went right for us we would be in with a shout.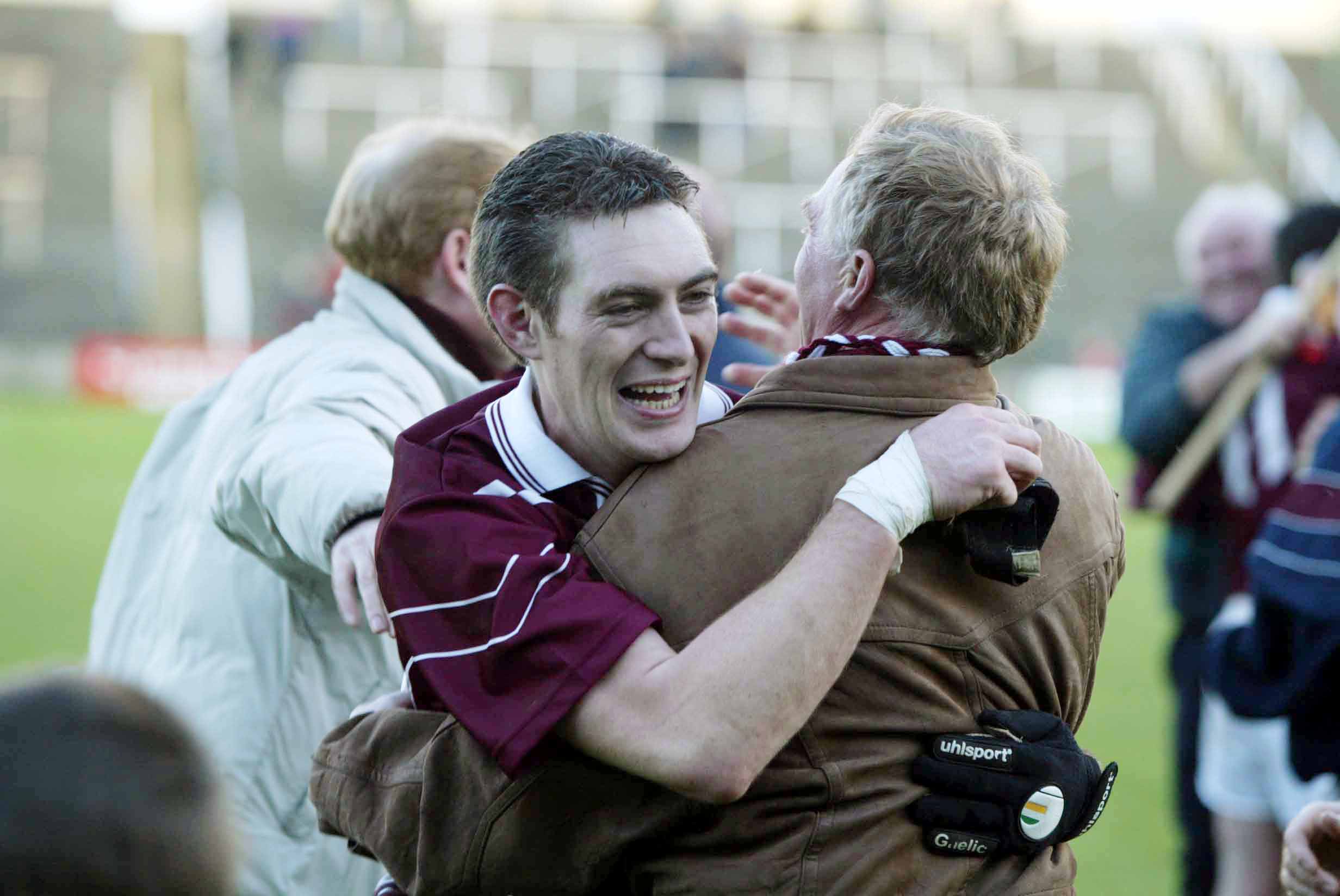 When we were coming up through the grades, we used to say we'd be senior by 2000 and be senior champions by 2005. We were lagging in the lower tiers but we knew we had a strong team, a committed bunch and a lot of lads who were able to play football.
Because I'd been injured with Laois, the club would say it was the first time I came back to them fresh. The body had recovered.
We beat Ballylinan in the semi-final and then Stradbally by a point in the final. The final was on a Saturday and we beat O'Hanrahan's of Carlow in the Leinster club the next day by a point as well.
For a small little community and a tight-knit club it was a huge achievement. But the celebrations were a bit unusual and low key.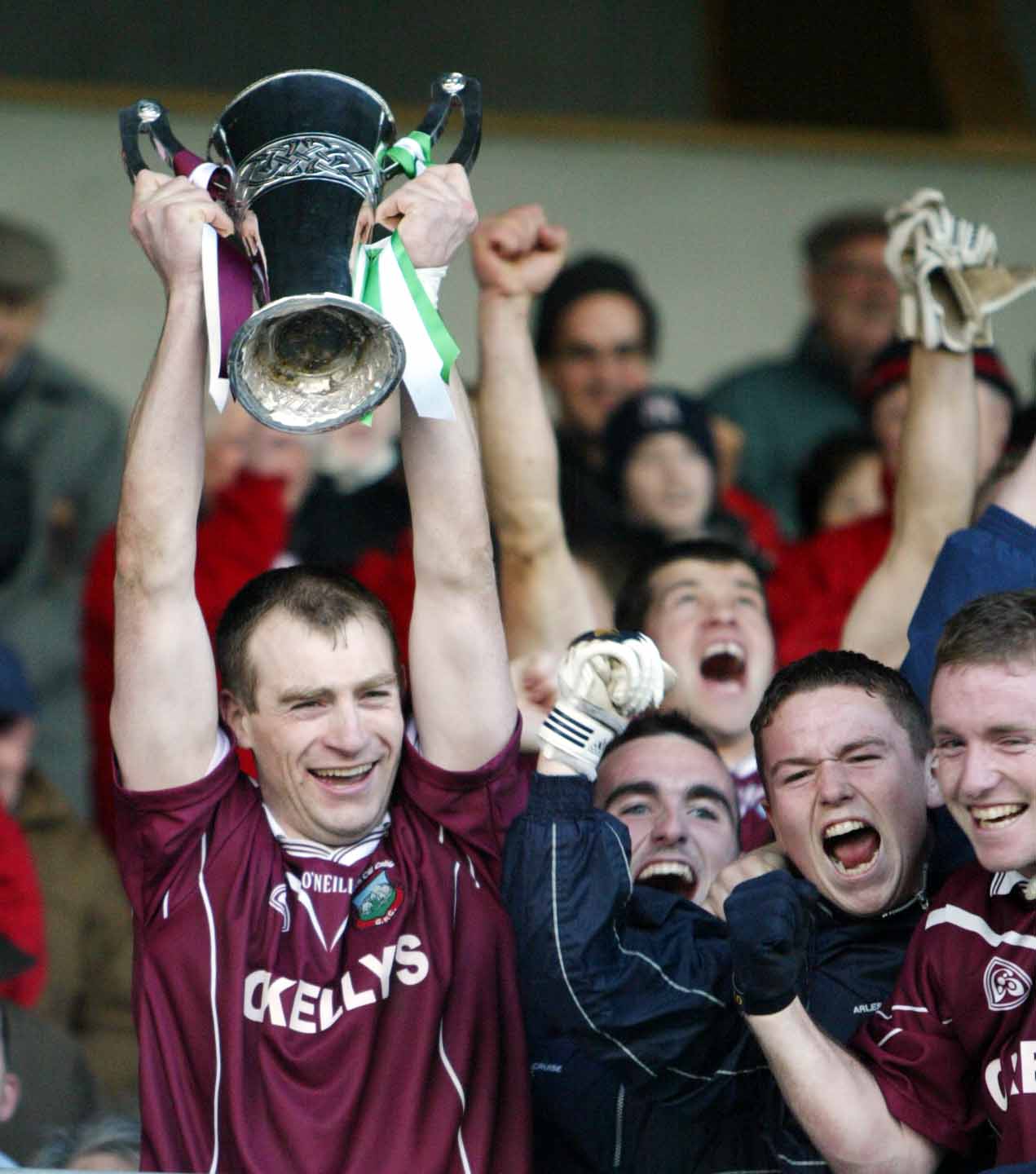 We agreed not to go out and celebrate but to give ourselves the best chance of beating the Blues.
The Knockbeg Past Pupils dinner was on that night and they were honouring myself, Beano and Ross (Munnelly) as past pupils for winning Leinster with Laois. Maybe we cherished it a bit more – and can remember it all because there was no celebrations!
It was disappointing that we didn't win another one. 2006 was one we feel we let slip. We lost to Ballyroan in the semi-final after a replay when we were without Paudge and Ross.
And then it was only Portlaoise that beat us for a good few years running – three finals, a semi-final and a quarter-final.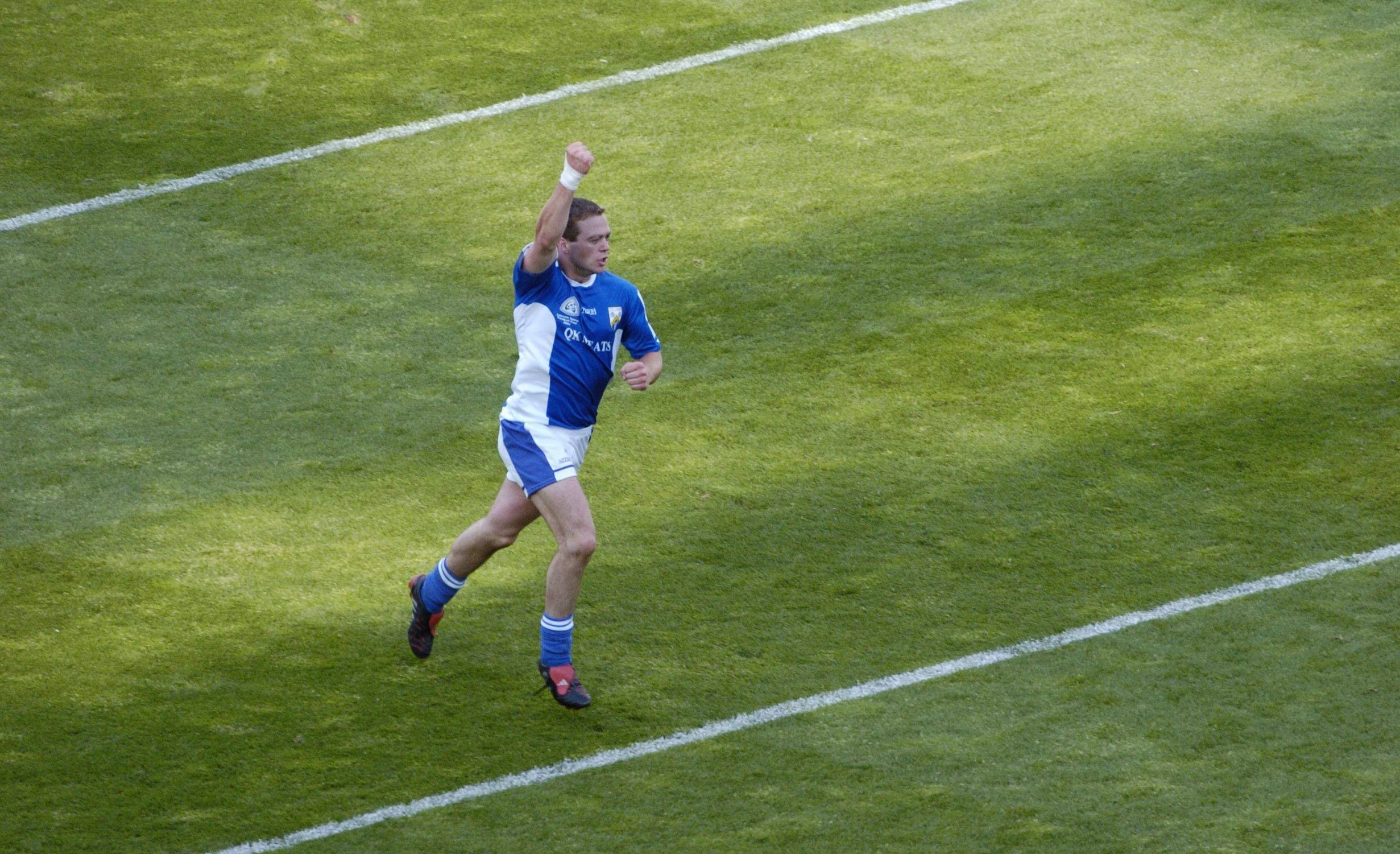 And 2004 – captaining Laois, scoring the equaliser against Westmeath in the Leinster final and then missing the replay?
A definite low point was missing the 2004 Leinster final replay. Missing 2003 was tough but I was captain in 2004 and was dreaming of leading the team out and lifting the cup.
But to go from playing in the drawn game and the high of scoring the point that levelled it to watching the replay on TV from a hospital bed was surreal.
Our last get together was on Thursday night in O'Moore Park and we went down for food to Declan in O'Loughlin's after training.
At home I started getting an awful pain in my stomach that night and thought I was after getting food poisoning or something.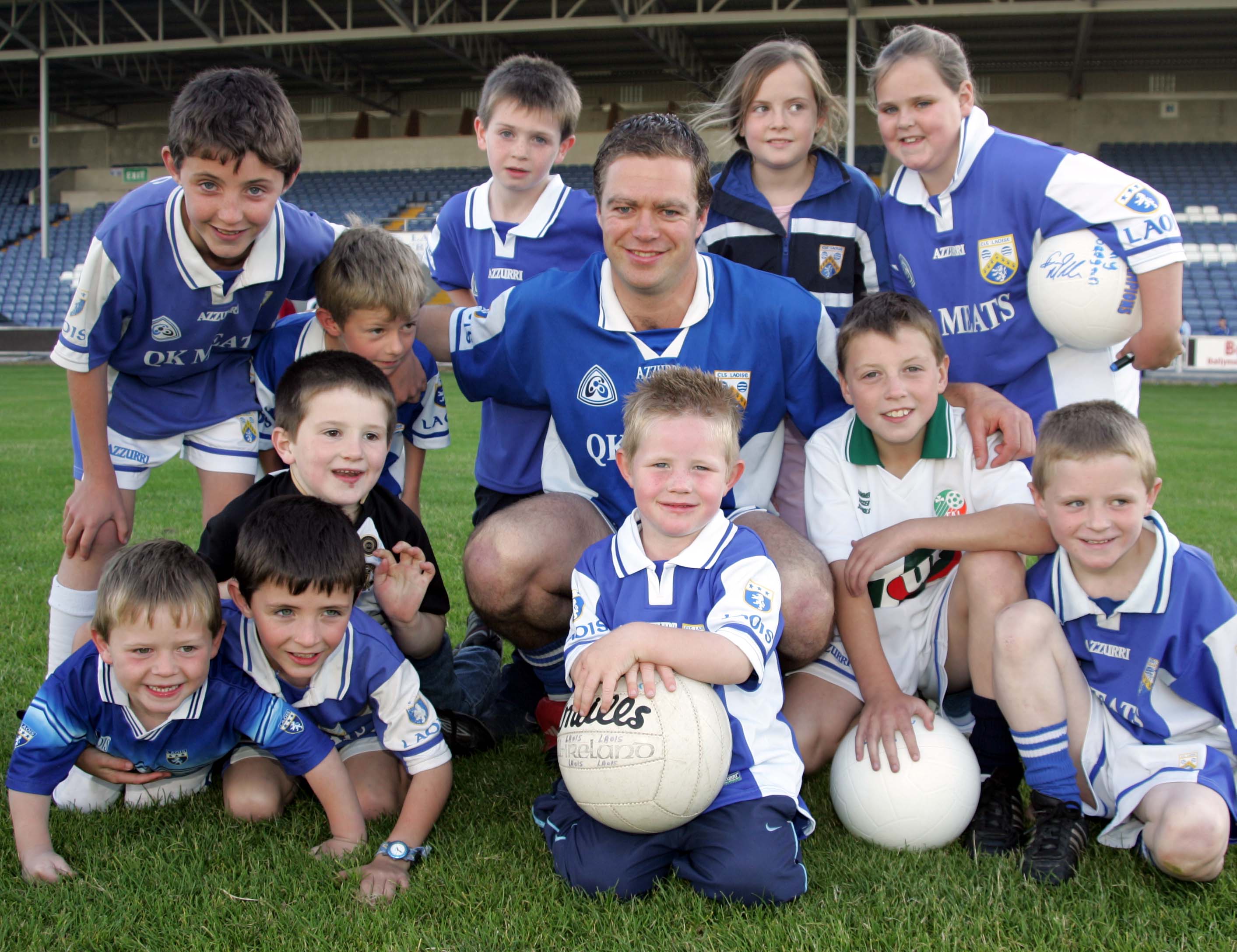 At about half five in the morning, I got my mother to bring me to CarDoc in Carlow and the doctor there told me he didn't think it was my appendix and gave me an injection which eased the pain.
I went home and got a couple of hours sleep and then went over to Dr Aidan Hanson in Mountmellick who was the Laois doctor at the time. He told me to bring a urine sample and I knew from that it wasn't good.
I remember meeting the great Laois supporter Tommy Tynan from Clonaslee on the street in Mountmellick on the Friday and he was full of the joys. He was "horse this and horse that" and on about the point I'd scored the previous week and looking forward to the replay.
But I knew in my heart of hearts that I was in bother.
Aidan sent me to the hospital. They waited as long as possible to see but the appendix was going to burst and they had to operate. Micko and Declan and some of the lads came in to visit me before they headed to the game and I watched it all wired up.
The wires were well pulled out by the time Kevin Fitz missed the goal chance to level it in the last minute.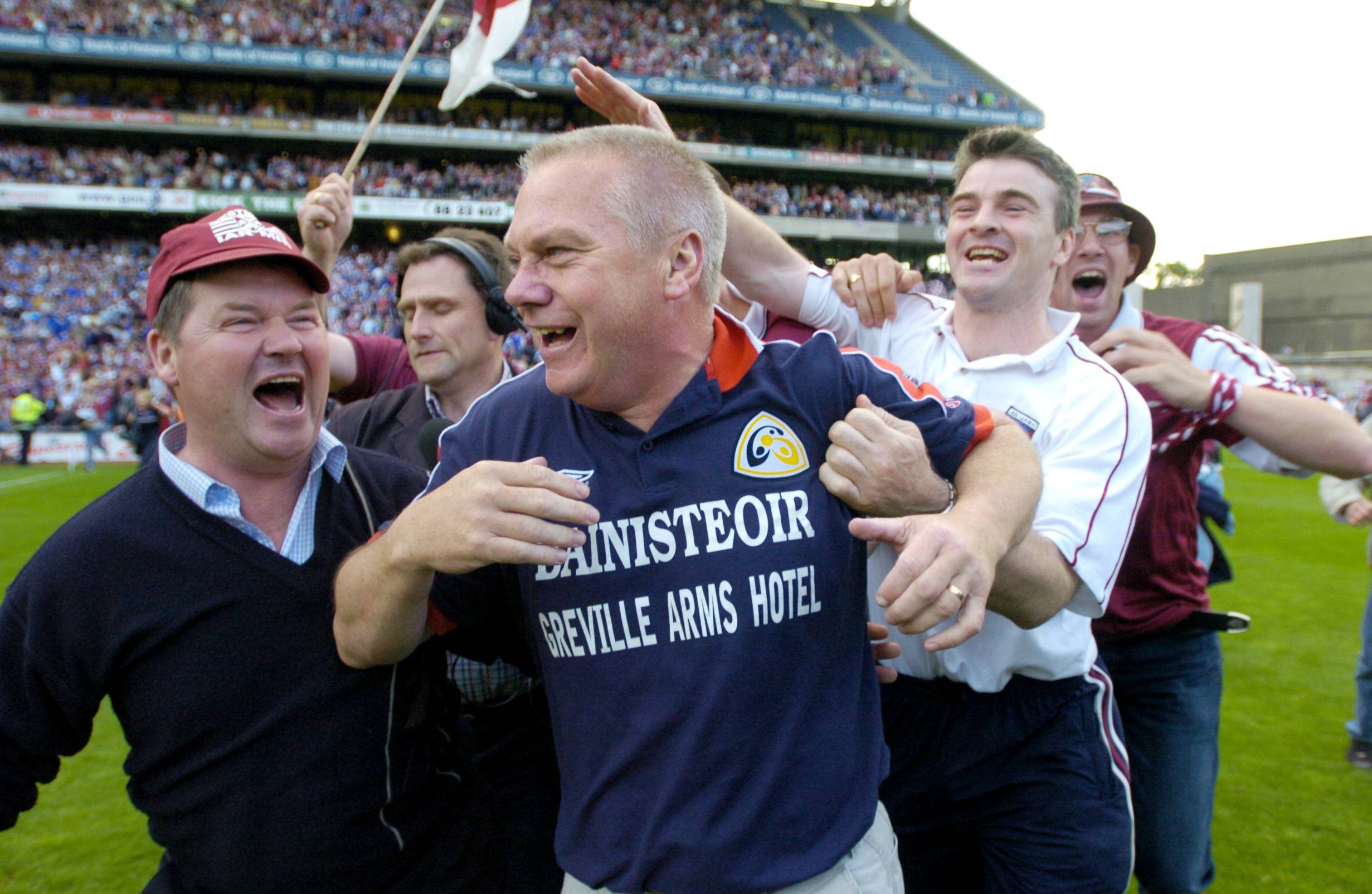 What was the best game you ever played yourself?
With Laois, the minor replay against Kildare in Carlow in 1995. I hadn't been good in the drawn game in Navan but everything went well for me in the replay.
I was actually playing against one of my best friends from primary school John Dempsey, whose father Christy had played with Arles. The family moved to live in Kildare and all the lads played with Monasterevin. Unfortunately for us in Arles, we lost four good footballers too!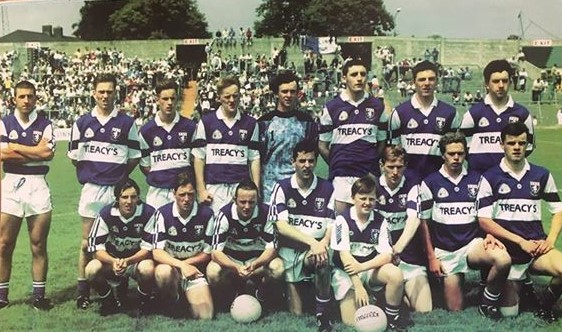 Another game I can remember well is the 1995 U-21 final against Portlaoise. I was wing-forward and got a bad dead leg after a couple of minutes. I was put into the corner and everything fell my way.
With the Laois U-21s, I'd a good game in the 1999 Leinster final replay when we were beaten by Westmeath on a real wet day. With the Laois seniors, the 2006 win over Tyrone in Portlaoise – again on a brutal wet night – and the drawn quarter-final against Mayo.
People forget we were two points up going into injury time that day and Mayo drew it and beat us in the replay. Under Micko we played some great games in 2005 and 2006 and 2006 was actually a great chance for us to get to the All Ireland final – Mayo beat Dublin in the semi-final.
What is your favourite moment with Laois?
Winning the minor in 1996 and the senior Leinster final in 2003. It was just some occasion.
But 2003 was a great year all round. Winning the county final with the club and we had a great year in Knockbeg too. We won the Leinster Senior 'B' and the Leinster Junior 'A' with the team that would the All Ireland Senior 'A' in 2005.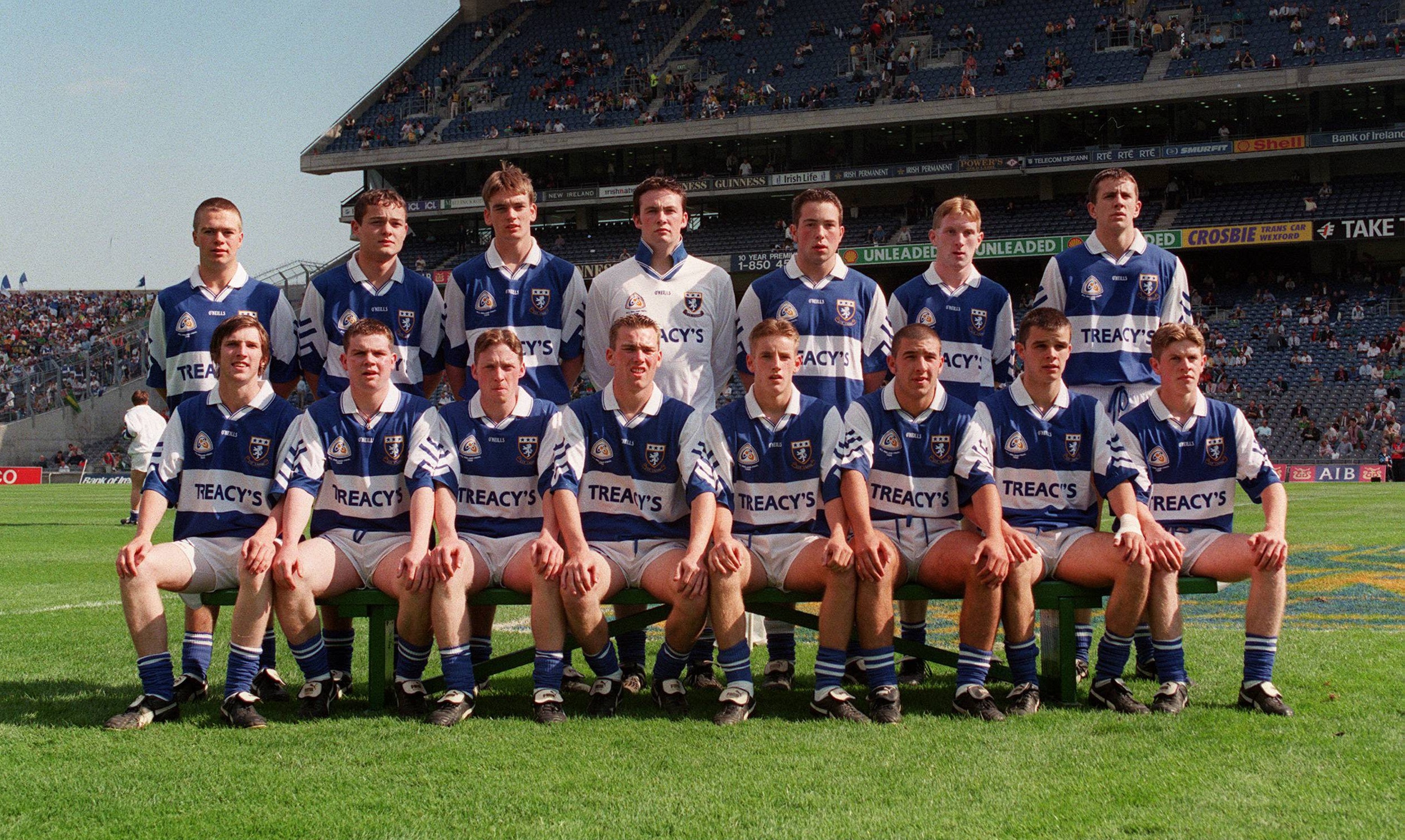 What was the low point?
With Laois, losing to Meath in 2002 was very low but for me I never felt as low on a football field as I did in 2007 a week before the Leinster final.
It was Liam Kearns' first year over us and he had this thing of training hard on the weekend before the game. We trained on Saturday in Timahoe and then an A v B game in Nowlan Park in Kilkenny on the Sunday. The idea was that we'd then take it easy the week of the Leinster final.
The idea of going down to Nowlan Park was to train behind closed doors on a big pitch and it was a 17 v 15 game. With about 10 minutes to go I was carrying the ball up the field and my hamstring just went. I'd too much done in too short a time.
Lying on the pitch that time, knowing I was going to miss a third Leinster final, was the lowest point I ever had with Laois.
I got back for the Qualifier against Derry but wasn't used. But I didn't think then that that was the last time I'd play for Laois. I didn't play in 2008 and then did my cruciate playing a league match against The Heath.
Justin McNulty asked be to go back in 2011 and Barry Solan gave me a programme but I was recovering from a dislocated elbow and decided against it at that stage.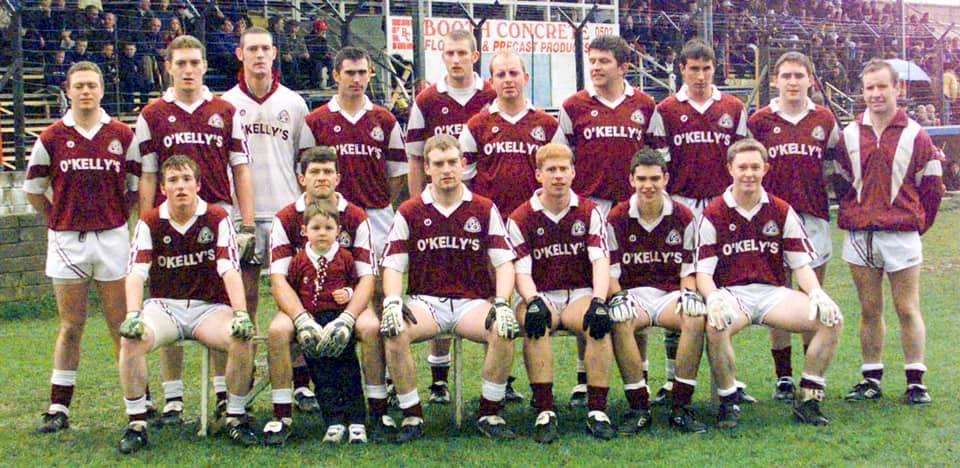 If you could go back and do things differently, what would you do?
In 2003, I wouldn't have gone back taking the frees off the ground! And I'd have got the appendix taken out a lot earlier. The worst thing was the appendix never threatened before.
The other thing – I'd have stopped wearing the ankle straps sooner. I injured both ankles one year and started wearing the ankle boot straps.
They gave great support but they restricted movement and I was never blessed with great pace.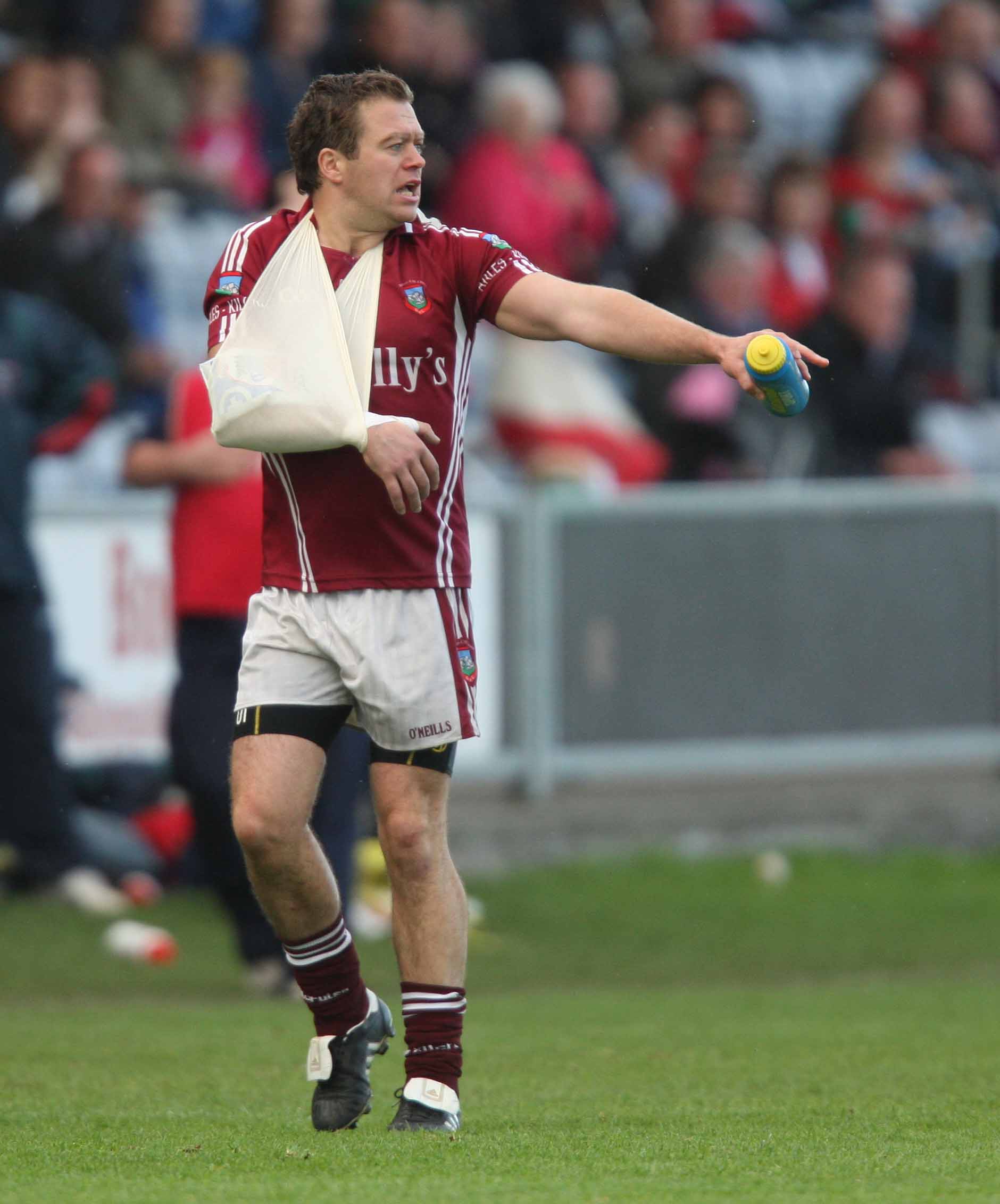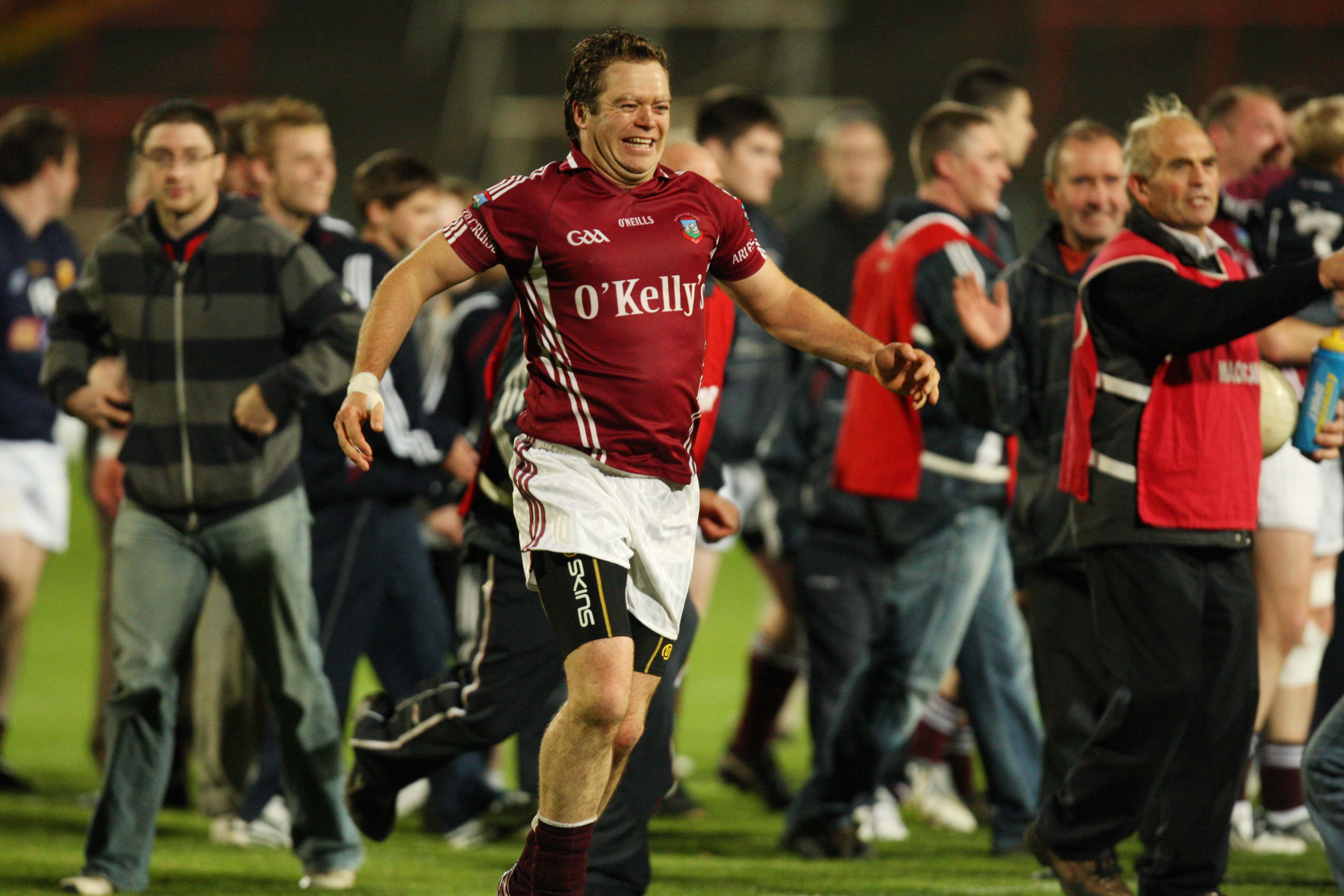 Who were the best players you played with and against?
My brother Paudge was one of the best backs I played with club or county. He was a bit unlucky and hard done by not to be playing in 2004 with Laois. 
Ross Munnelly is a stand out for club and county – he's an unbelievable talent. 
We knew he was coming in Arles and thankfully Micko spotted it early too. He's had an incredible Laois career and when he does finish playing, he'll have broken all records and unlikely that too many, if anyone, will beat them. 
Beano has to be included too. I played with him in St Michael's and in Knockbeg and with Laois as well. As a defender Joe Higgins was excellent. Super fast and sticky and he gave the crowd a lift whenever he came out with the ball. 
I played against a multitude of great players. Maurice Fitzgerald was as stylish as I've ever seen. Peter Canavan almost won an All Ireland on his own for Tyrone in 1995. Padraig Joyce of Galway – we beat them in All Ireland U-21 final in 1998 and five of them went on and won senior All Ireland that same year. 
Among the best players I marked were Tomas O Se from Kerry, Cathal Daly from Offaly, Glenn Ryan from Kildare, Kieran McGeeny from Armagh and Bryan Cullen from Dublin.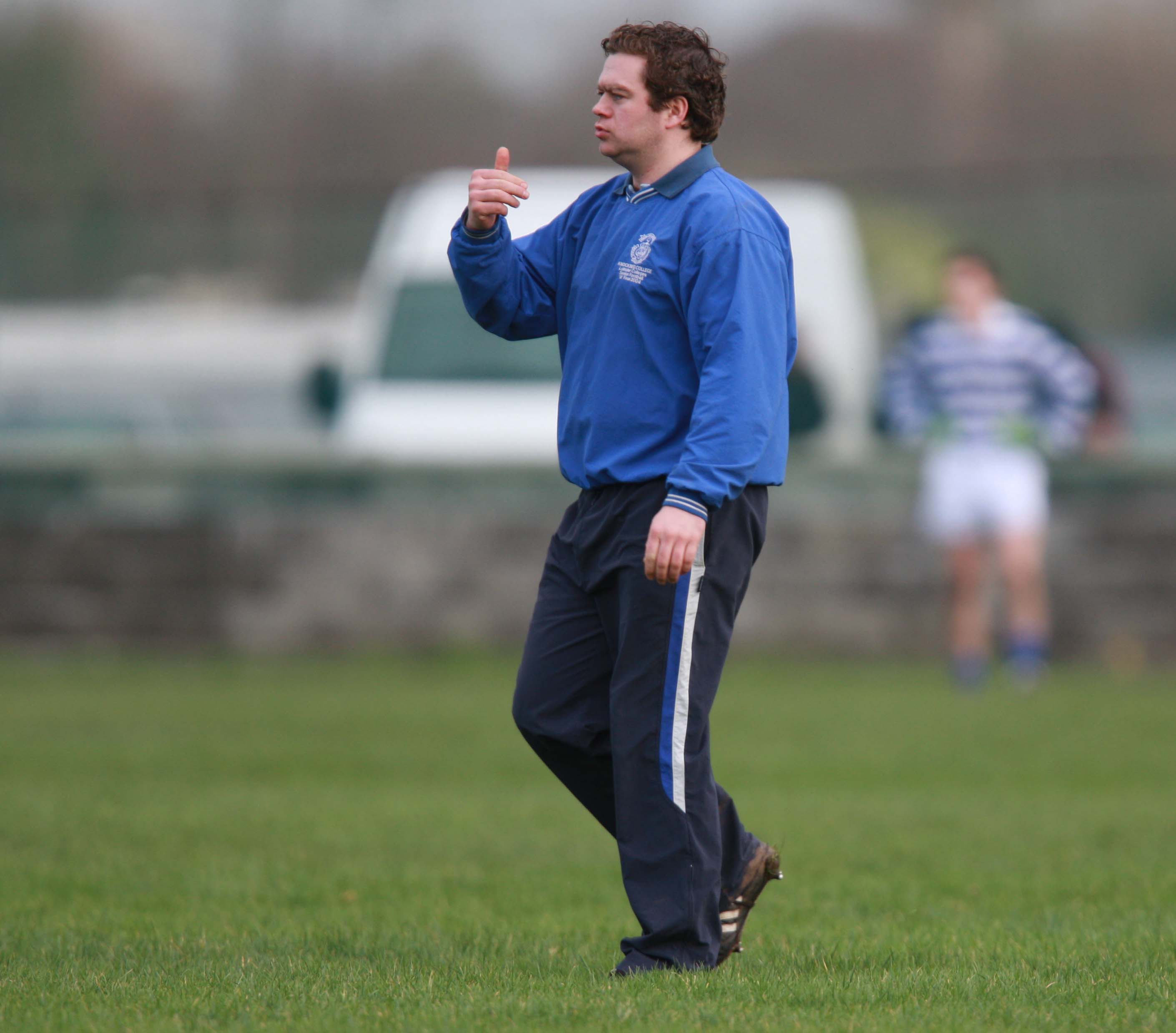 What's your view of Gaelic football at the moment?
The nature of the game has changed and it has its critics but it's still a great game and a great spectacle. 
Things are played in much closer channels now and there is greater intensity but the hits are going out of it. 
There is less man to man and it's all about possession now. We all can wear rose-tinted glasses when we're looking back but I do think the 90s and the 2000s was the best era. There was a combination of long ball and of keeping possession. 
It has goen the opposite now – there is a lot of hand-passing for the sake of hand-passing. 
I agree with the offensive mark and the kick out mark as it gets teams thinking and working that way. 
With the sin bin I'm not sure how it will work – I think you could see referees opting to use the yellow card more than sending a lad off for ten minutes. 
I'm completely against the Super 8s and I'm in favour of flipping the league and the championship – play the league during the summer months. You would still have the local element of the provincial championships but the provinces are so lop-sided.
Fans will be more inclined to travel to see Laois play the likes of Down or Roscommon in really competitive games in the summer months than they would in the bad weather in January and February. 
SEE ALSO – Check out Sporting Memories interview series here
SEE ALSO – Sporting Memories: Fergal Byron on Cumann na mBunscol, 2003 and playing out the field