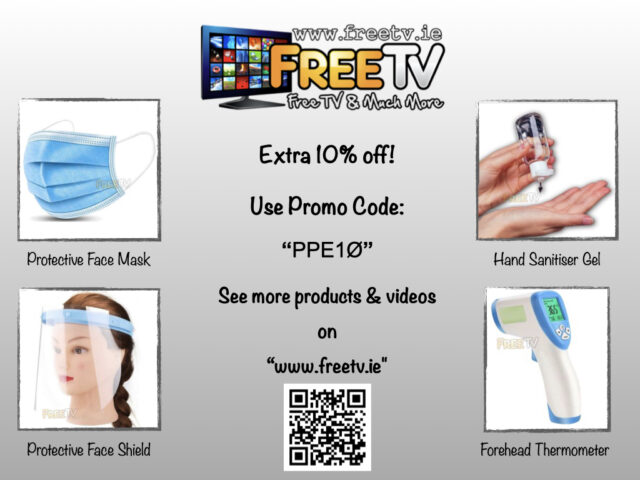 The Portarlington-based online business FreeTV.ie has been uniquely positioned to cater for the new reality of the Coronavirus.
They have been supplying everything from smart video doorbells to WiFi dongles for putting laptops on home nextworks, or HDMI adaptors to connect phones and PCs to TVs.
And through their experience of sourcing goods from China, they have had demand for PPE equipment, mainly from customers involved in the building industry and retail.
Businesses are investing in keeping their staff and customers safe as they plan to get and back to some type of normal.
David Maher from FreeTv.ie explained: "As certain sectors of the country prepare to open back up next week there will be a lot of demand for workplace PPE – particularly masks, shields, sanitiser and contactless thermometers.
"Some of the products such as one of the versions of face shields we sell we have been able to source from a manufacturer.
"But everything else has to be imported mainly from China which is leading to a delays in both manufacturer and shipping.
"In the last five weeks the cost of flying goods from China has increased by 500% and lead time to get on flight has changed from 24 hours to 10-14 days, often with unwanted stopovers and delays on the way.
"Recent weeks have seen a jump in online sales with many courier companies seeing a 70% increase in deliveries which are now running at 20% above volumes seen in December 2019.
"The flexibility of the Irish business is amazing as we have seen restaurants transform their business model to 100% inhouse to 100% takeaway, a surge in working from at home and use of technology to communicate to colleagues and customers.
"FreeTV.ie has been uniquely well positioned to cater to the new reality," added Maher.
"We have also seen a huge surge in the sale of Amazon firesticks, Google Chromecasts and webcams.
"It is important the business gets back up and running as quickly as possible as the health crisis has also had a huge negative impact on the economy.
"Clearly companies like ours, which have our experience to source goods in China have a role to play, in the short and medium term.
"But it is important that Ireland and other countries learn from the crisis to increase our self-sufficiency in vital supplies.
"We are committed to offering the lowest cost 3-Ply Masks, KN95s, Sanitisers and face visors in Ireland. We have priced in a manner to make it not worthwhile for customers to even consider buying from China.
"We offer 3-Ply masks at prices up to 50% less than those offered by leading discount stores. We also offer Discounted Trade accounts to business to suit for bulk or repeat orders."
Use Promo Code PPE10 for an extra 10% off!

SEE ALSO – Check out the FreeTV website here to see more products and videos