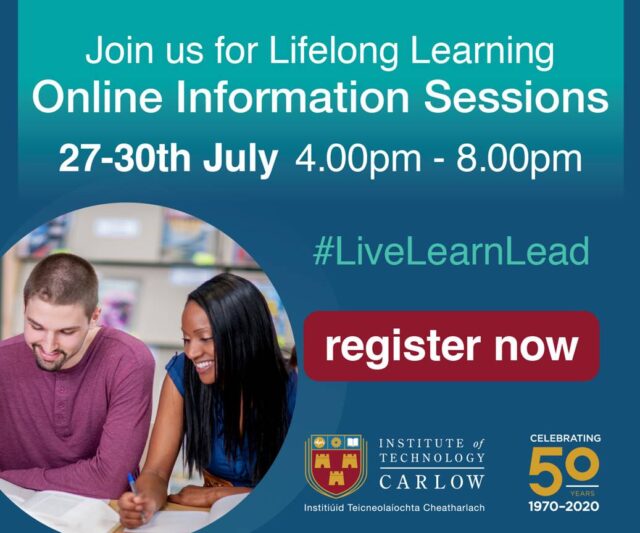 Thinking of upskilling, reskilling, advancing or changing your career, or contemplating a return to education?
If you answered yes to any of these questions, then you should attend the online information sessions taking place from Monday the 27th of July to Thursday the 30th of July, hosted by the Faculty of Lifelong Learning at Institute of Technology Carlow to showcase its comprehensive range of part-time and Springboard+ courses.
The sessions will take place from 4pm to 8pm each evening to cater for the busy professional in the following areas;
Monday, July 27 – Business
Tuesday, July 28 – Humanities
Wednesday, July 29 – Engineering/Science/Computing
Thursday, July 30 – Springboard+
Attendees should register online for the events at https://www.itcarlow.ie/study/lifelong-learning/virtual-information-sessions-registration.htm
Participants will have an opportunity to engage with staff at Institute of Technology Carlow and understand the many benefits of being a part time student.
The Faculty of Lifelong learning offers a wide range of internationally recognised courses, from masters degrees to certificate courses, across a wide variety of disciplines. Staff and current students will be available online to answer your questions and to discuss the various courses in more detail.
The part-time courses available are part of the Institute's Lifelong Learning offering, which are available across its Carlow, Wexford or Wicklow Campuses.
Lifelong learning programmes are designed to provide maximum choice and flexibility to learners, who can choose to take a full 60-credit programme in a single academic year, or pursue one or two programme modules and gradually build up the necessary credits to obtain a major award at Degree, Honours Degree, Higher Diploma, Postgraduate Diploma and/or Masters Degree level.
According to the National Skills Strategy, "Lifelong learning brings benefits to the individual, to society and to employers: lifelong learning has an important contribution to make to people's wellbeing, to creating a more inclusive society and to supporting a vibrant and sustainable economy".
Institute of Technology Carlow is one of the largest providers of Higher Education Life Long Learning (LLL) programmes in the country; LLL enrolments currently account for over 45% of its total learner population.
The information sessions also coincide with on-going recruitment by Institute of Technology Carlow for its Springboard+ programmes commencing in September 2020.
The Springboard+ initiative offers fully-funded third-level college places on a part-time basis to jobseekers and returners (people who have left the workforce due to caring responsibilities and wish to gain new skills to re-enter the workforce), which has led to thousands of participants returning to the workforce throughout the country.
Institute of Technology Carlow has been awarded Springboard+ funding across 21 exciting, industry-focussed programmes ranging from Certificates, Diplomas, Degrees, Higher Diplomas, Postgraduates Certificates and Masters from levels 6-9 on the National Framework of Qualifications.
Springboard+ offers 90% funding for employees wishing to study courses at NFQ levels 7, 8 and 9. NFQ level 6 course are free for all applicants. This removes the financial barrier for many people and offers a great opportunity to upskill on a part-time basis, whilst continuing to work.
Springboard+ courses are currently on offer in areas such as  Supply Chain Management, Data Science, Financial Services, Digital Marketing, Data Protection and Digital Media. Application is easy and free and further information is available at www.itcarlow.ie/springboard.
Students at Institute of Technology Carlow thrive on the small class sizes, the individual attention from expert lecturers, student support services and from its close links with industry that allows for integral work placements and employment opportunities.
Joseph Collins, Head of Faculty Lifelong Learning at Institute of Technology Carlow, commented, "Investing in your skillset is one of the shrewdest investments that you can make in your career.
"Upskilling and reskilling is about building on existing qualifications and experience and it gives all of us an opportunity to change careers or to move to another level in our current careers.
"Our information sessions gives potential applicants a unique opportunity to engage with our staff and to learn more about our broad suite of programmes and courses."
For further information visit www.itcarlow.ie/LLL or call 059 9175280