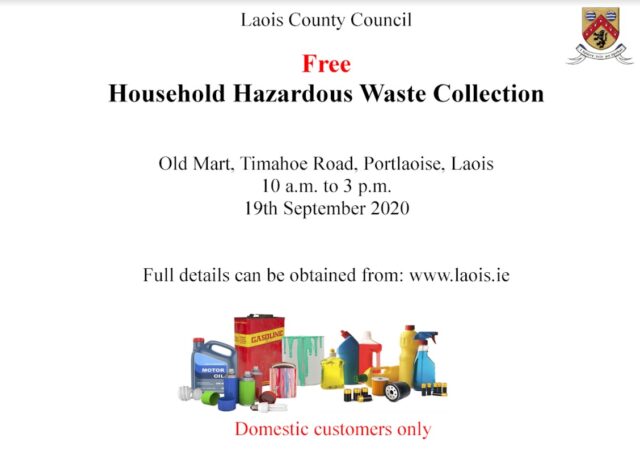 From the kitchen to the bathroom and out to the shed, every home contains an extensive collection of chemicals and other substances that can be harmful to health or hazardous to the environment.
Hazardous waste should not be mixed with general household waste, discharged to drains or shores, dumped, buried or burnt.
The risk of environmental pollution and negative health impacts from these activities is very high.
Information on how to reduce your use of chemical based products and information of how to dispose of them safely is available from Laois County Council or on www.mywaste.ie.
Following on from the success of the Mattress and Couch Amnesty last year, Laois County Council are holding a FREE Hazardous Household Waste Collection Service this Saturday, September 19, 2020 from 10 am to 3 p.m. at the Old Mart, Timahoe Road, Portlaoise – R32 WT10
The following items will be accepted – Adhesives, Aerosols, Antifreeze, Herbicides, Paints, Household Detergents, Oil filters, Pesticides, Varnishes, Medicinal Waste (animal and human), Mixed fuels, and oil (cooking and engine).
Oil is limited to 50 litres and must be in a clean sealed barrel or it won't be accepted.
Tips for safely transporting chemicals to the collection point:
• Keep chemicals in their original container and never mix products.  If you can't read the label mark "unknown".
• Make certain all containers are tightly sealed to avoid spillage.
• Transport chemicals in a box to avoid them falling over in your vehicle
What can you do to reduce chemicals in your home/garden?
Change your habits and look for alternatives to hazardous materials that will be less damaging to the environment.
For further information please see www.laois.ie or www.mywaste.ie.
This project is funded by the Department of Communications, Climate Action and Environment through their Anti-Dumping Initiatives programme 2020.
The service is for the residents of Co. Laois, it is not open to businesses, institutions, or industry.
In the interests of the health, safety and welfare of staff, contractors  and members of the public, please take note of Covid 19 control measures on site.