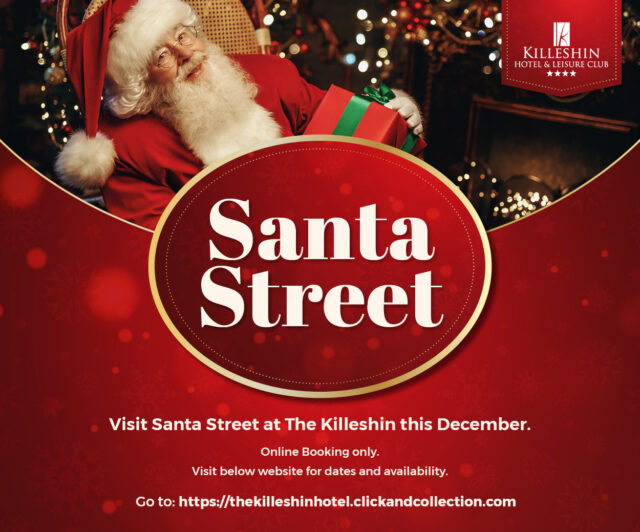 Rediscover the magic of Christmas with your family as we bring you Santa Street at The Killeshin Hotel this December.
Take a stroll down Santa Street where you can pop in to visit Santa in his Grotto and enjoy hot chocolate and ginger bread men with the Elves.
What is Santa Street?
Santa Street is a family fun festive experience brought to you by the dedicated Christmas Elves of The Killeshin Hotel & Leisure Club.
You will be greeted by the chief Elf on arrival who will take you down to Santa's Grotto where you will be able to write your letter to Santa before having a safe and socially distanced conversation with Santa Claus himself who will present you with your gift.
You can then pop your letter into our specially designed post box which will have a daily express delivery to Santa Claus in the North Pole before heading over to enjoy a hot chocolate and a ginger bread man with the Elves in Gingerbread Land.
We can't wait to welcome you to the Santa Street Experience!
Times & Dates
Saturday, December 12 – 12 noon–5pm
Sunday, December 13 – 12 noon–5pm
Friday, December 18 – 12 noon–5pm
Saturday, December 19 – 12 noon–5pm
Sunday, December 20 – 12 noon–5pm
Monday, December 21 – 12 noon–5pm
Tuesday, December 22 – 12 noon–5pm
Wednesday, December 23 – 12 noon–5pm
Price:
€16 per Child
€12 per Child (3 years and under)
€12 per Adult
Tickets are sold online only and can be purchased on www.thekilleshin.com/santa-street
Why not make an afternoon of it and take advantage of our Santa Street Dining Special. Served in our Festive Cedar Dining area enjoy delicious home-cooked food with something for all the family.
Adults can enjoy  a two course special from €18.95 and kids can enjoy  two courses from the festive childrens menu from just €10.95.
Pre booking is essential, all you need to do is call us on 057 8631200 or email info@thekilleshin.com to book your table.
SEE ALSO – Check out the dedicated jobs section on LaoisToday