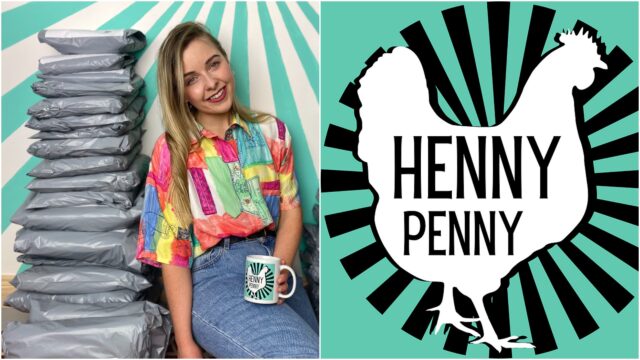 The pandemic has taken so much away – but it has brought out the very best in some young Laois people.
Our new series 'Up and Coming' is designed to highlight the great entrepreneurial spirit and creativity we've seen from Laois people this year.
This week we spoke to Áine Hennessy, a Stradbally lady who turned a hobby and a Depop account into a thriving online business called Henny Penny Vintage.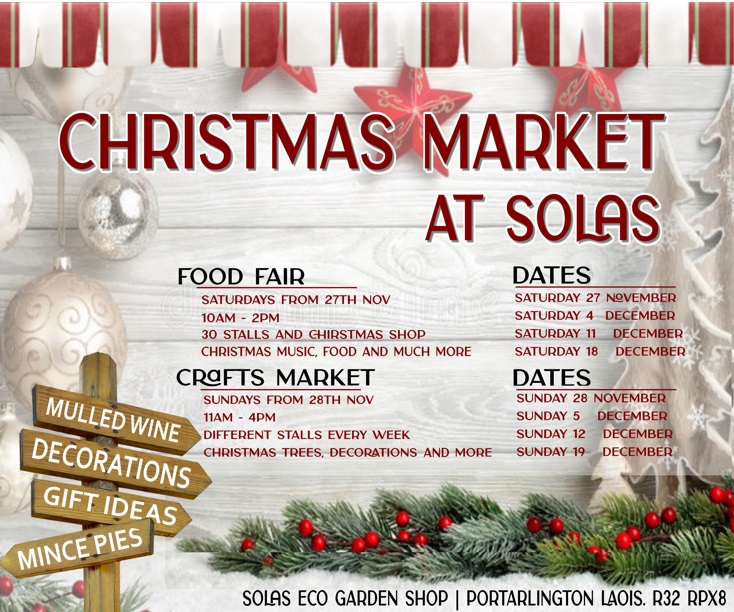 ---
Áine started her online business Henny Penny Vintage last August after finding herself back in Laois, instead of on a flight to start a new job in New York.
Henny Penny Vintage is a small online vintage clothing store which aims to cater for all styles, shapes and sizes.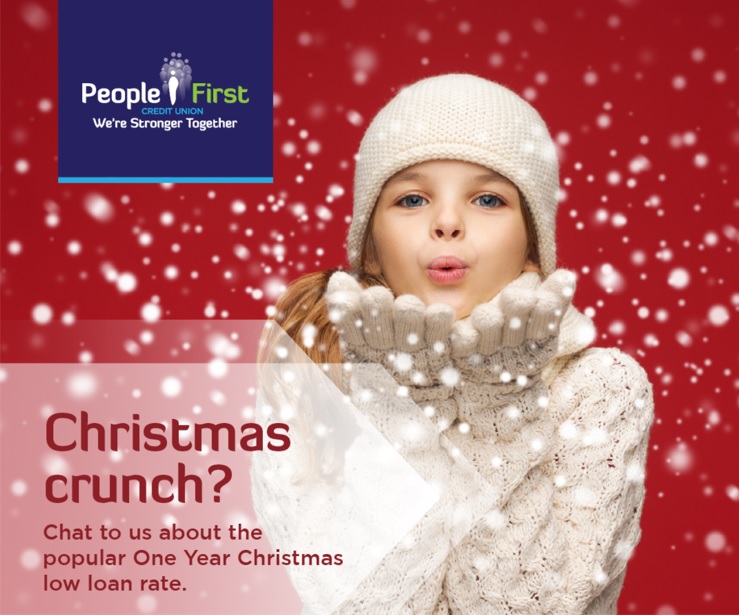 Áine lived in New York on a graduate visa and loved it so much she came home to complete a masters, which would enable her to get another graduate visa. 
She had a dream that she would go back, equipped with her masters and she'd get a fancy job in New York – but the Covid-19 pandemic got in the way. 
Áine completed a one year Masters in Marketing in what was formerly Dublin Institute of Technology.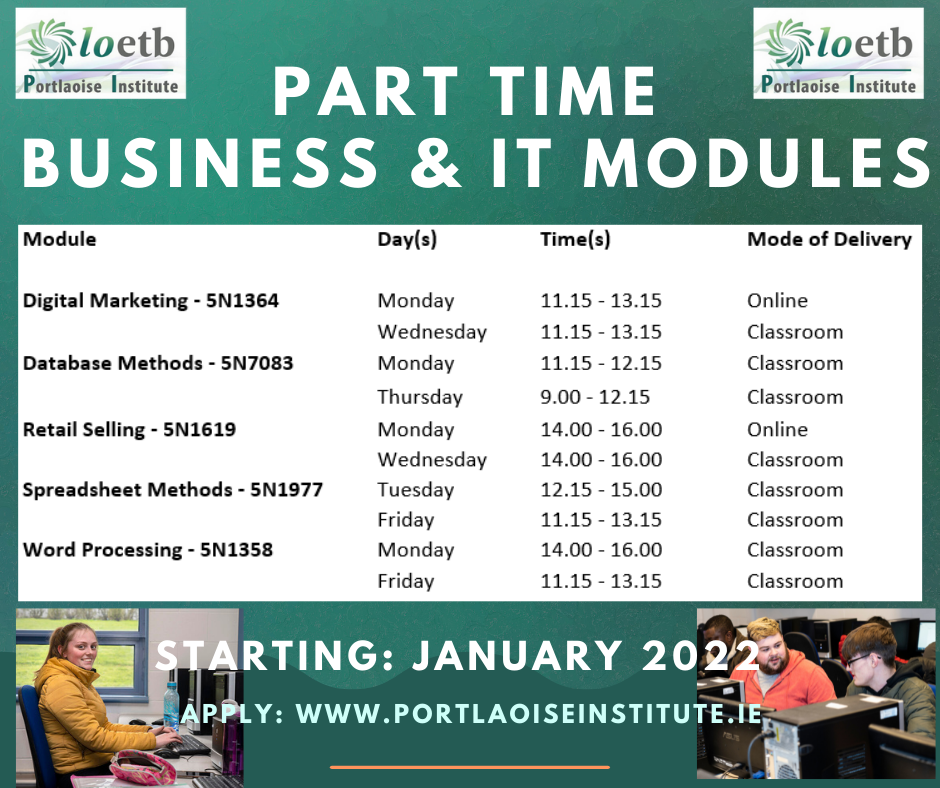 She explained: "It was a one year conversion programme for people who didn't have a background in marketing, as my background is in journalism.
"I had to do a dissertation and I decided to do it on food waste in Ireland and that's how I got into sustainability. I did a lot of research on it and realised how bad it is.
"There's so much stuff going on in the world, so much waste happening.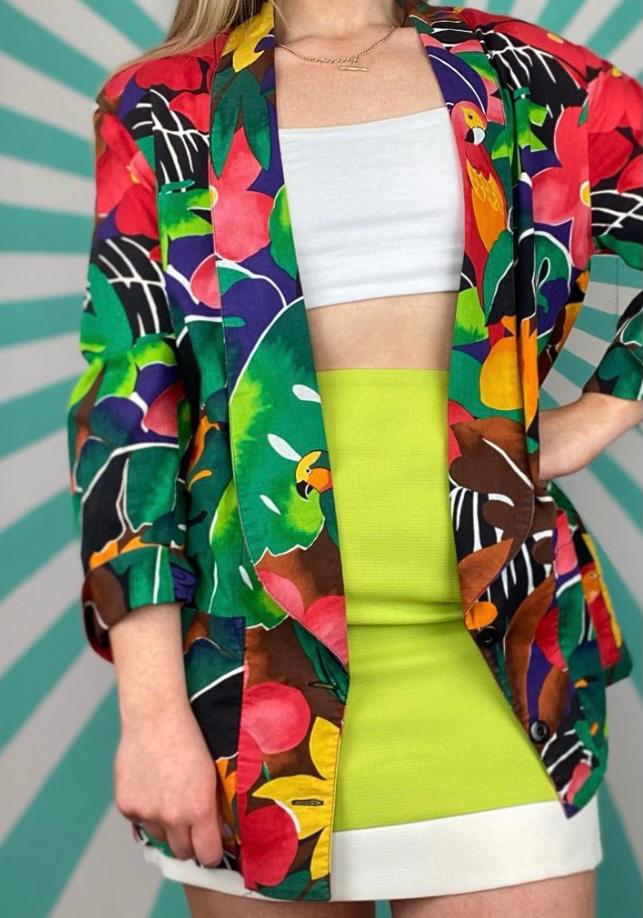 "When I finished the Masters I applied for the IBEC Grad programme, where they send graduates to different countries and you work for International companies.
"I got a really good job, in New York, with Brown Foreman, who are a alcoholic drinks company that produce Jack Daniels, and all the big brands in America.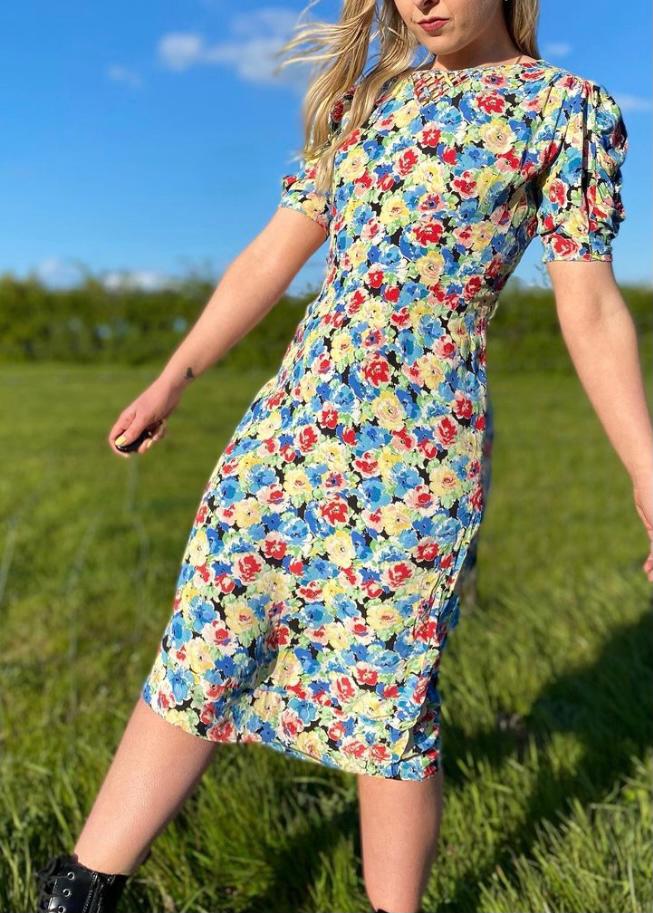 "I would be working as a brand ambassador for Slane Irish Whiskey, who have a Zero Waste Distillery up in Slane.
"I was absolutely delighted because it was where my interests lay, and the job was in New York, so it was like all my dreams came true."
Last February, when Áine was going through Dublin airport, COVID-19 had begun to emerge worldwide and her Visa got revoked.  
"The dream was over," she says and now Áine was back home in Laois and took up a Marketing Executive job – but wanted something more. 
She said: "I'm such a dreamer and I always wanted to have my own business.
"Everyday I was just thinking and brainstorming and I had so many ideas, and I knew I always wanted to go back to the sustainability angle.
"I was always big into buying vintage and second hand clothes, and last summer I just decided myself to stop buying fast fashion.
"Once I educated myself on fast fashion and how bad it was I just stopped."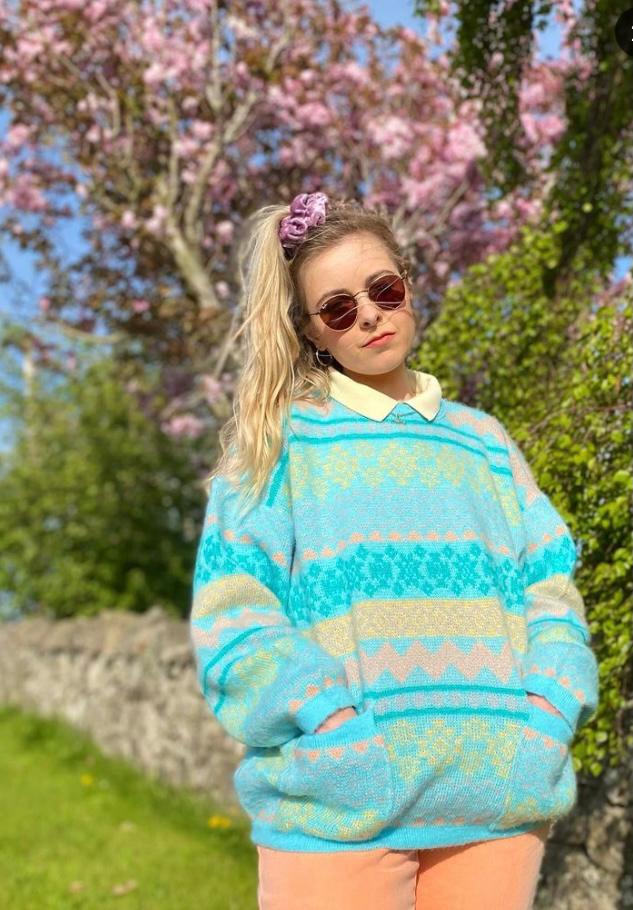 A lightbulb went off for Áine one day. She thought 'Why don't I start selling vintage clothes and see what happens?'.
Áine started off selling items on Depop, a popular app where anyone can buy or sell second hand clothes.
She said: "I started last August, at that time I probably only uploaded ten items on Depop. 
"I had used it myself for years just to buy bits on, but then I set up an Actual Henny Penny account."
When buying vintage clothes to sell, Áine explains that you purchase them in bulk from a wholesaler. 
"I would have bought bits of fleeces and maybe 20 summer dresses. It started off very small.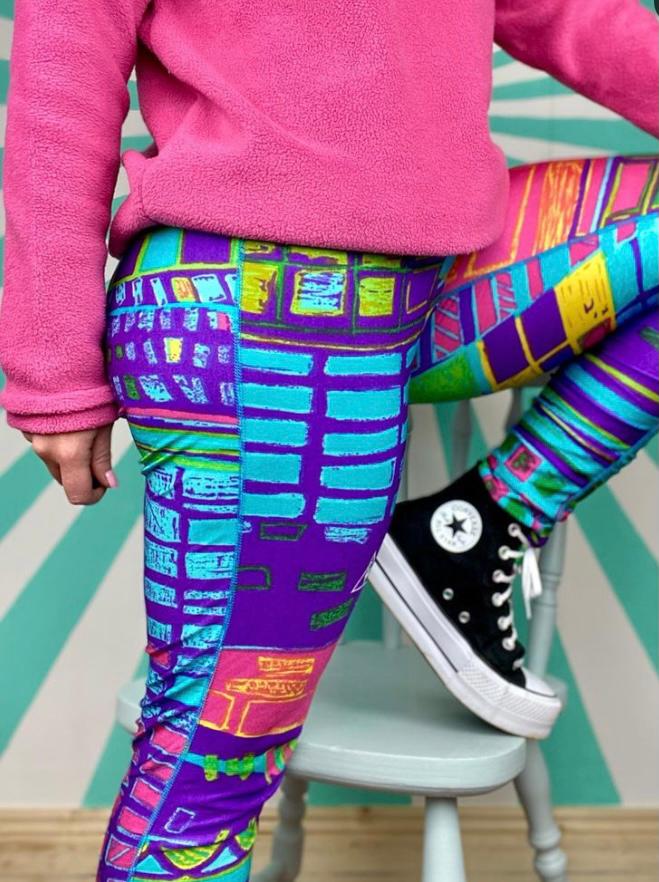 Áine now has stock drops with up to eighty items.
"I never would have thought I'd go from that to where I am today. It's crazy thinking back."
Starting off in a Pandemic has suited Áine. 
She said: "My stock when I started off was very low, I was sourcing bits here and there and doing it in my own time and working full times. It was only a bit of a hobby I did at the weekends. 
"It was actually such a good distraction for me at the time after the disappointment with my Visa. Henny Penny took me out of a hole. I had something to occupy myself with during the lockdown."
However, when things got busier for Henny Penny, she faced more challenges.
She added: "Once it picked up momentum it started getting a little bit harder with lockdown. I would have been getting stock from suppliers in Ireland, but then with level five lockdowns they had to shut up shop so I wasn't able to go and get stock from there. 
"I had to find other ways to source stock, which results in blindly buying it from places in Europe, and you don't know what you're getting. 
"I never wanted to get stock I wasn't happy selling. 
"Once the lockdowns are over I'll be able to go back to handpicking items. I would love to get to the stockists in Europe, there's amazing ones and you go and spend days there and they ship it back over." 
Áine says that the surge in online shopping over the past year meant shipping was also hit and miss. 
"An Post and the couriers were over their heads with deliveries.
"Little things that are out of your control so you just have to accept that it is what it is and hopefully things just work out." 
Áine is currently focusing on growing the online business.
"It is hard being a one woman show, I don't think people realise the work that goes into it. 
"It's probably more than a full time job, I'm working more now than ever. If I was to expand I'd have to look into hiring help. Today I'll be packing orders and I'll be doing that until 9 o'clock tonight. 
"With the online business there is so much work involved with taking pictures and everything. 
"I'm playing around with the idea of opening a physical shop. In my head, it would be so much easier, you get the stock, you hang it up, people come in and buy it and they walk away. You don't have to worry about photographing the items, uploading to a website, packing, and people will have seen the item in person and tried it on so they won't be returning it. 
"It seems a lot easier, but you always have the overheads such as renting a shop space, so it has its pros and its cons."
While Áine is unsure about a physical shop for the moment, she is certainly interested in Pop Ups.
She said: "If the Electric Picnic was going ahead I would definitely do a Henny Penny pop-up shop in Stradbally. It would be great to build up relationships with people face to face."
There is a huge amount of work that goes into running a business online.
"It's hard to be seen online, especially because there are so many sellers popping up out of nowhere. The competition is fierce.
"I would have been out all weekend in every weather taking pictures for the site, but now I've set up lighting and do it inside."
Áine's backgrounds in journalism and marketing have helped her get her name and brand out there.
"I'm able to put together some nice content now. I was basically a graphic designer in my marketing executive role, and you have to have an eye for that. "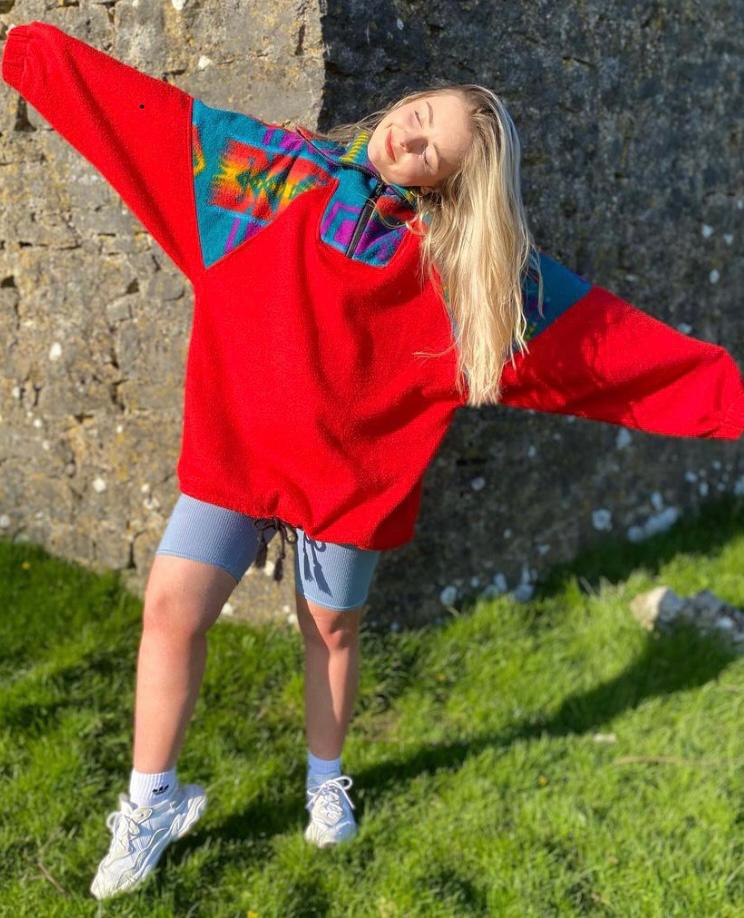 Quick Fire Questions
Age: 28
Educated: BA Journalism DIT, MSc Marketing TUD
Best advice received: "We're all just f***** winging it" – from Irish Fashion Designer Helen Steele, she was a guest speaker at an event I attended before in Dublin. It was very comforting to hear a hugely successful person admit that they haven't a clue what they're doing half the time either!! It always makes me laugh.
Normal working day: I normally get up around 8am, eat breakfast, coffee, workout or go for a walk (great for the head and 1000 times more productive for it) I start my work day around 10am, but every day is different.
Mondays & Tuesdays are spent pulling clothes for my drop, steaming them all, and taking pictures of each item.
Wednesdays are spent editing pics and uploading onto my website, as well as capturing some content for social media ahead of the drop.
Thursday is drop day. I spend the day inputting all of the information about each item, such as size, measurements, materials, condition etc. If time allows, I capture more social media content of the items before the drop. I also wash any items that need to be washed.
Friday is packing day. I steam and pack up all the orders from the drop the previous day, which are then picked up by the courier. I also catch up on any admin work that I have hanging over my head before the weekend!
What do you do to unwind: I love to go for a walk to unwind. I usually head down to the canal in Vicarstown with my dog Lily, it's a lovely walk, and will be even better soon with the new Blueway opening!
You can find Áine's website here.
Follow Áine on Instgram @hennypennyvintage.
Are you or someone you know an 'up and comer'? Get in contact with us to tell your story.
Anyone who is interested can contact us on any of our social media channels or email us on news@laoistoday.ie.
SEE MORE – Up and Coming: Portlaoise girl Leanne Donovan on her exciting venture for Irish Graduates