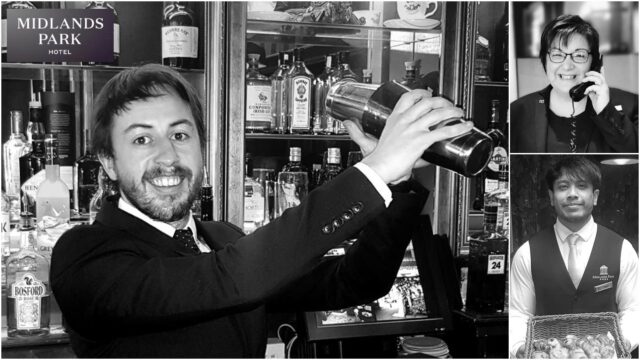 At the Midlands Park Hotel, we want to create an exceptional service for our guests. Our mission is to relentlessly focus, in equal measures, on creating a caring environment for each other; while we deliver exceptional care and experience for our guests.
We currently have over 160 team members in our hotel, and we are growing from strength to strength, we pride ourselves on our diverse, multicultural workforce, who enable us to provide exceptional guest care to our fabulous guests. 
Our team are the backbone of everything we do, we are always seeking ways to grow, develop and engage our people to enable us to be one of the leading 4* star hotels in Ireland.
Our people are talented, passionate, and motivated to drive the Midlands Park Hotel to be recognised by our industry for delivering exceptional guest care and experience. 
Since re-opening our guests are excited to be welcomed back to the Midlands Park Hotel, we are able to offer our stylish rooms, fantastic Charter Bar & Eatery, Triog Restaurant and Kelly's Steakhouse experiences. We are looking for exceptional people to join our exceptional teams. 
The positions we are currently looking to recruit for are.
Experienced Pro-Active Sales Manager

 

Qualified Swim Instructors

 

Qualified Personal Trainers

 

Chef de Partie

 

Kelly's Steakhouse Experienced Host

 

Night Porter

 

Bar Tenders/Mixologists 
Reward Package @ The Midlands Park Hotel 
Career Development Opportunities.

 

Educational Assistance Programme

 

Free Gym & Pool Membership

 

Staff Recognition Awards

 

Lean Management Training 

Employee Assistance Programme

 

Employee Voice

 

Uniforms Provided

Meals on Duty

 

Discounts to our sister hotel, The Riverside Park Hotel. 

Wellness Week

 

Staff Social Events

 
To Apply
If you have experience and are looking to join a business that appreciates your knowledge, skills and attitudes t hen send your CV to hr@midlandsparkhotel.com.
---
If you would like to advertise a job vacancy, get in touch with LaoisToday by calling 057 8670722, 085 7180700 or emailing info@laoistoday.ie
---
SEE ALSO- check out the dedicated jobs section on LaoisToday here