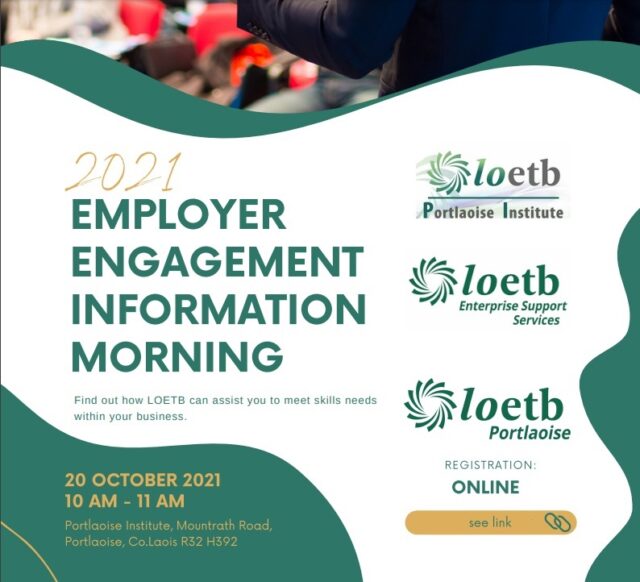 Now that local businesses are getting back to normal, Portlaoise Institute in collaboration with LOETB Enterprise support and Portlaoise FET will host a free Information Morning on October 20th from 10am-11am.
The aim of the Information Morning is to engage with local business owners and point them in the direction of supports available within LOETB to help them meet skills needs as a result of being back in business.
The Information morning itself will provide an opportunity for local business owners to network with other employers and local businesses as well as meet with Enterprise Engagement Officers from LOETB about supports for upskilling their work force to meet emerging challenges.
Some of the topics that will be covered on morning include:
Creating a talent pool to meet further skills needs.

How to avail of upskilling supports within LOETB.

An overview of LOETB Apprenticeship services.
Looking forward to the Information Morning Portlaoise Institute Deputy Principal Keith McClearn has outlined one of the reasons the event was organised
 "We want to use this event to engage with business owners and employers and to inform them about the many supports available within LOETB.
"We also want to showcase our own facilities and services here at Portlaoise Institute and offer employers access to our graduate pool as one of the many avenues that can be used to help meet skills shortages in the local area." 
To register for the Information morning please visit the link below. 
https://mailchi.mp/61f3a18d4998/employer-engagment-portlaoise-institute
Registrations will close on Wednesday 13th October.