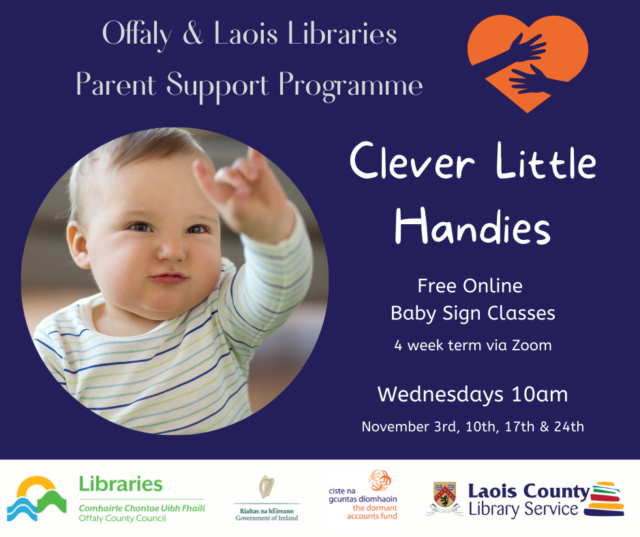 Laois Library Service have a series of Parent Talks in the coming weeks which will be hugely informative and helpful to parents around the county.
This series of Parenting Talks has been organised by Laois County Library Service and Offaly County Library Service through support from the Dormant Accounts Fund and the Department of Rural and Community Development.
The programme is open to everyone including parents, caregivers, healthcare professionals, teachers, special needs assistants and all those working with children and young people.
It aims to give parents simple and practical strategies that will help build strong, healthy relationships with their children and confidently manage their children's behavior. Attendance at all events is free of charge.
Visit the Offaly Library Eventbrite page to book https://www.eventbrite.ie/o/offaly-libraries-26265678679 or contact Portlaoise Library at 057 8622333 or portlaoiselibrary@laoiscoco.ie
Here is full list of upcoming talks in November:
4-week online Baby Sign Classes with Clever Little Handies
Wednesday at 10am on Zoom
We already know babies can communicate with their hands before they can talk; they can wave; they can clap; they can point. They have the dexterity in their hands to formulate signs long before they have the muscle dexterity in their mouths to form words.
By teaching them sign language from an early age they will have a vocabulary to use, even if they're not formulating words.
This 4 week term is brought to you via zoom and will be nursery rhymes, songs and poems with ISL signs that pertain to the day to day with baby.
---

The Benefits of Music Therapy with Ciana McGarrigle, Music Therapist
Wednesday, November 3, at 7.30pm on Zoom
People often think of music as a creative hobby or past time, but what if we thought of music as a useful therapeutic intervention.
In this webinar Ciana will explain what Music Therapy is, its uses and benefits, answer any questions anyone may have in relation to her work and give a practical demonstration of music therapy in action
---

Raising Resilient Children with Dr Mary O'Kane, Parenting & Early Childhood Education Expert
Thursday, November 4, at 7:30pm on Zoom
Resilience is key in supporting our young children to cope with the ups and downs that life throws at them – it is what helps them to bounce back from adversity.
It helps our children to work towards developing solutions when faced with challenges and gives them the internal self-belief to overcome difficulties.
In this seminar, Dr Mary O'Kane offers practical advice on how we can best support our children in becoming more resilient and having greater confidence in their own abilities.
---

Social Anxiety: Helping Teenagers Navigate the Post-Pandemic World with Helen Vaughan, IACP Accredited Psychotherapist
Wednesday, November 10, at 7:30pm on Zoom
This workshop will provide support for parents who are dealing with teenagers feeling anxious after living through a pandemic.
It will cover tips for teenagers anxious after going back to school, dealing with social anxiety, grief/loss and any stress around reengaging with the world as society reopens.
---

Physical Activity in teenagers and how to keep them engaged with Keith Begley, Sports Psychologist
Thursday, November 11 at 7.30pm on Zoom
At present, there is a huge drop-out rate from sport among adolescents with recent studies stating that this begins as early as ten years of age and peaking by aged 14-15.
How can we prevent our teenagers from opting out considering physical activity, sport and exercise is increasingly important for both physical and mental health?
If you are a parent, guardian or adult working with teenagers, this webinar will provide tips and strategies for keeping them engaged in sport.
---

Managing Fussy Eating for Your School-Aged Child with Caroline O'Connor, Solid Start
Wednesday, November 17, at 7:30pm on Zoom
Do you dread mealtimes? Wish your child would try new foods? Or just want to stop cooking separate meals? If so you're certainly not alone.
Up to 75% of parents say that they struggle with what and how to feed their children. But don't give up, there is so much you can do to make life easier, mealtimes less stressful and encourage more adventurous eating.
Join us for this webinar, where Caroline will give advice and guidance in how to improve your feeding situation.
---

First Aid for Parents with Parent First Aid
Thursday, November 18, at 7.30pm on Zoom
In this interactive first aid session, Parents First Aid will cover and demonstrate the two main lifesaving topics: Infant & Child CPR and How to deal with a Choking Infant & Child.
Other medical emergencies such as Burns/Scalds, Bleeding, Seizures, Breaks & Fractures will also be discussed, with participants also been given the opportunity to ask questions of the instructors.
This session will cover First Aid practice as legislated for in Ireland.
---

Bully-Proof Kids: Developing Resilience & Social Skills with Stella O'Malley, Psychotherapist
Thurs, November 25 at 7:30pm on Zoom
This talk focuses on how we can help children tap into their inner strength so they feel able to deflect any negative attention. Covering all aspects of cyberbullying and bullying, parents who attend will feel more informed about the way bullies work and so more able to anticipate and influence future behaviour.
You can book your place on any of the webinars here