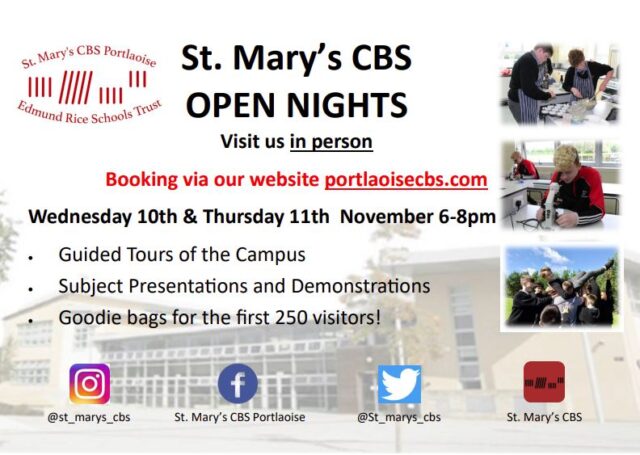 Portlaoise CBS are welcoming all interested 6th class students, along with one parent/guardian each, to take a tour of the school and sports facilities over one of two evenings – Wednesday, November 10, or Thursday, November 11, during one of two available time slots.
"Along that tour there will be opportunities to ask questions, receive information about the core and option subjects we offer.
"You can also learn about our programmes, specialist rooms, ASD Solas Unit, Additional Educational Needs Department, the extracurricular and sporting opportunities we offer, Digital Learning and Student Leadership.
"As well as that meet and chat with some of our students, teachers, Maura Murphy Principal and our Deputy Principals Mr Thompson and Mr Mulligan.
"You will have the opportunity to see for yourself why our students achieve the excellent results they do, how supported all our students are and how our teachers and staff are dedicated to developing the full potential of all our students.
"We look forward to meeting you – please continue with the booking process through the link on our website. We hope you enjoy the Tour!"
SEE ALSO – Check out the admissions section of the Portlaoise CBS website here