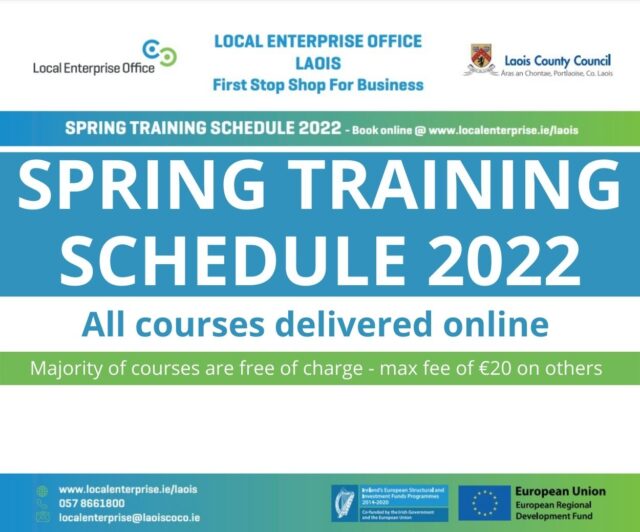 Local Enterprise Office Laois is here to support you and your business through these challenging times.
From training and mentoring programmes to advice on funding options, Brexit and business planning, our dedicated team is here to help you to start, sustain and develop your business.
If you are thinking of starting up a business or are already in business, please don't hesitate to get in touch with us.
The full Spring Training Schedule 2022 is listed below and you can book online here. 
Financial Supports
Local Enterprise Office provides a wide range of financial supports designed to assist with the establishment and/or growth of micro enterprises in County Laois which include Feasibility Grants, Priming grants, Business Expansion Grants and more. Please contact our office for eligibility criteria and details.
Trading Online Voucher
The Trading Online Voucher scheme aims to assist small businesses to trade more online, boost sales and reach new markets. Funding can be used towards adding payment facilities or booking systems to your website or developing new apps for your customers.
The scheme offers financial assistance of up to €2,500 with co-funding of 50% from the business along with training and advice to help your business trade online, and in turn reap the positive enterprise impacts of trading online. For more details, contact our team.
Brexit/Customs Support
There are still considerable issues for businesses trading with or through the UK. We
can provide help including access to customs experts to assist you.
Mentoring
Our Mentor Programme is designed to match up the knowledge, skills, insights and entrepreneurial capability of experienced business practitioners with small business owner/managers who need practical and strategic one to one advice and guidance.
Advice
The Enterprise Team is on hand to support you with business planning and to guide and signpost you to the various government supports that are available to help you to start and grow your business.
Contact Us
Get in touch with the Laois Local Enterprise Office by contacting 057 8661800, emailing localenterprise@laoiscoco.ie or visiting www.localenterprise.ie/laois.
Spring Training Schedule 2022
January 25 and February 8: SEO, 10am-12.30pm – FREE
Six Mondays from January 26: Start your own Business (Evenings), 6.30pm-9.30pm – €20
Four Tuesdays from January 27: Video Marketing for your Business, 10am to 1pm – €20
February 2: Instagram for Beginners, 10am-2.30pm – FREE
February 10: Accounts for Small Business, 9.30am-12.30pm
February 15: Facebook Beginners, 10am-12.30pm – FREE
February 21: TikTok, 2pm-4pm – FREE
February 25: Winning Public Tenders – Understanding E-Tenders & Public Procurement Process, 9.30am-1pm – FREE
February 28: Trading Online Voucher Seminar, 2pm-4.30pm – FREE
March 7: Developing your 2022 Digital Marketing Campaigns, 10am-12.30pm – FREE
March 9: Layman's Guide to VAT, 9.30am-12.30pm – FREE
March 9: Cyber Security for your Business, 9.30am-1pm – FREE
March 9: Instagram Reels, 2pm-4pm – FREE
March 10: SEO – The myths and misconceptions. How to optimise your site effectively, 2pm-4pm – FREE
March 10 and 31 (2 x half day) or March 24 (one day on location): New Product Development Programme, Various times – €20
March 15: Facebook Advanced, 10am-12.30pm – FREE
March 22: Instagram Advanced, 10am-12.30pm – FREE
March 24 and 31: Cashflow Management, 9.30am-12.30pm – FREE
March 28: Google Ads, 10am-12.30pm – FREE
April 4: Digital Strategy, 2pm-4.30pm – FREE
April 5: Thinking about Starting Your Own Food Business in Laois, 9.30am-1pm – FREE
April 6: A Layman's Guide to Income Tax, 9.30am-12.30pm -FREE
April 11 and 25: SEO, 2pm-4.30pm – FREE
April 14: Trading Online Voucher Seminar, 10am-12.30pm – FREE
April 19: Twitter, 2pm-4.30pm – FREE
April 22: Facebook and Instagram Advertising, 10am-12.30pm – FREE
April 26: TikTok, 10am-12.30pm – FREE
May 3: Google Analytics – FREE
May 11: Workshop for Limited Company Directors, 9.30am-12.30pm – FREE
May 11: Instagram Reels, 10am-12.30pm – FREE
May 17: LinkedIn for Business, 10am-12.30pm – FREE
May 26: Email Marketing, 2pm-4.30pm – FREE
May 31: Trading Online Voucher Seminar, 10am-12.30pm – FREE
July 5: Trading Online Voucher Seminar, 10am-12.30pm – FREE
SEE ALSO – Check out the dedicated jobs section on LaoisToday