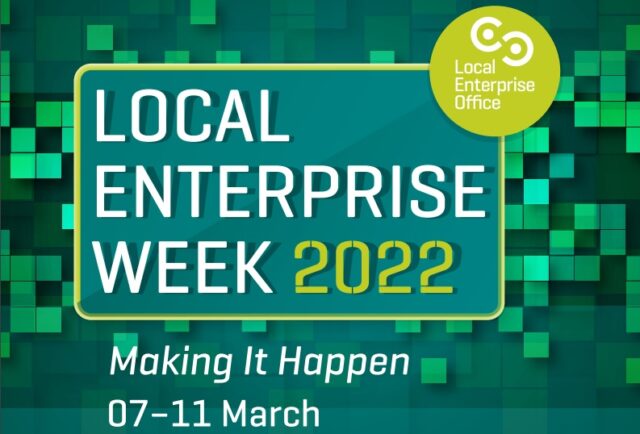 Running from 7th to the 11th March, Local Enterprise Week 2022 will feature a full programme of events, most which will take place online and are designed to support business owners in Laois.
More than 200 virtual events are planned by Local Enterprise Offices nationwide and include training workshops, information webinars and masterclasses with entrepreneurs and experts, designed to help small businesses and those looking to start a new business in 2022.
Organised by Local Enterprise Office Laois and supported by Enterprise Ireland and Laois County Council, this year's theme is 'Making It Happen.'
Common topics across the week include starting a new business, resilience and recovery, the green economy, exploring new markets, driving business through Digitilisation and Raising Finance for your business.
Local Enterprise Week also includes twelve 'Spotlight' events, and these are open to every business across the country.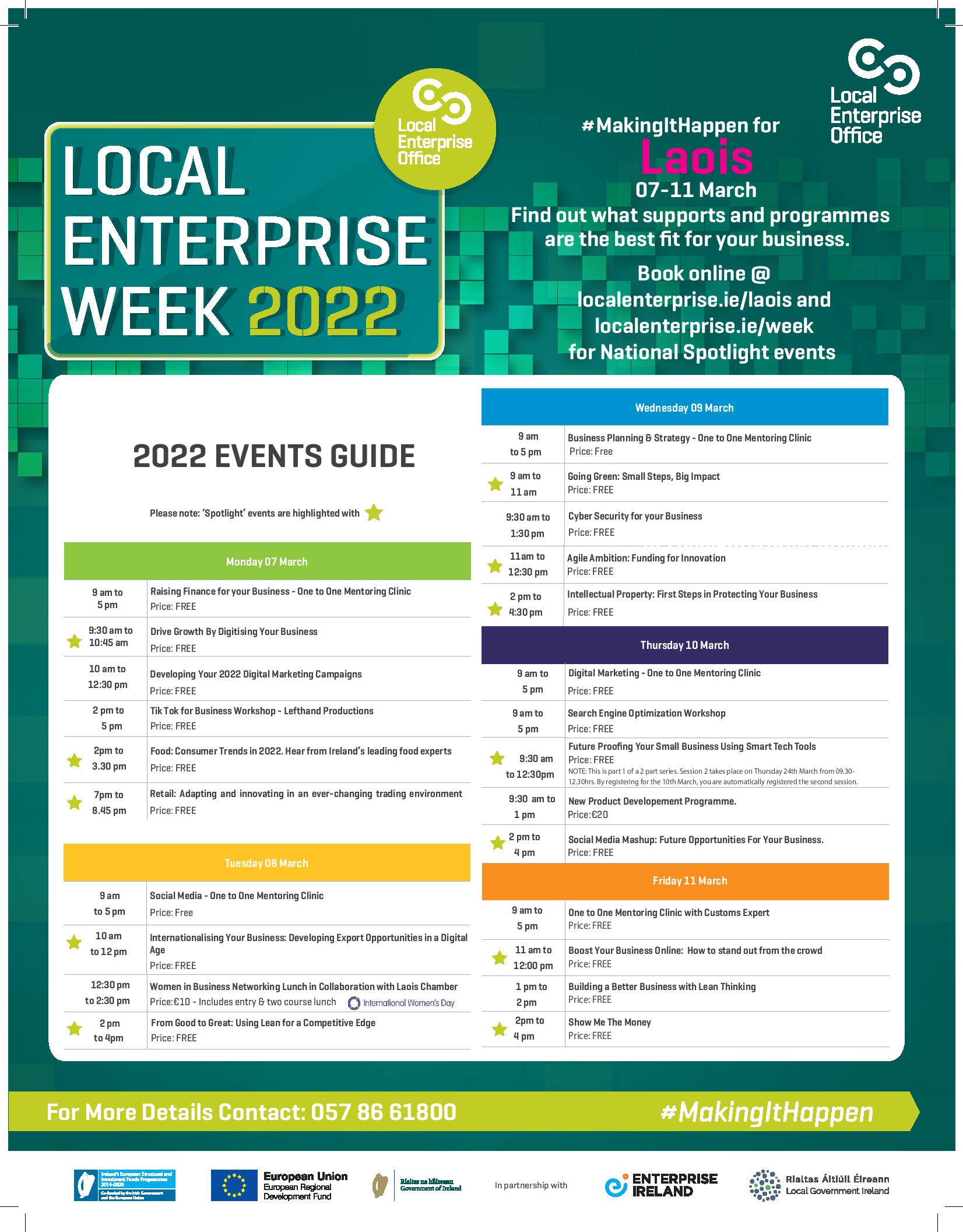 LEO Laois are organising one-to-one mentoring clinics on topics such as raising finance for your business, social media clinics, digital marketing, business planning and businesses with queries about export/customs issues.
The one-hour mentoring sessions will take place during Enterprise Week via Zoom.
As we have a limited number of sessions available, advance booking must be made.
Once you book a free session, we will contact you to arrange an appointment.
Highlights from Local Enterprise Week will include 'Tik Tok for Business' where businesses will learn what is unique to the TikTok platform and how to engage audiences there.
They will also learn how to create content that gets lots of views and stay on top of the latest trends.
This online workshop will take place on Monday 7th March at 2pm. Ken McHugh is the Creative Director of Lefthand Productions and has over 20 years' experience in the digital industry.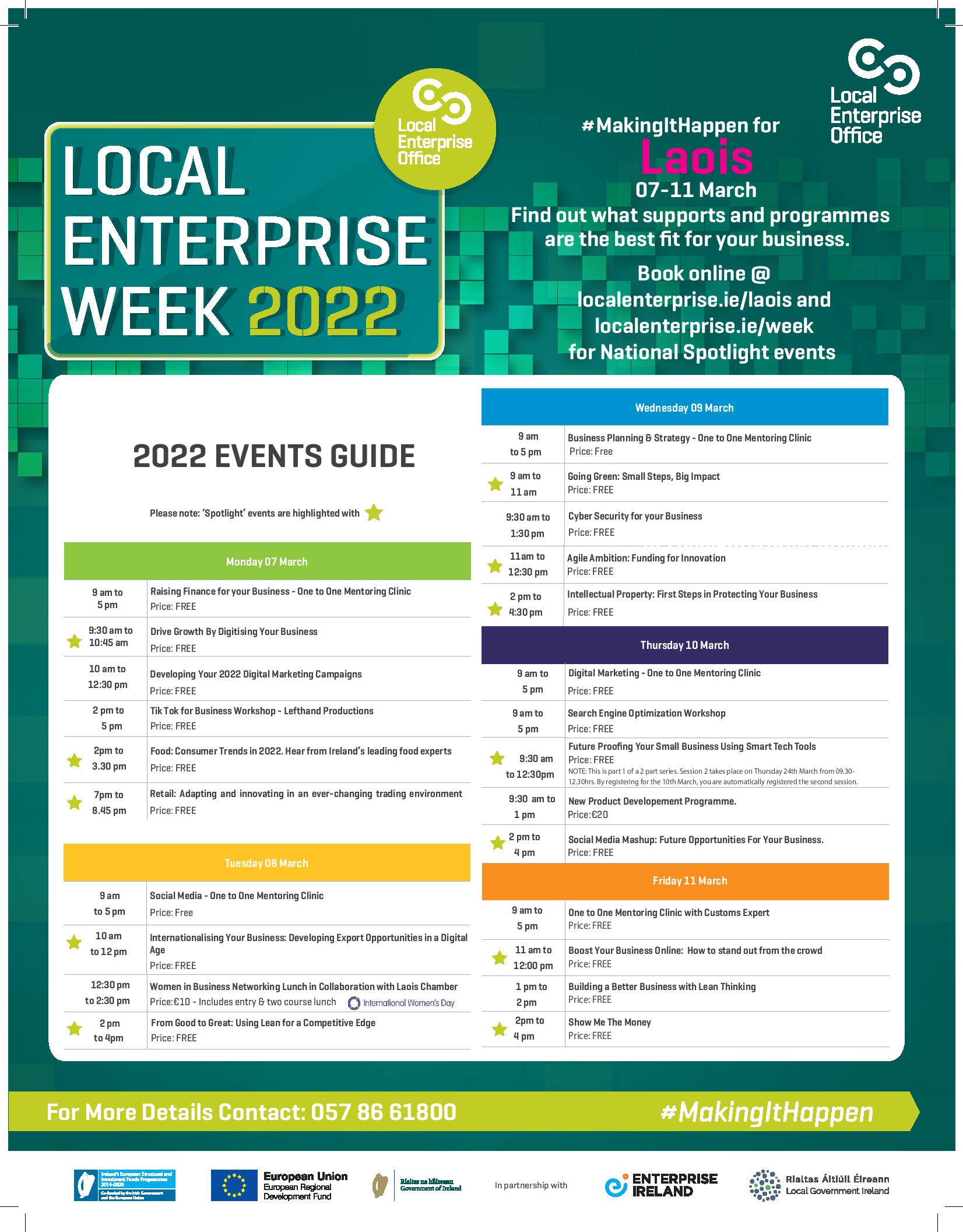 Women in Business Networking lunch with Local Enterprise Office Laois
In collaboration with Laois Chamber Local Enterprise Office Laois will be hosting a Women in Business Networking lunch on Tuesday, 8th March 2022 to celebrate International Women's Day as part of Local Enterprise Week.
This event will take place in The Killeshin Hotel, Portlaoise, from 12.30pm to 2pm.
The special guest for this event is Rathdowney native Louise Phelan, CEO of Phelan Energy Group Ltd and former Vice President at PayPal who will be in conversation with Ronan Berry, presenter of the 'Taking Care of Business Show' on Midlands 103.
Louise spent 13 years as Vice President at PayPal leading and developing the business and taking a large performance team from 200 people to 3000 people across multiple geographies.
Louise has also served as a Director of Ryanair since December 2012 and was appointed Senior Independent Director (SID) in June 2020.
She held the prestigious position of President of the American Chamber of Commerce in 2014, the first woman to ever hold this role.
Louise's leadership achievements have seen her win numerous awards. She was named
Business Leader of the Year in 2017 and Businesswoman of the Year in 2013 and 2017. Louise was also named Ireland's 'Most Trusted Leader' at the Great Place to Work awards and 'Irish Innovation Champion' at the 2014 Innovation Luminary awards.
In 2012, Louise was awarded the Sir Michael Smurfit Achievement Award by The Ireland Chamber of Commerce – United States. That same year, she was presented with an Outstanding Contribution to Irish Industry Award by the CCMA.
Speaking about the upcoming event, Honor Deevy, Acting Head of Enterprise, Local Enterprise Office Laois said:
"Small businesses throughout Laois have been severely impacted by Covid-19 restrictions. That's why initiatives like Women in Business Networking lunch as part of Local Enterprise Week 2022 is more important than ever to give an opportunity for women in business to network and celebrate International Womens' Day.
We are delighted to be organizing this event in collaboration with Laois Chamber to assist businesses in Laois."
"We are delighted to be hosting this event in collaboration with Local Enterprise Office Laois as part of International Women's Day, and we are thrilled that Louise Phelan will be joining us as our special guest," Caroline Hofman, CEO of Laois Chamber added.
"Louise has extensive and impressive experience in business, together with a number of accolades, and this event will be a great opportunity to hear more about her leadership journey and sustaining success in business, as well as having the opportunity to network with women in business from around the county."
Alison Browne, President of Laois Chamber and Director of Gerry Browne Jewellers in Portlaoise, added: "You owe it to yourself to take time out, on International Women's Day, to sit back, have a lovely lunch and listen to a lady who has a wealth of knowledge and experience in the business world, both at a national and international level.
"We are sure to be inspired by Louise."
The fee for entry to this event is €10 which includes a two-course lunch. Register at: https://www.localenterprise.ie/Laois/Training-Events/Online-Bookings/ or contact Local Enterprise Office Laois on 057 8661800.
Register at:
https://www.localenterprise.ie/Laois/Training-Events/Online-Bookings/ or contact Local
Enterprise Office Laois on 057 86 61800.
Local Enterprise Week takes place from March 7th–11th, 2022.
The full calendar of events for Local Enterprise Week is available through
www.localenterprise.ie/laois or www.localenterprise.ie/week.
Most events are free of charge but all participants must register online at
www.localenterprise.ie/laois
All local businesses and aspiring entrepreneurs are invited to take part.
Find out more
For further information on all our events please contact Honor Deevy, Local Enterprise Office Laois on 057 86 61800 or by email localenterprise@laoiscoco.ie