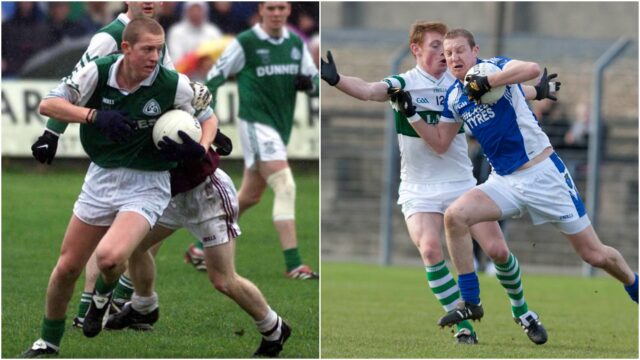 Ahead of this weekend's Leinster football championship match between Laois and Wicklow in Aughrim, we caught up with former Laois and Stradbally player Darragh McEvoy, who has been deeply involved in the game in Wicklow having moved to work and live there almost 20 years ago.
While McEvoy has a great insight on Wicklow football (he's currently a selector/coach with the Wicklow minor footballers), he also has a personal story with many layers too.
An outstanding underage footballer, he played championship for Laois when he was 20 – but missed out on 2003 and most of the glory years under Mick O'Dwyer.
And in this podcast he talks about his experience of those years, winning a championship with Stradbally in 2005 and making the switch to St Pat's of Wicklow in 2008 where he's based in the county as a Garda.
But he also chats about a serious health scare when he had a tumour removed from his lung at only 26 years of age, and recalls in heart-breaking detail how he and his wife suffered stillbirth in 2017.
In a wide-ranging chat he discusses his memories growing up playing with Stradbally, his famed family connections and what it was like returning to the club briefly in 2016 to help them win another famous county final success.
You can listen to the episode below in full on Soundcloud or on Apple Podcasts or Spotify.
SEE ALSO – Check out the dedicated Podcasts section on LaoisToday